LOUISVILLE, Ky. — The Kentucky Air National Guard piloted two-ship C-130 to conduct flyovers across the commonwealth Friday to thank frontline workers.
The aerial demonstrations are part of Operation American Resolve, a nationwide salute to all those supporting COVID-19 response efforts.
Kentuckians shared their photos and video with WHAS11. You can share yours via text: 502-580-7290
PHOTOS | 'We heart you frontline workers!': Kentucky Air National Guard give highest thanks
Here's the route of the May 1 flyovers:
3:00 p.m. - Kentucky Air National Guard Base in Louisville
3:14 p.m. - Kentucky Capitol Building in Frankfort
3:20 p.m. - Bluegrass Community and Technical College in Lexington
3:50 p.m. - Pikeville Medical Center in Pikeville
4:49 p.m. - South Warren High School in Bowling Green
5:06 p.m. - Owensboro Community and Technical College
5:09 p.m. - Owensboro Health Regional Hospital in Owensboro
5:27 p.m. - Shawnee Park in Louisville
5:28 p.m. - UofL Medical Center in downtown Louisville
"It is a privilege for the men and women of the Kentucky Air National Guard to provide a 'thank you' to the first responders, essential personnel and all military service members providing support and resources during this time," Col. David Mounkes, commander of the 123rd Airlift Wing said.
Earlier this week, the Thunderbirds and Blue Angels did flyovers in the Tri-state area as part of America Strong to thank first responders, health care and other frontline workers.
"We salute all Americans serving on the frontlines in our combat against COVID-19, and we hope all Kentuckians feel a sense of pride and connectedness when they see their C-130s flying overhead."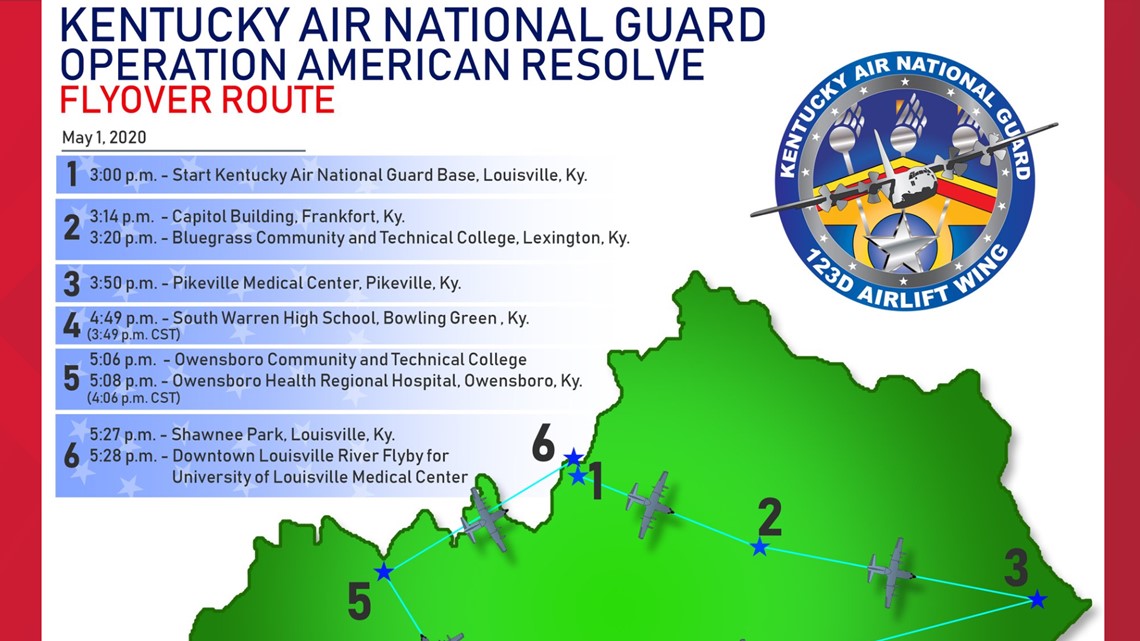 Other stories on WHAS11 News:
Make it easy to stay up-to-date with stories and breaking news. Download the WHAS11 News app now