A vending machine filled with free naloxone, commonly referred to as Narcan, can now be found in the jail's exit lobby. This lobby isn't accessible to the general public, according to officials, it's only for the jail community.
"Jails have a disproportionate number of people with substance use, mental health and co-occurring disorders," Dr. Mariya Leyderman, executive administrator and chief psychologist at LMDC, said. She added harm reduction strategies can be effective in providing treatment and services to people while they are in custody and when they reenter society.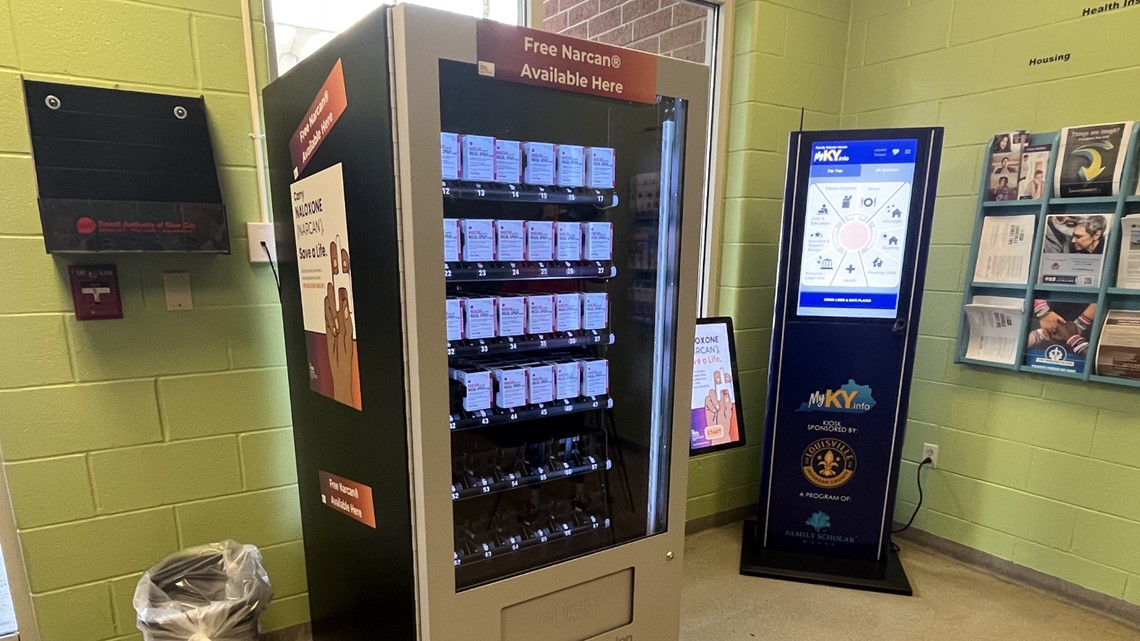 The vending machine was made possible through the University of Kentucky's HEALing Communities Study (HCS), which supplied the first 300 units of Narcan. Officials said during a soft launch of the program, 67 units were distributed.
Michael Goetz, the implementation facilitator with HCS, views the Narcan machine as a powerful tool to fight the opioid overdose epidemic.
"People who are incarcerated are most at-risk for accidental opioid overdose as tolerance is reduced during incarceration," he said. "HCS views access to [Narcan] upon release from LMDC as an ideal time to offer this life-saving medication."
According to a news release, the Louisville Metro Department of Public Health and Wellness (LMPHW) may later add other harm reduction tools like wound care kits, fentanyl test strips and safer sex supplies to the vending machine.
Narcan's use inside LMDC
LMDC leaders said the overdose reversal medication has already saved lives within the correctional facility.
In September of 2022, Narcan was placed in all 51 dorms within LMDC. Since the program launched, officials report 24 overdoses have been reversed by people who are incarcerated.
Funding for the project came from federal American Rescue Plan funds that were to be used to address Louisville's overdose crisis, officials said.
Aside from preventing overdoses, LMDC said it's also focusing on the treatment and mental health of incarcerated people through LMPHW's Medication Orientated Recovery and Enhancement (MORE) Program.
These services are available inside LMDC and once a person is released from the facility.
"De-stigmatizing and recognizing the underlying root causes of criminal involvement allows for correctional agencies to both reduce drug use and crime after people return to the community," Leyderman said. "Ultimately, jails must be innovative and re-imagine the services provided, particularly considering the public health crisis surrounding substance use."
Make it easy to keep up-to-date with more stories like this. Download the WHAS11 News app now. For Apple or Android users.