'We should have learned by now': DOJ points out lessons of homeless man who died in custody
Keith Smith had 21 interactions with police in 21 months, and the report accused LMPD of unnecessarily escalating situations with him.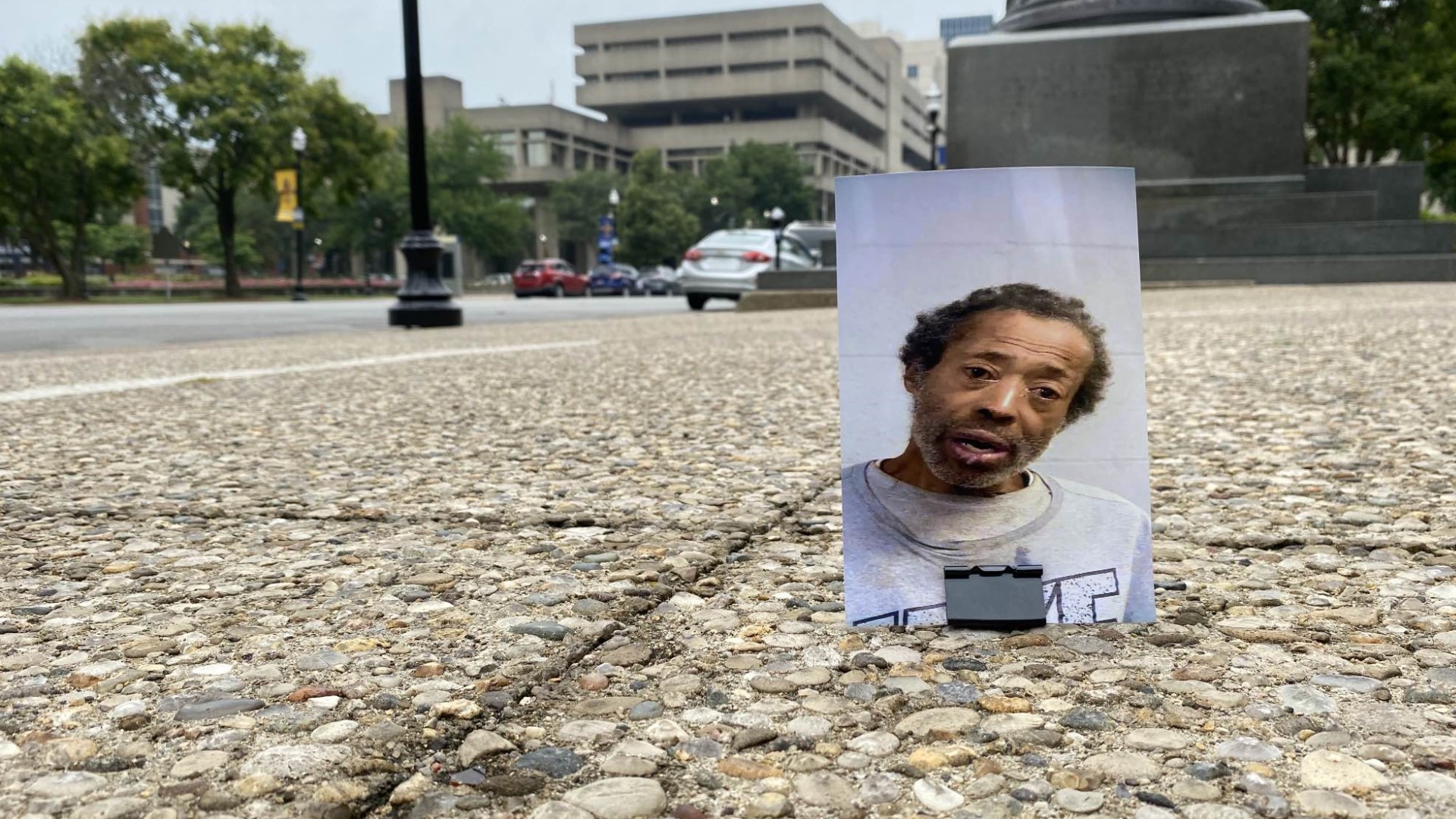 This man had 21 interactions with police in 21 months, and the report accused LMPD of unnecessarily escalating situations with him. The report also noted times officers mocked him for his mental and behavioral health issues, used unreasonable force, and hospitalized him against his will.
Looking closer
:
Who is Keith Renee Smith?
"Keith's case is very sad...but it's very common," Susan Klusman Turner, a certified peer support specialist at Bridgehaven Mental Health Services, said.
Smith's 21 arrests between March 2020 and January 2022 were all misdemeanors. They included criminal trespassing third degree, disorderly conduct second degree, terroristic threatening third degree, and possession of drug paraphernalia.
While he spent several months in Louisville Metro Corrections awaiting trial, he was almost never sentenced to jail time. That's because his crimes were not serious and the COVID-19 pandemic made low-level crimes less of a priority.
"I remember one time we walked out of the courtroom together, and we sat down on the courthouse steps. We wrote down all of his future court dates on sticky notes and I gave them to him," Caroline Travis, a former public defender who represented Smith in 2021, said.
"I almost dropped to my knees and started crying when I walked into the courtroom for his follow-up hearing and he was there," Travis said.
Travis said Smith told her he had been living with his mother, but she died at some time and Smith became homeless. Travis said he was living in the parking garage of the Brown Hotel at 4th and Broadway.
Travis got Smith a mental health evaluation in the summer of 2021, because she thought he was not capable of understanding a plea agreement. Travis said this forced him to stay in jail several months, and he was ultimately found competent at the Kentucky Correctional Psychiatric Center in La Grange.
WHAS11 News was not able to find any living relatives or friends of Smith, and believes Travis may have been the person who knew him best.
"I think a person with mental health issues, their survival is based on their relationships," Klusman Turner said.
Because health records are not public, WHAS11 News could not see if Smith had ever gotten psychiatric help or officially been diagnosed, but Travis said he had "severe" mental health issues. Another public defender who represented Smith in the fall of 2021 said he had schizophrenia and paranoia.
Smith's arrests stopped in January 2022 because he died at LMDC. He was arrested on Jan. 5, 2022 for refusing to leave Sicilian Pizza on 4th Street.
He died five days later in custody.
His autopsy from the State Medical Examiner said he died due to complications from stomach ulcers, including internal bleeding.
"Don't just put them in the court and let them go, make sure they're getting the help they need," Klusman Turner said.
Plan moving forward
:
Steps LMPD has taken
The DOJ report said Smith's cases are a prime example of why police need to respond with mental health professionals on 911 calls, or solely send mental health workers on calls.
The program started in the 4th Division (South Louisville, Beechmont, Wilder Park neighborhoods) with 11 staff members. When 911 operators receive a call that they think involves a person with mental health issues, and isn't a huge public safety concern, they can defer the call to employees from Seven Counties Services, who will take over.
Seven Counties staff will then try to de-escalate the call, or send out a mobile response team if needed.
The program was staffed every day between 2 p.m. and 10 p.m.
The city said the program had taken more than 1,200 calls in its first year, had helped over 600 people get crisis support without LMPD involvement, and relieved more than 345 hours of officer's time that could be spent on other cases.
On Thursday, LMPD said the program is now operating in all police divisions, and it will be expanding to 10 a.m. to 10 p.m. starting July 1.
The department said no one was available to interview on-camera for this story. A spokesperson for the mayor's office also declined, saying LMPD was more-suited to answer the questions.
Seven Counties said it has a policy not to comment on individual cases, but did provide a statement.
"All intervention provided by Deflection is completely voluntary and individuals can refuse at any time. The Deflection team cannot transport anyone to any location (treatment or otherwise) without their signed consent. The Deflection team does encounter individuals who are unhoused, however it is not a homeless outreach team," Jean Ramona, vice president of adult services at Seven Counties, said.
Ramona also commented on their interaction with the legal system.
"As an agency we also have court liaisons who provide consultation with many parties in the court system and assist in facilitating referrals for assessment and treatment. Some individuals still choose not to follow any recommendations for assessment or treatment and Seven Counties Services has no means to provide a consequence for failing to do so," Ramona said.
Gap in the court system
:
'Need to start taking action'
While police are working to try and keep people out of the legal system if they don't need to be there, many experts in the district and circuit court rooms say they have their own set of issues to solve.
"When we get a client that has significant mental health issues, in most situations, there is no obvious course to take," Damon Preston, the Kentucky public advocate, said.
Preston says public defenders are assigned to defend people in their case, not fix their lives. And in many cases, the person's main objective is to go free, not seek mental health treatment.
"The criminal case is built around, 'What did they do?' Not, 'What are their needs?' I think that's starting to change in the court system. And it's something that I advocate," Preston said.
He said at a recent mental health summit at the Galt House, hosted by the Kentucky Judicial Commission on Mental Health, experts from across the state talked about intervening with people during the life of their case, and finding avenues to get them help.
"Let's get them stabilized. Let's get them whatever resources are necessary to restore their mental health, and then we'll talk about the outcome of any case — if there's still one that exists," Preston said.
However, the facility was forced to close due to budget cuts.
"That's the problem, maintaining funding. Services open with grants or one-time motivation, but then lose momentum and close when funding dries up," Preston said.
When we asked Preston what lessons the mental health and criminal justice systems should learn from Smith, he said:
"Based on the information I have on Mr. Smith, it was a tragedy. And it's a tragedy that's repeated...A lot of times it results in two outcomes, either the person does something really serious and goes to jail for a long time, or they end up like Mr. Smith and die."
"I think we should have learned by now from those types of things. And we need to start taking action to change the way we're doing things," Preston said.
The Jefferson County Public Defenders Office did not respond to WHAS11's emails for this story.
Make it easy to keep up-to-date with more stories like this. Download the WHAS11 News app now. For Apple or Android users.