LOUISVILLE, Ky. — Nearly eight months after an outside audit called the Louisville Metro Police Department 'department in crisis', Chief Erika Shields told Metro Council members many of the changes are in the works but not completed.
An audit commissioned by the metro government recommended LMPD make 102 changes to improve transparency, accountability and community relations.
According to a dashboard published on the LMPD's website tracking their progress, they've completely implemented 4 of the 102 recommendations.
During a Metro Council Public Safety Committee meeting Wednesday, Shields said that dashboard doesn't tell the whole story.
"For many of these, they're going to be 'in process' because, the reality of it is, to know whether or not we're successful, it's going to take a period of time to truly measure what's been done," Shields said
The dashboard lists 59 recommendations as being 'in process', meaning LMPD is currently rolling out the changes.
De-escalation training was listed as a key area in need of improvement.
"We simply have gotten away from training officers on how to handle a situation without having to rely on the bevy of technology and tools that are on their belt," Shields said.
Shields mentioned martial arts training for officers as being one remedy to fix that and said already, they have an instructor for that at the police academy.
Community policing was also a key area brought up in the report.
To work on that issue, Shields said they've added a clergy de-escalation team to assist out at tense situations.
"They've been phenomenal," Shields said. "They probably come out almost weekly on calls or instances where there are concerns things may escalate."
Shields said the clergy don't just help keep the peace between law enforcement and the community at these scenes. She said they also help if situations are escalating between family members or neighbors.
In recent months, Shields said they created an online complaint system, closed dozens of backlogged officer investigations and started using a clergy team to help de-escalate tension at crime scenes.
"It's really important that we are taking best practices, hiring practices from across the country. We're having professional HR individuals who engage in hiring all the time, and we are ensuring the tests we are requiring of applicants is not discriminately weeding out individuals," Shields said.
The report also claims LMPD treats Black people differently than white people.
It cites several examples, one being the number of Black people police pull over at traffic stops.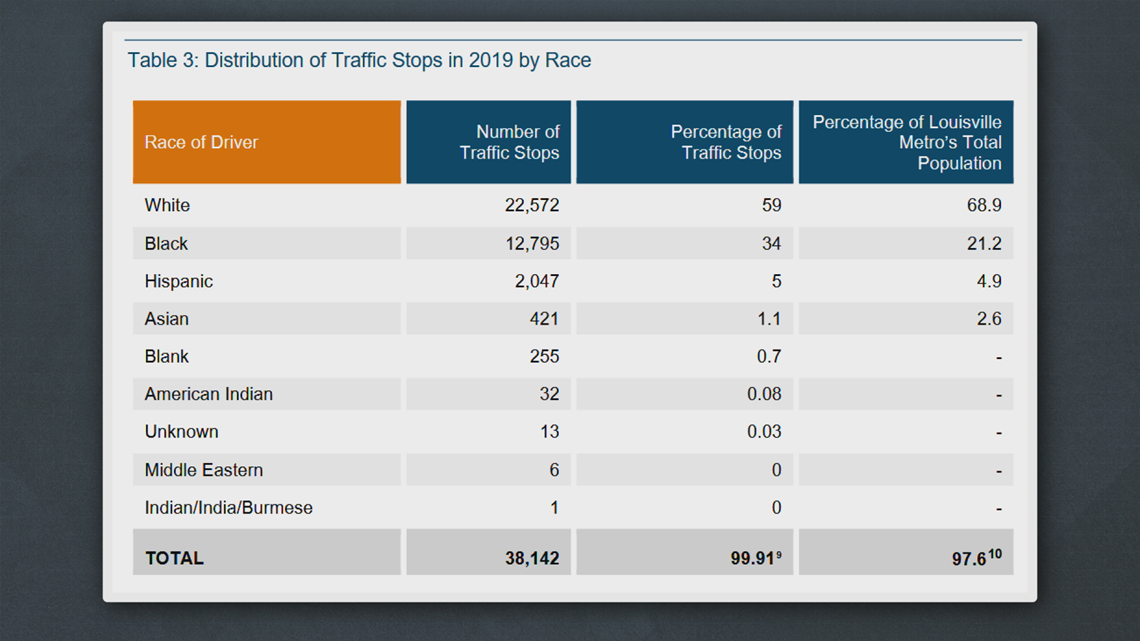 The report used data from traffic stops made in 2019.
Of the total stops made, 34% of the people pulled over were Black.
The report says Black people make up 21.2% of the Louisville Metro population.
The department has a dashboard on their website where you can track their progress on the review recommendations. It shows you which actions are in process, in the planning stages, under review or completed. To view the dashboard, click here.
►Make it easy to keep up-to-date with more stories like this. Download the WHAS11 News app now. For Apple or Android users.