LOUISVILLE, Ky. — Trauma-trained mental health counseling is now available at all eight Neighborhood Place locations across Louisville. The city's also funding a 23 year old non-profit, La Casita Center, who accompanies Latinx Louisvillians as they navigate social services.
"Todos somos Louisville," La Casita's executive director, Karina Barillas, said during the city's funding announcement. Translated, it means 'we are Louisville.'
The organization will receive $834,000 in a Substance Abuse and Mental Health Services Administration (SAMHSA) Recast grant. Among the many services they offer, this money means they can hire an additional person to field the two to three thousand phone calls they receive each month. "This is funding work that we are already doing. We are one of the very few agencies in the city that is providing mental health services, free of charge, for families," Barillas said.
$902,000 of American Rescue Plan (ARP) funds will staff Neighborhood Place's in-person counselors for two years.
Adam Sajko, administrator of the South Central Neighborhood Place, said the money helps "to create a one-stop shop where we work with our community to provide blended and accessible health, education, employment and human services that support children and families in their progress towards self-sufficiency."
Mayor Craig Greenberg highlighted how important mental health care is to heal from violence and trauma. "We have to have a greater awareness of the importance in mental health services to all people across our entire city."
While the city offers free mental health to all citizens, Yamira Rafael, a Latinx victims advocate with La Casita, said the community they serve lacks support and resources. "A lot of immigrants come over here and obviously don't have documents. And so when they are needing these mental health services, they have nowhere to go," they said.
La Casita Center hosts an in-person clinic to connect people to their services the second Tuesday of each month. The next is October 10 from 10 a.m. to 2 p.m. They take phone calls from 10 a.m. to 6 p.m. Monday through Thursday. Their number is (502) 322-4036.
In addition to Neighborhood Place, the Office for Safe and Healthy Neighborhoods also offers free mental health services you can schedule online or by calling (502) 901-0100.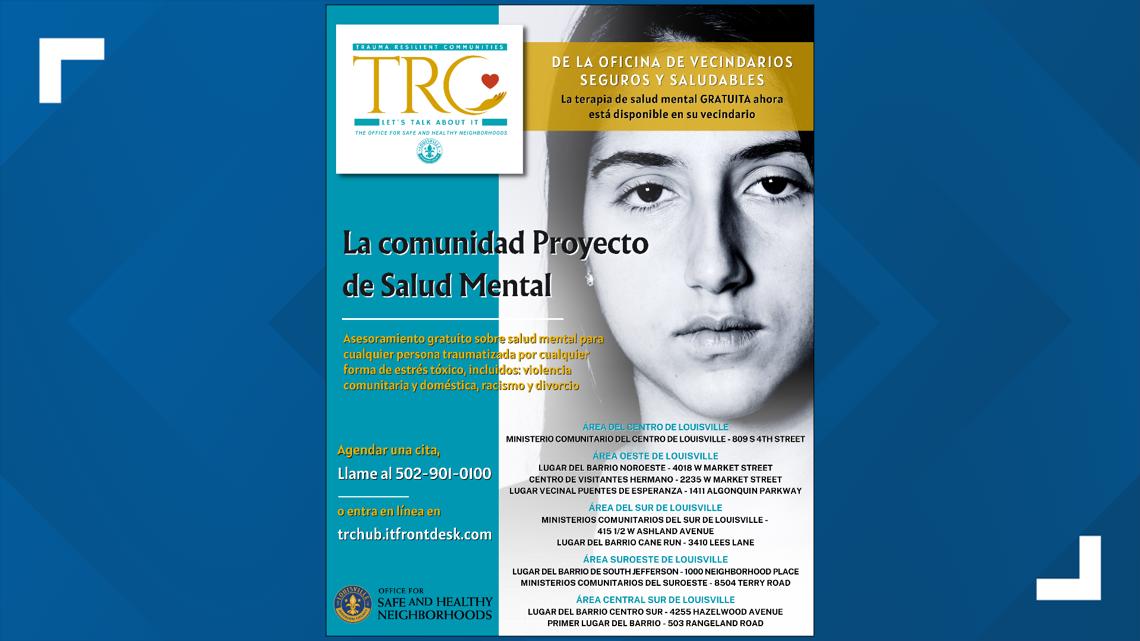 ►Make it easy to keep up-to-date with more stories like this. Download the WHAS11 News app now. For Apple or Android users.