SEYMOUR, Ind. — A healthy baby was safely surrendered in a baby box at a fire station in Seymour, Indiana.
Seymour Fire Chief Brad Lucas said the firehouse where the box is located, had staff there around 1:30 a.m. when the baby was left.
"They actually could hear what was going on in here and came in within 30 seconds," said Lucas. "We rendered care to the infant immediately."
The Safe Haven Baby Box was installed in June, 2019 on the backside of Seymour's fire station. The box allows a parent to anonymously surrender their child without fear of getting in trouble with the law.
"Today I was just sitting in my office, and just doing what I usually do Thursday afternoon. I get a call from the guys out here who say 'hey we've got a baby.' and so out of the blue, you don't expect it, but that's when it happens," said Lucas. "We knew it was gonna happen at some point."
It was the first baby dropped off in the Seymour box since it was put in. Mayor Matt Nicholson also got the call Thursday afternoon about the baby. Prior to serving as mayor, Nicholson served on city council where he made the motion to approve the Safe Haven Baby Box for Seymour.
"Earlier today I get a text from both police chief and fire chief all at the same time," said Nicholson. "At that moment all I could do was smile."
Both Lucas and Nicholson said the mother who left the baby did the right thing.
"This is why we put this in. So that a mother would have this choice," said Lucas. "I've been on cloud 9 ever since it happened knowing we were able to help this baby and the mother, help the family to take custody of the baby, give it care and see that the right things did happen for that baby."
Once a child is surrendered and taken to the hospital for care, the Department of Child Services takes custody and will find a foster or pre-adoptive home for the child.
"I shed a tear thinking about the fact that somebody did exactly what they needed to do and didn't leave their baby in a worse situation," said Nicholson. "It's a lifetime of difference in my mind. This child has a chance to go out and grow up and be apart of the world with a caring family."
In October 2019, a baby was found in a plastic bag, abandoned in a parking lot.
The location was less than half a mile from the baby box, according to Chief Lucas. That baby was found quickly and was okay.
"That may not have been the case. It was good weather then, colder weather or if the baby had been out there for an extended period of time," said Lucas. "A box was in service then. Apparently they didn't know about it."
Indiana high school student Hunter Wart raised $10,000 to fund the box for Columbus, Indiana. When Columbus didn't utilize it, Seymour instead approved to have it.
"We're just thrilled that he did that and we have the opportunity and it just paid off today," Chief Lucas said.
He hopes they'll get the chance to thank Wart after Thursday showed how successfully the Safe Haven Baby Box can be used.
"It's fairly easy to operate, the mother is anonymous, it's just a fantastic resource and I'm just tickled to death we had it especially today," Lucas said.
Both Lucas and Nicholson said Seymour's location is unique because it's right off the interstate and easily accessible. They hope the word will spread, so more people from around the area know it's there as a resource.
Thursday's infant is the fifth baby surrendered in the past two years in Indiana and the third in the last 134 days.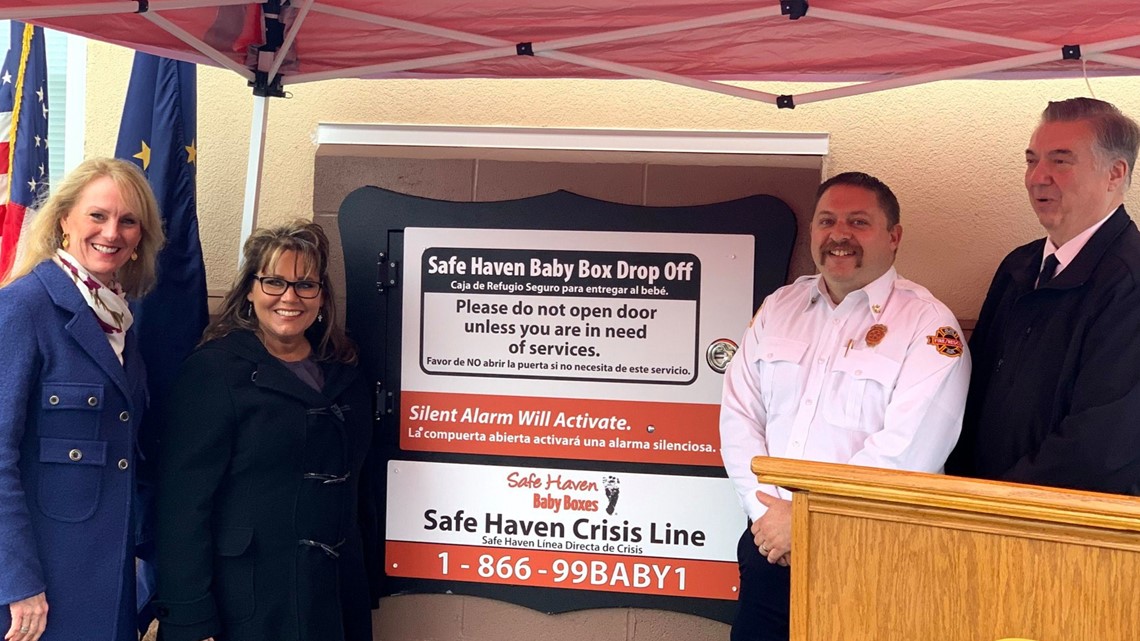 Safe Haven also provides a 24-hour hotline for mothers to speak to trained professionals before making the decision to give up their child.
The box in Seymour is one of 21 active Safe Haven Baby Boxes in the state.
Seymour's box is the closest location to Louisville.
Kentucky does have a Safe Infants Act that allows parents to anonymously surrender babies under 30 days old to a designated safe place, like fire or police stations.
But Kentucky does not have any safe haven boxes, which are currently located in Indiana, Ohio, Arkansas and Arizona.
►Make it easy to keep up-to-date with more stories like this. Download the WHAS11 News app now. For Apple or Android users.