According to a press release, a portrait done by local artist Joshua Bleecker of pioneering attorney and civil rights champion Alberta Jones was unveiled.
The event celebrated construction of Louisville's latest public park, which will be 20 acres, and the launch of the #BecauseofAlbertaJones campaign.
Through this campaign, the release said residents are invited to submit photos of people and places to be incorporated into Jones' portrait. Her portrait will serve as the base image of a photomosaic mural.
After Phase 1 of the park construction is complete at the end of the year, the mural will be permanently displayed in the park's Performance Pavilion.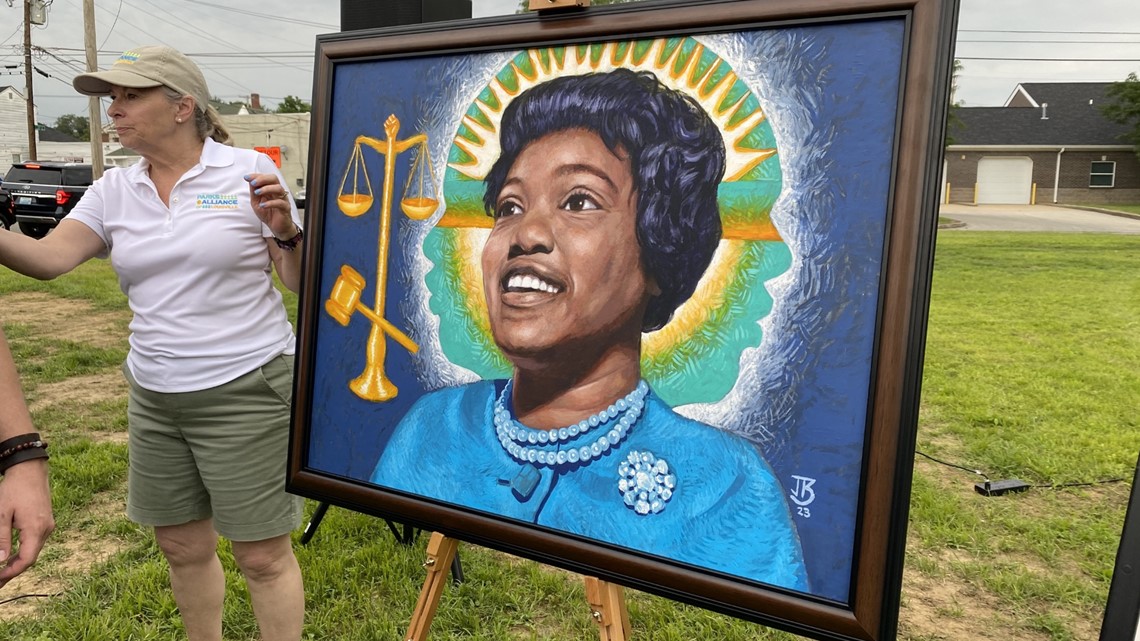 "The wisdom of this thriving community is evident in the choices residents have made in planning this new park," Brooke Pardue, president and CEO of the Parks Alliance, said.
After a multi-year planning process, Pardue said residents have chosen everything from what recreational amenities will be included to naming the park after Jones.
"Through Alberta O. Jones Park Day—which will become an annual event—residents and more than 30 community organizations came together to celebrate Jones' legacy and to share ideas for designing the next phase of the park, set to begin after we complete construction of the first five acres this year," she said.
The new park is located along Maple Street between Dr. W.J. Hodge and 25th Streets.
For more information about the park, please click here.
PHOTOS: First Black woman to practice law in Kentucky honored with park
Alberta Jones' Life and Legacy
A trailblazer from west Louisville, born in 1930, Jones was one of the first Black women to pass the Kentucky Bar exam and opened a practice in Louisville just blocks from the site of the new park.
She is famous for negotiating the first professional boxing contract for a young Muhammad Ali, boxing legend and hometown hero.
In 1965, Jones became the first woman appointed a city attorney in Jefferson County, working as a prosecutor in the Louisville Domestic Relations Court to convict perpetrators of domestic violence.
She also participated in the March on Washington, was a member of the NAACP, and worked with the Louisville Urban League. She formed the Independent Voters Association of Louisville, renting voting machines to teach Black Louisvillians how to vote, resulting in 6,000 new voters.
Her life was tragically cut short in August 1965 when she was murdered. Her case remains unsolved. However, the U.S. Department of Justice reopened the case in 2017.
Make it easy to keep up-to-date with more stories like this. Download the WHAS11 News app now. For Apple or Android users.