LOUISVILLE, Ky. — Have you heard the buzz? There's something big coming to WHAS11 at 4 p.m. Monday, March 1 — it's The Big 4.
Are you tired of watching newscasts that leave you feeling left out or feel like content isn't local enough? Well, The Big 4 is hoping to change your perception of local news.
"The Big 4 is proof that news doesn't have to be boring and depressing. It's authentic, relevant, intriguing, and might even make you smile," said WHAS11's General Manager Christy Moreno.
What exactly is the Big 4?
The Big 4 is not just another newscast. It's a newscast designed for you! We've tailored the show around what you want to see from WHAS11 News, your favorite local ABC Affiliate.
Produced by Michelle Zelli, a Southern Indiana native, The Big 4 aims to connect the audience to what is happening in their hometown, putting big stories into context you can easily share with friends and family.
"When I build the show, I like to think of my friends and family who are watching, what do they need to know today? It's a responsibility that I am so excited to tackle for our viewers," Zelli said.
Meet the team
Minogue, the main anchor, is born and raised in Louisville.
"When I returned to my hometown two years ago now, I wanted to do something completely different than other shows in the market," Minogue said. "This audience is smart, dedicated, and invested in the community, so I wanted to make a show that reflected that. Creating the best possible community through the news with context is my motivator because I want the best possible Ohio valley to raise a family in."
Zelli and Minogue aren't the only locals. Shuck was born and raised in Lexington, while Spencer grew up in Northern Kentucky and graduated from Morehead State. Smith, the station's Southern Indiana reporter, is a University of Kentucky graduate.
If you want to connect with the team on social media, click on their name above and it will take you to their bio page which includes links to their social accounts.
Why you should watch
The Big 4 is full of hyperlocal news, high energy and engaging content from around your hometown. You get to be a part of the conversations, too. When you see Hayley's question of the day, make sure to text back your response.
How to watch the Big 4
Spectrum SD - Channel 4
Spectrum HD: Channel 908
AT&T Uverse: Channel 11
DISH TV: Channel 11
Direct TV - Channel 11
Antennae: Channel 11
In your hand: Download the WHAS11 News App and after you launch it the app, click on the Watch button on the bottom,
PHOTOS | Behind the scenes of the Big4 Team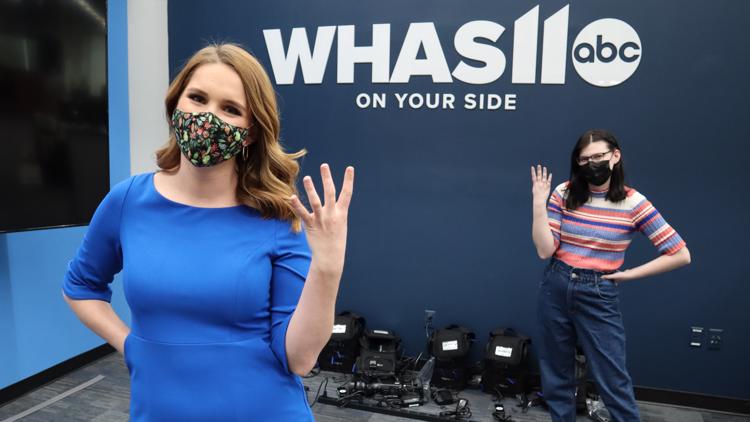 ►Make it easy to keep up-to-date with more stories like this. Download the WHAS11 News app now. For Apple or Android users.