LOUISVILLE, Ky. (WHAS11) – Kayla Bischoff is a Louisville artist working primarily in acrylic paint. Bischoff describes her art as semi-abstraction, characterized by "whimsical figures simplified and distorted to stylizations with psychological undertones." In addition to her artwork, Bischoff is the gallery manager of Kaviar Forge & Gallery, director of communications for LOOK: Louisville Art Inc. and a contributing visual arts writer for Galerie Hertz. Bischoff keeps a schedule packed with art gigs, but she squeezed us in to talk about her time away from work. Here's what she had to say:
IN THE GARDEN I am definitely a night owl, so on any given day I tend to go to bed around 2 a.m. and wake up around 10:30 a.m. I love to cook and garden, so I try to eat at home as much as possible. To supplement what I'm able to grow (organic gardening is hard!), I'm a CSA member of Barr Farms, and they provide the best organic meat and produce throughout the growing season. On my "off" days I find myself juggling my various side gigs throughout the day/night on my own time. When the weather is nice, I like to take a break from working at home to work in the garden or walk my dog, Bailey, to the nearby Louisville Nature Center and Joe Creason Park.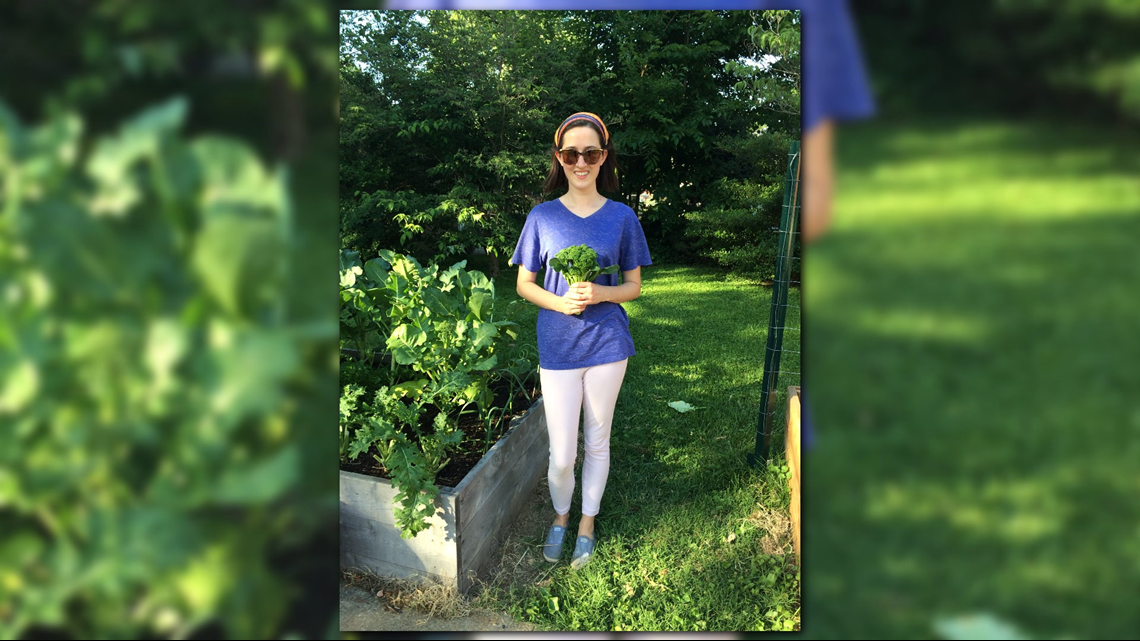 Though I enjoy cooking, I love Louisville's diverse culinary scene. A few of my favorite local restaurants include Mayan Cafe, Funmi's Cafe, and Sarang. I have a few favorite spots in the city, but I also try to seek out new places and experiences.
SUNDAY ARTS My perfect Sunday morning consists of coffee and pastries at Wiltshire Bakery, then spending the afternoon enjoying art in the city. Whenever there is an event at Galerie Hertz (usually held on Sundays), I almost always attend to support my fellow artists and to stay informed of the artwork created in Louisville. If there are no gallery openings, another Sunday activity I enjoy is visiting the Speed Art Museum for artistic inspiration. My significant other, Zack Stefanski, is a very talented local musician, so in the evenings I like to attend concerts with him. We also enjoy stopping by a relaxed bar with great beer, such as the Holy Grale or Monnik.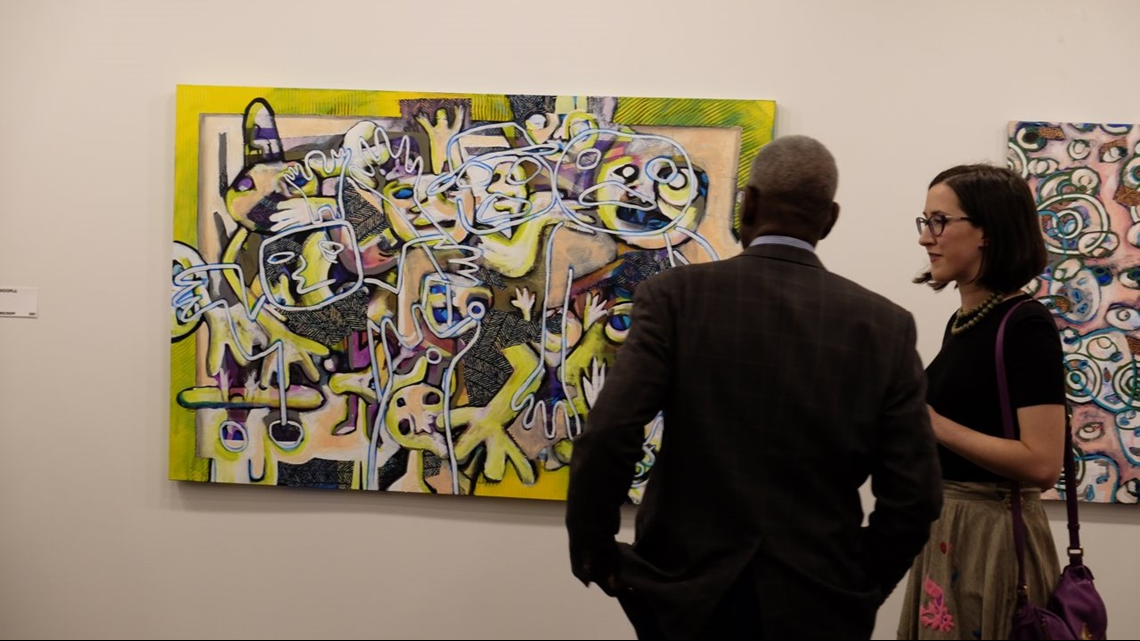 FURTHER STUDIES In addition to visiting galleries and museums in town to gather artistic inspiration, I've been conducting adjacent research by taking a free online class from the University of Central Florida on the "Psychology of Art." Having minored in psychology in college, the subject continues to inform my work. Though I graduated from Bellarmine University with an art degree over four years ago, I try to always continue researching and learning.
I've recently been reading a book about Keith Haring (who is one of my biggest art historical inspirations). The book includes many excerpts of his own writing, so it has a very approachable and conversational feel.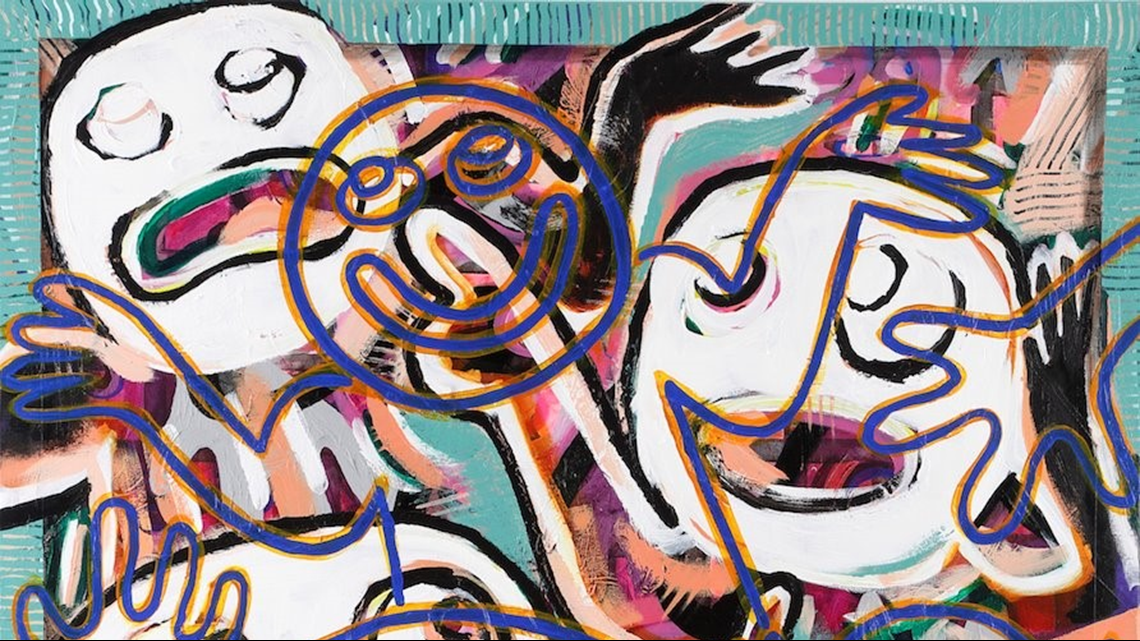 SCREEN TIME As can probably be determined from my admiration of Haring, I like cartoons. Many of my favorite shows are animated (i.e. BoJack Horseman, Rick & Morty). The bold colors and stylized, playful figures found in cartoons inform my artwork. I also really like stop motion animation. I love the handmade artistic quality of this artform. This summer, Zack and I visited the Stop Motion Animation Film Festival in Montreal, Canada. Recently we watched (on Netflix) a beautifully animated Swiss-French film called "Ma vie de Courgette," or, "My Life as a Zucchini." If you watch it, I highly recommend watching it in its original French version.
I would say half of my free time consists of seeking art inspiration online, visiting art galleries/museums and actually painting. Part of my free time is spent creatively in other ways (gardening and cooking meals for friends and family). I also enjoy spending a relaxed evening of decompressing by playing video games. I was very into Witcher 3 for a while (I don't even want to disclose how many hours I logged into that game), and I've now moved on to Shadow of the Tomb Raider. If Zack and I aren't out and about taking in the local art and music scenes, we're perfectly content spending the evening snuggled up with our dog and playing couch co-op video games (i.e. Overcooked and Cuphead have been recent favorites).
Ultimately, I seek a balance in life that consists of working, creating, growing and enjoying life!
In 2019, Bischoff will be part of an invitational portrait exhibition at the Krempp Gallery in Jasper, Indiana, and in 2020 the Saint Meinrad Archabbey Library Gallery in St. Meinrad, Indiana, will host her third solo show. She is also curating the "Feminist Expressions" show at Kaviar Gallery, featuring work from Kentucky Foundation for Women Artist Enrichment grantees, which will have its opening reception November 30 from 6-8 p.m. To view more of Bischoff's work, visit kaylabischoff.com.