LOUISVILLE, Ky. (WHAS11) -- Tucked away in a Portland studio that used to be an old schoolhouse, Louisville artist Richard Sullivan wrangles watercolors onto huge pieces of paper. The drips and splashes of the paint evoke the movement seen in his subjects. Sullivan favors athletes—from baseball players and football players to horses charging down the backstretch—because he is one himself.
Before transitioning to the studious life of a painter, Sullivan lived the transient life of a professional baseball player, spending five years in the Atlanta Braves system. A Ballard High School grad, Sullivan received a scholarship to play baseball at the Savannah College of Art and Design in Georgia—an unusual school for a top baseball prospect but a perfect fit for his two passions.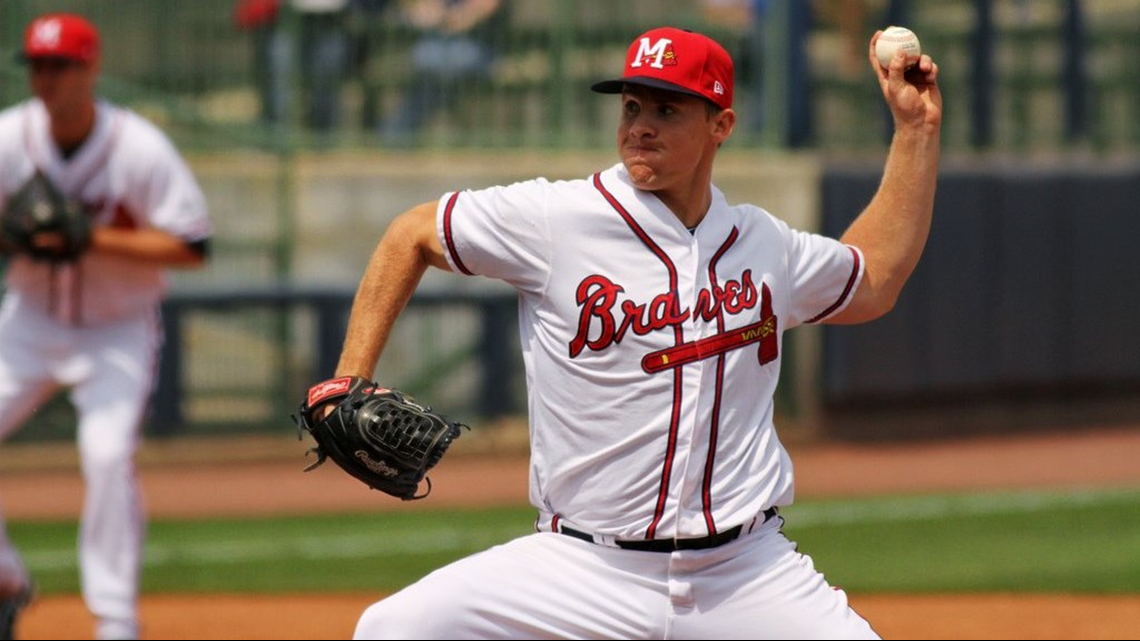 Sullivan spent most of his time with the Braves in AA ball, but was called up to the major league roster for a spring training exhibition game at Turner Field against the Minnesota Twins. Called in to relieve in the 10th inning, Sullivan closed out the inning and received the win when the Braves hit a walk-off home run in the bottom of the 10th.
Though a career highlight, Sullivan knew then that he probably wouldn't make it to the big leagues full time. When he was released by the Braves, Sullivan warmed up his painting arm to give his other passion a fair shot. He returned to SCAD to complete his degree and, in an effort to retain a connection to baseball, began painting portraits of his friends still playing. When a portrait he had painted of Braves pitching legend Tom Glavine was bought by Glavine's wife off social media, Sullivan knew he was onto something.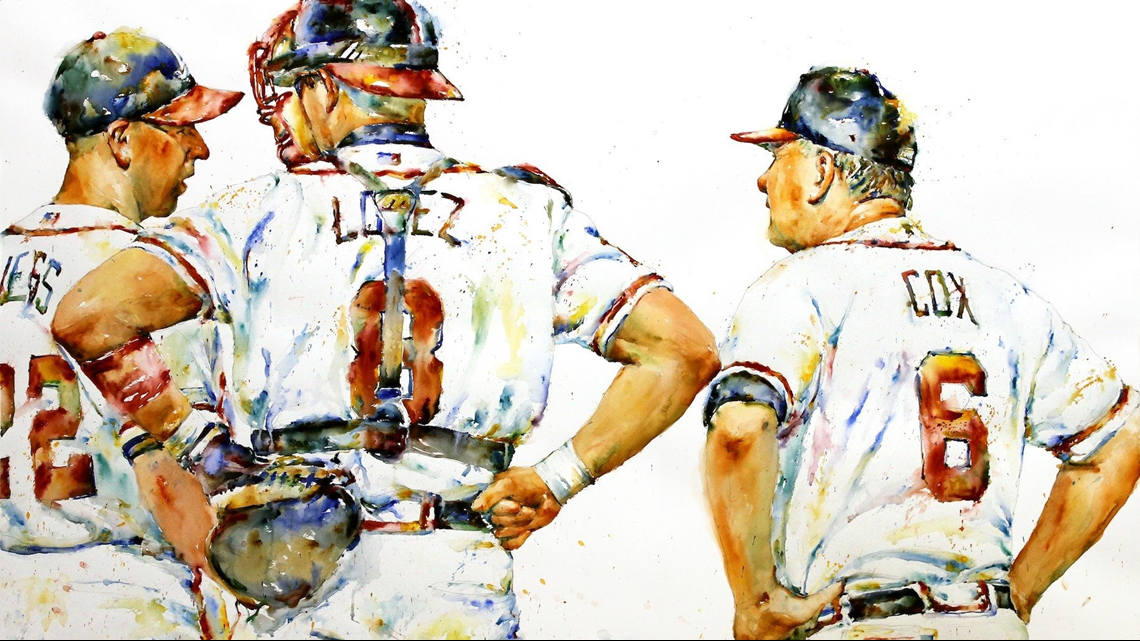 Sullivan began merging his two lives, using his baseball experience to inform his painting subjects, capturing the decisive moments of sport he knows all too well. When he learned the Atlanta Braves intended to build a new stadium, Sullivan reached out to his former employers and pitched them on including some of his work in the new building. Meetings, presentations and reunions followed, and the Braves drafted Sullivan for a second time to paint 18 pieces commemorating their three World Series wins, which are now on permanent display in the Champions Suites at SunTrust Park.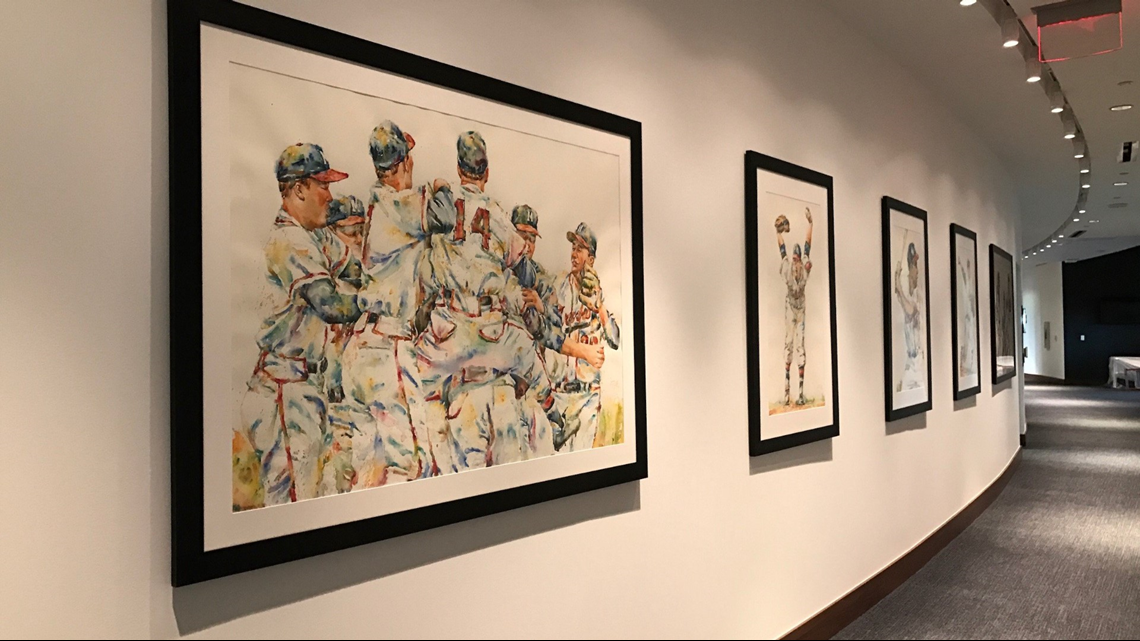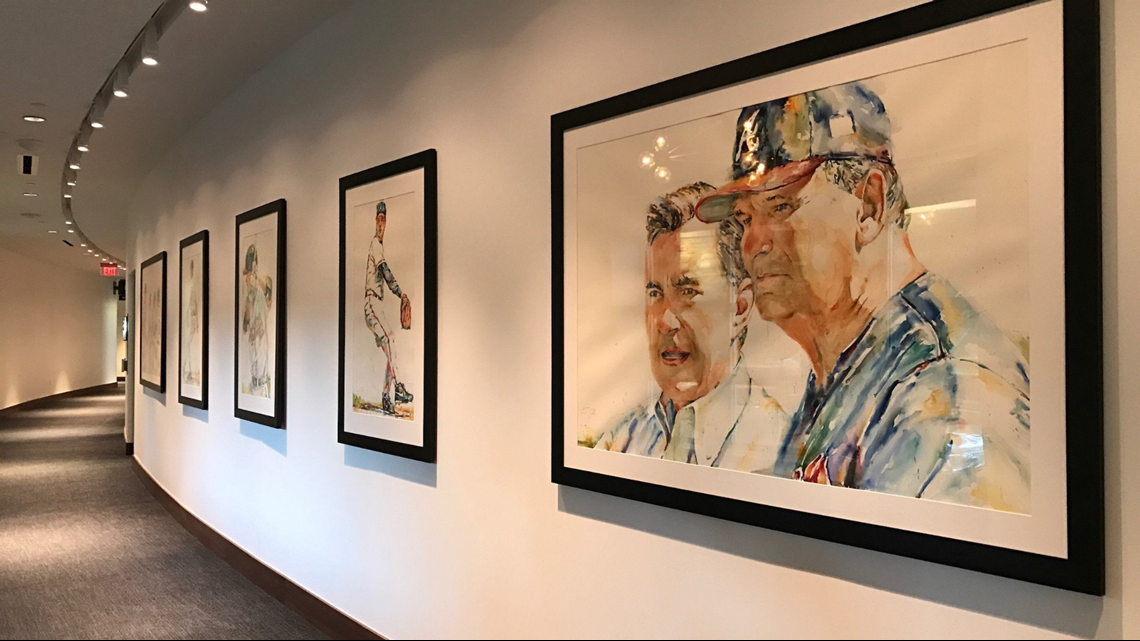 Sullivan is settled into his new life as a painter but retains a close connection with the game he's devoted his life to. He recently became an officially licensed Major League Baseball artist, allowing him free range to use MLB players and logos in his work. In addition to the Braves stadium and some work in the Atlanta Falcons stadium, his work can also be found in the Louisville Slugger Museum, the Yogi Berra Museum and the National Baseball Hall of Fame in Cooperstown.
The work of Richard Sullivan
WATCH: How Richard Sullivan chooses a moment to capture in paint