LOUISVILLE, Ky. — All types of winter precipitation can cause hazardous travel conditions, but how do they form and how are they different?
It all depends on the temperature of the column of air the precipitation is falling through.
Here's how winter weather is formed:
Rain occurs if the entire column of air a water droplet falls through is above freezing.
On the opposite end of the spectrum, snow will reach the ground if temperatures are below the freezing point and the entire column of air is cold.
However, there are times when warm air can move over a layer of cold air since cold air is denser and sinks below warmer air.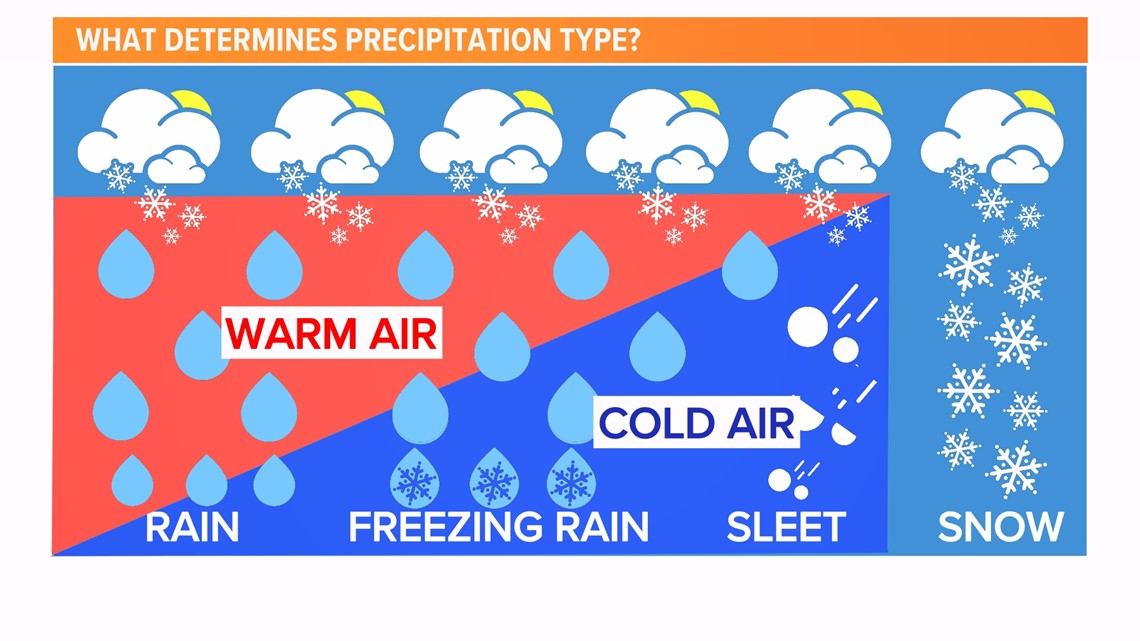 Depending on how deep or shallow the layer of warm air is, sleet or freezing rain can occur.
Sleet occurs when snow falls through a shallow layer of warm air causing it to melt. As the precipitation falls back through a dense layer of cold air closer to the ground, it refreezes and forms sleet.

Freezing rain occurs when snow falls through a deep layer of warm air and back into a thin layer of cold air. Since the water droplet doesn't have enough time to refreeze, if surface temperatures are freezing or colder, the rain will freeze on contact with the ground.
When freezing rain or sleet builds up on roadways, it can create a layer of ice which can make travel difficult and dangerous.
If winter weather is in the forecast, officials say it's best to stay home if you can.
Drive slowly and allow plenty of time to get to your destination.
Do not use cruise control.
Remember that bridges and exit and entrance ramps can be icy when other areas are not.
Leave a little more space between you and the car in front of you because stopping in snow or on ice may require up to four times your normal stopping distance.
Use low-beam headlights as dull, cloudy days will cut down on visibility.
If you hit a patch of ice and start to skid: Stay calm, ease your foot off the gas while carefully steering in the direction you want the front of your vehicle to go.
Make it easy to keep up-to-date with more stories like this. Download the WHAS11 News app now. For Apple or Android users.