LOUISVILLE, Ky. — September first marks the start of meteorological autumn, and generally when we start to see less rain as warm weather wanes and cooler weather begins settling in. Although this summer has not been exceptionally hot, it has been very wet. September 3, 2020 brought over 2.3 inches of rain to Louisville alone – roughly 75% of the monthly average of 3.05"! It isn't just the Derby City: Bowling Green and Frankfort also saw above normal precipitation for the month. The only exception is Lexington, which ended up nearly 2" below normal.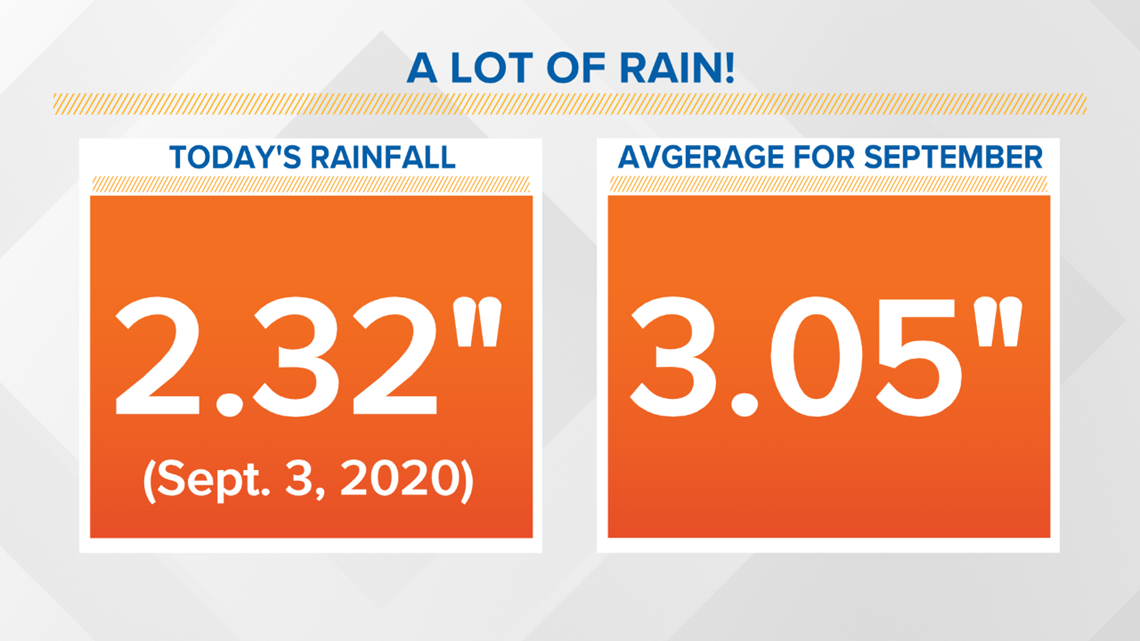 As mentioned, September normally brings around three inches of rain and we've already nearly met that total. Although several dry days area ahead of us, there is more rain in the forecast next week that may continue to add to these totals. We'll come back to that in a moment.
Meteorological Summer
First, let's look back at meteorological summer (June, July, and August) in Louisville. The overall average temperature was 79°, just over one degree above normal. That's not too crazy, but the real stunner is rain. Between June 1st and August 31st, Louisville Muhammad Ali International Airport received 17.11" of rain – 5.76" above normal. Louisville Ali is the official reporting site for the city. Bowman Field was also wet with just over 16" accumulating, good for 4.39" above normal.
For June 11 of 30 days saw rain totals of 0.01" or greater for a total of 6.52". Roughly one-third of the month's rain came on June fourth when 2.14" fell. The next highest total was 1.56" June 27th. This means just over half of the month's rain fell over the course of two days! Isolated, extremely wet days like these is a large reason for the region's abnormally wet summer.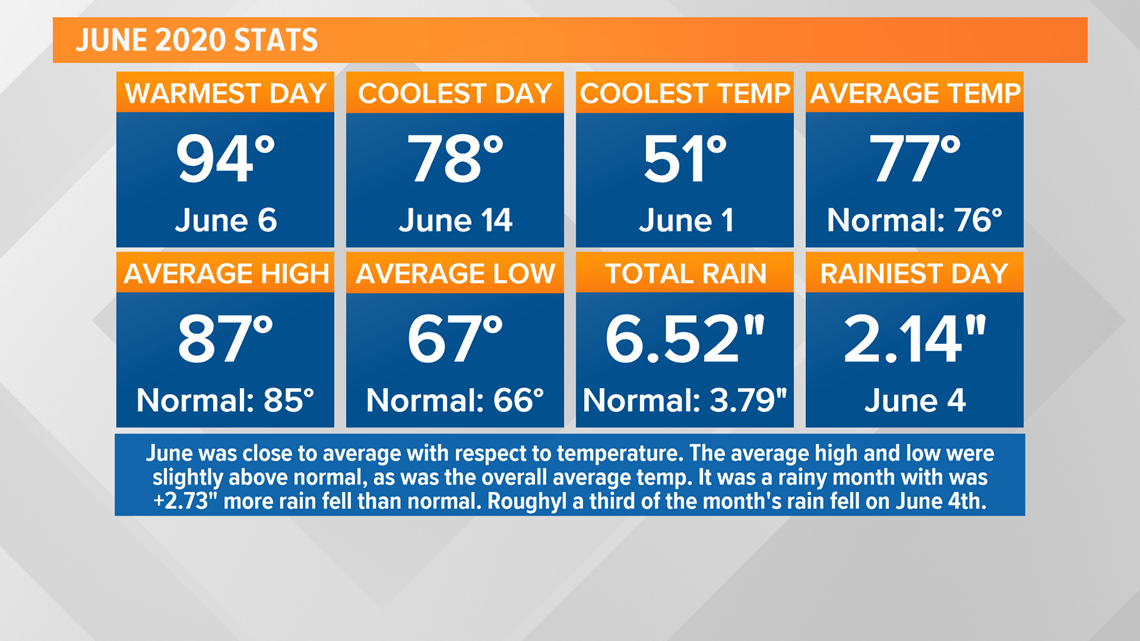 July, the hottest month of the year, was also the "driest." Louisville Ali collected 5.03" of rain, which is still good for 0.8" above normal. Bowman Field, however, appeared to be the wet spot in the city as its departure from normal was nearly 2.6" over for a grand total of 6.75" on the month. Much like June, most of July's rain came over the course of less than two days, but overall saw several small rain events. July 30th saw 2.35" at the international airport. The next rainiest day was July 23rd with 0.67".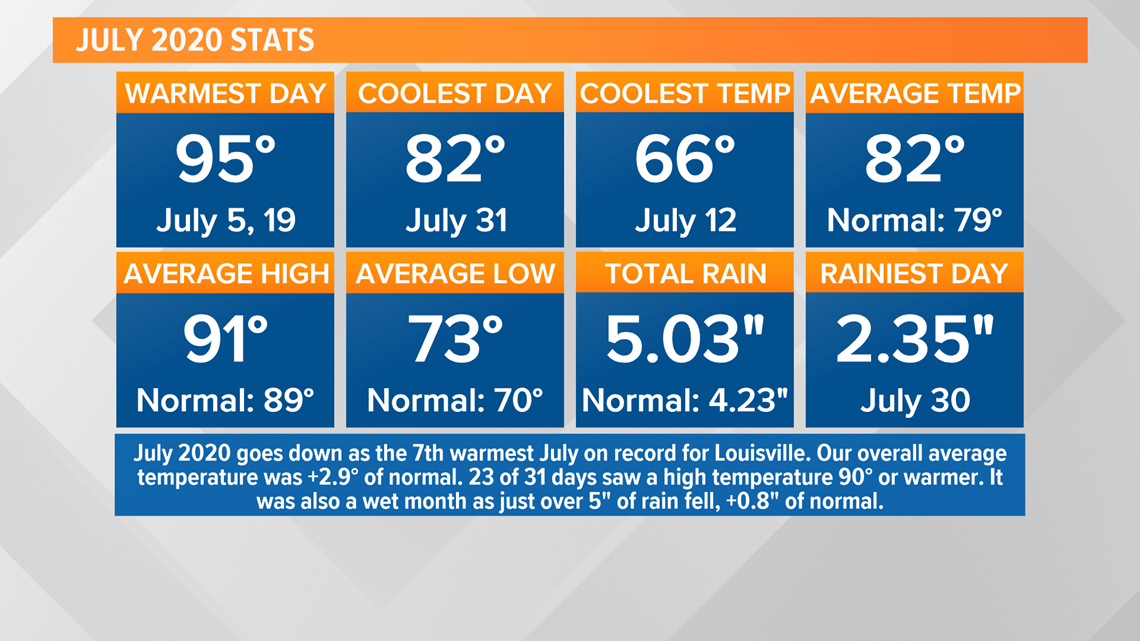 Finally, we have August which was unseasonably cool for the month, but also unseasonably wet. 5.56" fell at the airport which was good for about two and a quarter inches more than normal. Much like the previous two months, most of the rain came over the course of a few days. 1.41", 1.01", and 1.28" collected on Augusts 13, 14, and 22 respectively. Despite a busy rain gauge, measurable precipitation was noted only nine days last month.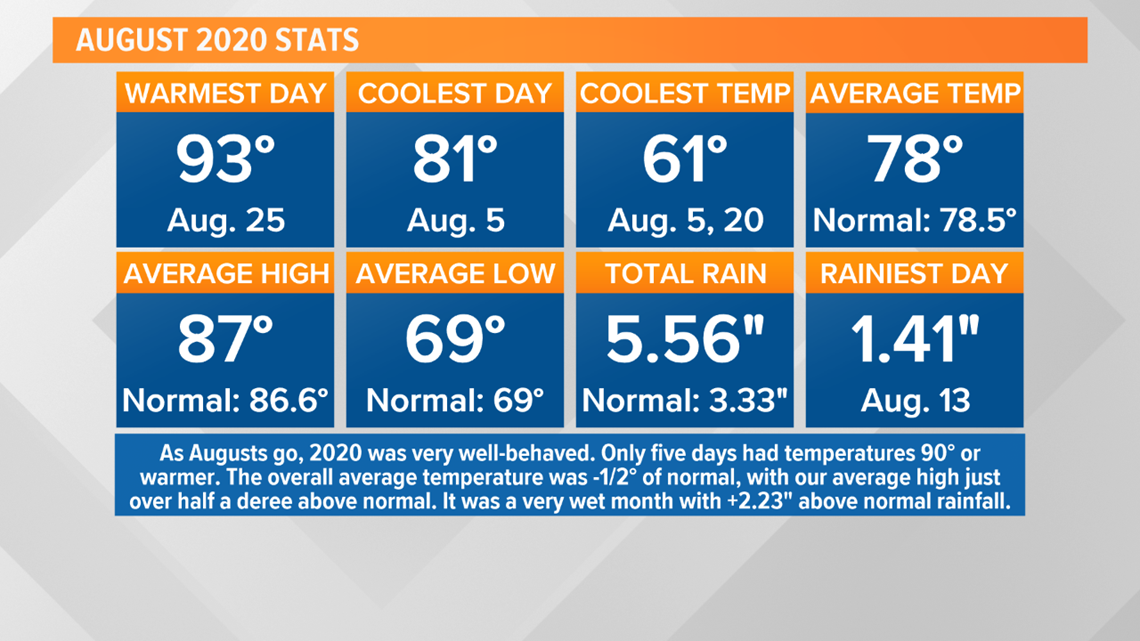 These three months have really helped prop up rain totals for the year. We've seen just over 42" of rain at Louisville International airport so far this year, over nearly 11" above normal. Where does that leave us in the record books? Nowhere close to the top ten. Four of the top five (and five of the top ten) wettest years in Louisville's history have come since 2000. Our wettest year ever was just in 2018 when 68.83" of precipitation was noted.
Even though summer has been wet, none of the exceptionally wet days came close to cracking the top ten for wettest days ever.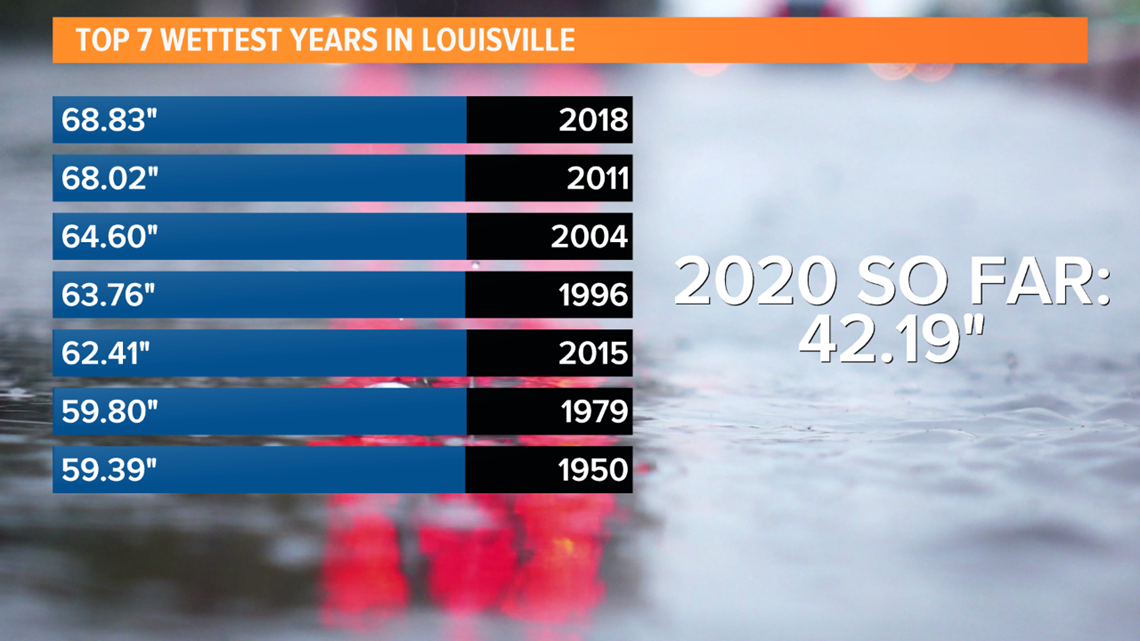 What does the future hold?
Popular folklore likes to say that a wet summer means a snowy winter, or a hot summer means a cold winter. There's not really any correlation for one season's weather being an omen for the next season. Will September be as wet as June, July, and August? Time will ultimately tell, but so far it has been, and the extended forecast does call for more rain heading into the second week of the month. The Ohio Valley finds itself in a broad troughing pattern aloft with a big ridge out West. This means we're in a pattern favorable for cooler, wetter weather as many storm systems will approach from either the northwest or southwest depending on how the trough lines up relative to us. As things currently sit, it shouldn't be too difficult to see a fourth straight month of above average rainfall. Should the trend continue through December, could this go down as one of the wettest years ever? It would certainly be a fitting theme for 2020.