LOUISVILLE, Ky. — The Climate Prediction Center division of NOAA issued a La Niña watch for the upcoming winter. The CPC says La Niña conditions developed in August and places a 75% chance that conditions will remain present and strengthen over the next several months. The effects of La Niña are global, so what does it mean for weather - and winter - in Ohio Valley?

La Niña - Spanish for "the girl" - is a global atmospheric/oceanic phenomenon featuring below-average sea surface temperatures in the central and eastern Pacific Ocean along the equator. It's the sister to El Niño, or "the boy," where above average sea surface temperatures are noted in the same location.
La Niña and the Ohio Valley
Typically, La Niña means a warmer than average winter across the southeastern half of the United States. According to the National Weather Service in Louisville, the Ohio Valley on average (meaning the past 30 years) has seen winter temperatures up to 2° warmer than average. As for precipitation, La Niña has historically brought above average precipitation.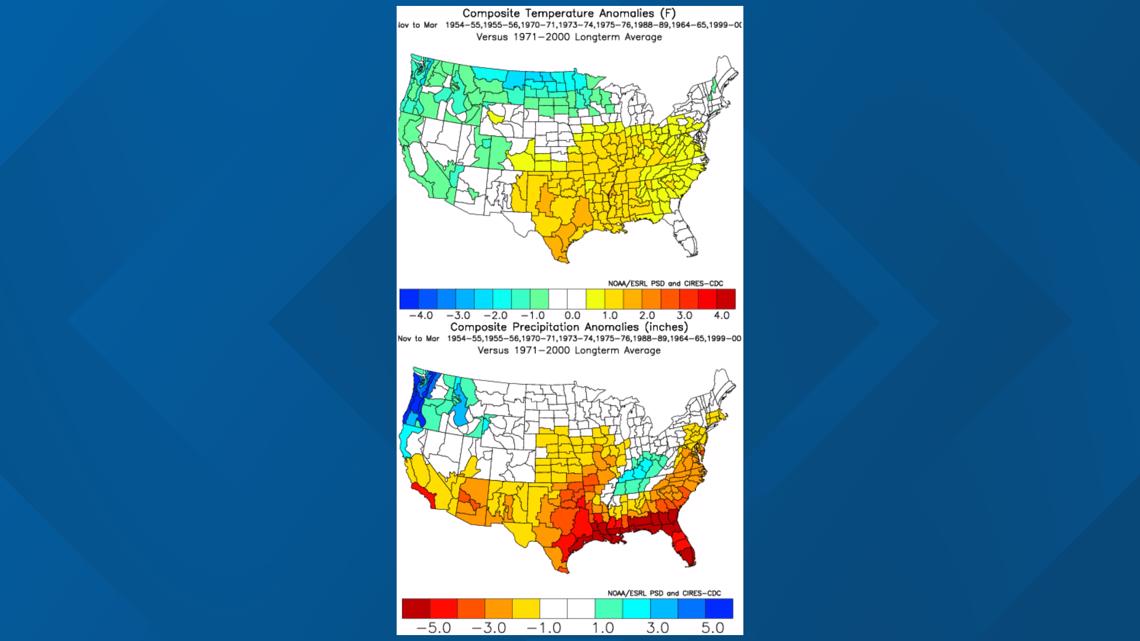 It's important to keep in mind that these are typical effects of La Niña. No two La Niña events are the same, and La Niña's influence on the Ohio Valley isn't very strong. Predictions currently call for a weak to potentially moderate La Niña, so the effects on us may be marginal or slight at best.
The previous three La Niñas occurred in 2010-11, 2016-17, and 2017-18. The 2010-11 event (considered to be moderate/strong) saw 17.7" of snow in Louisville from October 1-March 31 (for comparison, Lexington had 27.9"). Normal for that time range is 12.4". Interesting, the chart below shows that the winter of 1988-99 saw the lowest snow on record during that same time period when only 0.9" fell. 1988-89 was a strong La Niña year, so abnormally low snowfall is also possible during these events.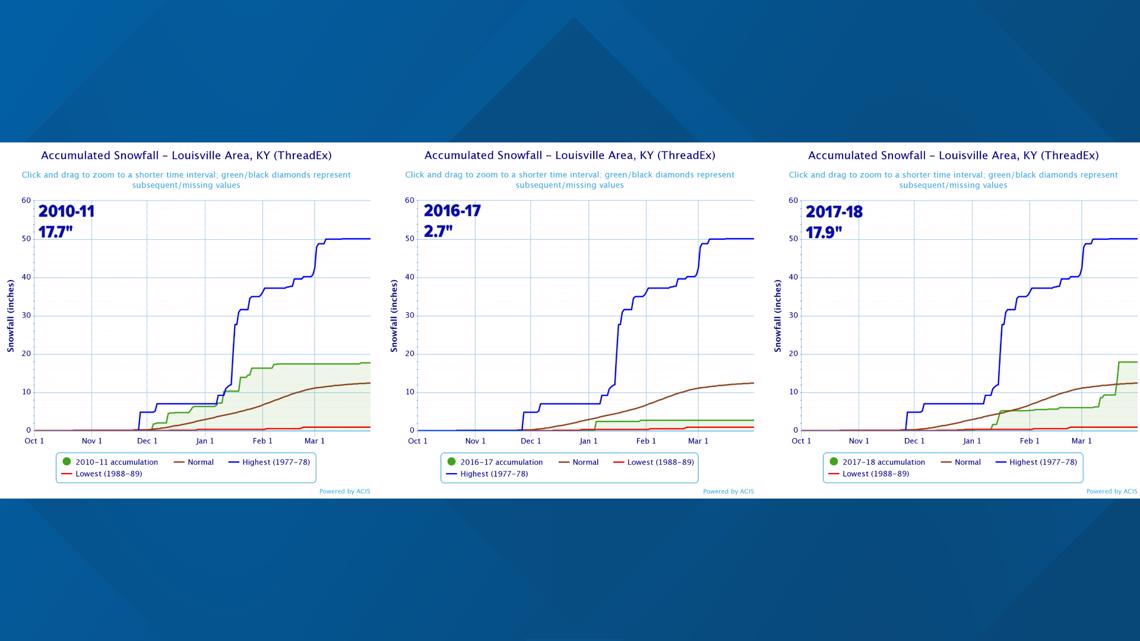 2016-17 and 2017-18 saw below and above average snowfall respectively. For the same October 1 – March 31 date range, 2016-17 in Louisville only received 2.7" of snow. The next year, however, 17.9" fell. The above average years of 2010-11 and 2017-18 would seem to confirm that La Niña winters bring above average precipitation, but 2010-11 would disagree. If anything, this is evidence that winter snowfall and temperatures are difficult to predict and just because an El Niño or La Niña develops doesn't mean that we will with a certainty see features commonly associated with them.
So, what exactly is La Niña and how does it work?
La Niña and El Niño form from interactions between the Pacific Ocean and the atmosphere above it. There's a large atmospheric circulation in the Southern Hemisphere that sees winds (known as trade winds) blowing from east-to-west across the Pacific Ocean near the equator. This pushes warm ocean water west to toward Australia, Indonesia, and other Pacific nations. During La Niña, the trade winds increase in strength and pushes more warm water west resulting in wet conditions for Australia and decreases ocean temperatures along the Pacific coast of the Americas.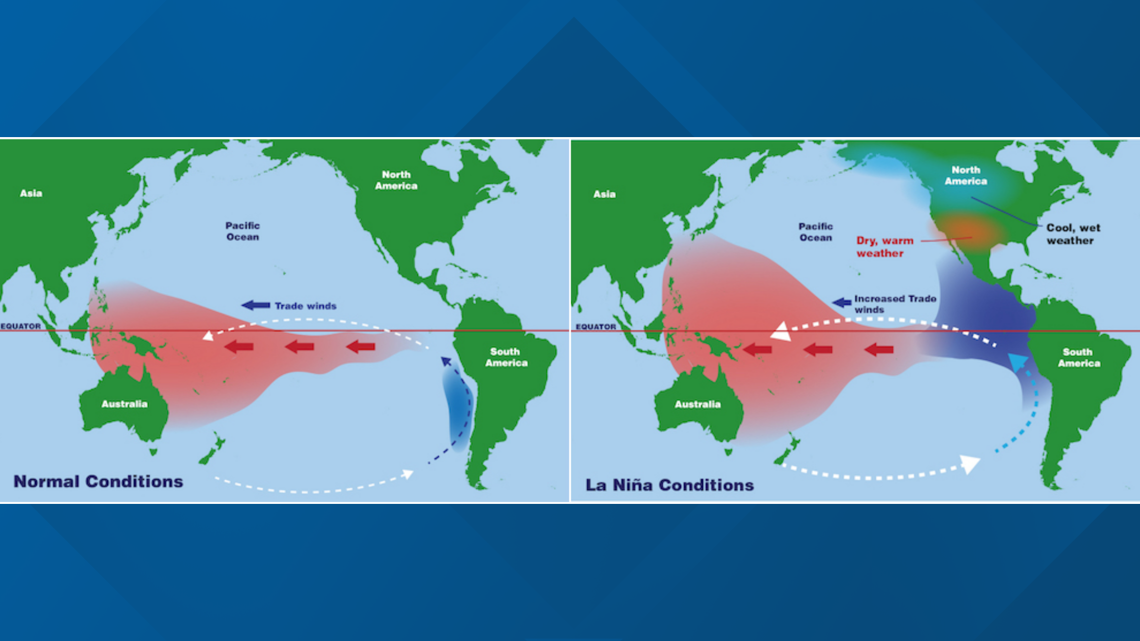 The jet stream also varies. It's the orientation of the jet stream that influences weather in the United States during a La Niña winter and often bring wet weather to the Pacific northwest – rain that is desperately needed given the immense wildfires. At the same time, drier conditions are typical in the desert southwest. The yearly monsoon in the southwest was drier than usual, so this could mean exceptional drought conditions.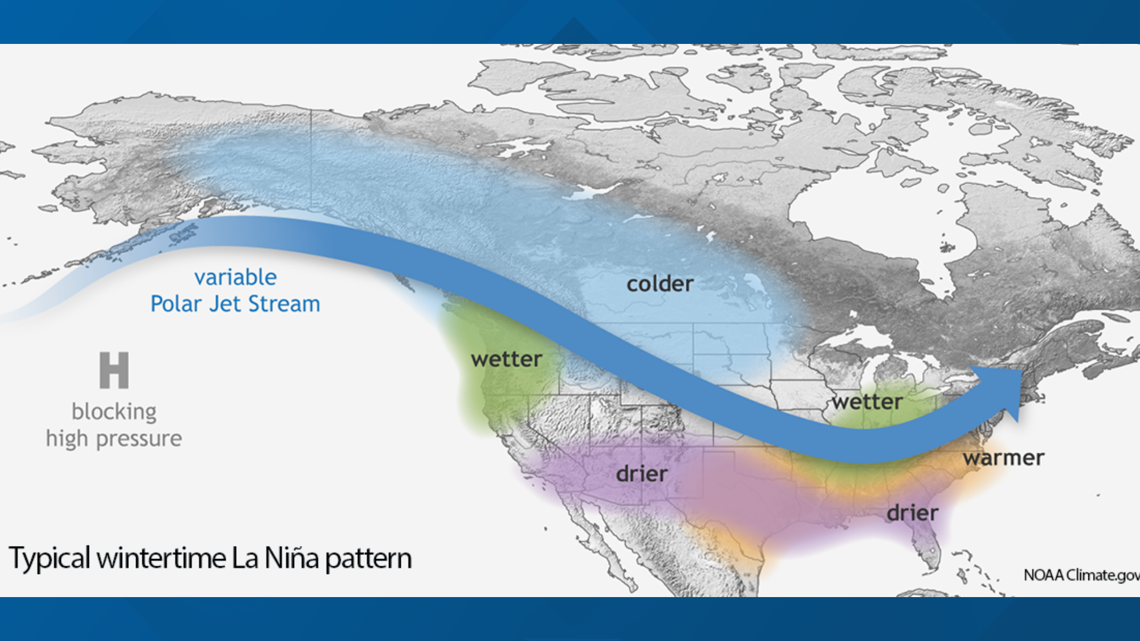 La Niña and El Niño often do not work alone. There are various other "teleconnections" that work in tandem with each other and can strengthen "the girl" or "the boy." According to the Climate Prediction Center, a teleconnection a "recurring and persistent, large-scale pattern of pressure and circulation anomalies that spans vast geographical areas."
The effects of these changes are wide reaching. For hurricane season, La Niña can increase tropical activity when it weakens wind shear across the Atlantic Basin and Caribbean Ocean. Weak shear is crucial for development and intensification. The tropics have been very active this season with 18 named storms having already formed with a possibility that we'll run out of names and need to roll over into the Greek alphabet.
For the rest of the U.S. mainland a La Niña winter has a variety of effects. Broadly speaking, La Niña has historically brought warmer and drier conditions to the southern United States and wetter and cooler conditions for the northern half of the country.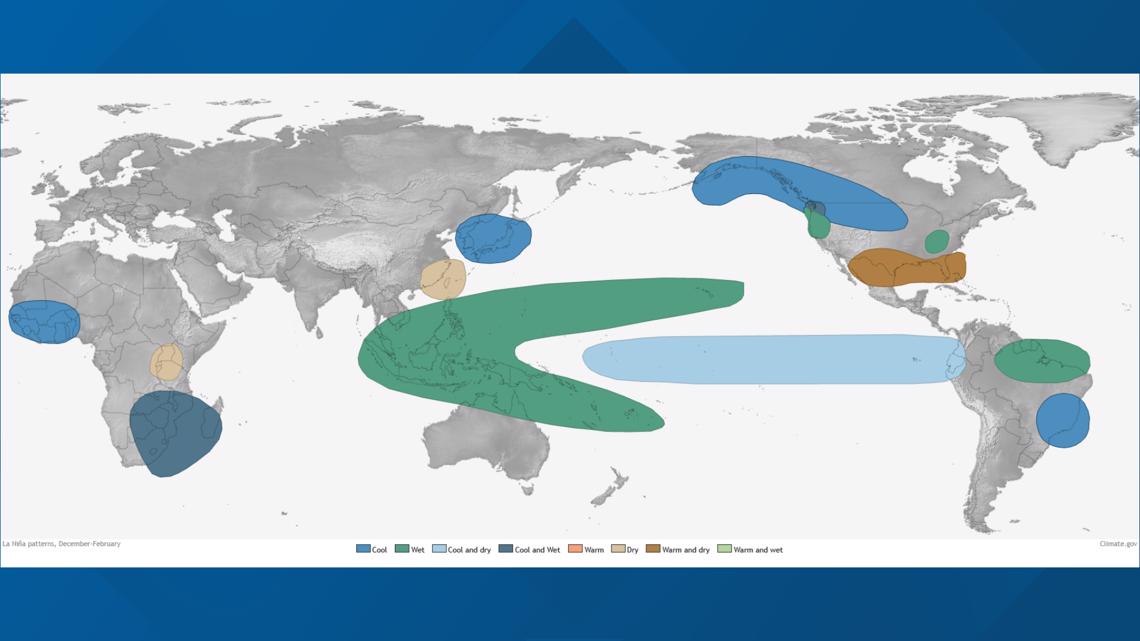 La Niña and El Niño events can last long into the spring severe weather season. Historically, spring La Niña events have meant more active severe weather events. Outside of a view anomalous events, the Ohio Valley had a very quiet storm season in 2020. Might La Niña change that? Only time will tell. Severe weather season begins in earnest in April, and so far, NOAA has only estimated La Niña conditions through February of 2021.