Cloudy and mild tonight with lows in the 50s. Storms will likely arrive after 5am.
Get the latest weather alerts to your smartphone by downloading the free WHAS11 app. For Apple or Android users.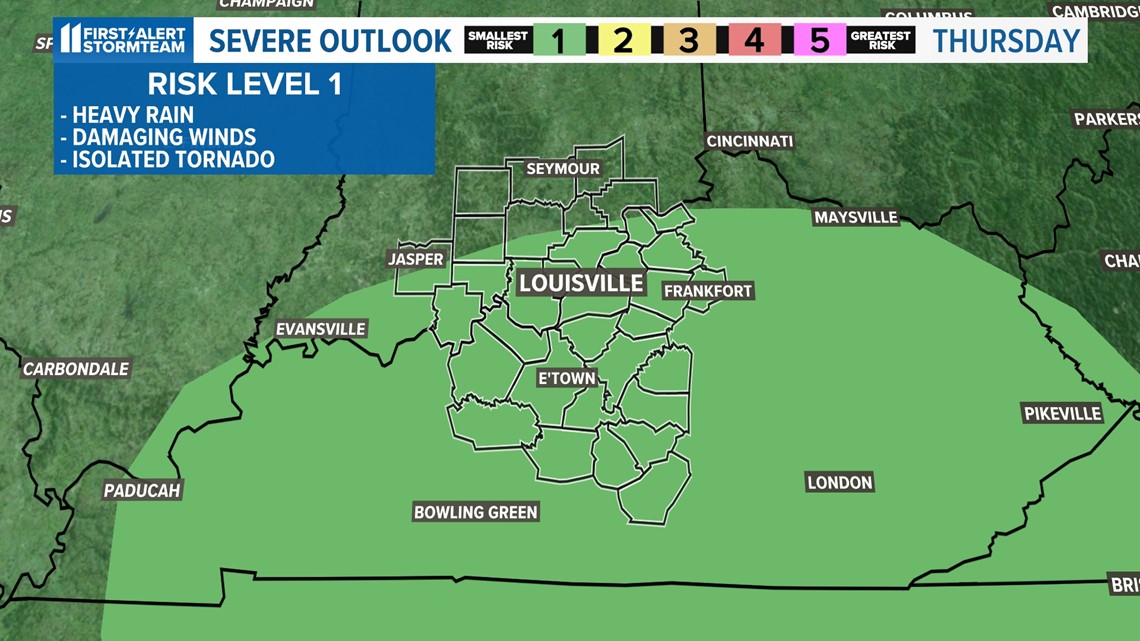 The severe weather risk is currently level 1 of 5 for everyone along and south of Interstate 64 and a few areas just north of it. Damaging wind gusts of 60 miles per hour or higher and heavy rain is the highest threat, but an isolated tornado spin-up can't be ruled out. Although flooding isn't a high concern, low-lying areas or locations with poor drainage might briefly flood if rain falls heavily enough.
After a mostly dry night, a region of rain and thunderstorms moves in during the pre-dawn hours tomorrow morning.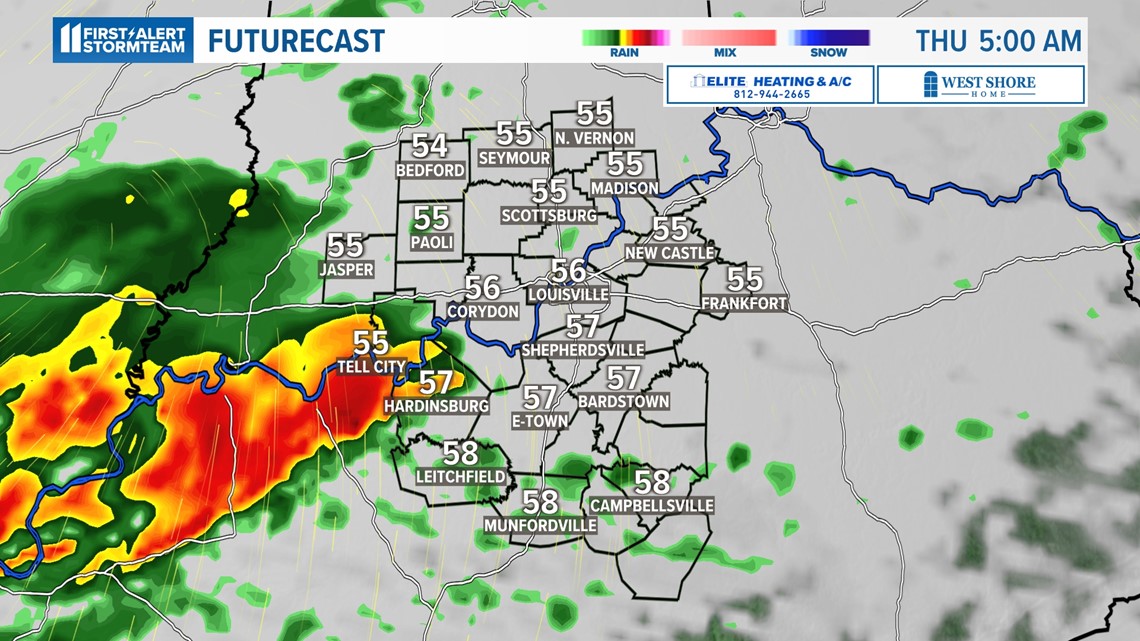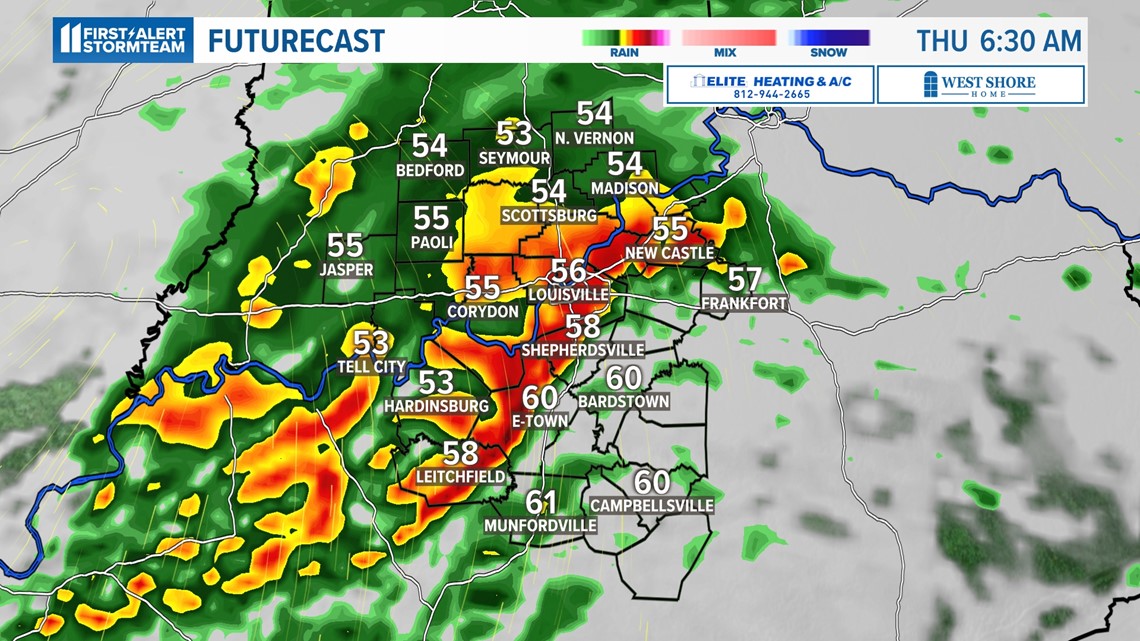 It'll likely be wet at the bus stop tomorrow morning. If severe weather occurs it would most likely happen during the 6 a.m. to 9 a.m. time frame. Even if there is no severe weather, embedded thunderstorms and gusty winds will all be possible.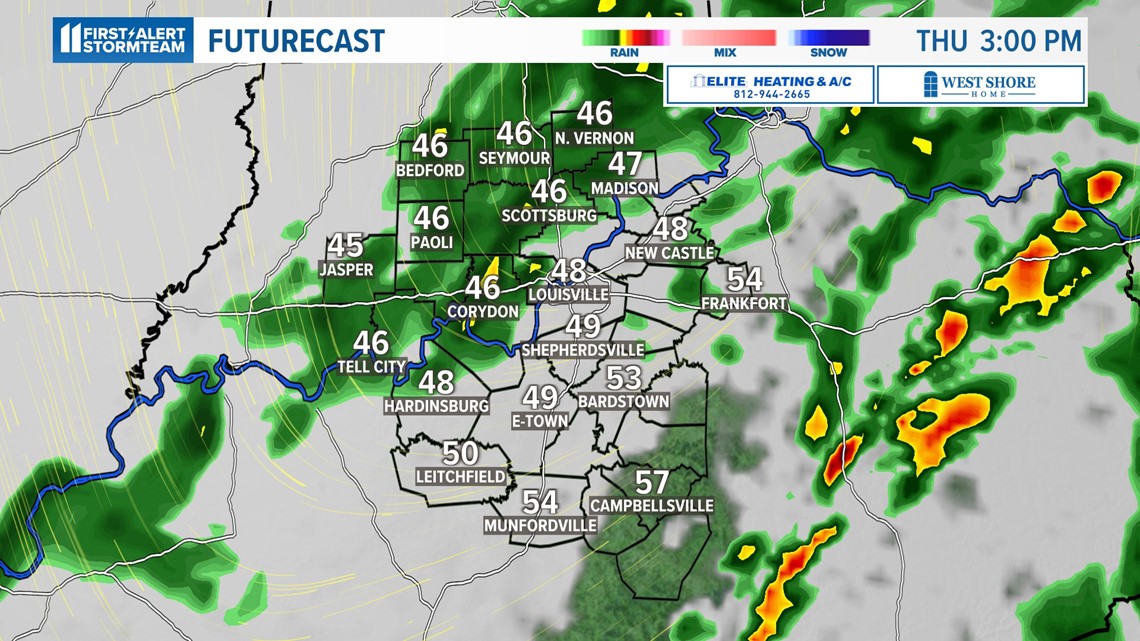 The first half of tomorrow will be the wettest part of the day as the main batch of rain slides through, but showers will continue to linger into the late afternoon before largely exiting Kentuckiana late tomorrow evening.
Temperatures will be unseasonably mild tomorrow before and during the rain. We'll make a run at 60° in metro Louisville with towns south of the city possibly warming into the low 60s. The warm-for-January air won't last long.
A cold front will slide through early in the afternoon starting a fast cooling trend. By the time rain ends we should find ourselves in the 40s, possibly even the upper 30s in parts of southern Indiana. Winds will remain breezy at about 15-25 mph from the west and northwest. More on temperatures in a minute.
As for rainfall, totals up to 1" expected with locally higher totals possible. It won't be as big of a drenching as we experienced earlier this month, but still very healthy and beneficial rainfall.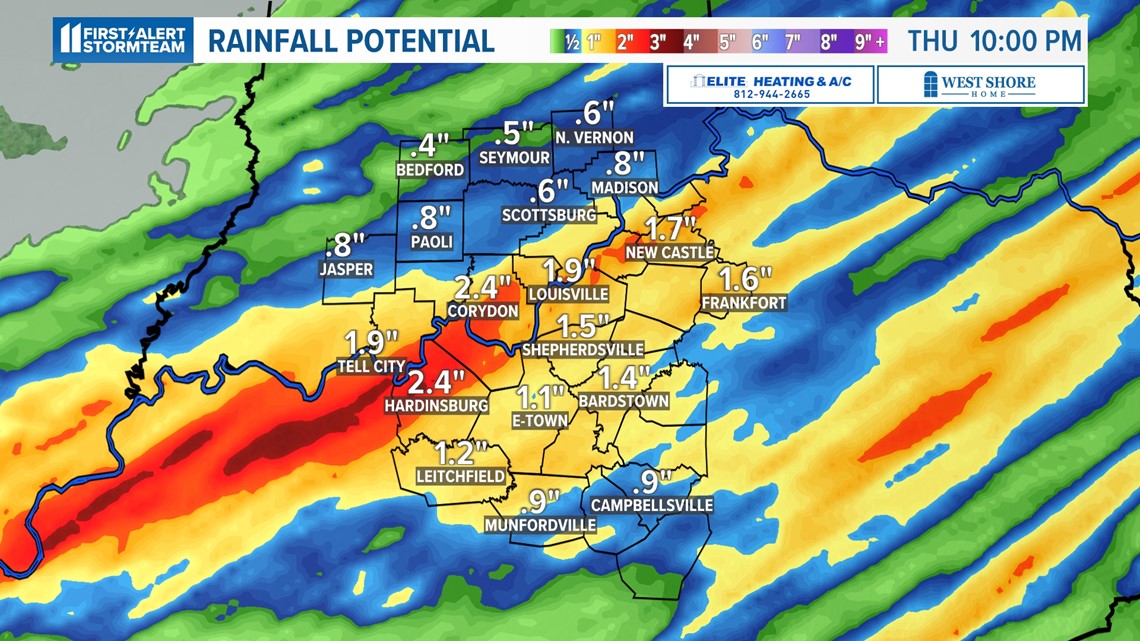 Back to temperatures - there is a potential for rain to transition to snow late Thursday and early Friday with spotty snow showers through the day Friday. Unfortunately for snow lovers, it doesn't look like accumulation will be likely. Models have struggled to handle the snow part of this storm, but with forecast temps Friday expected to be above freezing, any snow would melt on contact with the ground or soon after.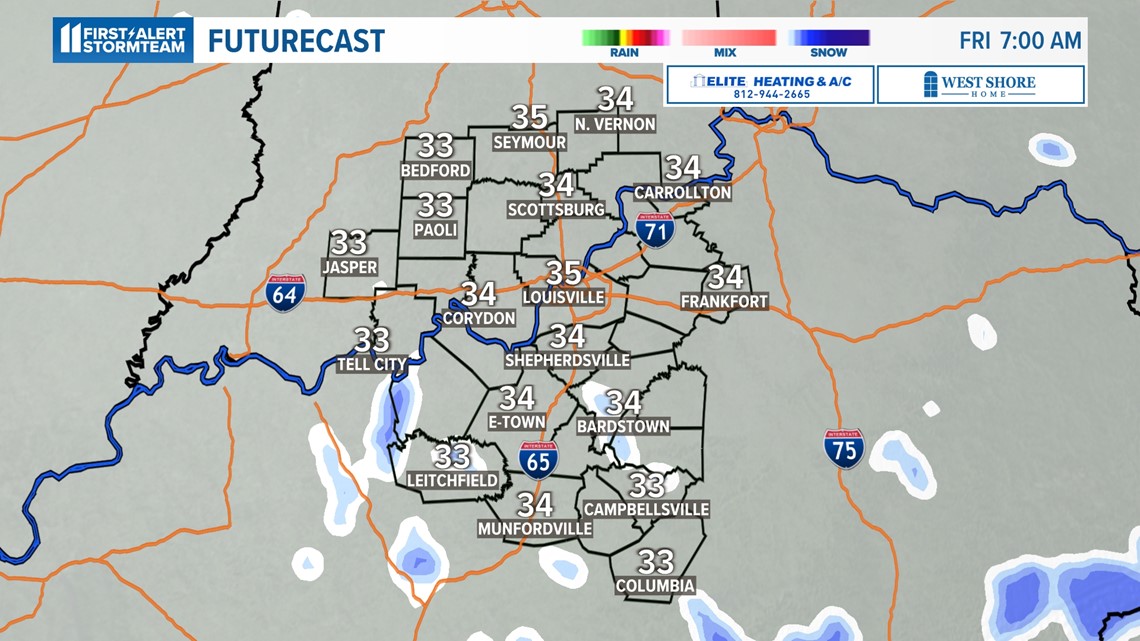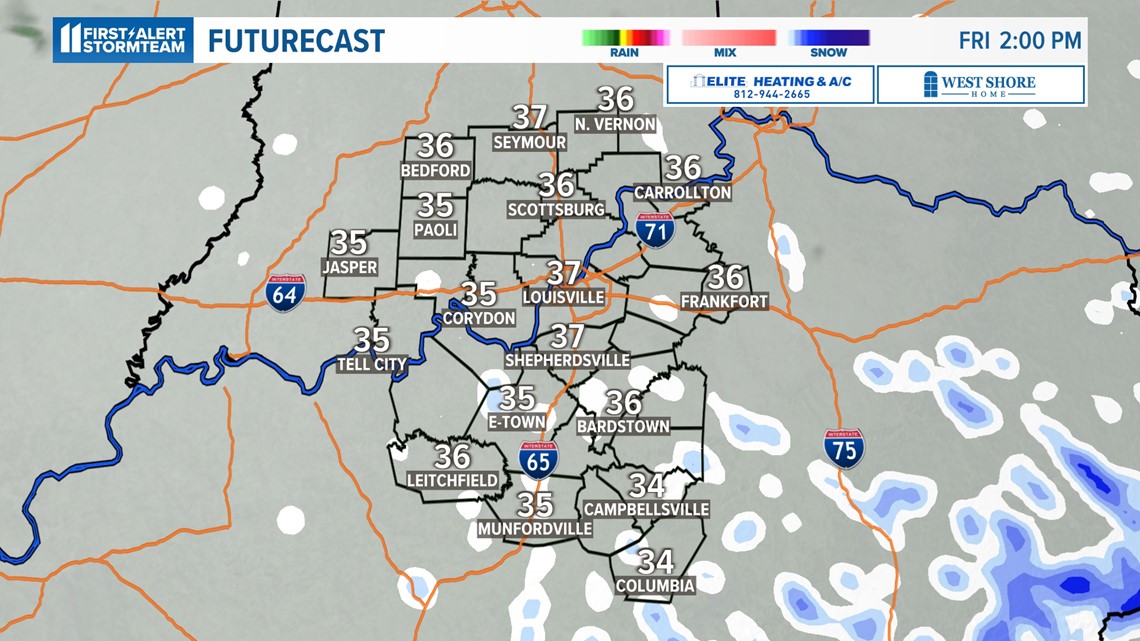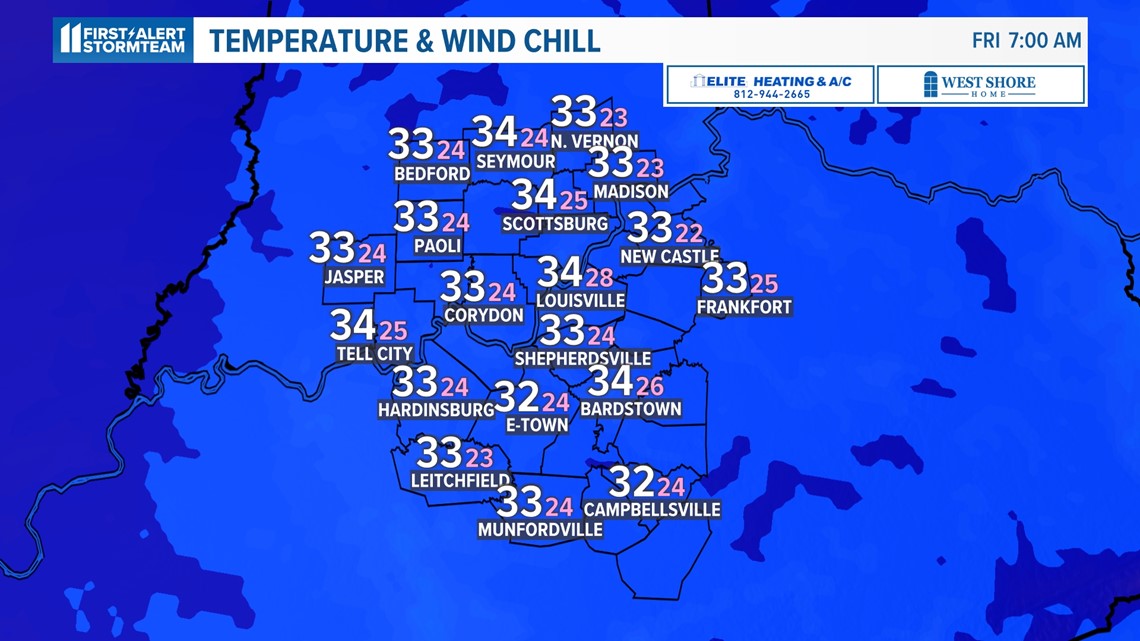 If any snow did accumulate it would mostly likely happen east of I-65 (and more-so toward I-75), or north along I-71. Given temperatures Friday and Saturday morning will be below freezing, it's possible some slick spots may develop from any wet patches that froze over. It's definitely going to feel cold Friday with wind chills in the upper 20s to low 30s and breezy northwest wind 10-20 mph.