LOUISVILLE, Ky. — A double whammy of sorts, October's weather is about to end on a very active note thanks to two separate storm systems nearing the Ohio Valley at the same time. What is the timing, how much rain might we see, will Halloween be impacted, and how does the election day forecast look? Let's break down the forecast.
Rain arrives Wednesday night
Hurricane Zeta makes landfall in Louisiana late Thursday and send rain our way
A separate storm system will approach out of Texas at the same time
Halloween and election day are looking calm
Weather setup: As of 12:45 p.m. Wednesday, Hurricane Zeta was located roughly 220 miles south of New Orleans, Louisiana moving northward at about 20 mph as a strong category 1 storm. Current models predict Zeta to make landfall along the Louisiana coast near New Orleans late Wednesday before weakening to a tropical storm and moving northeast toward the Mid-Atlantic states. Zeta is the 27th named storm and 11th hurricane of the 2020 season, as well as the 9th storm to impact the Gulf Coast and the 5th to impact Louisiana alone!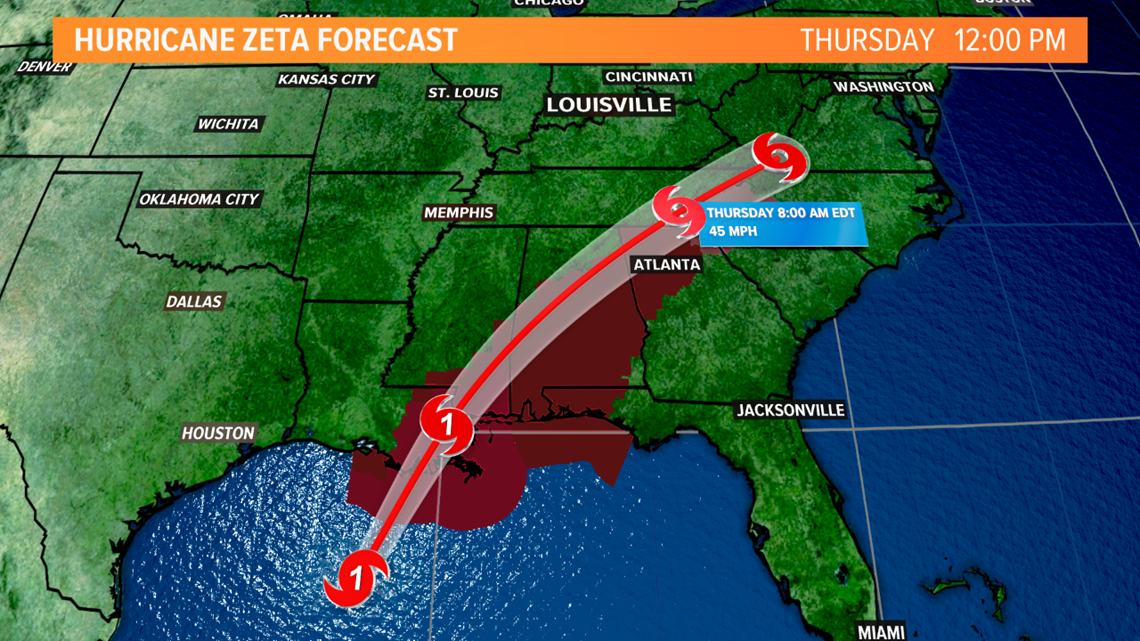 Tropical moisture from Zeta and Gulf of Mexico is flying north into the Tennessee and Ohio Valleys. We'll remain mostly cloudy Wednesday and showers will develop and increase in coverage starting this evening.
As Zeta continues to move inland it will be influenced by a storm system moving in from the Red River Valley. These two storms will interact in such a way that will allow for heavy rain in the Ohio Valley Wednesday night through Thursday. The peak of this soaker should occur late Wednesday night into the first part of the day Thursday, so the morning commute may be significantly impacted.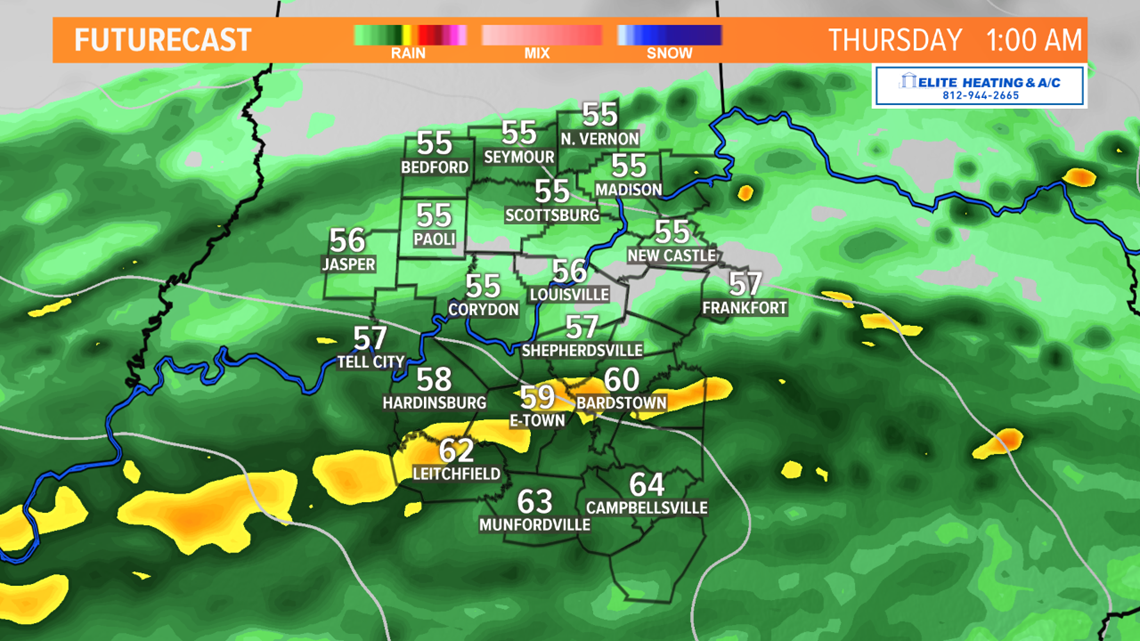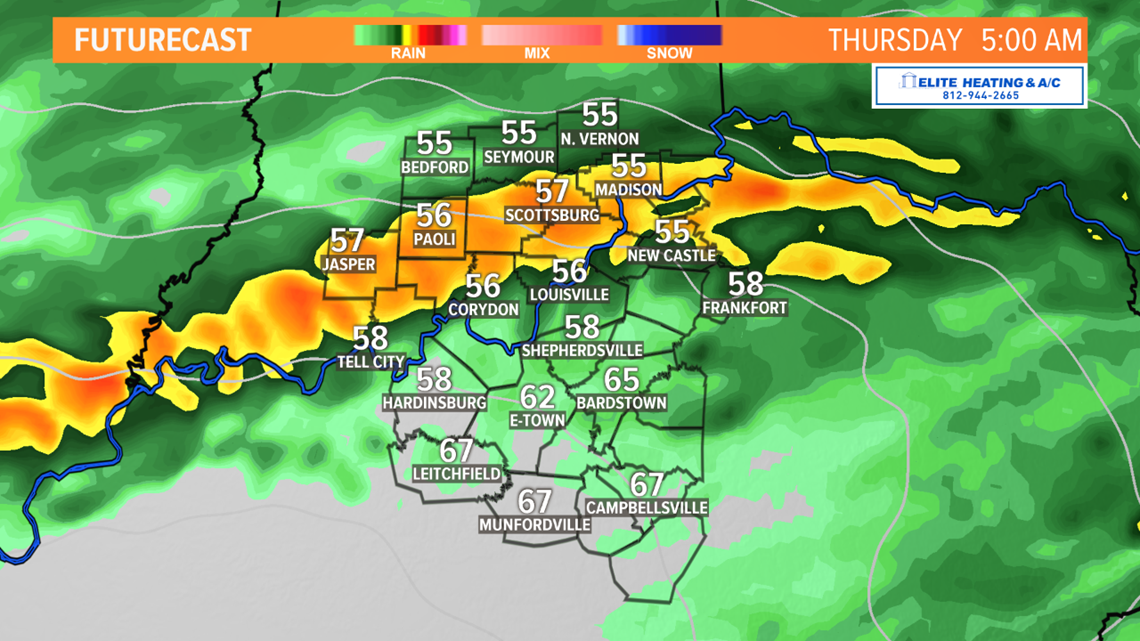 We'll also have to contend with the wind Thursday as the center of Zeta passes to our south; northeast winds may gust upwards of 30 miles per hour during the day. This also means temperatures will be somewhat cool for some locations. While southern Kentucky should see temperatures in the 60s (thanks to south winds), southern Indiana and north central Kentucky will likely be in the 50s. Those are all the makings for a nasty, chilly rain.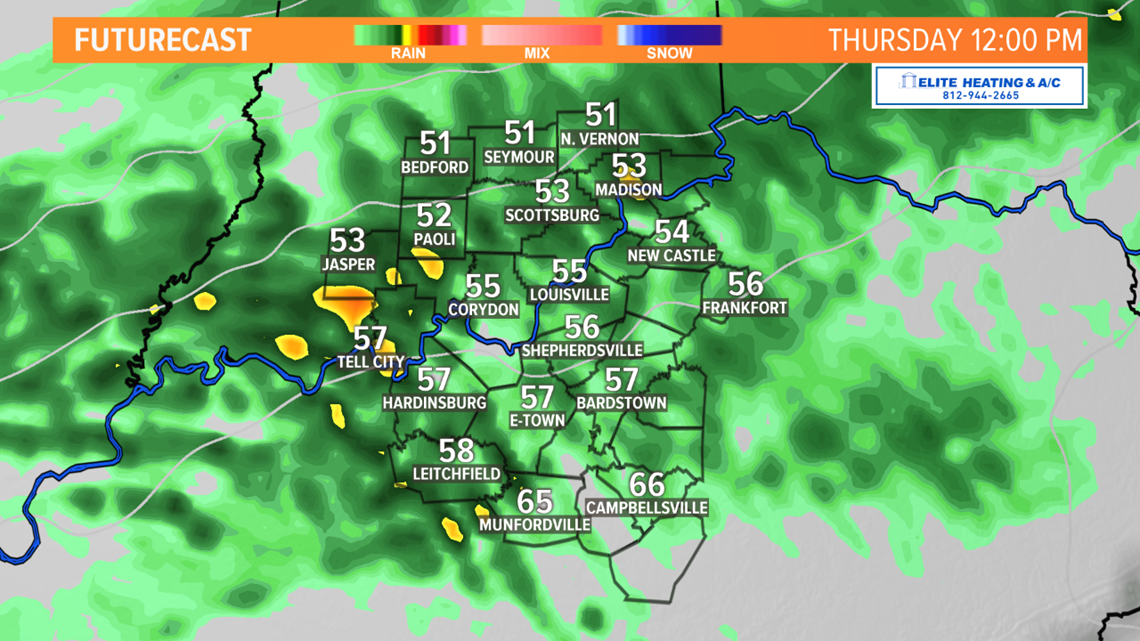 How much rain? This is where the forecast gets a bit more challenging because the precise track of Zeta will mean everything. That said, models have been somewhat consistent in their predictions and a heavy rain is expected regardless. As of late Wednesday morning rainfall totals of 2-3" will be possible north of the Western Kentucky and Bluegrass Parkways, including metro Louisville. Washington, Orange, DuBois, Crawford, and Perry Counties in Indiana may see 3-4" of rain through Thursday. The heaviest and highest rain totals are currently expected to stay downriver near Paducah where five or more inches may fall. Rain totals may be a little less south of Louisville because of a dry slot of air that isn't favorable for rainfall.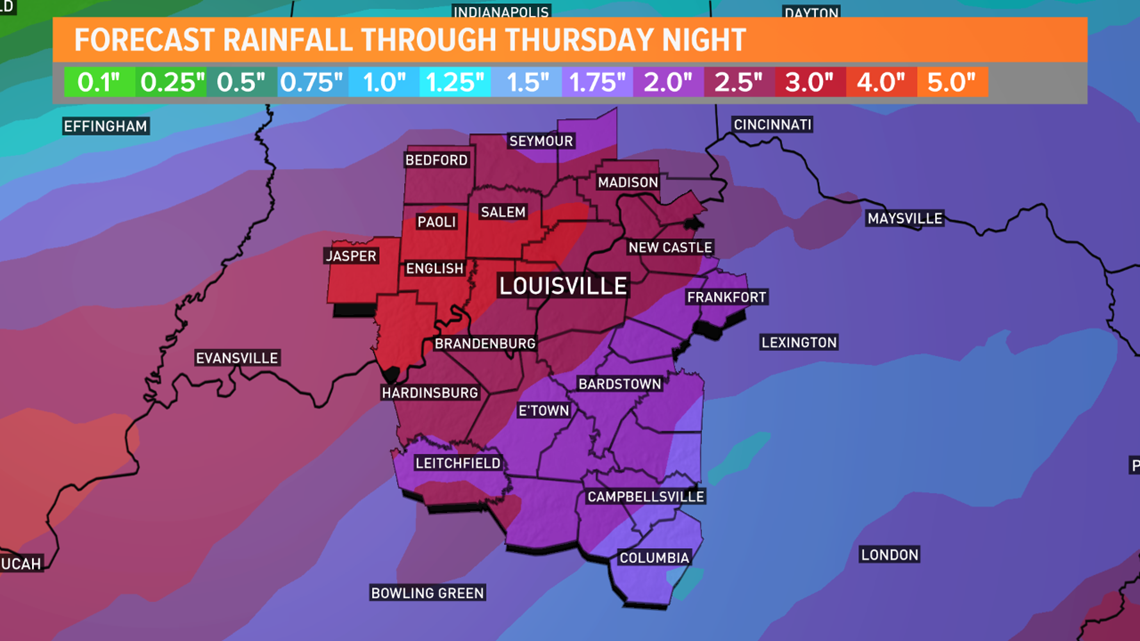 With so much rain expected, there is a flood concern, but confidence that flooding will occur is lower. A flood watch has been issued until 2 p.m. Thursday including Louisville, southern Indiana, and counties that border the Ohio River.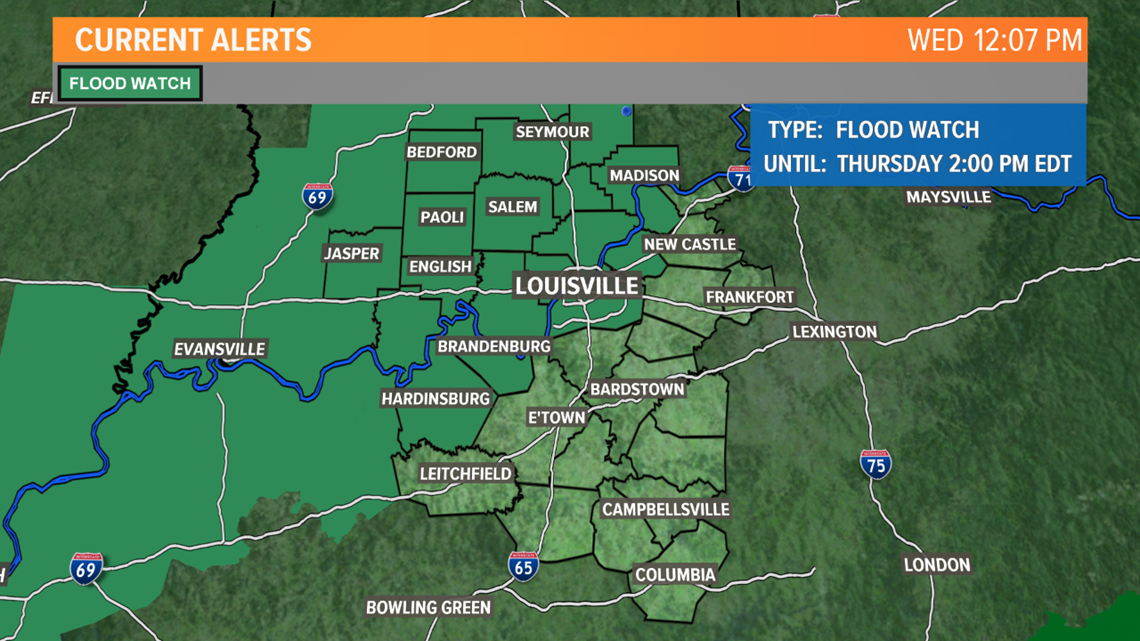 Long term: Rain will end Thursday night and the weekend looks much nicer, but chilly with a chance for frost Saturday morning. Sunnier weather will allow us to dry out and if you're able to trick-or-treat, the weather will cooperate. It's going to be a special Halloween because we'll have a blue moon! A blue moon is the second full moon in the same calendar month. The last time we had a blue moon on Halloween was 1944. Don't forget to set your clock back one hour before heading to bed Halloween night too; Daylight Saving Time ends November 1st. If you haven't already voted, the election day forecast is also looking very nice with mostly sunny conditions and temperatures in the low 60s.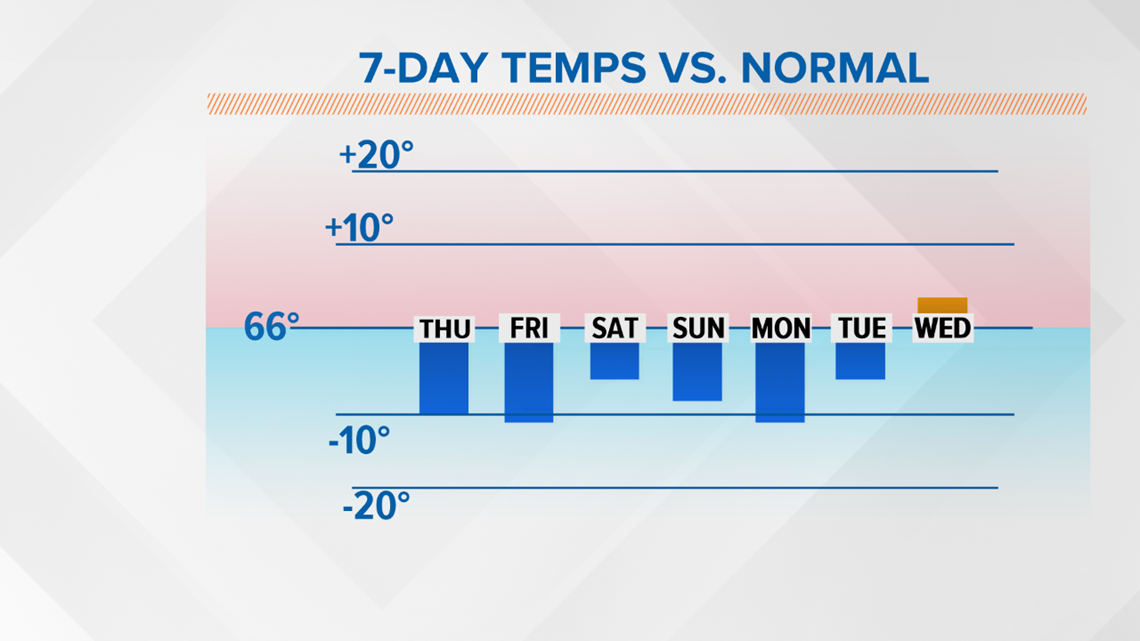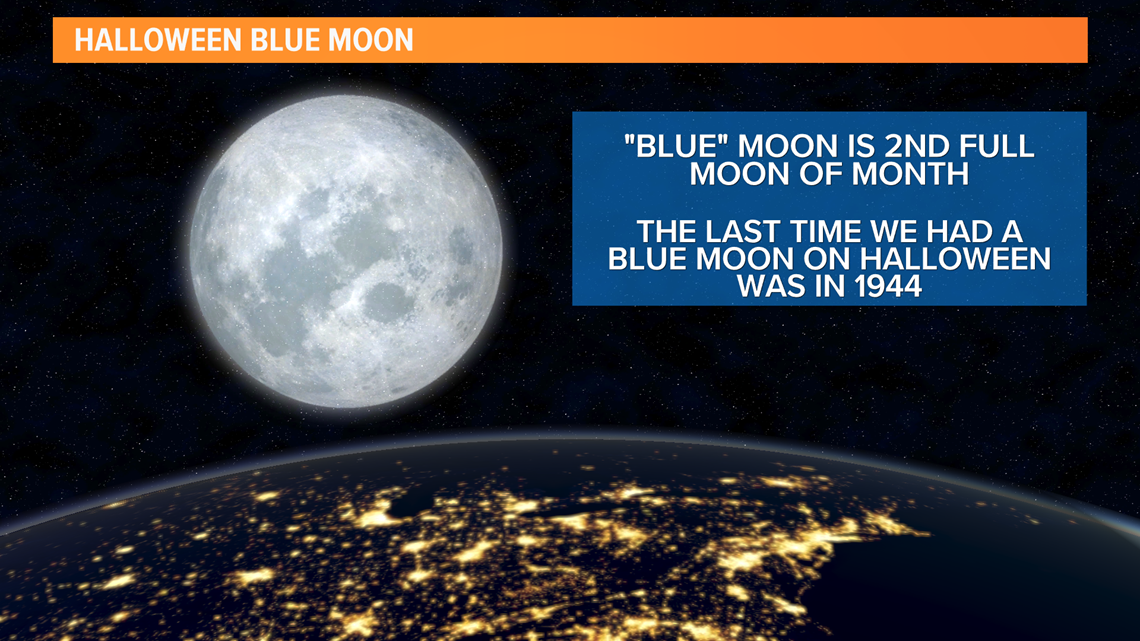 Stay dry and have the umbrella and rain boots close!