Dangerous cold and strong wind: what to expect now
Snow has moved out and bitterly cold wind chills are in place. Here's what you need to know.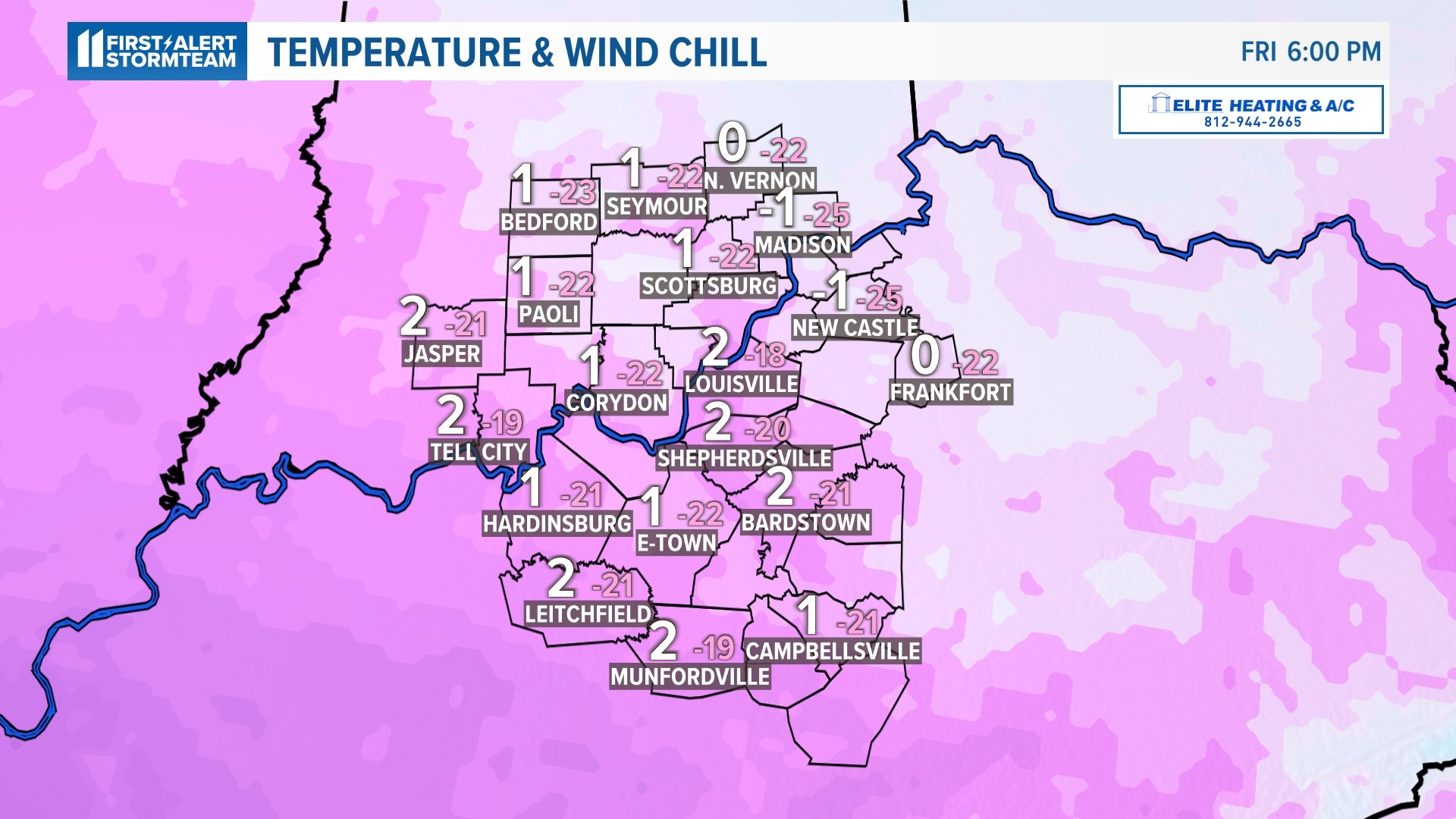 The WHAS11 First Alert StormTeam have been tracking a significant winter storm that has gifted us with a white Christmas, but comes with major drawbacks.
Extreme cold has settled into place in the wake of last night's snow.
Here's what we can expect over the next 24 hours.
Forecast at-a-glance
:
Stay Weather Aware: Download the free WHAS11 app to get the latest winter weather alerts as the forecast changes. For Apple or Android.
Drifting snow and ice on the roadways
Dangerous cold with wind chills as low as -15 to -30 degrees Friday and Saturday
Travel delays
Weather setup
:
If you are able to postpone travel today, then we highly advise doing so!
Our Winter Storm Warning has been allowed to expire. At this point, a Wind Chill Warning remains in effect until 1pm this afternoon.
An arctic air mass has brought us some of the coldest temperatures we've seen in a long time. In fact, we haven't been faced with a wind chill warning since 2015. Our wind chills have gotten as low as -30 degrees this morning!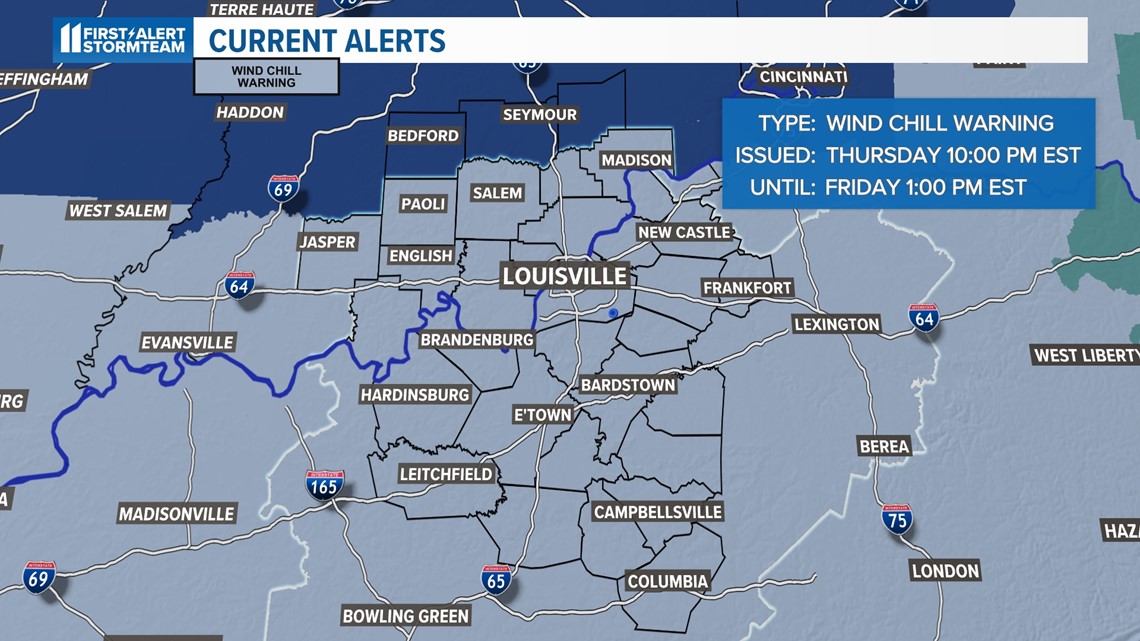 Timeline and Impacts
:
Strong westerly wind will persist into our Christmas weekend. As the Wind Chill Warning expires, a Wind Chill Advisory will then take effect through 1pm Saturday, Christmas Eve.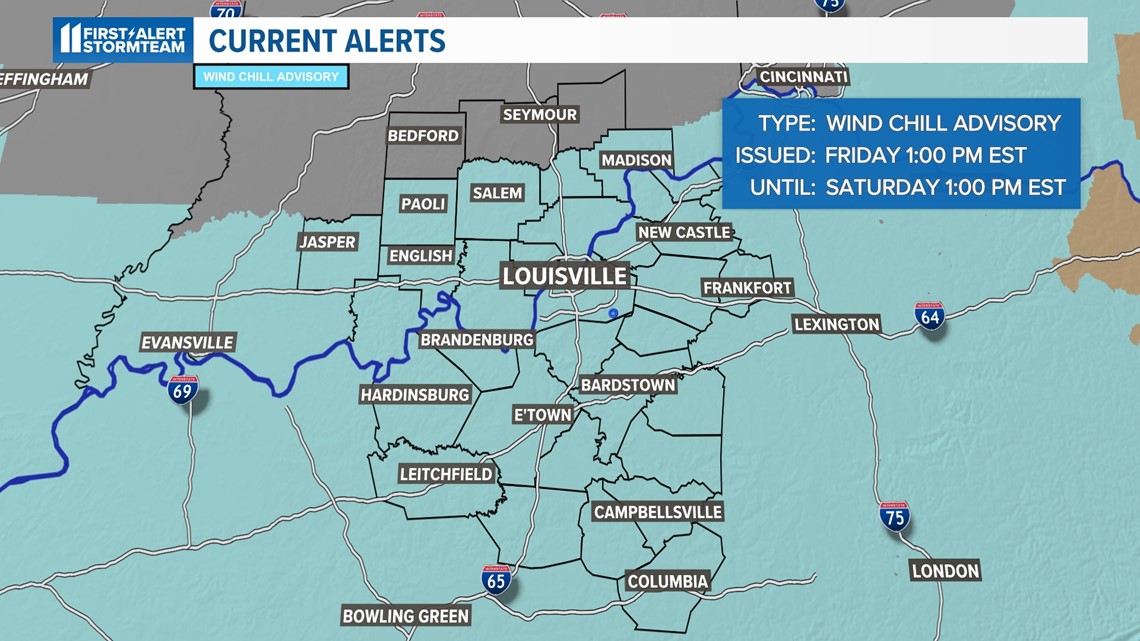 Use extra caution if you must travel today. The bitter cold combined with snow covered, icy roads has proven to be hazardous with multiple stalled out cars and a a handful of crashes on our local highways. You can check the current traffic conditions on the go on our WHAS11 News app.
How much snow?
:
It has been difficult to get exact measurements with this storm since the wind has blown the light fluffy snow all around and continues to do. That being said, the majority of reports across Kentuckiana tell us that we picked up anywhere from 1-3".
Extreme Cold Threat
:
Although snow has been a significant part of this forecast, the cold air and high wind has been far more impactful.

Weekend temperatures are only expected to reach the teens with high winds making it feel as cold as -10° or colder.
That's dangerously cold and frostbite can set in within minutes for any unprotected skin. If you must be outside, wearing layers is extremely important. Frostbite or hypothermia are possible in as little as 20 minutes.

Depending on snow amounts, morning lows Saturday again be near 0° with some locations in southern Indiana likely dipping below zero.
Gusty winds will continue Friday night and Saturday, so wind chills well below zero will stick around through Saturday. Wind gusts won't be as high Saturday, but still a strong 30-40 miles per hour and wind chill values around -10°. Highs Saturday will "recover" to the teens, but we expect to stay below freezing until next Monday or Tuesday.
Don't forget about pets! Do not leave them outside in such extreme cold. If it's too cold for you, it's too cold for them as well, despite the fur.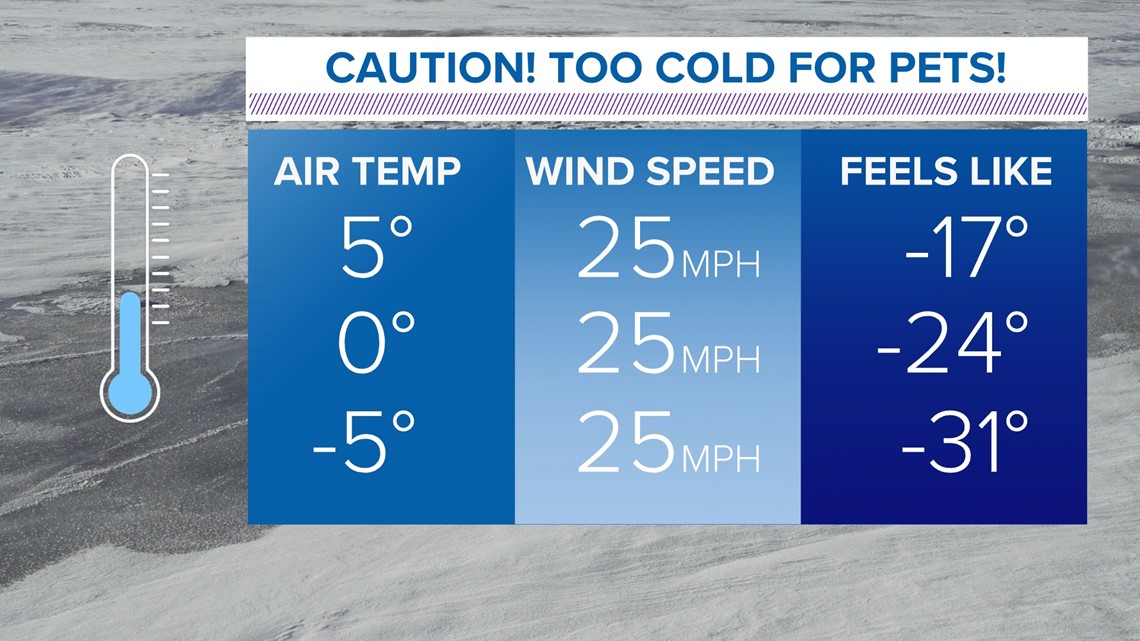 Travel Safety Tips
:
If you're driving for the holiday, please be careful and pay close attention to the forecast.
Be sure to have the following with you in case you become stranded:
Blankets or extra clothes to stay warm
Water and snacks
A fully charged battery or a cable to charge your phone/external battery
Reflective safety vest
Be very careful of using your car heater in the event you end up off the road. A blocked tailpipe will prevent proper ventilation and may result in accidental carbon monoxide poisoning.
Let family know where you are, and if it's a true emergency, dial 911.
Make it easy to keep up-to-date with more stories like this. Download the WHAS11 News app now. For Apple or Android users.