LOUISVILLE, Ky. — We're breaking down some of the most common misconceptions about tornadoes. The more you're informed about severe weather, the better prepared you can be when it arrives.
WHAS11 News spoke with John Gordon, the meteorologist-in-charge at the National Weather Service to debunk some of these myths.
Myth #1: Tornadoes don't hit major cities
Gordon said this myth is "totally false." Although it's rare, tornadoes can happen in any city in a region that's prone to tornadoes.
He said areas including Oklahoma City, Salt Lake City, Cincinnati and St. Louis have been struck by tornadoes, and some have been deadly.
Tornadoes have been recorded in Louisville, too. Gordon said an EF-4 tornado hit the city in 1980, killing several people.
"It hit the water tower on Zorn Avenue," he said. Another one came through in 1974 and hit Brandenburg as well.
Myth #2: Lakes and rivers disrupt tornadoes
Gordon said this myth is also false. In general, he said tornadoes can actually cross bodies of water but colder temperatures might slow them down.
"In the middle of winter, it's possible there is some effect," he said.
One study in Alabama showed indications that very cold water might disrupt the low-level instability needed for tornadoes, but more studies are needed to confirm that theory.
Myth #3: Hilly and forested areas are less likely to see tornadoes
The concept behind this myth is that uneven land or trees can disrupt the wind flow of a tornado. Gordon said the tornado outbreak on March 2, 2012, demonstrates that this isn't always the case.
"A lot of the locals believed the hills and mountains of eastern Kentucky would save them - and that obviously was not true because that thing was on the ground for miles... across those big hills," he said.
The tornado on that date also ripped a path through Clark Memorial Forest in southern Indiana. Plus, on May 28, 1996, an EF-4 tornado went through Jefferson Memorial Forest.
That said, very small, weak tornadoes may have a harder time pushing through densely forested regions - but trees are no match for stronger storms.
In fact, trees are still re-growing from the Henryville tornado 10 years later.
Myth #4: If you're on a highway during a tornado, get out of your vehicle and take shelter under a bridge or overpass
Gordon said this myth is not only false - but dangerous.
"There is no safety in there. It actually increases the wind speed," he said. "It'll actually spin up and increase as you get under."
This myth started after an amateur video of a Kansas tornado in 1991 showed people taking shelter under an overpass. Those people were fortunate – that particular tornado was weak, and the overpass didn't take a direct hit, but it could have been much worse.
If you need to take shelter while on the highway, leave your car and get as low as possible in a ditch. Cars can easily be tossed around like toys making them exceptionally dangerous places to take shelter.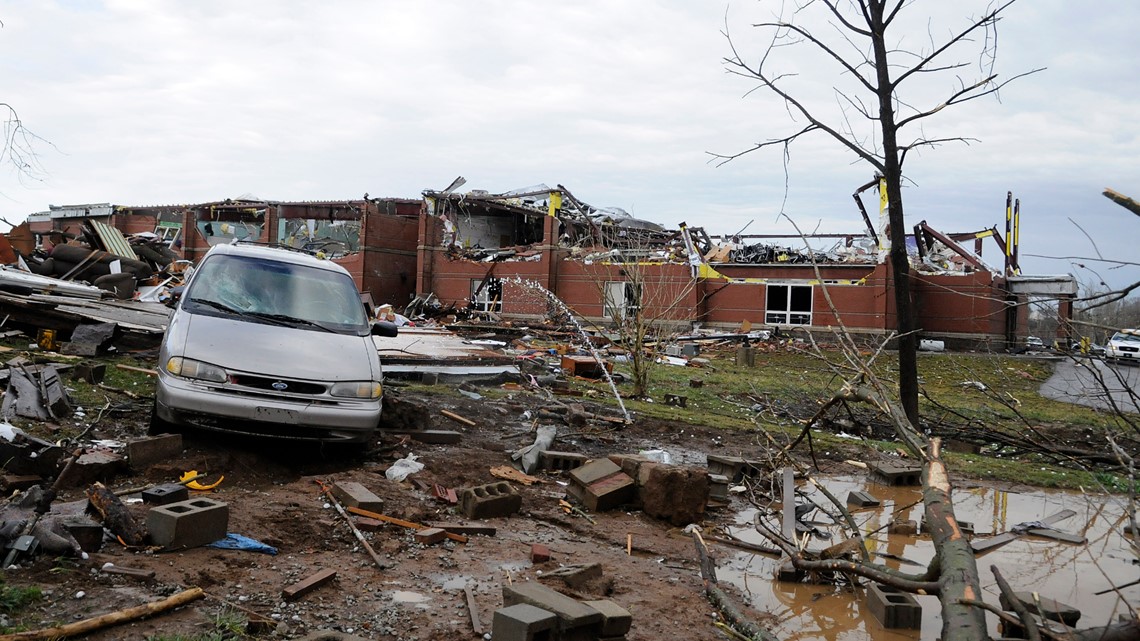 Myth #5: Relying on a tornado siren is the best way to be alerted about a tornado
This is also false. Sirens are meant to alert people outdoors - not indoors. Inside noise can easily drown out the sounds of the siren outside, which could be miles away.
The best ways to stay informed about severe weather are using an NOAA weather radio, tuning into a local TV station or getting alerts sent to your phone.
Make it easy to keep up-to-date with more stories like this. Download the WHAS11 News app now. For Apple or Android users.