LOUISVILLE, Ky. — November is ending and December beginning with very active weather that's set to bring us our first snow of the season and an early taste of winter. This is a complicated forecast, but we'll go over what we know as of Friday, November 27th.
Our weather will be decent Friday and the weekend
Rain begins Sunday night
Rain changes to snow Monday
Blast of cold air Monday and Tuesday
Weather setup: The day after Thanksgiving…our bellies full, waistlines expanded, guilt overbearing. The good news is our weather for the weekend will be decent. Friday begins with mostly cloudy conditions, but sunshine will peek out in the afternoon. Temperatures climb into the middle and upper 50s for most with temps closing in on 60 degrees in southcentral Kentucky. A south wind turns to the west in the afternoon. Friday night will feature a partly cloudy sky that will gradually clear heading into Saturday morning.
Saturday will perhaps be the nicest day of the next week. High pressure will move west to east across the Ohio Valley and bring plenty of sunshine. Temperatures will hover near average in the lower 50s. That center of high pressure quickly moves east by Sunday as a strong storm approaches from the south.

The first snow of the season: We've been talking about the potential for snow around December 1st for about a week. How confident are we in the forecast? Will we really see snow? Will it accumulate? Here are some answers.
How confident are we? Models have been consistent over the past several days bringing a strong storm system up the back of the Appalachian Mountains. Such a storm track places us in a good location to see enough cold air for any falling precipitation to fall as snow. That said, we are confident that we'll see rain Monday eventually transition to snow as temperatures drop to the freezing mark by the afternoon. More on temperatures later.

Will we really see snow? Our Snow Meter – which designates the chance to see snowflakes, not necessarily accumulating snow – is set at Likely. Again, this means that we are likely to see falling snowflakes. We'll talk about possible snow accumulation in the section below.
Temperatures early Monday morning will be above freezing, so by that point we'll largely see a cold rain. The thermometer will drop late morning and into the afternoon closer to freezing, so a rain/snow mix will be likely late Monday morning into the afternoon. Snow will probably first appear in southern Indiana as temperatures drop below freezing there first. All snow is possible Monday afternoon into Monday evening/night as we hang out near freezing.


This is a somewhat slow storm system. While models Friday morning try to move the storm out of here by Tuesday and leave us dry for the first day of December, storms like this can often hang out longer than models believe, so snow showers could still linger through Tuesday morning – that's important for possible snow accumulation.

How much snow? That is the most challenging and least certain aspect of this forecast. Temperatures are the crucial part of the forecast as they'll near freezing Monday afternoon – the expected peak of the storm - and definitely drop below freezing Monday evening and night. Models are consistent in pointing to accumulating snow generally along and east/northeast of the I-65 corridor. There are important factors that will impact how much snow may stick:
When do temperatures fall below freezing? If it holds off until Monday evening, potential accumulations will be less.
The ground is still relatively warm and above freezing, so initial snow would melt on contact.
When snow ends will be important. If it lingers through Tuesday morning, accumulation becomes more likely.
Have those winter coats ready: As mentioned, it's going to get cold Monday. Highs in the upper 30s will occur early in the day then drop as cold air surges in from the northwest. Expect breezy conditions too: a northwest wind 15-25 mph will result in cold wind chills in the 20s.
Temperatures drop into the lower and middle 20s Monday night/Tuesday morning. Any snowfall will have a better chance at accumulating then. Cold air hangs around through Tuesday underneath a mostly cloudy sky. Highs only in the middle 30s with a cold west wind 15-25 mph.

Long term: After snow exits by Tuesday afternoon, we'll be quieter for a couple days. Mostly sunny and warmer conditions arrive Wednesday, but we'll still be well below average as highs only manage the lower 40s. Temperatures are set to stay in the lower and middle 40s into next weekend, but another storm system may bring us rain…one storm at a time.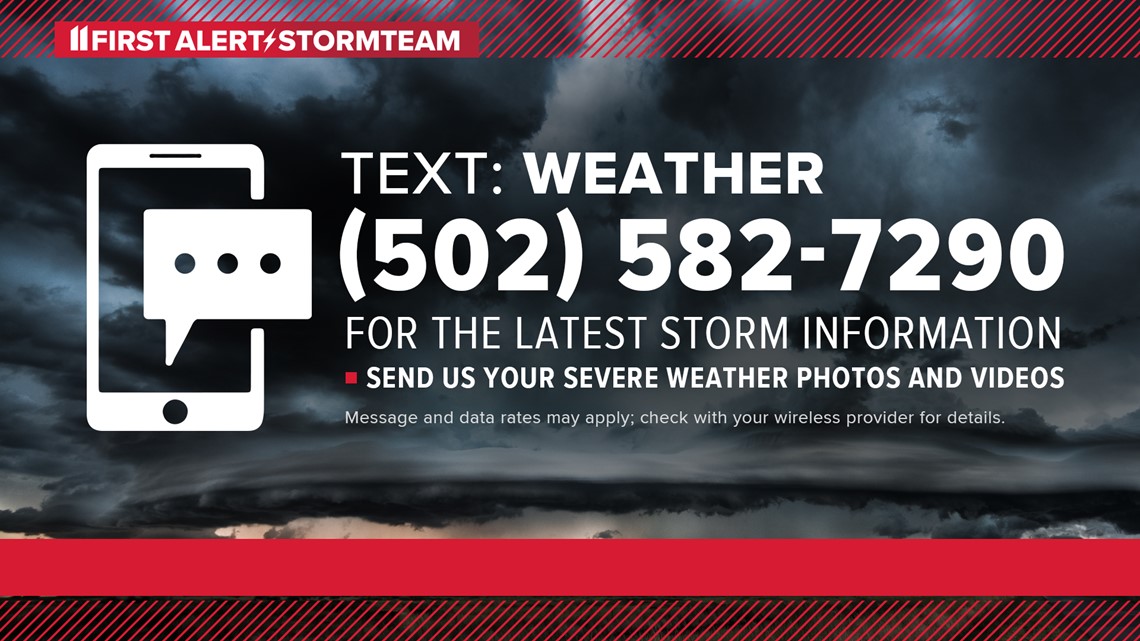 Make it easy to keep up-to-date with more stories like this. Download the WHAS11 News app now. For Apple or Android users.