LOUISVILLE, Ky. — Very active winter weather is expected this week which may have significant impacts to our region. The biggest concern is the potential for problematic ice accumulation, though all types of precipitation will be possible. If parts of our area do end up with significant icing, power outages and tree damage will be possible, and obviously travel will be impacted.
This forecast is subject to significant change. Let's discuss.
Winter Storm Watch Tuesday night until Thursday afternoon.
Quick wave of snow, rain, and freezing drizzle Monday night
Freezing rain Wednesday through Thursday
Ice accumulations expected
More snow possible on top of ice late Thursday
Monitoring potential for coldest stretch of weather this season this weekend
Weather setup: More winter weather is expected in the short term forecast starting Monday night. A quick passing system will bring predominantly snow to southern Indiana and a chance for a wintry mix for counties bordering the Ohio River. A Winter Weather Advisory is in place starting Monday evening lasting through Tuesday morning. A Winter Storm Watch takes effect Tuesday night until Thursday afternoon.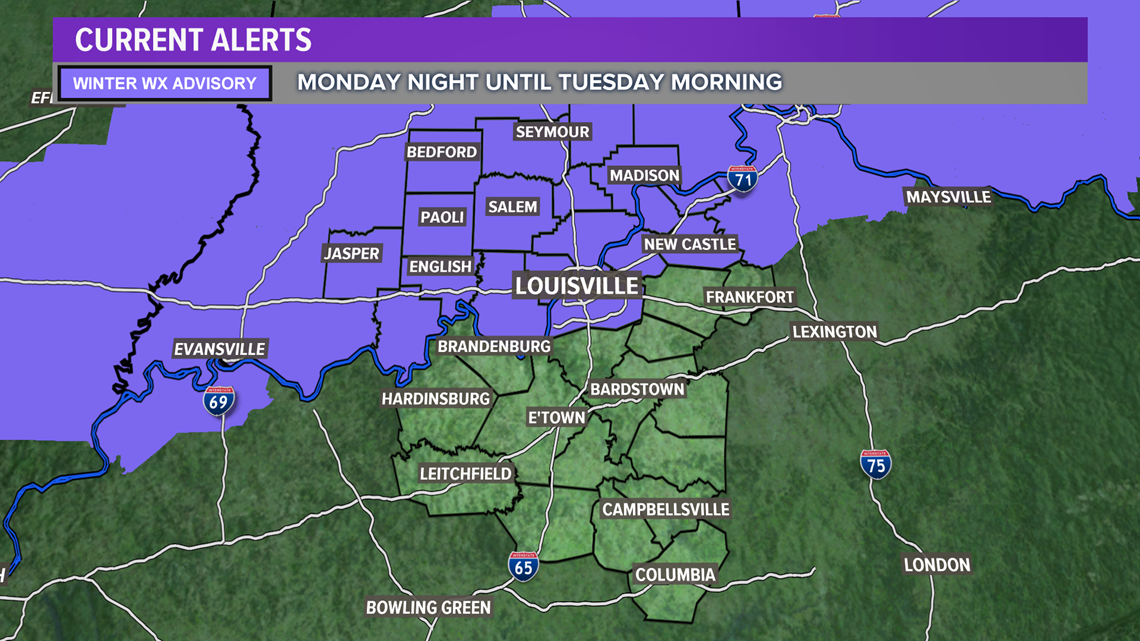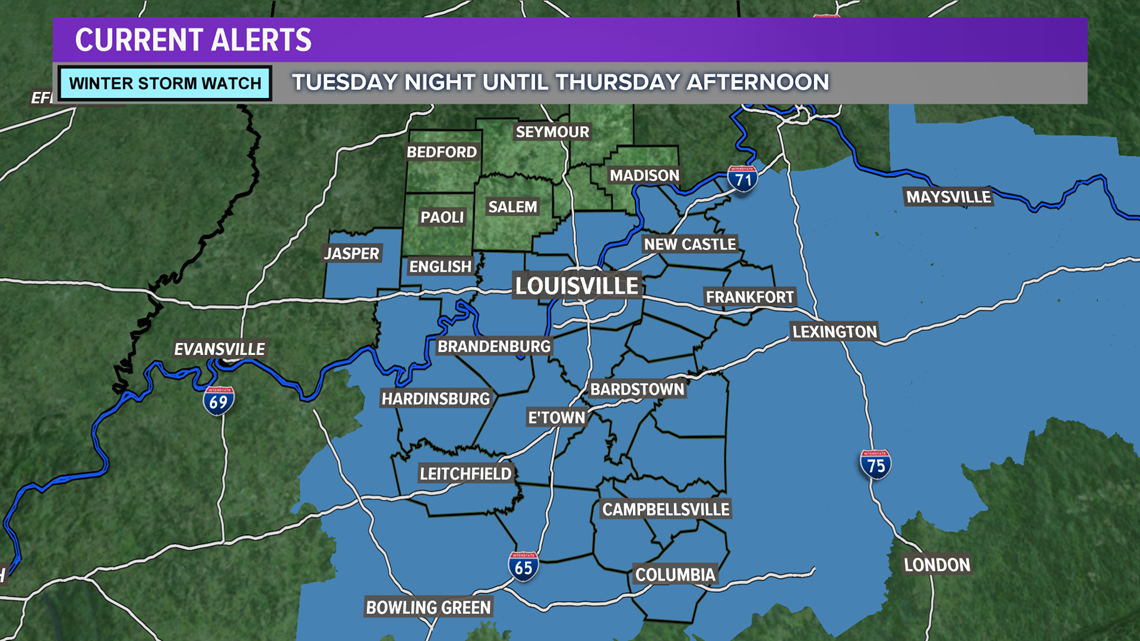 Precipitation should begin late evening into the early part of the night as temperatures drop through the 30s. Initially metro Louisville will see cold rain showers with a few snowflakes mixing in. As temperatures fall that wintry mix may turn to sleet, and eventually snow. Meanwhile, southern Indiana will see all snow for this event.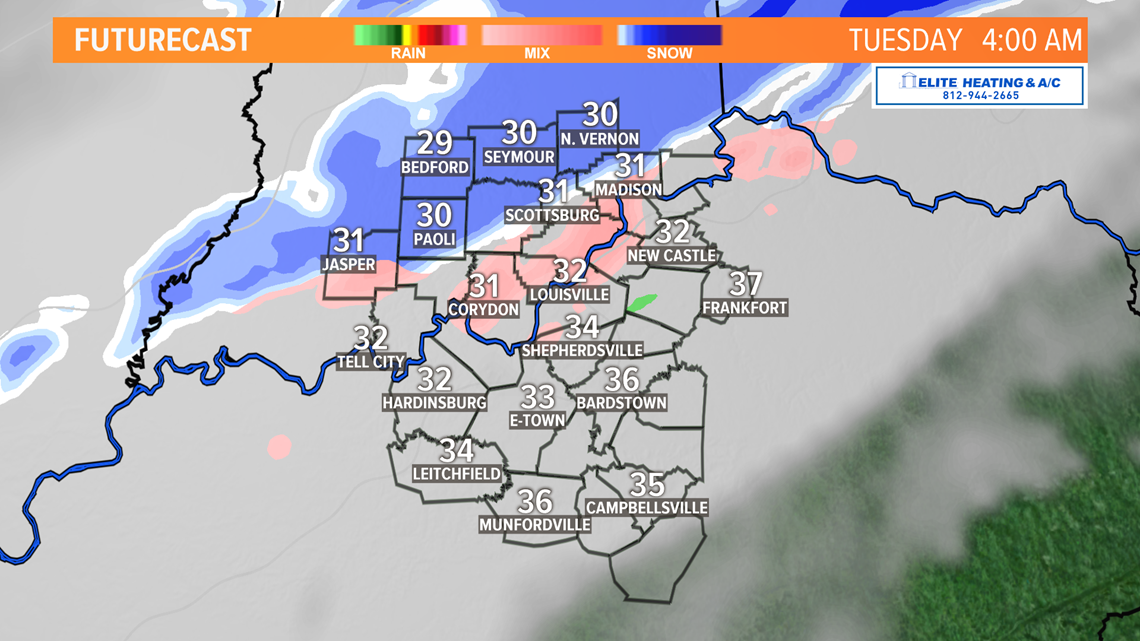 Tuesday afternoon is the calm before the main show begins Wednesday. This is where the forecast is particularly difficult and still subject to numerous changes. Here are some of the questions we have:
How cold will it get? Temperatures at the surface will be critical for ice accumulation.
Where will the heaviest precipitation fall? That region would likely see the highest ice accretion.
How much ice will accumulate? This will be determined by numbers 1 and 2 above
What will the storm track be? This is important for all three above: a shift north or south 50 miles could mean the difference between a cold rain or all snow.
Will there be snow on top of the ice? If yes, that will make for an even messier winter wonderland.
Breaking it down: Precipitation begins late Monday night around midnight. Snow will creep into southern Indiana first before working south to the Ohio River. As mentioned, metro Louisville will see a wintry mix initially before transitioning to snow. 2-3" of snow from a line from Jasper, IN to Carrollton, KY may accumulate, while Louisville will only see up to 1 inch during that same time. With some of that freezing mix, a minor glazing of ice possible in metro Louisville, the Tuesday morning commute may be impacted with slick spots, particularly on bridges and overpasses. Be cautious in the morning! Sidewalks will also likely be slick.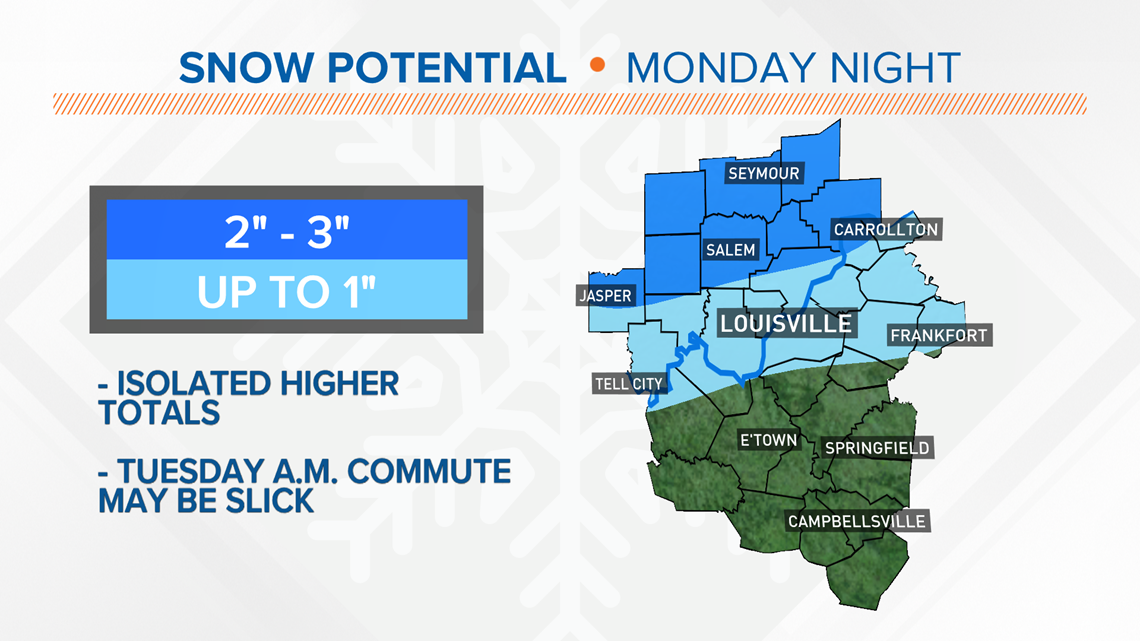 Much of Tuesday afternoon will be dry and predominantly cloudy. Starting Tuesday night and early Wednesday, the main event arrives with rain south of the Parkways, snow in our far northern counties, and a wintry mix to ice along the Ohio River. Communities south of Louisville likely won't be impacted by Monday night's event likely staying dry or only see a few sprinkles or flurries at the most.
Wednesday evening/night through Thursday will be the climax of the snow. How cold will it be? High resolution models suggest temperatures will be at or just below freezing Wednesday through Thursday. Currently, our forecast calls for surface temperatures in Louisville to be at or slightly below freezing Wednesday and Thursday. Southern Indiana will likely be further below freezing while central Kentucky will hover at or just above freezing. Minor changes in temperatures will greatly influence our weather impacts! If temps hover just above freezing, we'll be left with a very cold rain. If they stay below freezing, then we may experience a more significant icing event.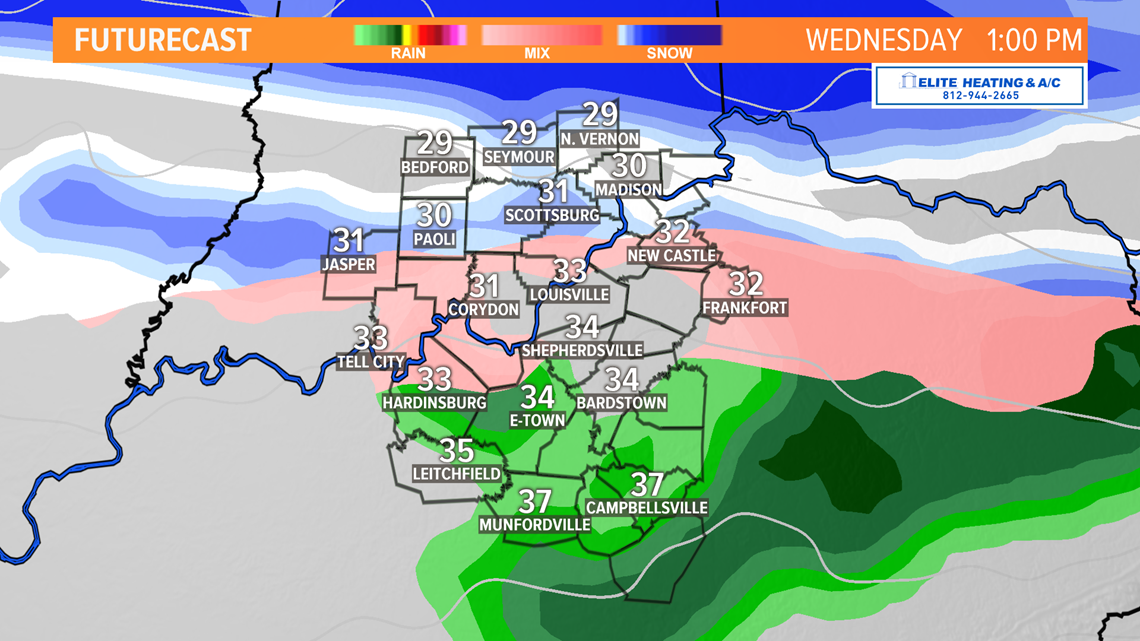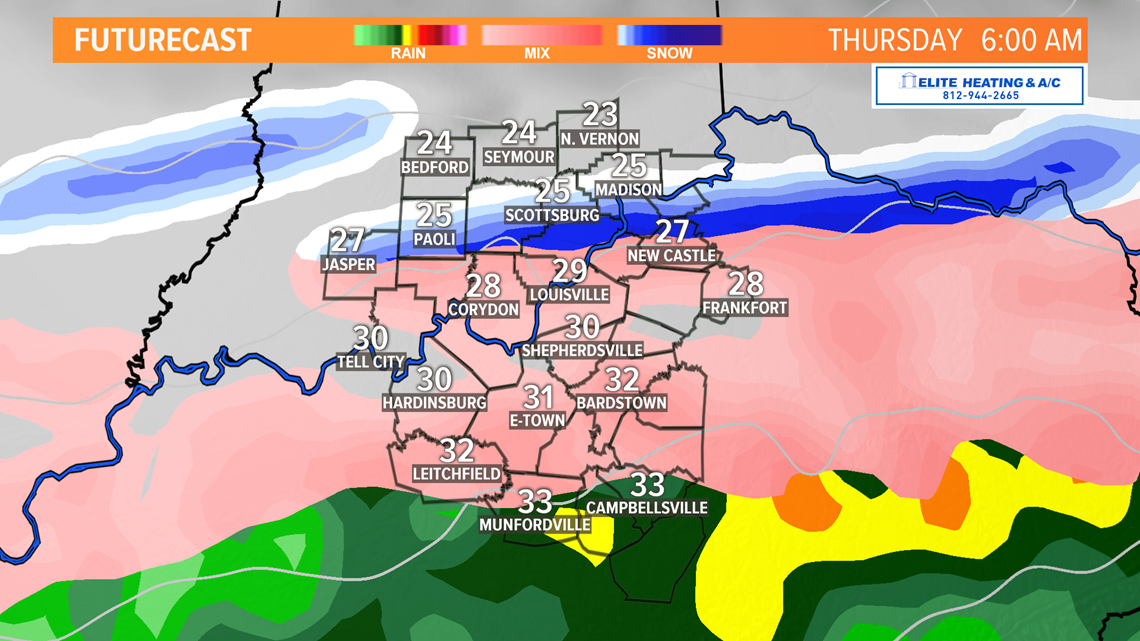 Given the long-duration of this storm, ice may accumulate enough to create significant problems on roads, particularly Thursday morning. By Thursday evening any remaining precipitation should transition totally to snow and may result in the white stuff on top of the ice…something we really don't need.
The last major ice event was 2009 when 2-3" of ice accumulated with an additional 4 to 6 inches of snow on top of it. While this event doesn't appear to be as extreme, it still looks to be impactful.
How much ice? Early signs show up to three-quarters an inch of ice possible by Thursday afternoon, with isolated higher amounts possible. Some models show more, others far less. The resounding question is where will the band of highest ice accumulation be? Models are still working this out, but they've consistently targeted a region just north of I-64 down to the Cumberland Parkways, though there has been consistent fluctuation north and south. A shift as little as 20 miles north or south will have major impacts to your town.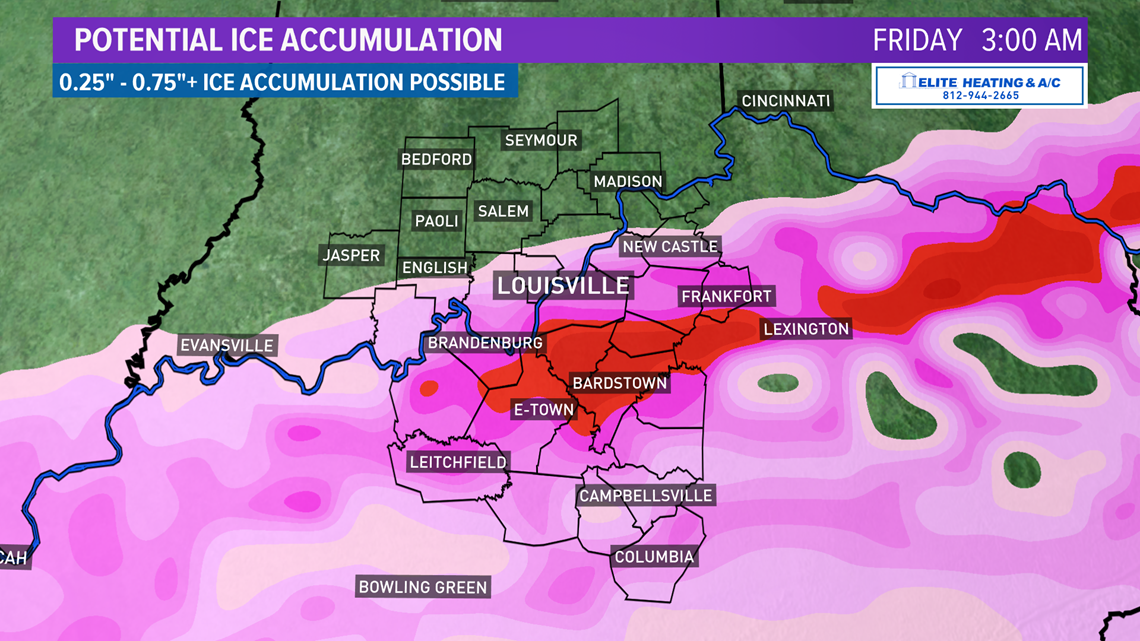 This forecast is subject to significant change. Stay tuned…