LOUISVILLE, Ky. — Batten down the hatches and secure your trash cans, very windy and perhaps stormy conditions are expected Saturday night into early Sunday morning. We can probably say goodbye to many leaves still on trees as well.
Rain and thunderstorms expected late Saturday night
Wind advisory: strong wind gusts expected
Rising temps Saturday night, falling Sunday morning
Much quieter weather next week
Weather setup: Saturday saw much cloudier conditions than Friday and a few rain showers in the morning and afternoon bringing only minor accumulations. A Midwest storm system reaching maturity Saturday night will enter the Great Lakes region late Saturday night/early Sunday morning bringing brief, but wild, weather to our area.
First, a warm front will lift north through Kentucky and southern Indiana resulting in a unique feature of rising temperatures overnight rather than decreasing. Highs for Sunday should occur after midnight in the 'warm sector' of the storm in the upper 50s to near 60 degrees. The warmer air is being brought in thanks in part to dramatic south winds. Through the first half of the night we'll experience a southerly wind 20-30 miles per hour sustained with wind gusts up to 40 miles per hour possible.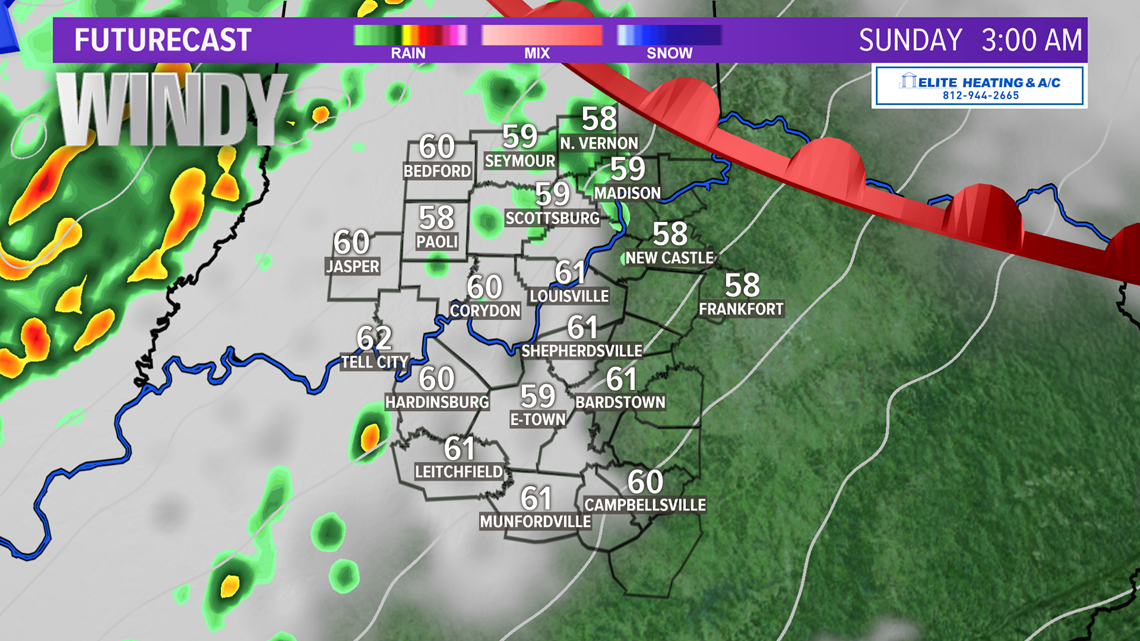 The main action of the night arrives with a cold front. This front will bring some rain and even a few thunderstorms overnight and only help to increase our winds even further. No severe weather is expected with the front, and temperatures will decline after it moves over your location.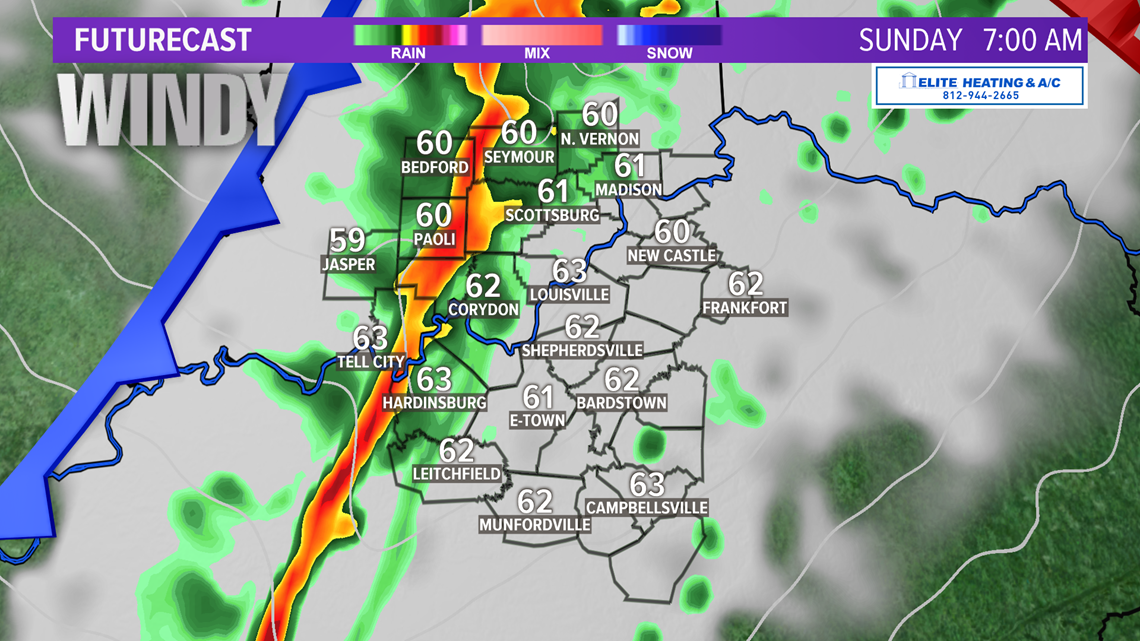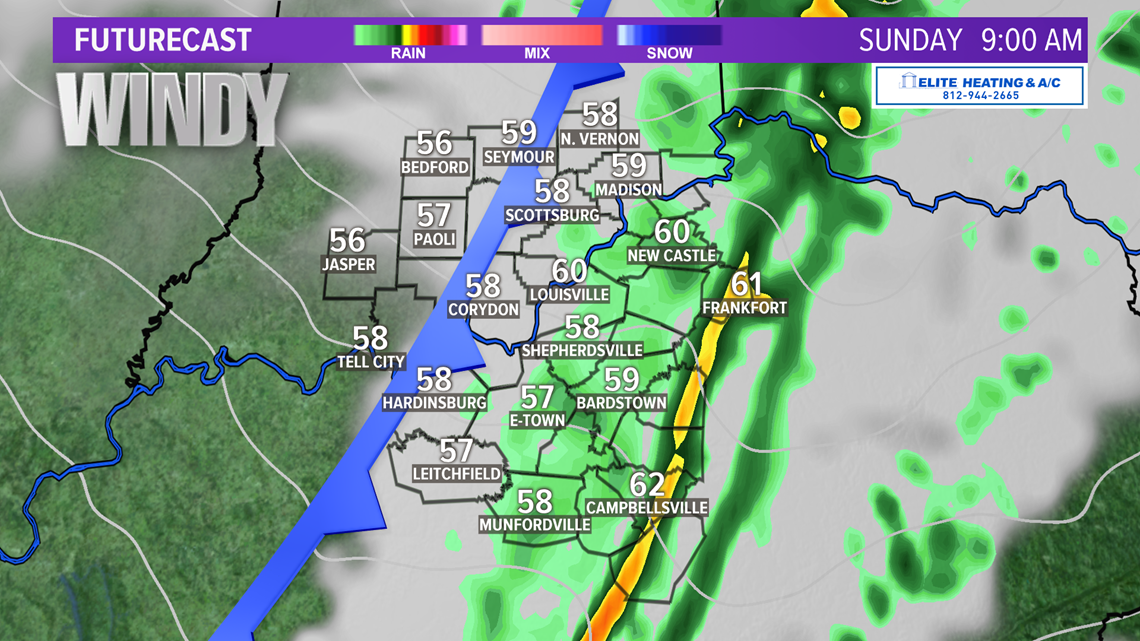 It's a good idea to make sure your trash cans are inside and any light, loose lawn stuff is either secured or brought inside as well and keep them there through Sunday. Such winds are likely to blow a lot of leaves still on trees to the ground and leaves already on the ground may be swirling. High profile vehicles should be cautious while on the road. Even regular cars may be pushed a bit by a strong gust.
Our south wind will turn to blow from the west after the front passes with sustained speeds of 20-30 miles per hour and gusts up to 45 miles per hour. Wind should be strongest between around 1 a.m. EST to 7 p.m. EST.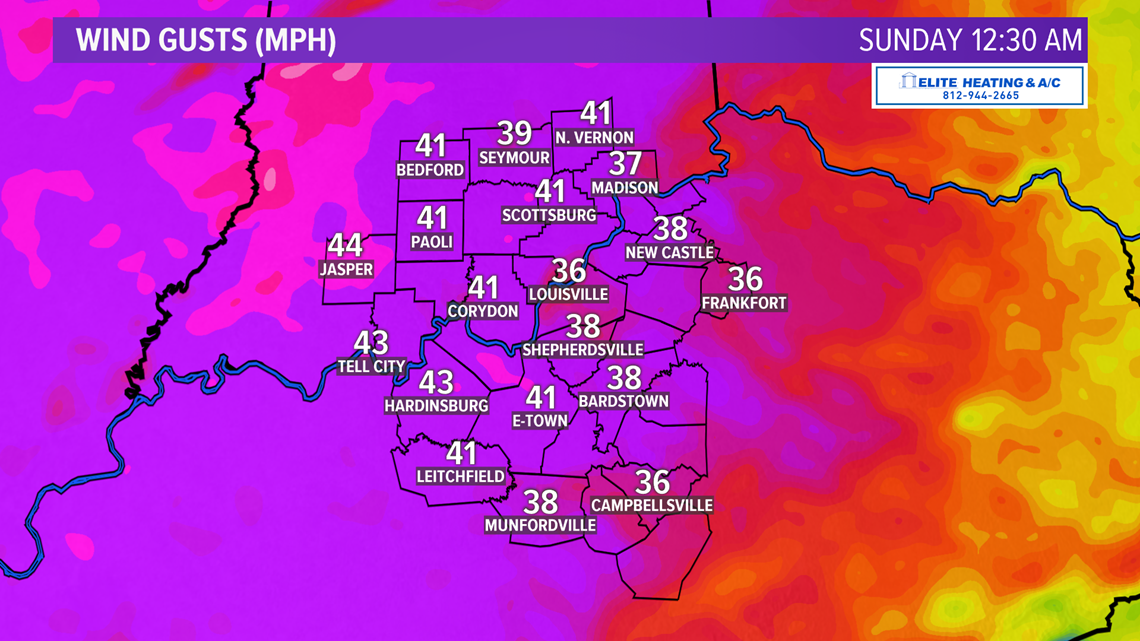 Expect temperatures after sunrise to be in the upper 40s to low 50s depending on where you live. We should recover just a little bit in the afternoon to the lower and middle 50s. Clouds will clear up too, so any sunshine might help prop up the thermometer reading just a tad, but that strong west wind will keep funneling in that cooler air.
How much rain? It's not going to be a soaking storm: rain totals generally up to half an inch is expected with thunderstorms possibly resulting in your backyard seeing three quarters of an inch or maybe a little bit more. The highest amounts will be confined largely along and north of the Ohio River where more shower activity has occurred Saturday.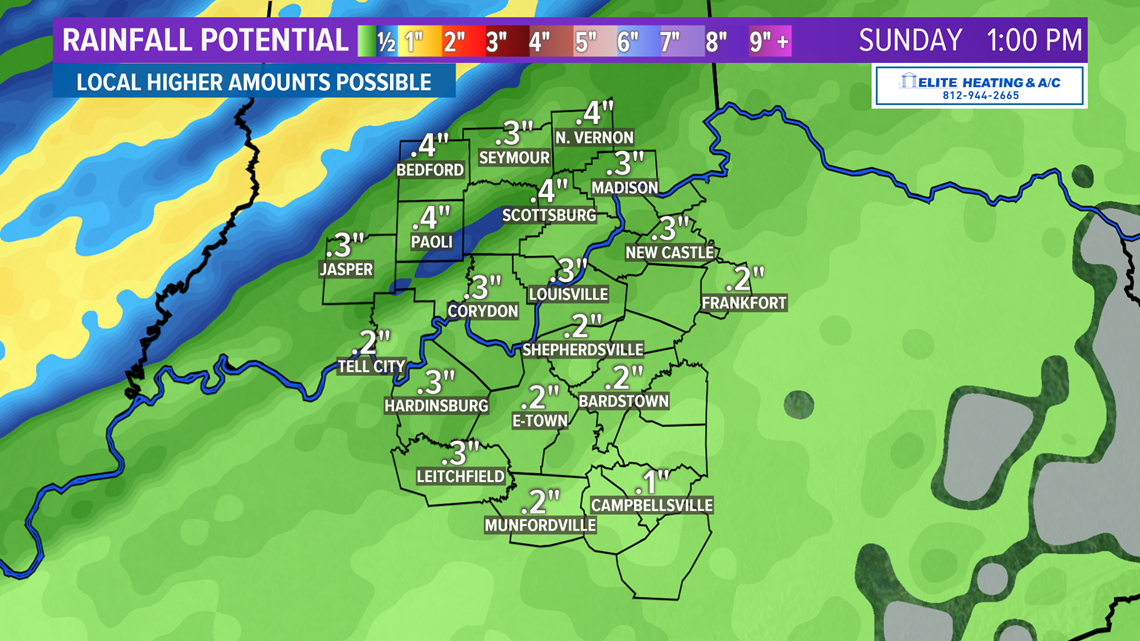 Long term: By Sunday night our sky will be clear and winds will also have calmed down quite a bit. We're forecasting a westerly wind around 10 miles per hour Sunday night and low temperatures in the middle 30s for Monday morning. We'll see plenty of sunshine for the upcoming week! A weaker cold front will sag south into Hoosier and Bluegrass States Tuesday and will have some cooler air along with it. Highs Tuesday and Wednesday should only manage the low 50s for most locations.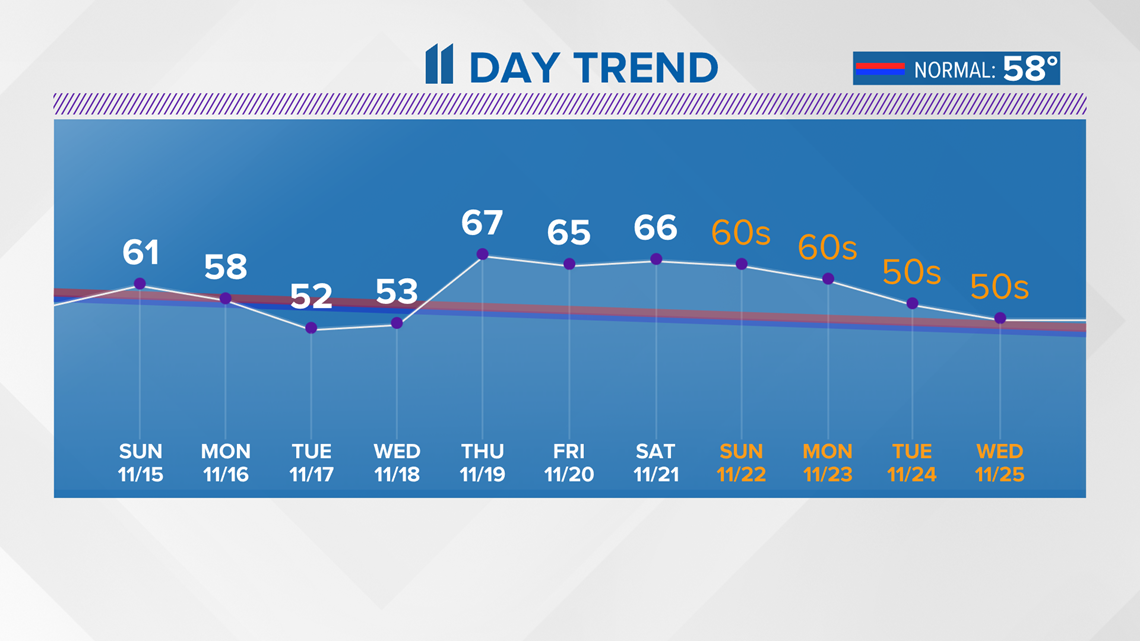 Another nice warm up begins Thursday as we jump back into the 60s with breezy conditions appearing likely, but nothing like we're set to experience Sunday. Middle 60s with mostly sunny-to-partly cloudy conditions expected heading into next weekend. Next week looks dry, but there are mixed signals for more active weather again late next weekend.