LOUISVILLE, Ky. — Another week, another opportunity for accumulating snow across the Bluegrass and Hoosier States. It'll be an active weekend of weather, and the extended forecast is also busy. Let's hop in.
Scattered snow showers begin Friday night
Snow showers may be heavy at times causing hazardous travel
Saturday and Sunday will feature off-and-on snow, mostly on Saturday
Prepare for another blanket of clouds
Weather setup: Friday afternoon saw showers popping up across Kentuckiana. If it was spring or summer, we'd be discussing popcorn thunderstorms. Instead, these are rain showers that are mixing down very cold air aloft and bring fat, wet snowflakes with them. Through Friday evening there should be minimal travel impacts as surface air and road temperatures will largely be above freezing.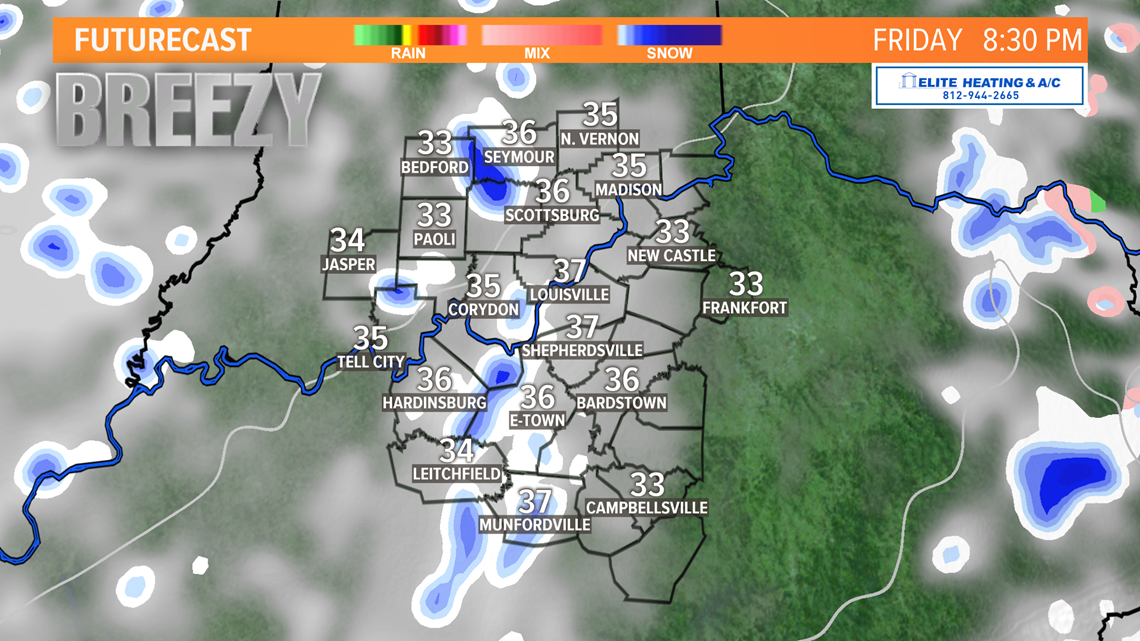 Futurecast shows temperatures will drop through the 30s late this evening and overnight with widely scattered bands of snow. It could be heavy at times reducing visibility and causing hazardous travel conditions – these are called snow squalls. Snow squalls occur in relatively small areas for a short duration of time but can produce a lot of snow. We'll talk totals in the next section. Temperatures overnight will on either side of 32°. This means have fat, wet snowflakes that easily stick to grassy and elevated surfaces and tree branches (think back to last week).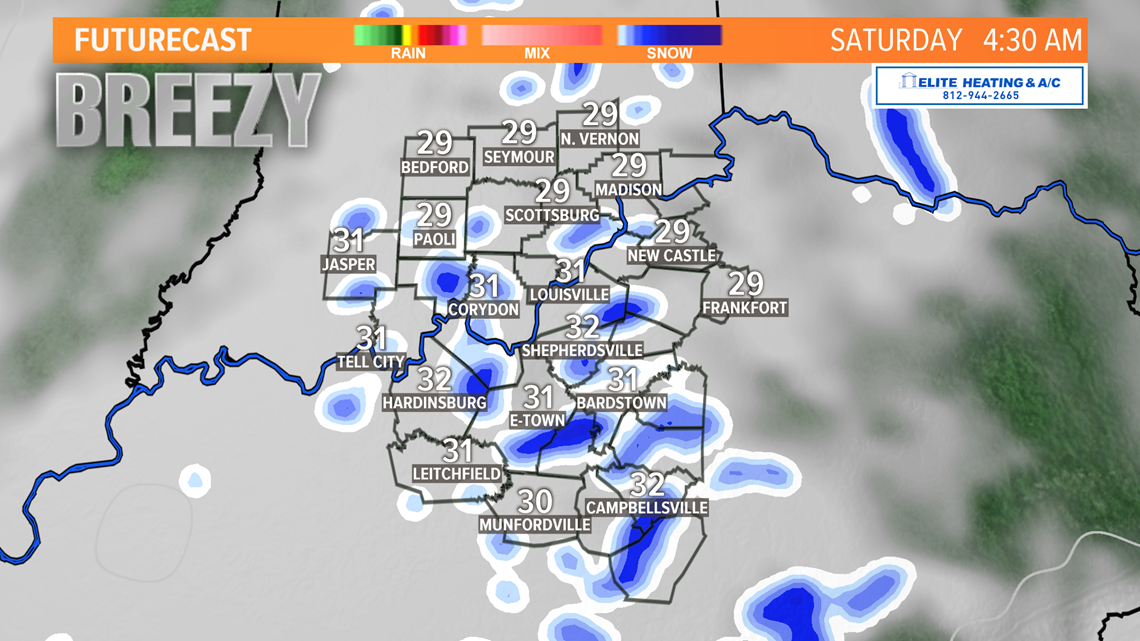 A Winter Weather Advisory (as of 3:30 PM Friday) is in place until 1 PM Saturday for counties along and south of the Western Kentucky and Bluegrass Parkways. This region is best suited to see higher snowfall amounts.

Wind will be another feature of this storm system. Winds overnight will blow from the southwest around 5-10 mph but increase and turn to the west around 10-15 mph with higher gusts up to 20-25 mph possible Saturday. Blowing snow should not be a big concern given how wet and heavy these flakes will be. Wind chills, however, will be in the 20s with air temperatures during the day generally above freezing. Temperatures this weekend will work against snow totals.
There should be a break in activity Saturday afternoon before another wave of snow arrives Saturday evening through Sunday. Wave #2 shouldn't be as strong as wave #1, so any additional accumulations Sunday would be light. Given temperatures, a rain/snow mix is what we'd likely see.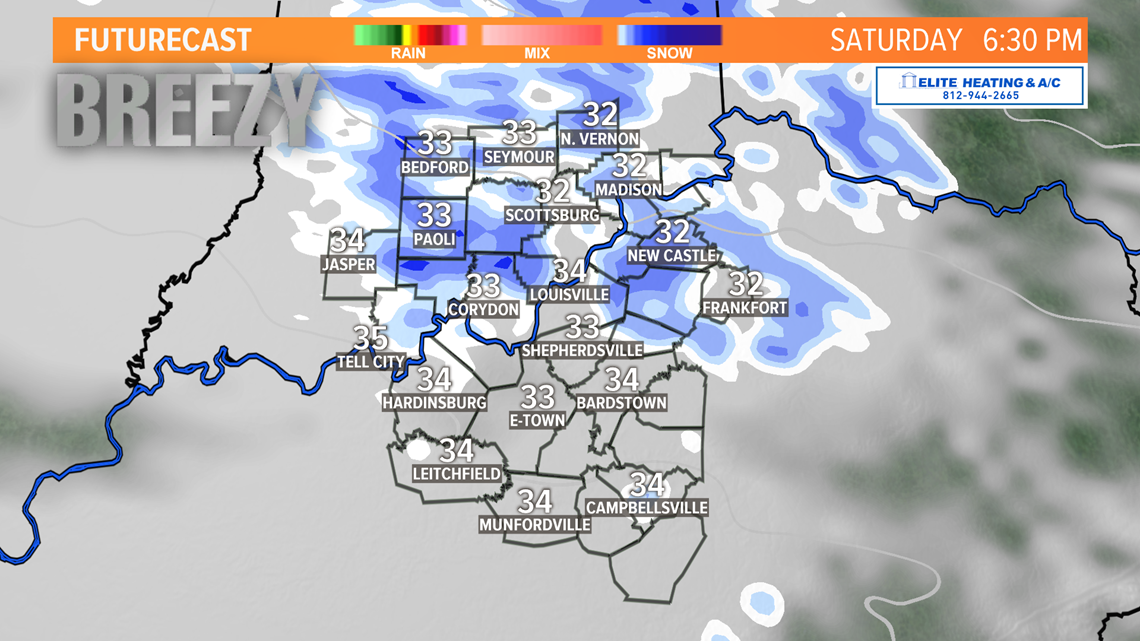 How much snow? It's difficult to pin down exact numbers for totals given that snow will be in various bands and pockets rather than widespread and steady. Generally, up to 1" is likely for the region with areas along/south of Western Kentucky & Bluegrass Parkways potentially seeing 1-2" or more where snow briefly falls at intense rates.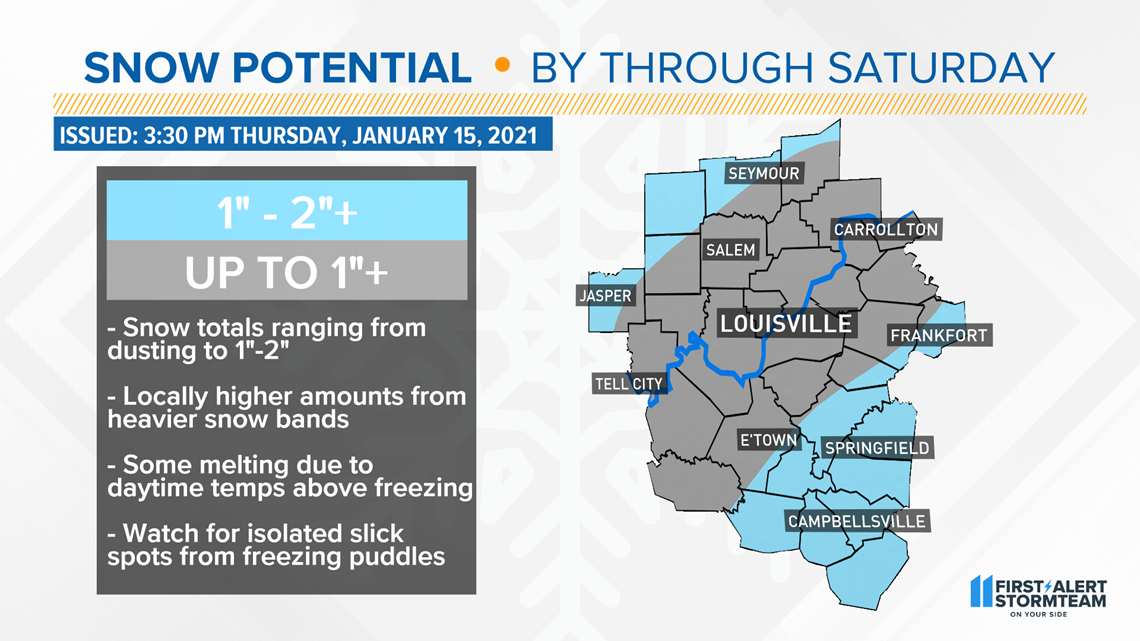 With ground temperatures still above freezing, initial snowflakes will melt on contact. As Friday night continues and temperatures cool to freezing or lower, accumulation will become easier. Communities south of the Parkways could see between 1-2" with locally higher totals possible in stronger snow bands. Local amounts higher than our forecast will be possible everywhere if your location finds itself in a snow squall. Generally speaking, DuBois, Lawrence, Jackson, and Jennings Counties in Indiana, and counties from the Parkways southward are best suited for higher amounts.
Long term: Lingering flurries possible for Martin Luther King Jr. Day with temperatures in the 30s. Clouds stick around through next work week, but we'll slowly warm into the middle and upper 40s, possibly touching the low 50s Thursday, with several opportunities for rain next week.