LOUISVILLE, Ky. — Have you seen any shooting stars recently? The annual Leonid Meteor Shower is getting ready to reach its peak during the late evening of November 16 and early November 17.
However, you may catch a glimpse of a meteor through the end of the month.
According to NASA, expect about 15 meteors per hour during the peak. Unfortunately, the bright waning gibbous moon and broken cloud cover may not make for great viewing conditions.
If you can find some clear skies, it's best to get away from the city lights and into the country to see the meteor shower. Remember, it takes roughly 30 minutes for your eyes to adjust in the dark.
The meteor shower gets its name because the shoot starts appear to originate out of the Leo Constellation.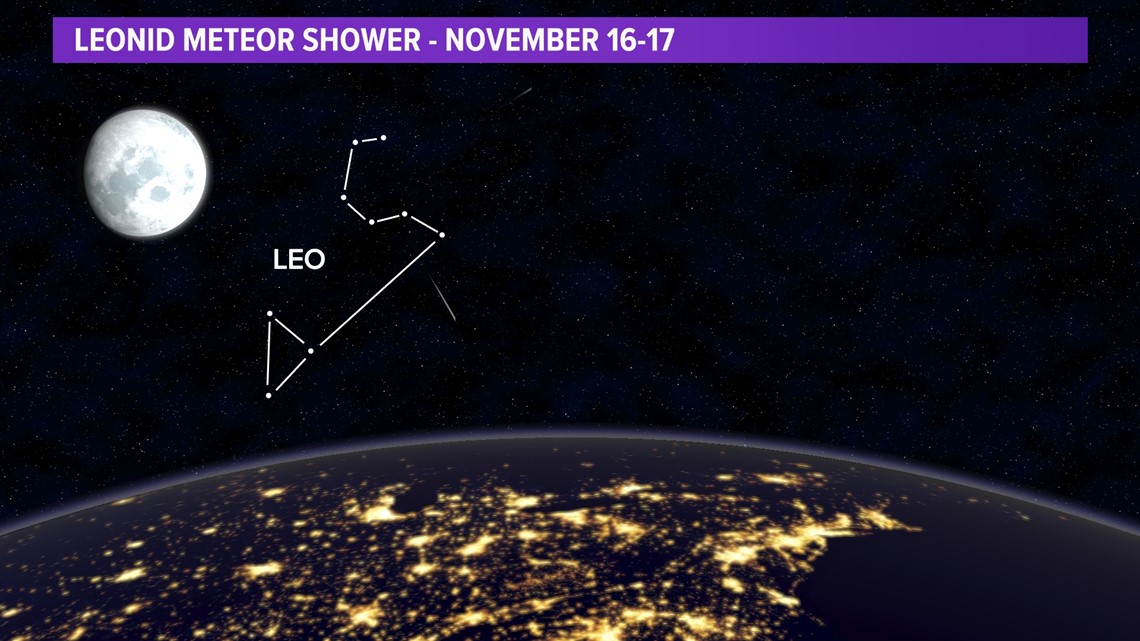 NASA states the Leonids are some of the fastest meteors, traveling up to 44 miles per second.
The Leonids are also known for meteor storms. While NASA isn't expecting a storm this year, meteor storms produce 1,000 meteors per hour. The last time this occurred was in 2002. It happens about every 33 years, according to NASA.
December's meteor shower, the Geminids, will peak on the night between the 13th and 14th.
Make it easy to keep up-to-date with more stories like this. Download the WHAS11 News app now. For Apple or Android users.