Fall expected to be unseasonably warm in Kentuckiana this year; Here's why
The latest three month seasonal outlook anticipates warmer than normal conditions for the Ohio Valley, especially in the short term.
Climate Prediction Center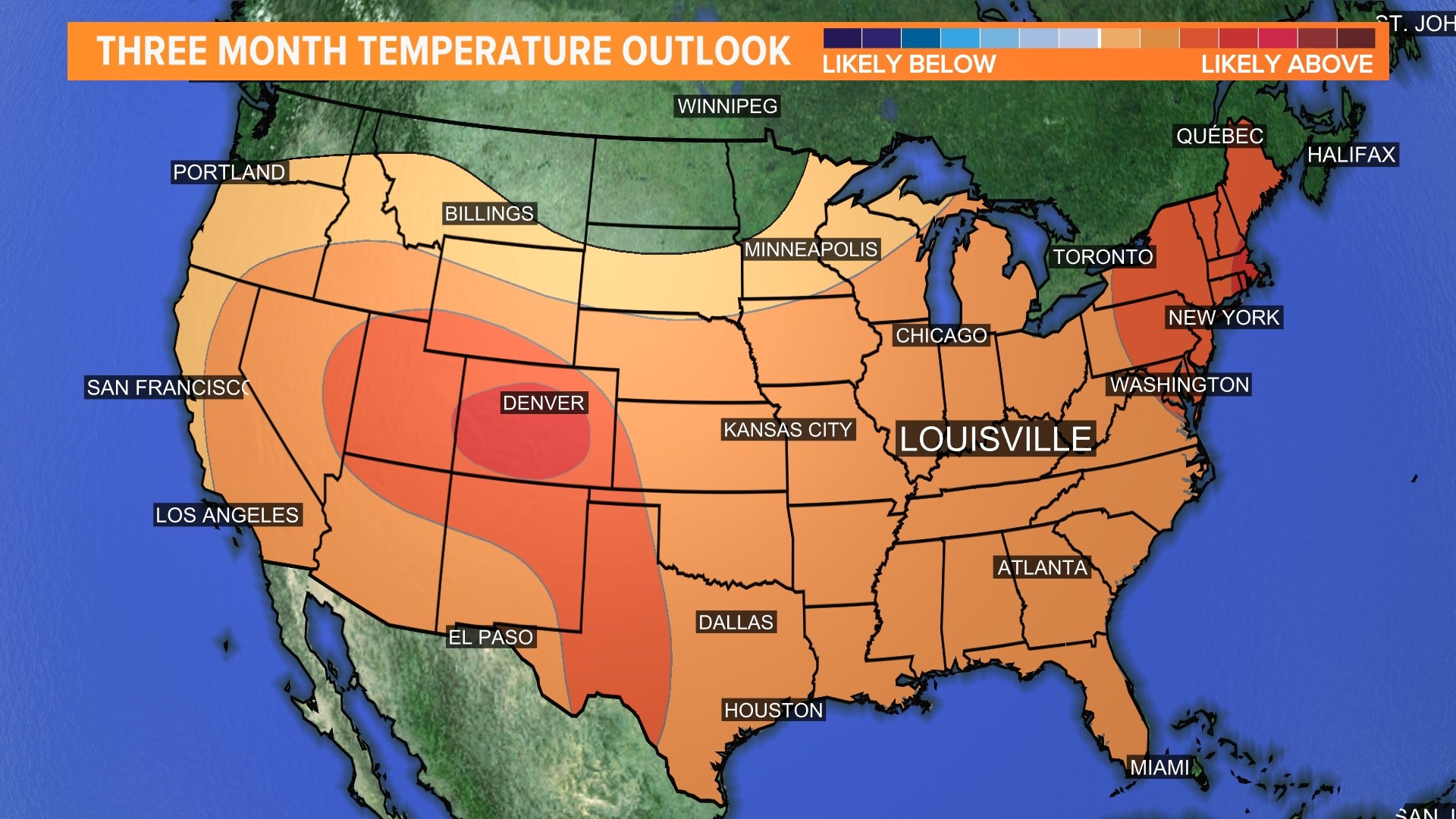 Autumn officially begins Sept. 22 and 9:04 p.m., but the heat won't be leaving right when summer ends.
Temperatures are forecast to return to the lower and even middle 90s during the second half of September with rain looking scarce as well.
Here's why temperatures may be a little warmer than average and what the climate forecasts are for the remainder of the year.
Current weather pattern
:
The weather pattern for the middle and second half of September will be under the influence of a large and strong ridge.
A ridge is an elongated region of high atmospheric pressure. High pressure results in sinking air, which usually prevents clouds from developing (rising air, low pressure) into rain of significance. Sinking air also compresses and warms causing higher temperatures at the surface.
This is the main driving force behind summertime heatwaves.
Reinforcing the heat will be southerly winds which help bring in warmer air from the Deep South, in addition to higher moisture.
That would normally mean very humid conditions, but as of now it doesn't appear that will be the case because of the lack of rain.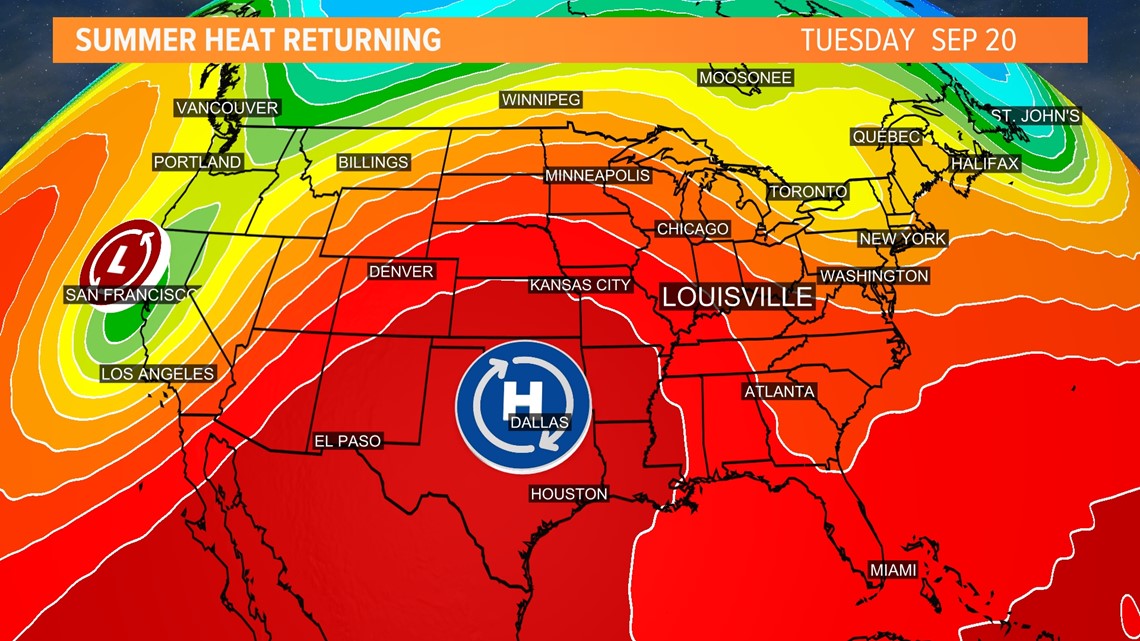 September is a month of change as we transition from summer into autumn.
The average daily high temperature drops quickly: Louisville's average high for Sept. 1 was 87 degrees but will fall to only 76 degrees by Sept. 30!
Mid-month averages range from approximately 83 degrees to 79 degrees.
With forecast highs as warm as the lower to middle 90s the week of Sept. 19, we may find ourselves 10-15 degrees warmer than typical.
Little rain in sight
:
Although models hint at some light passing showers Sept. 19, rain appears unlikely until close to the end of the month. The dry weather runs the chance of helping to increase our temperatures even further through next week.
Dry soil has a lower heat capacity. Heat capacity is the amount of energy needed to raise the temperature of a substance by 1 degree Celsius.
A low heat capacity means less energy is required to warm the ground. Any excess energy is then released back into the surrounding air raising temperatures, often making them overachieve forecasts.
If the ground was wet it would have a higher heat capacity, requiring more energy to warm the ground resulting in lower air temperatures.
We started September unusually wet, so as of Sept. 15, Louisville is officially recording a small rainfall surplus. The longer we go without rain, however, the greater the chance of that surplus turning into a deficit.

Normally we would dread a dry forecast with hot temperatures, but fall harvest begins soon (corn and soybean being the big two) and dry weather now is great for farmers.
Dry weather gives the crops time to ripen and dry up.
Once ready, extended dry weather allows farmers to get their fields harvested quickly, efficiently, and get crops in on time. It also reduces the risk of crop loss compared to if it was too wet.
There are many pockets of above or below normal rain in the 30 day period from Aug. 14 to Sept. 14. The map below shows the departure from normal: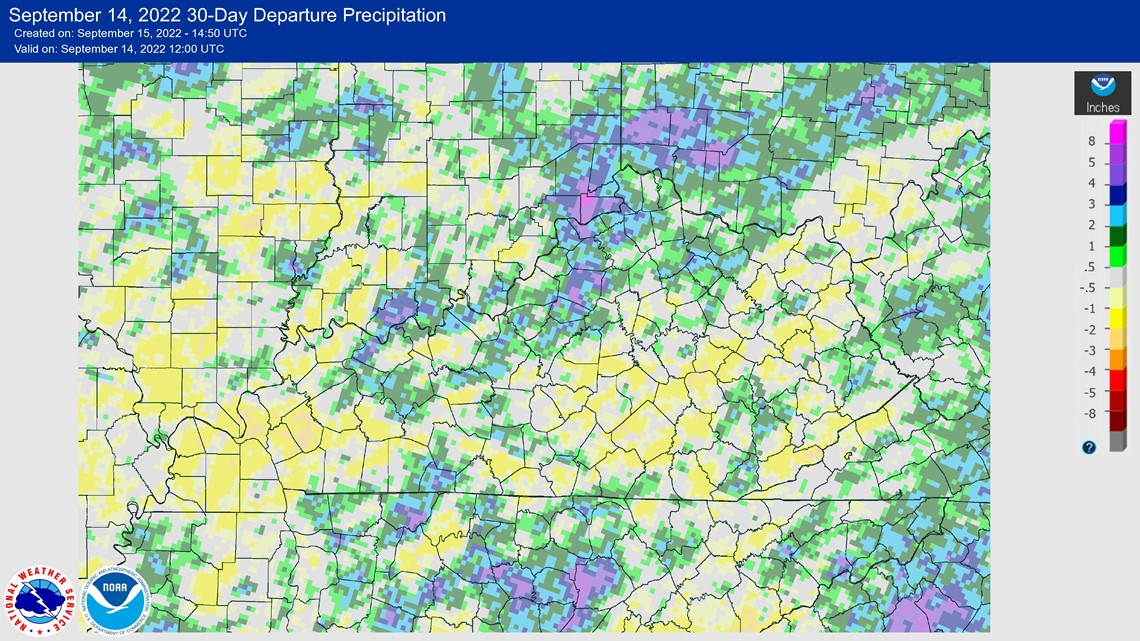 Seasonal outlook
:
The recently released seasonal outlook for October, November and December by the Climate Prediction Center indicates likely above normal temperatures for Kentucky and Indiana with equal chances for above or below normal precipitation.
How much above or below normal, however, can't be determined. The largest factor behind the warm, potentially dry outlook is La Niña.
La Niña, in short, is a phenomenon where sea surface temperatures are below normal in the eastern equatorial regions of the Pacific Ocean (off the west coast of South America).
For the Ohio Valley, La Niña conditions typically cause warmer, wetter winters, but this isn't necessarily a rule.
There are many other factors that go into seasonal weather. Besides, we've only just started meteorological autumn (Sept. 1).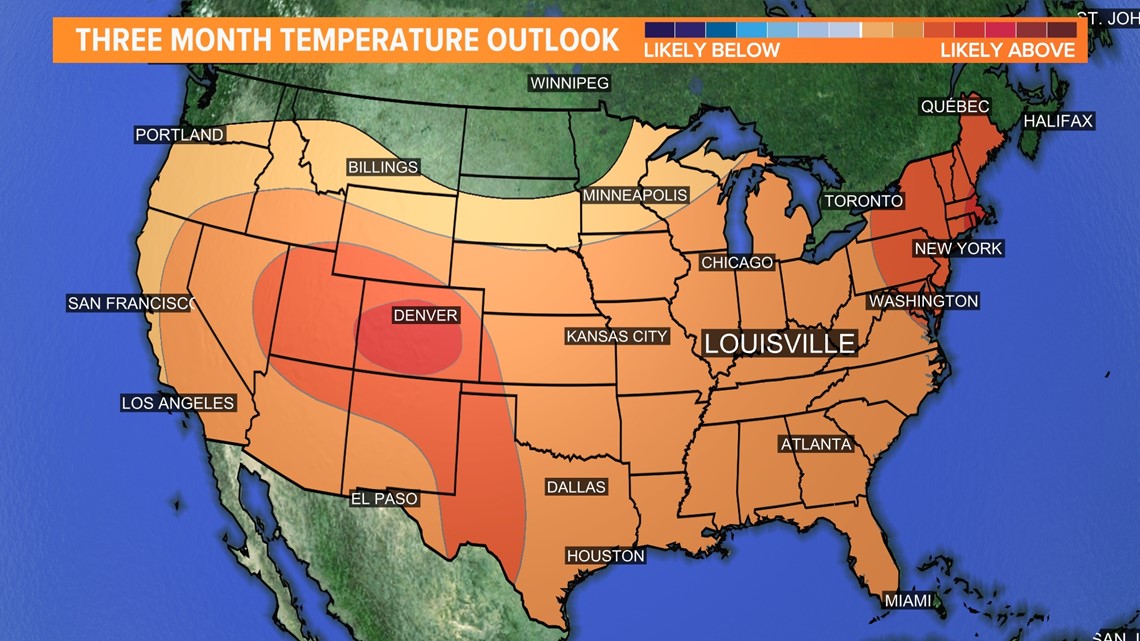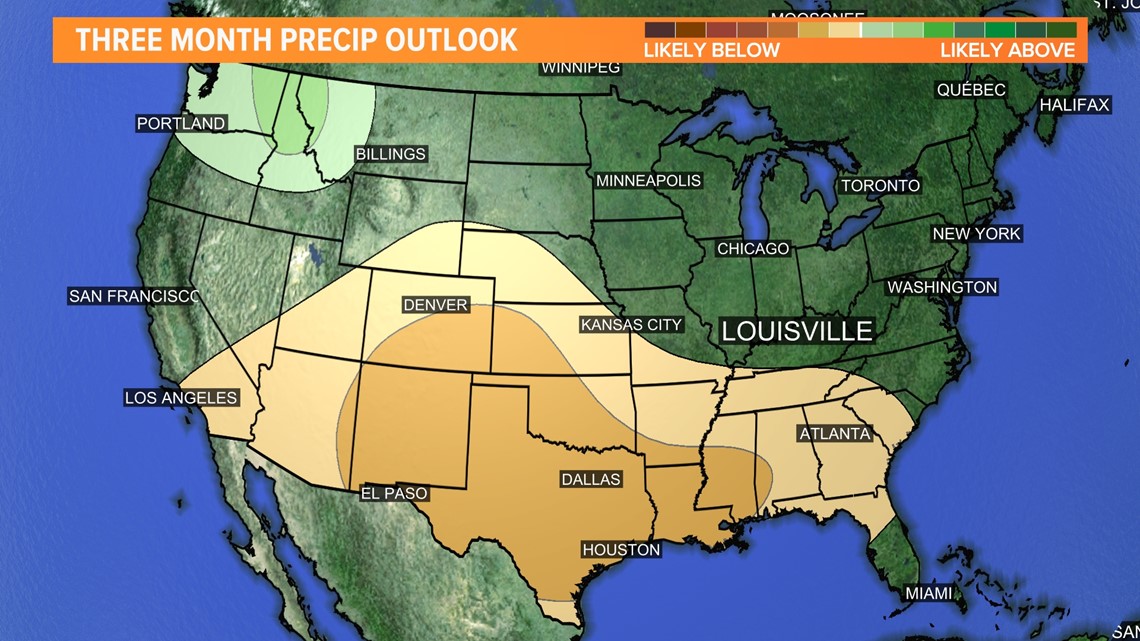 Remember, this is just a forecast and an attempt to predict three months into the future.
Various factors can throw a forecast off. For example, if a tropical system made landfall along the Gulf Coast and the remnants trekked northward, we could find ourselves with receiving an unexpected surplus of rainfall and cooler temperatures.
The tropics have thus far been quiet, but it's something to keep an eye on over the next couple months.
For now, confidence is high in unseasonably warm temperatures and below normal precipitation for at least the rest of September and perhaps into the start of October.