LOUISVILLE, Ky. — Another round of winter weather is near heading into Sunday, followed by some more spring-like weather Monday. It's a bit of weather whiplash with ice accumulating Sunday morning, followed by soaking rain Monday.
Temperatures drop below freezing Saturday night-Sunday morning
Freezing rain appears likely for communities along and north of the Ohio River
Minor ice accumulations expected
Heavy rain Monday to bring us much needed rain
Weather setup: After a sunny and chilly Saturday, the first changes to our weather will appear late afternoon as clouds increase. Temperatures will drop below freezing Saturday night as a quick moving system brings rain to the Ohio Valley. Since temperatures will be below freezing, that rain will freeze soon after it contacts the ground.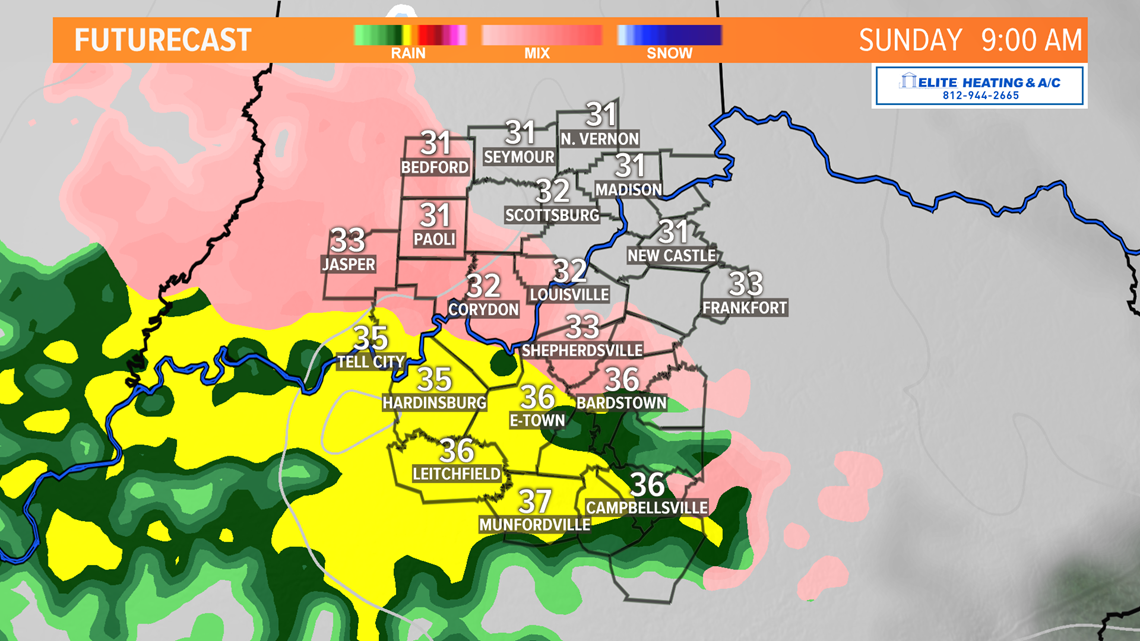 Freezing rain is often confused with ice pellets, its own form of precipitation. Freezing rain falls as a liquid then freezes soon after it makes contact, so there's a bit of a delay before it turns to ice. We might see a few ice pellets Sunday morning. Either way, freezing rain can create a nightmare scenario with accumulating ice over a long duration. Thankfully this ice event does not appear to be long-lived.
Southern Indiana is in the bullseye for this winter weather event. Ice should generally stay under 0.05" of total accumulation, but isolated totals higher than that are possible. Louisville south to the Parkways should also see some minor ice accumulation Sunday morning. Elevated surfaces such as bridges and overpasses will be most susceptible to icing. Outdoor steps and walkways will also be vulnerable for accumulating ice. Drive slow and don't slip!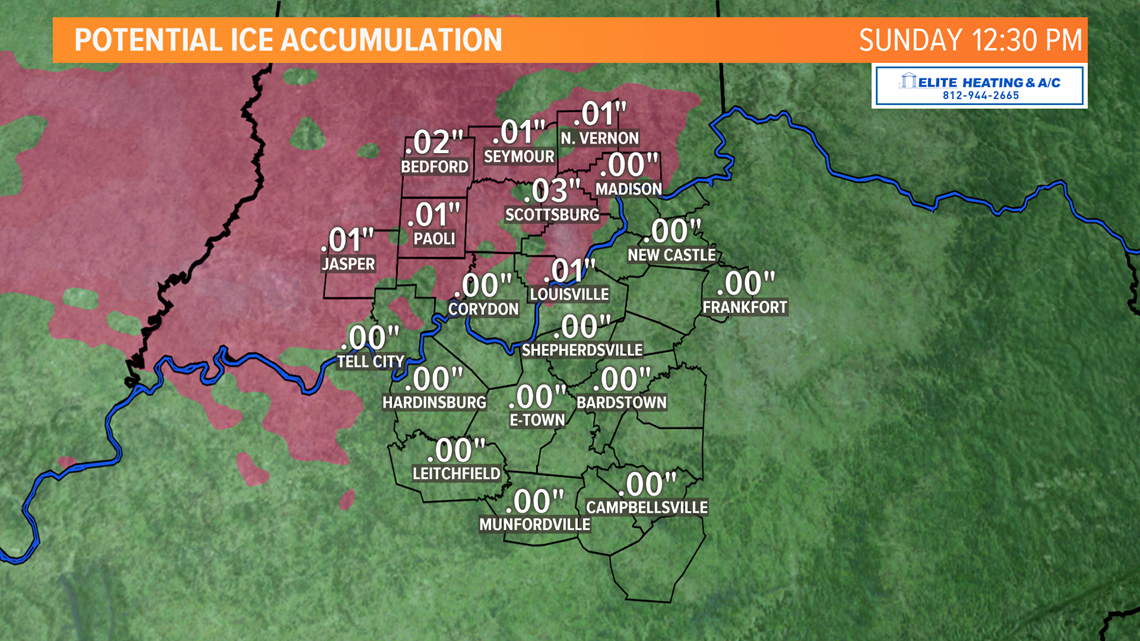 The good news is temperatures will rise above freezing by early Sunday afternoon, though the thermometer will be lagging in Indiana and might not warm higher than 32°F until later in the afternoon, this is why ice totals could be higher north of Interstate 64.
Scattered showers will then continue through Sunday afternoon resulting in some minor accumulations. Highs should only climb to the lower 40s at the most.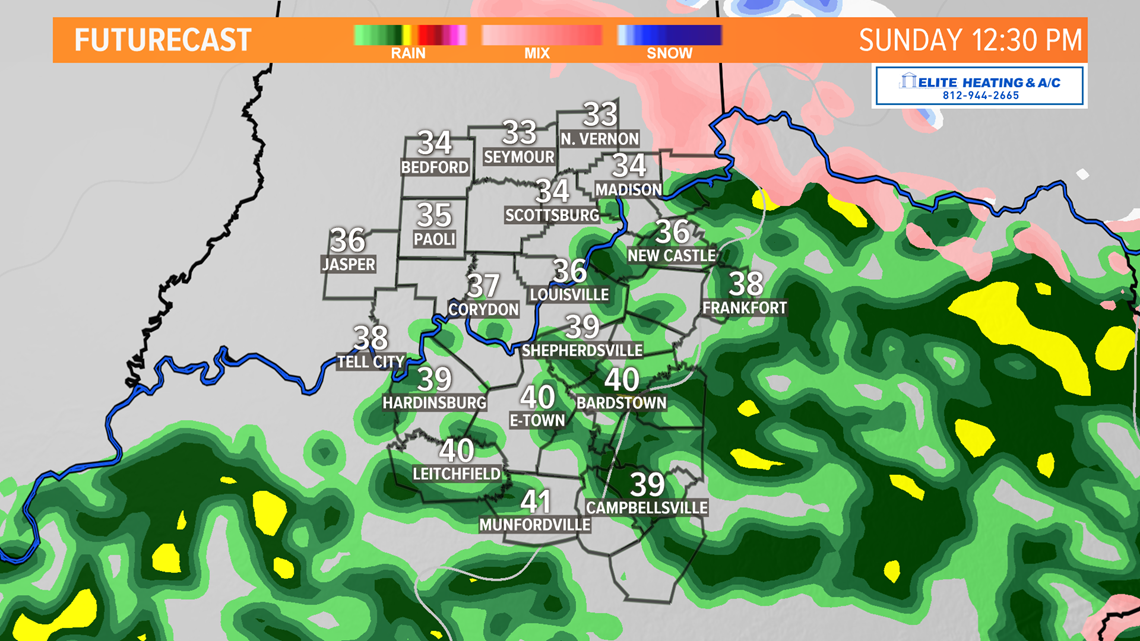 Soggy Monday: Sunday was only the appetizer. The main course arrives Sunday night as a large and strong storm system moves into the Ohio Valley. The center of this storm will move just to the north of Louisville and puts us in a good position to see widespread moderate to heavy rain. Although severe weather is unlikely, embedded thunderstorms will be possible in the afternoon.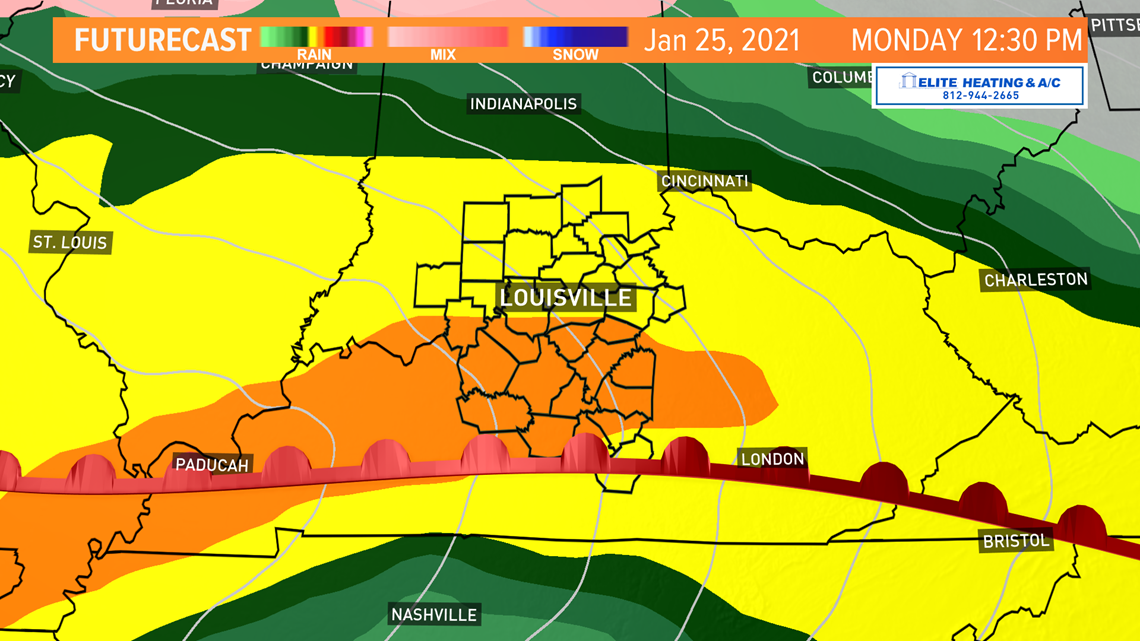 Temperatures Monday will also be very mild. How do middle 50s sound? A warm front will slowly lift north and bring in warmer air, but when that front moves in is going to be important to how warm we get while everyone is still awake. As of Saturday morning, current thinking is that the warm front won't lift past the Ohio River until well after sunset, meaning our high temperature could occur very late in the day. Southern Kentucky may even reach the lower 60s late Monday afternoon!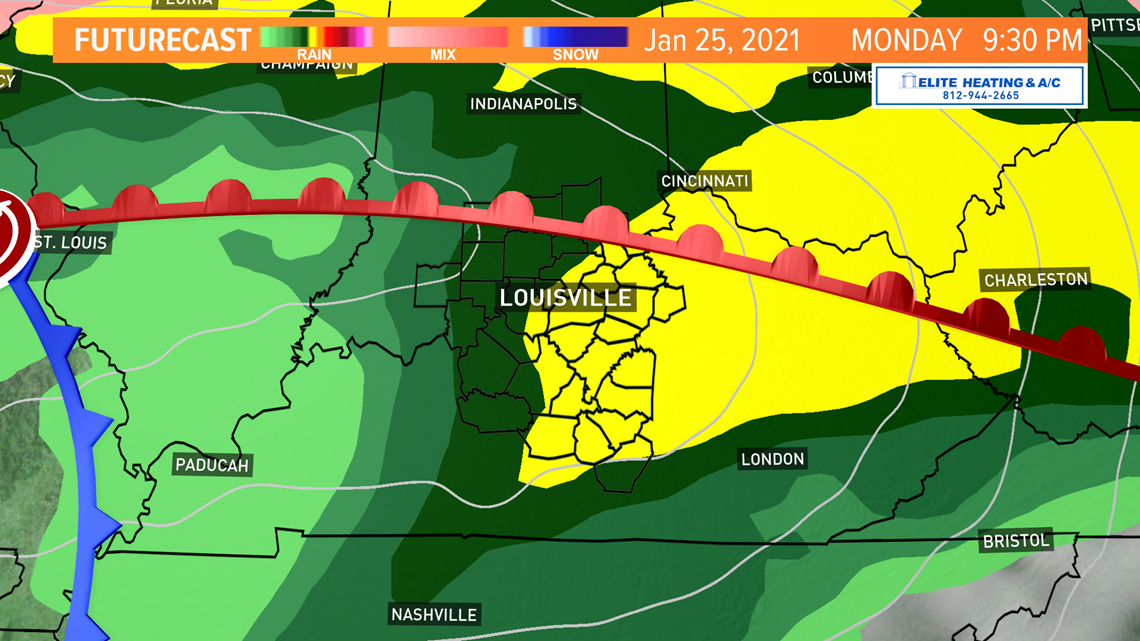 Long term: Our weather pattern quiets down after rain exits the region late Monday night/early Tuesday morning before sunrise. Cooler air on the backside of this storm will knock temperatures to the middle 40s Tuesday and Wednesday, which is average. Fun fact, our average high temperature now begins to increase from here on out! Warmer days are ahead of us, though we'll hit a few bumps in the road between now and then. One of those bumps could be Thursday. A little disturbance might bring some light snow to our area Wednesday night into early Thursday. Confidence in that system is low, but it's worth a mention currently.
►Make it easy to keep up-to-date with more stories like this. Download the WHAS11 News app now. For Apple or Android users.