LOUISVILLE, Ky. — We are most of the way through April, but we're set to get a taste of winter this week with morning temperatures near freezing and a chance for snowflakes as well. No, that's not a late April Fool's Day prank.
After a warm start, temperatures are set to drop like a rock
Damaging frosts possible Wednesday – Friday mornings
Rain and light snow possible too
Weather setup: Our week is starting off quiet and pleasant. The overall weather pattern supports mostly sunny and warmer temperatures Monday and Tuesday. Temps should manage the upper 60s and even low 70s for some allowing for some of our warmest air since early last week.
Unfortunately, it isn't going to last. Our attention is focused on a storm system that will be moving along the U.S./Canada border for the middle part of the week. A very strong cold front will be marching south into the Ohio Valley Tuesday. Temperatures ahead of the front will be in the 60s and 70s, but when the front moves through we'll see temperatures quickly drop and dramatically cooler air on the backside.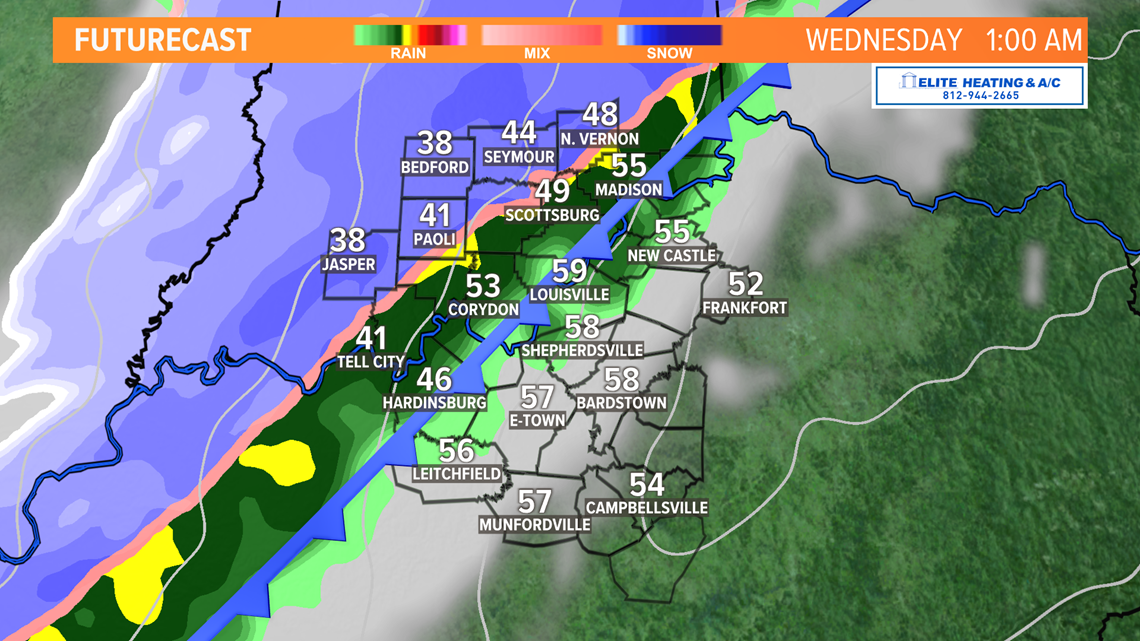 This is when we could see wintry weather. There is enough moisture that precipitation is likely mostly in the form of rain, but much of the atmosphere above the surface will be below freezing which support…snow. Snow is in our forecast, but before you rush to buy bread and milk, understand that it's not going to be a significant event.
Accumulation is very unlikely given how warm the ground is so much of those snowflakes will melt on contact with the ground. The only exception might be parts of southern Indiana where colder temperatures are forecast and some flakes might stick on grassy and elevated surfaces. Heavier snow will make this more likely too.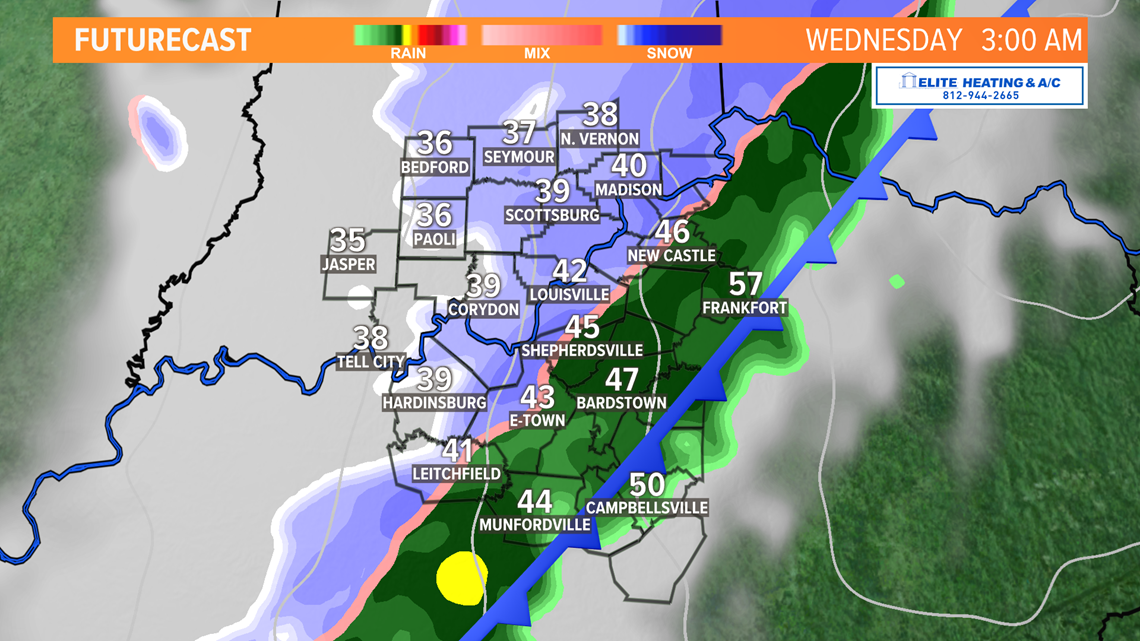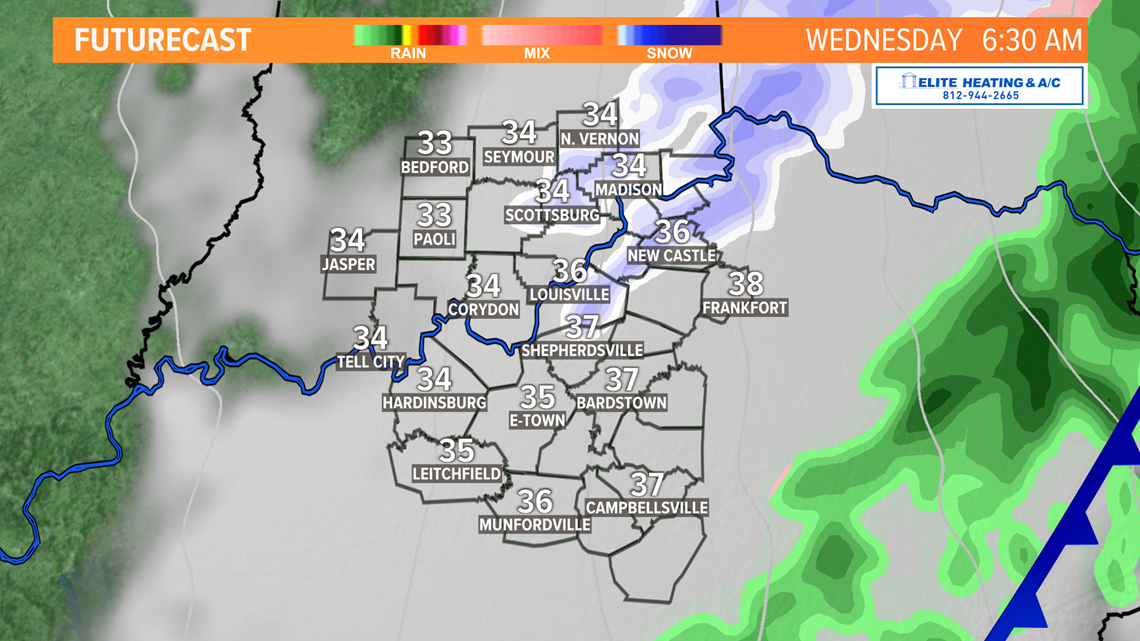 The cold: Cold is relative, but for late April we are forecasting unusually chilly temperatures. A frost is expected Wednesday morning which is not good for summer crops. Frosts earlier in the month were noted to have caused some minor frost to the winter wheat crops. Another frost now, and potentially for a few mornings in a row, may cause some bad damage to wheat or other crops that are currently in the middle of their growing period.
As for daytime highs, most Wednesday will be lucky to see 50 degrees. Our average high Wednesday is 71, so we'll be running a good 20+ degrees below normal. Thursday will be a bit better, lower and middle 50s, but still a good 15 degrees cooler than usual. Morning lows Wednesday through Friday will hang out in the middle 30s.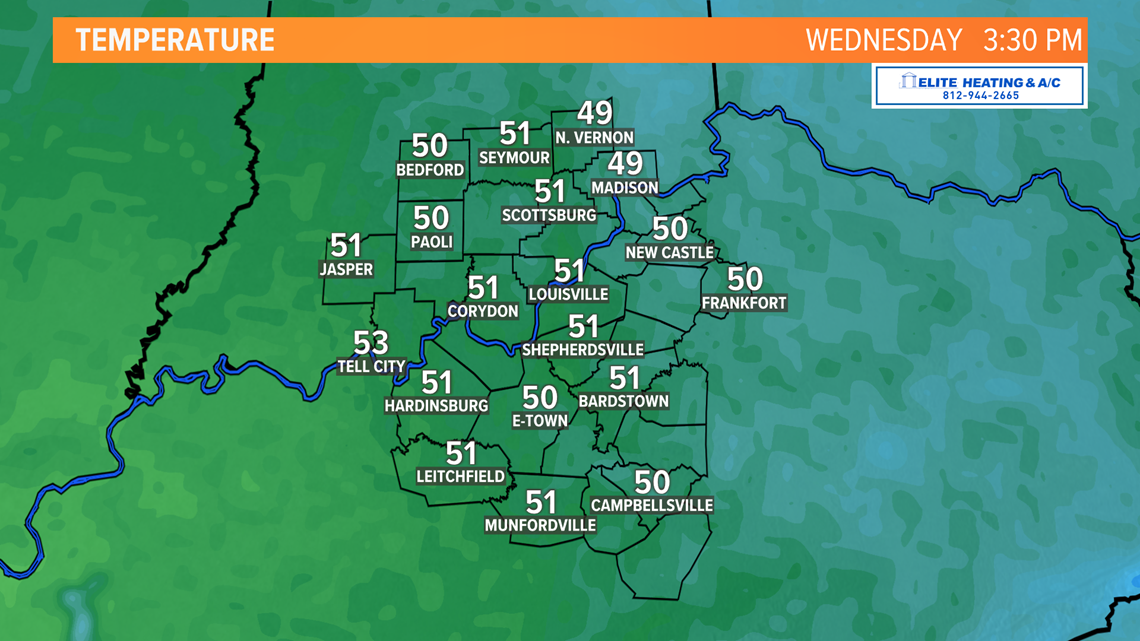 Is this cold snap unusual? For Louisville, the average last freeze is April 3. On average, the last day to experience a temperature of 36° (considered a frost) is April 14. With a forecast lows Wednesday-Friday morning between 35° and 37°, yes, this cold snap is unusually late, but not record breaking. The latest spring frost (36°) occurred May 27, 1961 and the latest spring freeze took place May 10, 1966. The latest spring hard freeze (28°) for Louisville was more recent, April 23, 1986.

Note: Louisville has a strong heat island effect. Outlying communities are regularly cooler than the metro, so morning lows in isolated locations may hit freezing or colder.
Long Term: Thankfully the "cold" snap will be short lived. Temperatures Friday return to the middle 60s but that's still below normal. We're stuck in a cool weather pattern that may have an end in sight for the final week of April. Long-range models suggest temperatures returning to the lower and middle 70s during that time.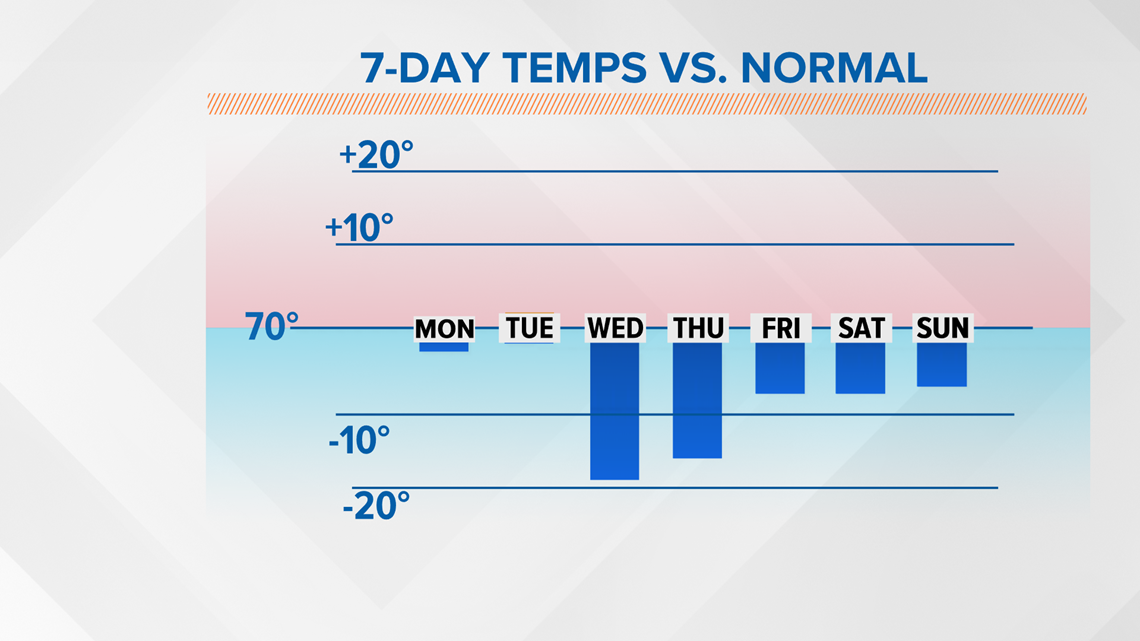 The next chance of rain is Saturday. There are disagreements over precise timing and intensity. One model in particular is quite wet Saturday while another is spottier with the rain. Either way, rain is likely this weekend.