FRANKFORT, Ky. — Severe weather is rolling through much of Kentucky and southern Indiana today and officials are urging residents to stay weather aware.
The WHAS11 First Alert Stormteam expects 2-5" of rainfall for spots along and north of the Ohio River today and wind gusts to range between 45-55 mph into this afternoon.
Kentucky Governor Andy Beshear is taking proactive measures to ensure the safety of residents.
Friday morning, the governor signed a state of emergency declaration regarding the severe storms.
He said it allows the state to preposition assets and resources, like 400 members of the National Guard, so officials can respond as quickly as possible if there is a significant danger to Kentuckians.
"Folks, the main message today is stay home, stay informed and don't take chances," he said. "This could be a very dangerous day, we hope that its not, but we want you to be safe."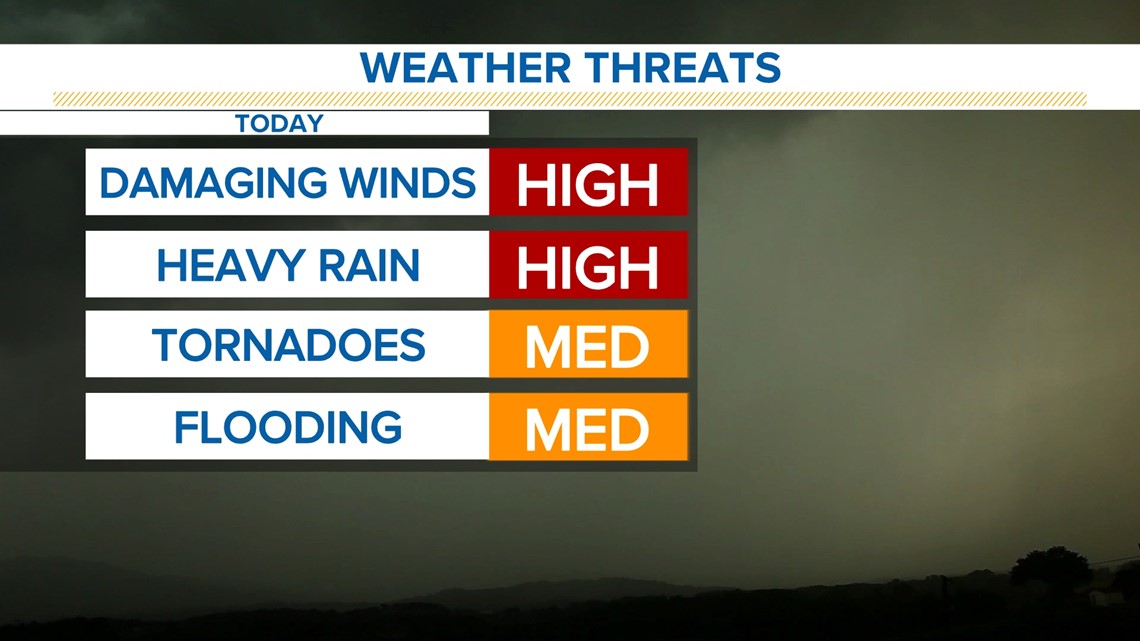 State officials said there has already been confirmed flash flooding in some parts of Metro Louisville. There are also a couple dozen tornado watches already in effect for the state.
"We need people to be attuned to the weather," Beshear said, adding this storm is moving quick. "If there is a warning, you're not going to have a lot of time."
Remember: If there is water on a roadway and avoid travel if possible, even a few inches of water can sweep your car away. Turn around, don't drown!!
Beshear said even after the thunderstorms pass, wind gusts are expected to be over 60 miles per hour. He said it will be strong enough to blow over high profile vehicles like semis and SUVs.
The governor said these storms are moving fast so if there's a warning, there may not be a lot of time to get to a safe location -- so stay prepared.
"Prepare for the worst, hope for the best," Beshear said. "Please stay safe today, we know what's coming and if you prepare, we'll all get through it."
As always, be sure to download the free WHAS11 app for the latest weather alerts from the First Alert Stormteam. For Apple or Android users.
Latest tracking as of 9 a.m. Friday:
Make it easy to keep up-to-date with more stories like this. Download the WHAS11 News app now. For Apple or Android users.