INDIANAPOLIS — The planet suffered its warmest July on record, and possibly the warmest month ever in the nearly 143 years since NASA started documenting global surface temperatures, two federal agencies reported on Monday.
Data released by NASA's Goddard Institute for Space Studies in New York found July was 0.43 F warmer than any other July in their record, and it was 2.1 F warmer than the average July between 1951 and 1980.
NASA said the record-breaking July continues a long-term trend of human-driven warming, accelerated by greenhouse gas emissions that has become evident over the past four decades.
"This July was not just warmer than any previous July, it was the warmest month in our record, which goes back to 1880," GISS Director Gavin Schmidt said in a statement. "The science is clear this isn't normal. Alarming warming around the world is driven primarily by human-caused greenhouse gas emissions. And that rise in average temperatures is fueling dangerous extreme heat that people are experiencing here at home and worldwide."
Parts of South America, North Africa, North America and the Antarctic Peninsula were especially hot, experiencing temperature increases around 7.2 F above average.
"Climate change is impacting people and ecosystems around the world, and we expect many of these impacts to escalate with continued warming," said Katherine Calvin, chief scientist and senior climate advisor at NASA Headquarters in Washington, in a statement.
NASA's temperature reports for July were released the same day NOAA's National Centers for Environmental Information released its Global Climate Report for 2023.
Deadly heat waves and record-breaking ocean temperatures defined July 2023, which broke both the records for highest surface temperatures and monthly sea surface temperature, according to the NCEI report.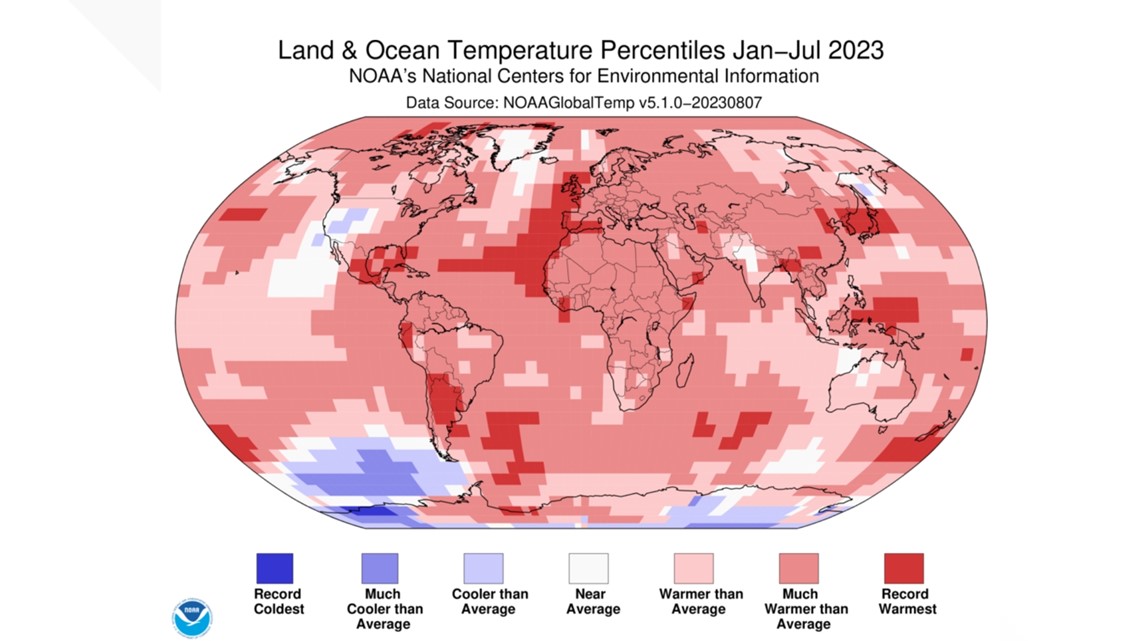 Researchers also found July 2023 set a record for the warmest July in the 174-year NOAA record, which reported the year-to-date global surface temperature ranks as the third warmest such period on record.
According to NCEI's Global Annual Temperature Outlook and data through July, researchers believe it is "virtually certain" that the year 2023 will rank among the five-warmest years on record. There is a nearly 50% probability that 2023 will rank warmest year on record, according to NCEI.
Antarctica suffered a third-consecutive month of record-low sea ice extent, with 1 million square miles below average, which marks the smallest extent on record for the month.
The Arctic sea ice extent for July 2023 ranked as the 12th smallest in the satellite record at 3.16 million square miles, or about 220,000 square miles below the 1991–2020 average, according to NCEI.
The findings from two U.S.-based federal agencies echo the findings reported by the European climate watch organization Copernicus Climate Change Service last week, that confirmed the global average temperature for July 2023 was the highest on record for any month.
The month was 0.72°C warmer than the 1991-2020 average for July and, C3S reported, 0.33°C warmer than the previous warmest month, July 2019, according to the agency.
The five hottest Julys since 1880 have all happened in the past five years, according to NASA.
The average global temperature on Earth has increased by at least 1.9 F since 1880, according to NASA. The majority of the warming has occurred since 1975, at a rate of roughly 0.15 to 0.20 C per decade.
Temperature "normals" are defined by several decades or more - typically 30 years - the agency said.