Club president James O'Connor and John Neace held a town hall session with more than 150 Racing season-ticket holders. Those fans were able to submit questions ahead of time for a Racing communications staffer to then ask O'Connor and Neace.
Many also spoke to emotional, verbal and physical abuses alleged by other former players who attempted to make the club aware of various issues with Holly and his staff.
"The culture of our organization is important to know that we might all want full transparency in every situation," Neace said in an opening statement. "But sometimes, circumstances or the requests of the individual make that impossible. Also, people change and their desires change with them."
"So often, our response is reactive not proactive. One thing we have certainly learned from this is that we may need to be more proactive on certain issues as we proceed and progress," he added.
That's among many other lessons. But the first feeling that comes to mind for O'Connor when looking back at everything that happened is a simple one.
"I think the biggest thing is regret," O'Connor said. "When you look at the the appointment, I never believed that anything like that could ever happen at our football club. It's something that will never leave me."
O'Connor and Neace said they needed a better vetting process before they hired Holly, who had previous concerns stemming from a relationship he had with his wife in former United States Women's National Team star Christie Rampone while they were with Sky Blue FC, which is now Gotham FC. He also did not have a proper coaching license.

O'Connor and Neace said they now involve players much more in hiring decisions, whether they be currently with the club or those who have experience with the candidate elsewhere, such as when Racing brought on Kim Björkegren as its new head coach.
"That's something we've continued with in the future," O'Connor said. "Appointment around the organization, there's a greater depth around our process, and that's probably the biggest thing that we've gone through."
Both men again cited how the club fired Holly within 24 hours of learning his alleged sexual abuse of Simon. But Racing still entered a non-disclosure agreement with the coach, one the NWSL/NWSLPA joint investigation cited as being too prohibitive in that it could not reveal the reasoning for Holly's firing. It stated the club could have done more to protect Simon.
O'Connor and Neace said they were following legal advice while also trying to protect Simon.
"I'm not an attorney," O'Connor said. "I'm not someone that has ever experienced anything like this. There were multiple people involved in that. And like every organization and situation like that, you want to seek expert advice."
"Was it the right course of action, looking back? No," Neace said. "Did we do what what we were advised to do at the time? Yes, we did."
Other players had attempted to make Neace and O'Connor aware of other issues surrounding the club. Those issues dealt with physical and verbal abuses, like how injuries were being treated and players were being addressed, that made them concerned about the overall culture and environment.
Three players felt their confidentiality had been violated when scheduling a meeting to discuss these, as the club's human resources department carbon copied staff members in question to be a part of the meeting as well.
"People need to remember that you're four months into a brand new team where people are still trying to build relationship. People are still trying to form trust," O'Connor said. "That's something that every organization strives to build. It wasn't as if we just dismissed what had happened with those players: We sat with the players, we listened to the players and there was multiple follow up meetings."
O'Connor claimed those players who came to meet with him knew they would eventually also meet with the staff members they were having problems with. The former players WHAS11 in our prior reporting dispute that, saying the carbon copies in the email chain to schedule a meeting revealed to them that those staff members would also be involved.
"There's a comparison relative to the level of complaint," O'Connor said. "When the three players had come in and complained, there were multiple topics that were discussed. Not one of those topics had anything to do with anything similar to the issue of what he ended up being fired for."
Neace and O'Connor referenced not having enough staffing or funding at that time to add or create positions to better respond to issues. But a part of the club's solution now is hiring a general manager to lead Racing's operations, as O'Connor now just works on the business side. Neace said Racing had a hire ready in December, but that individual backed out in the final hours.
However, Neace said now, a candidate who works elsewhere has accepted the terms of an offer, but is going through the NWSL process of a background check and other measures when confirming new hires. He is hoping the hire can be announced in the next two weeks.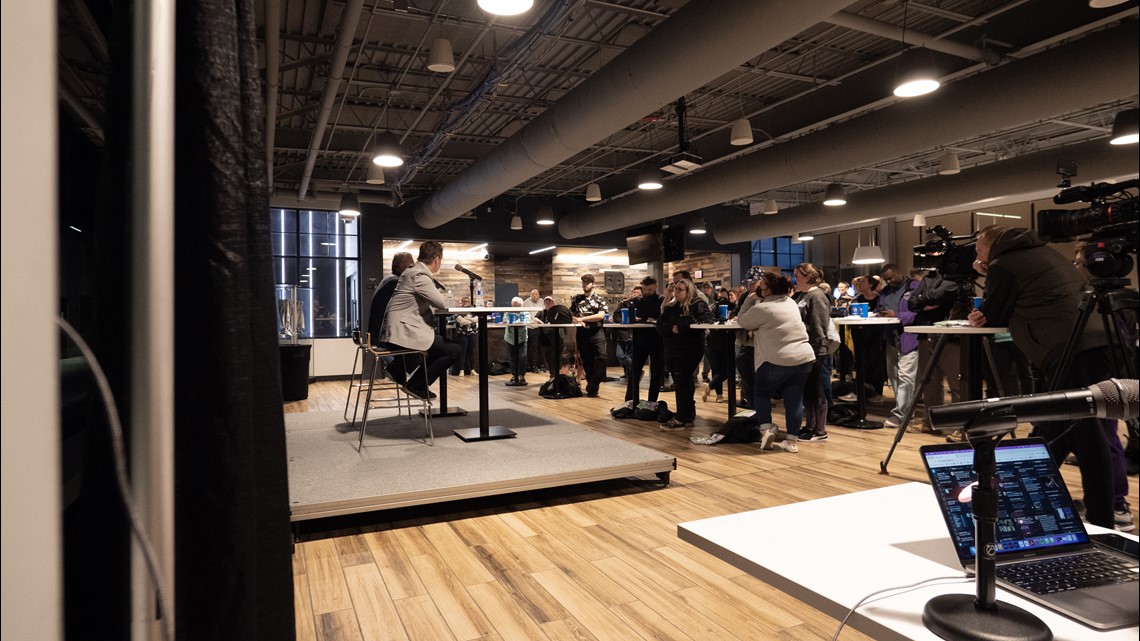 Some supporters like Jesse Bennett and Hope McPherson left the town hall meeting unimpressed with the overall answers.
"I walked in about the same or walking out probably the same way that I walked in, which is to say, sufficiently whelmed in the sense that I already walked in pretty underwhelmed to begin with," Bennett said.
"You didn't supply the answers," McPherson said. "You supplied us with, 'I've chatted with a PR person who's told me how I should best answer these questions.'"
Neace said there are lots of issues at the moment.
"We are one of them. And we are taking the steps to fix it. We want you to hold us accountable," he said. "But I think we need to do that on all parts of what we are as a community, not just this piece. We are a top-tier club. We're the best league in the world, we have some of the best players in the world. But if we don't support it, it won't be here."
Watch the full video of the meeting below.
Make it easy to keep up-to-date with more stories like this. Download the WHAS11 News app now. For Apple or Android users.