INDIANAPOLIS — Indianapolis Colts owner Jim Irsay said Monday night he "couldn't be more excited" about interim head coach Jeff Saturday.
The former Colts center was introduced at a press conference about nine hours after it was announced that the team had fired head coach Frank Reich.
"He's the best man for the job. There's no question about it in my mind," Irsay said.
He played 14 years in the NFL, including 13 in Indianapolis, winning the Super Bowl with the Colts in 2007, but he's never coached above the high school level.
"Certain people just have it," Irsay said.
General manager Chris Ballard said he and Irsay talked about making the move shortly after Indianapolis sputtered in a 26-3 loss in New England Sunday. They spoke again when the team returned to Indianapolis and reached out to Saturday about the job late Sunday night.
Saturday said he discussed the move with his wife and son before accepting the interim job.
"If he turns us down, we're not here," Irsay said.
The owner reiterated the job was on an interim basis, to keep in line with the NFL's Rooney Rule, which requires teams to interview candidates from diverse backgrounds and hold at least one in-person interview with an external minority candidate. Irsay said the team would hold a full interview process at the end of the season to find a full-time head coach.
Saturday said he's "drinking from a fire hydrant a little bit" as he tries to meet with coaches and players and have the team ready for Sunday's game in Las Vegas. He said he's met with the entire offensive coaching staff already and hopes to have a plan for play-calling duties later tonight.
"The great part about this is there are fantastic coaches on this staff and men that have done this for a long time," Saturday said. "I have no fear that I will pick the right guy and we will ride with it."
After Sunday's loss, Reich shouldered the blame, but it was not enough for him to keep his job.
"Each person has to go back starting with me," Reich said after Sunday's loss. "That's what I said in the locker room. I mean, the offensive performance — that's why I was brought here. That's my responsibility. We got the players. We got players that are plenty good enough. I have to do a better job. It starts with me on offense. I have to do a better job getting the guys ready to play, putting guys in good positions to win and having answers when we face problems."
Reich coached in Indianapolis for 4 1/2 years, amassing a 40-33-1 record. The Colts made the playoffs twice during Reich's tenure, but faltered down the stretch last season, missing the postseason after a season-ending loss in Jacksonville.
"It's a very difficult and tough day, because I told Frank I was hoping Chris and him and I were going to grab that Lombardi Trophy together someday and have that thing and celebrate," Irsay said. "This league is tough and things change and he's a pro and he understands. He understands this league and this business."
Two weeks ago, Reich announced Sam Ehlinger would be taking over quarterback duties from veteran Matt Ryan for the rest of the season. The Patriots sacked Ehlinger nine times Sunday.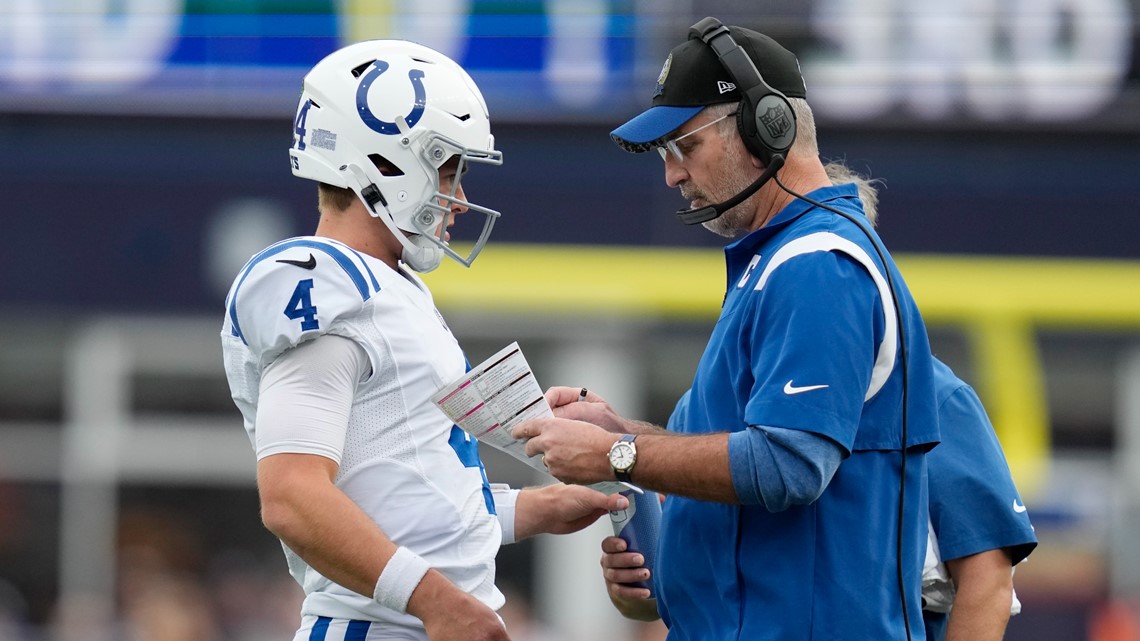 While Irsay decided to make a move at the head coaching position, he reiterated his support for Ballard, who many fans believed to be on the hot seat as well.
"The guy's a winner and he's been immensely successful," Irsay said. "Sometimes you don't understand how fortunate you are when you're around success, because you think it's the norm, but it's not."
The Colts are 3-5-1 and in second place in the AFC South behind 5-3 Tennessee, but have lost both meetings with the Titans this season. Indianapolis is 1-3-1 against the division on the season, with just a season-ending game against the Houston Texans left in divisional play.
"We've got eight games left and I'm not ready to fire the towel in," Ballard said. "Defensively, I would tell you we're playing pretty good football. Offensively is where we need to make some hay."
Saturday's first game as coach will be against the 2-6 Las Vegas Raiders on Sunday. Kickoff is set for 4:05 p.m. EST.
What other people are reading: