Teams across America had a chance to shape themselves for the next generation with the first round of the 2018 NFL Draft.
It was one of the toughest opening rounds to predict in recent memory, with many twists and turns throughout the lead-up to the big day. Once teams went on the clock, that only continued.
Check out where each player went in the first 32 picks.
1. Cleveland Browns - Baker Mayfield, QB, Oklahoma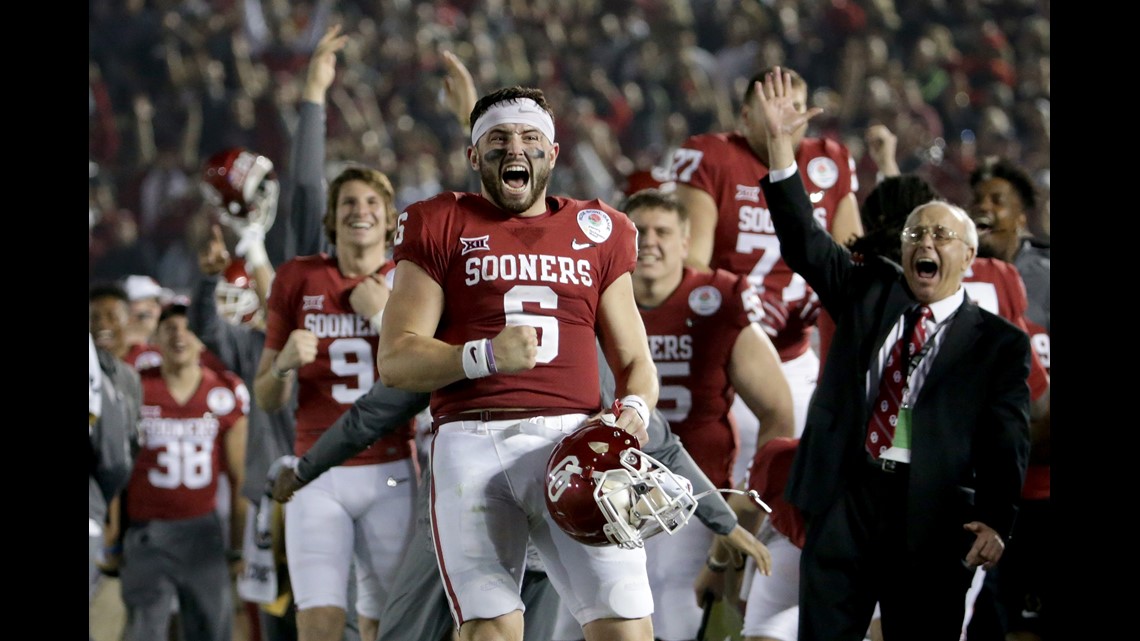 The speculation over what the Browns would do at No. 1 can finally end, with the team taking the 6-foot-1, 220 pound Mayfield. A former walk-on at two different schools, Mayfield completed more than 70 percent of his passes in 2017 for 4,627 yards and 43 touchdowns on his way to the Heisman trophy and a berth in the College Football Playoff. Despite his accolades, Mayfield's height and off-field antics have made him a polarizing figure among scouts and fans alike.
Read more coverage from WKYC in Cleveland here.
2. New York Giants - Saquon Barkley, RB, Penn State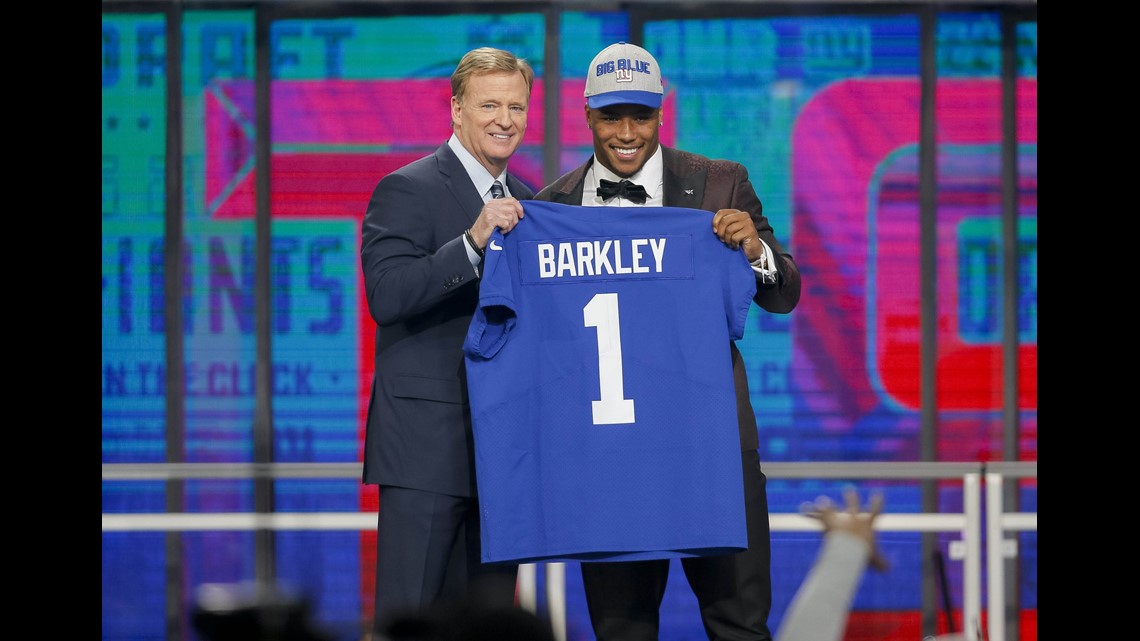 No. 2 was also a wild card, but the Giants decided to go with the dynamic tailback whom many feel is the best overall player in this draft. Barkley tallied over 5,000 yards from scrimmage and 51 touchdowns in an incredible three-year career in Happy Valley.
3. New York Jets (from Indianapolis Colts) - Sam Darnold, QB, USC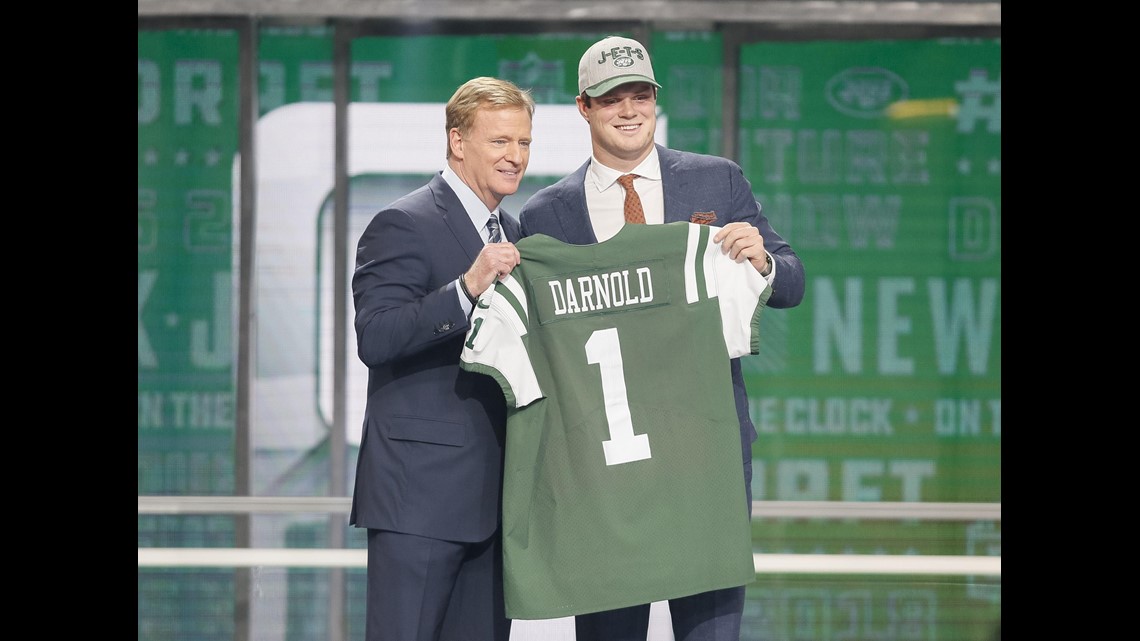 The Jets made a move from No. 6 to get their franchise quarterback, and they hope to have one now in Sam Darnold. A two-year starter with the Trojans, Darnold burst on the scene as a redshirt freshman by throwing for 31 touchdowns and leading the team to a Rose Bowl win. He struggled with turnovers as a sophomore, but still threw for 4,143 yards and 26 TDs as USC won the PAC-12 for the first time in nine years. Many analysts had Darnold pegged as the best QB in this draft.
4. Cleveland Browns (from Houston Texans) - Denzel Ward, CB, Ohio State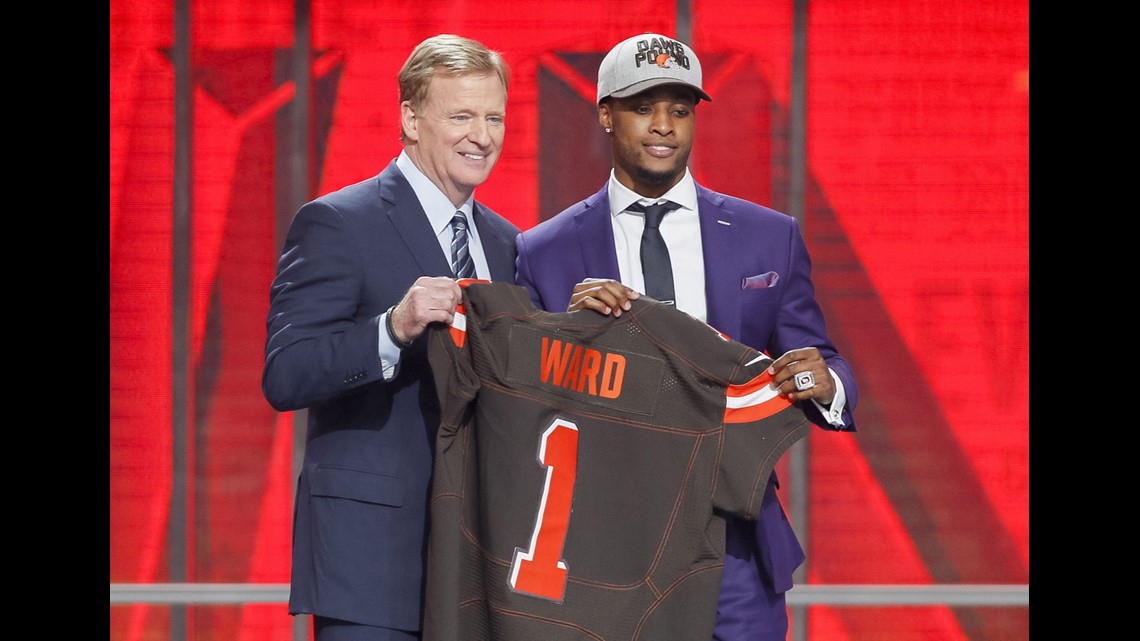 The Browns did not trade out of No. 4 (as many predicted), but they still surprised some by picking Ward, who went to nearby Nordonia High School. A consensus All-American in 2017, Ward locked down opposing receivers and picked off two passes throughout his career. He is also the first OSU player Cleveland has taken since Brian Robiske (second round) in 2009.
More coverage from WKYC here.
5. Denver Broncos - Bradley Chubb, DE, NC State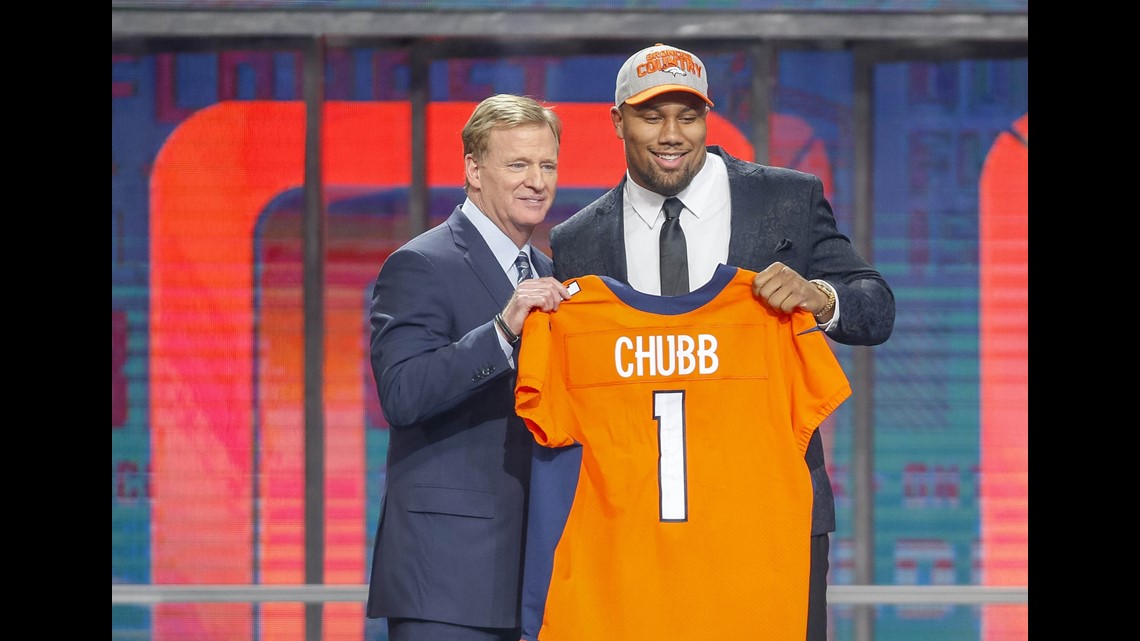 Many saw the 6-foot-4, 275-pound Chubb as the best defensive player in the draft, so it's a bit of a head-scratcher to see him fall to No. 5. Chubb tallied 10 sacks each of the last two seasons with the Wolfpack, and in 2017 earned the Bronko Nagurski Trophy as college football's best defensive player.
6. Indianapolis Colts (from New York Jets) - Quenton Nelson, OG, Notre Dame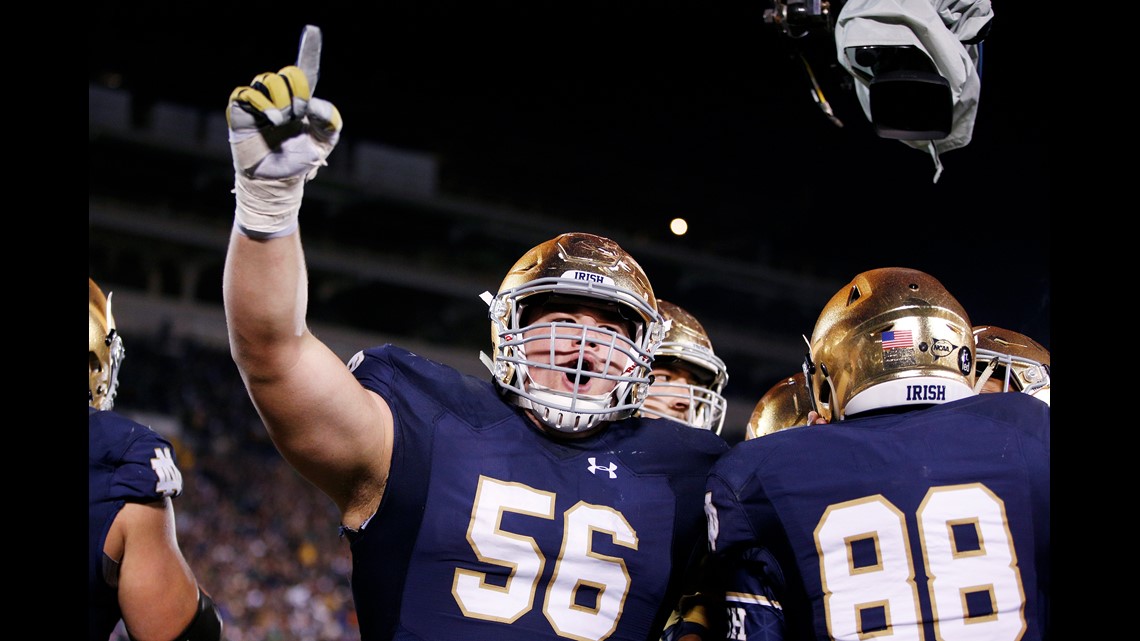 Nelson, by far the best offensive lineman in this year's class, started for two years for the Fighting Irish. Although he is a guard by trade, most feel he can play anywhere needed on the line, which could be a big help for Indy's oft-injured QB Andrew Luck.
7. Buffalo Bills (From Tampa Bay Buccaneers) - Josh Allen, QB, Wyoming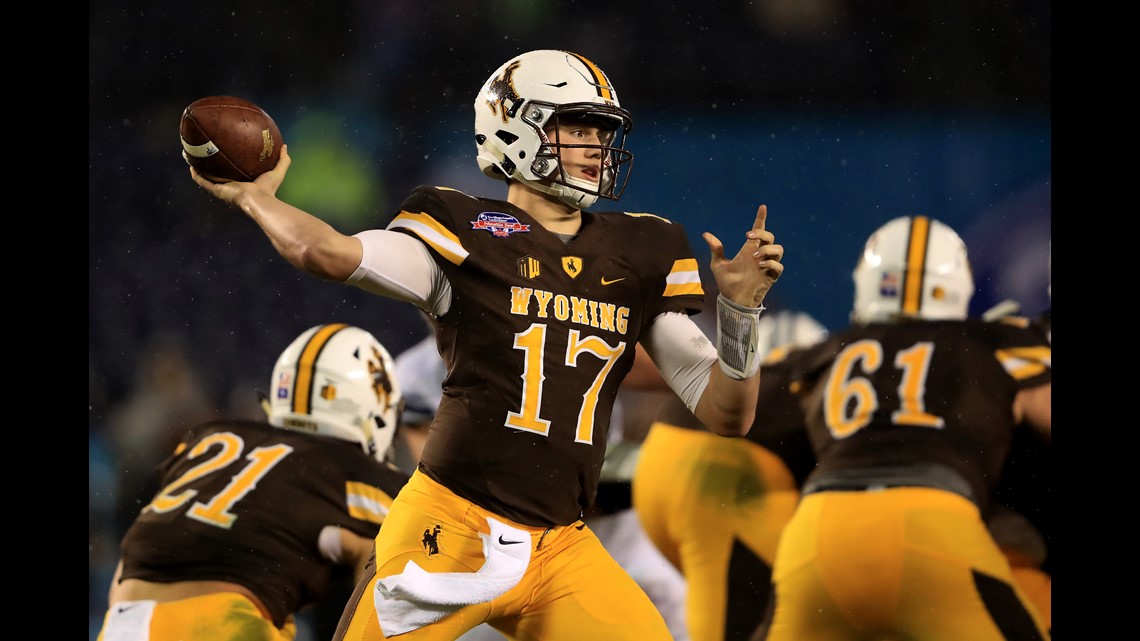 We have our first trade of this year's draft, as the Bills moved up (again) from No. 12 to select the 6-foot-5 Allen. The Firebaugh, California, native is thought to have amazing potential, but is also a project who failed to complete 60 percent of his passes in college. There were also concerns regarding some old Twitter posts he made as a teenager, although reports indicate most teams saw no issue.
In addition to the 12th overall pick, Tampa also received two second rounders from Buffalo.
8. Chicago Bears - Roquan Smith, LB, Georgia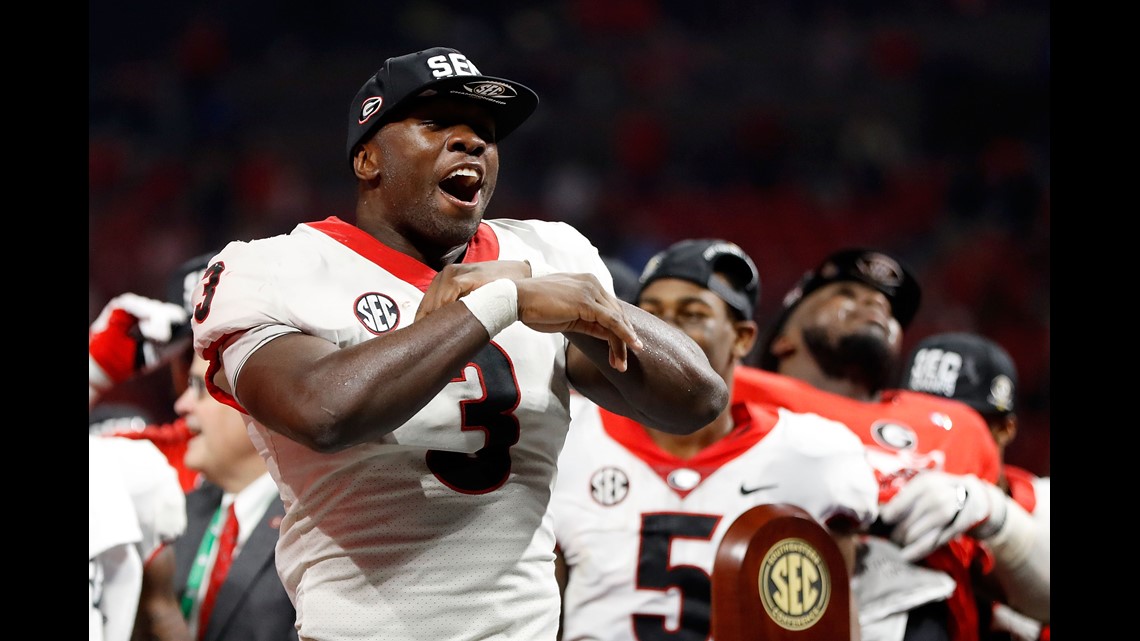 The Bears have not had a winning season since 2010, but hope to continue building for the future with the addition of Smith, who put up 14 tackles for loss and six and a half sacks in 2017 on his way to All-America and Butkus Award (best linebacker) honors.
9. San Francisco 49ers - Mike McGlinchey, OT, Notre Dame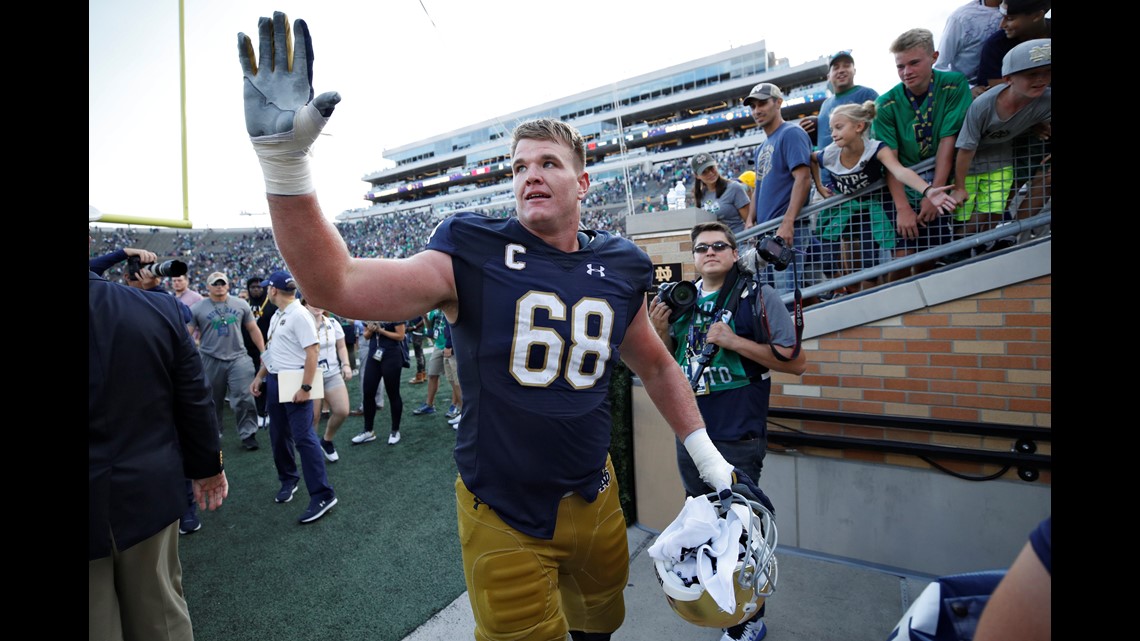 Three picks after his teammate Nelson went off the board, McGlinchey finds himself as part of an O-line the 49ers hope to build around high-priced quarterback Jimmy Garoppolo. McGlinchey stands at a massive 6-foot-8, 315 pounds.
10. Arizona Cardinals (from Oakland Raiders) - Josh Rosen, QB, UCLA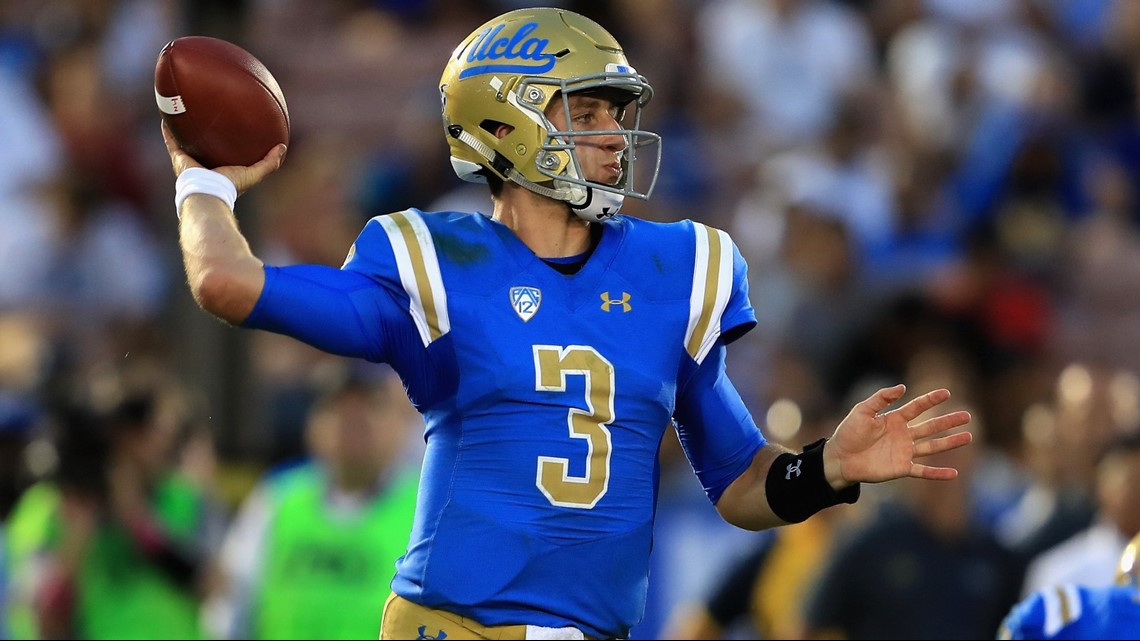 The Cardinals swapped first round picks with the Raiders and also sent them a third and fifth round pick for the rights to take Rosen. The UCLA product threw for 3,756 yards and 26 touchdowns in 2017, but struggled with concussions throughout his college career and also faced a few character and attitude questions.
11. Miami Dolphins - Minkah Fitzpatrick, S, Alabama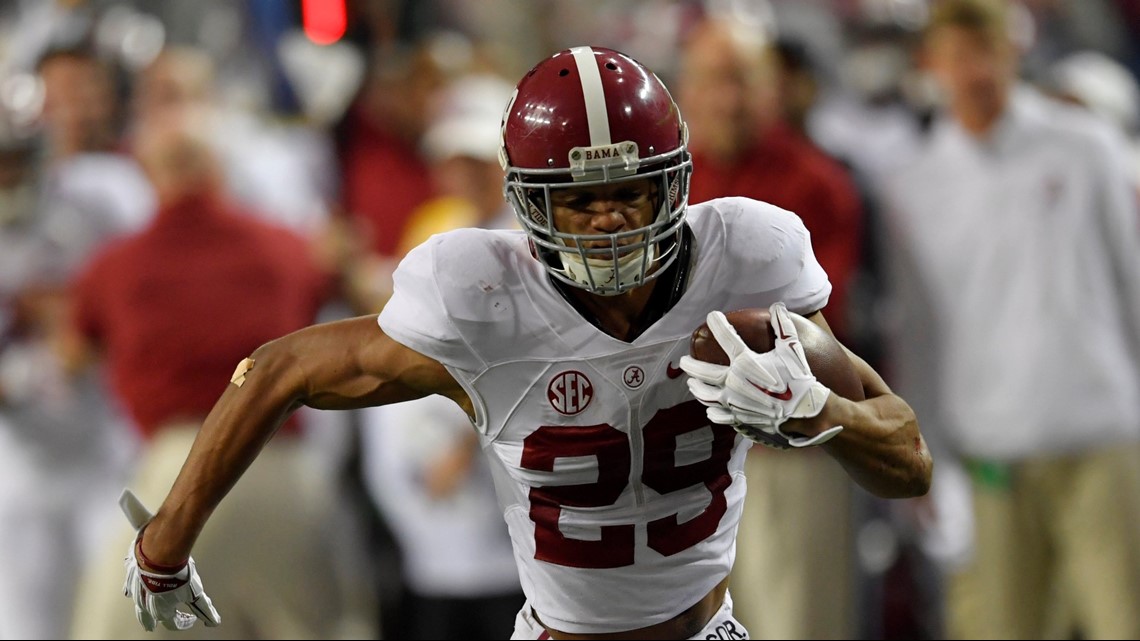 The Dolphins had one of the worst defenses in the league last year, but Fitzpatrick is sure to change that. The 21-year-old picked off nine passes (returning four for touchdowns) during his college career, while taking home numerous awards and helping the Crimson Tide to two national titles. Many feel like he could play corner or safety in the NFL.
12. Tampa Bay Buccaneers (from Buffalo Bills via Cincinnati Bengals) - Vita Vea, DT, Washington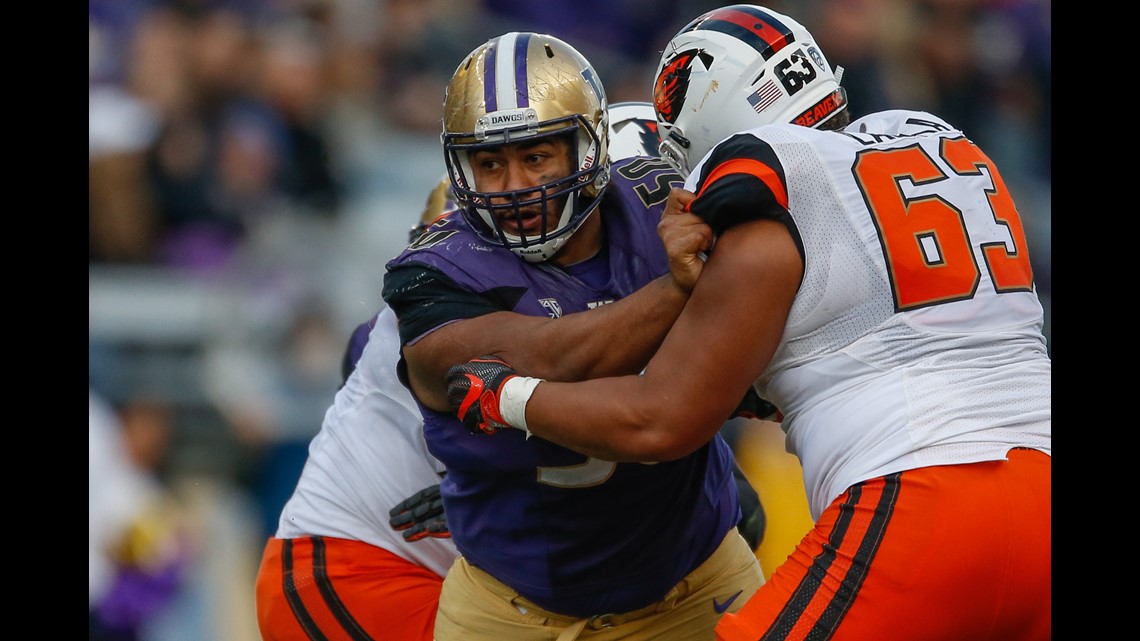 After their trade-down with the Bills, the Bucs used the 12th pick to select the massive, 340-pound nose tackle out of Washington. Vea tallied 15 tackled for loss and nine and a half sacks during his three-year career, earning first-team All-PAC-12 honors in 2017 and helping the Huskies resurface as a national power.
13. Washington Redskins - Da'Ron Payne, DT, Alabama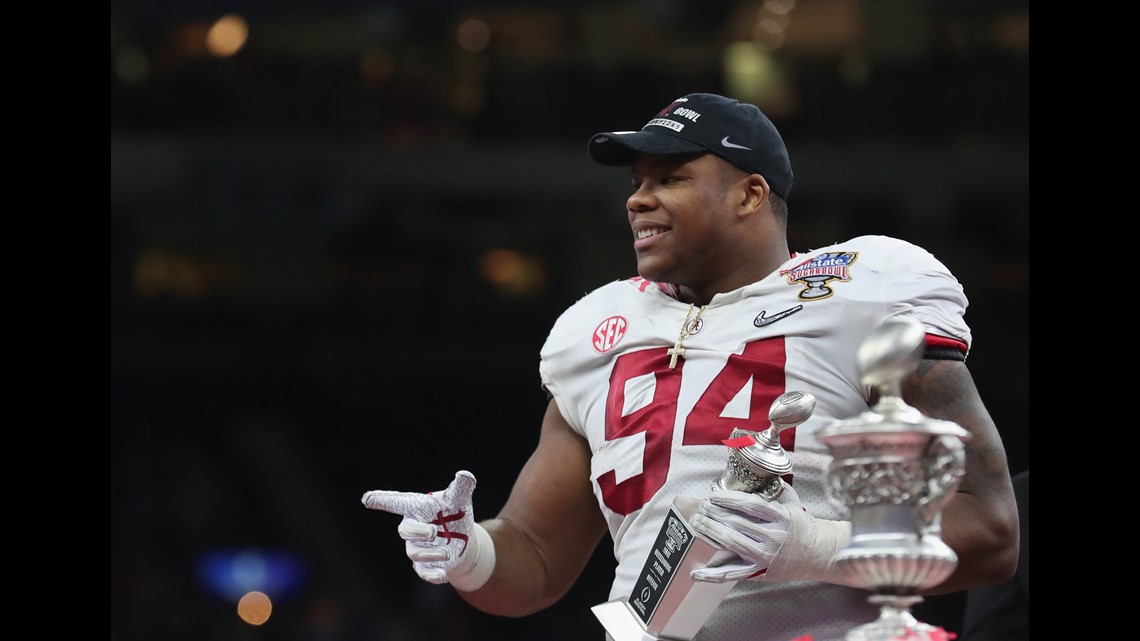 Back-to-back defensive tackles at 12 and 13, with the 'Skins selecting the 20-year-old Payne. While his career numbers (five tackles for loss, three sacks) and size (308 pounds) both pale in comparison to Vea, Payne was named Co-MVP of the 2018 CFP National Championship Game.
14. New Orleans Saints (from Green Bay Packers) - Marcus Davenport, DE, UTSA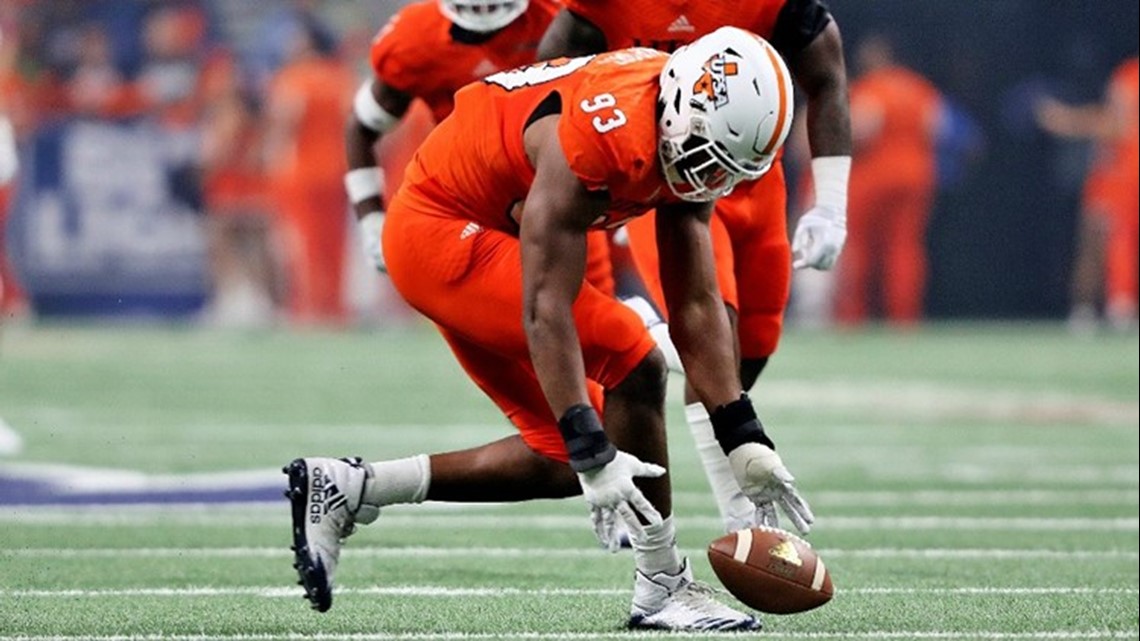 The Saints gave up a heck of a lot (next year's first round pick) to move up to No. 14, and many felt they would take a quarterback. Instead, they selected defensive end Marcus Davenport, who racked up 17.5 tackles for loss and eight and a half sacks during his senior year at UTSA.
Read more about the San Antonio native's remarkable story via KENS here.
15. Oakland Raiders (from Arizona Cardinals) - Kolton Miller, OT, UCLA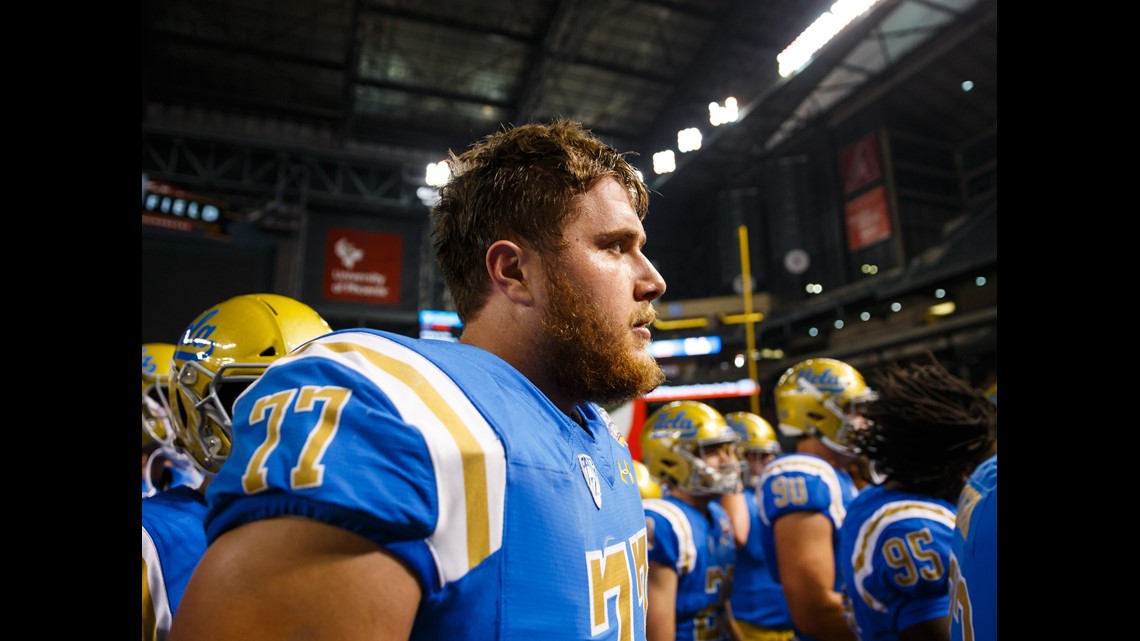 Jon Gruden's first draft pick since returning to the Raiders is clearly meant to help his quarterback. Miller started three years for the Bruins and was named second-team All-PAC-12 in 2017.
16. Buffalo Bills (from Baltimore Ravens) - Tremaine Edmunds, LB, Virginia Tech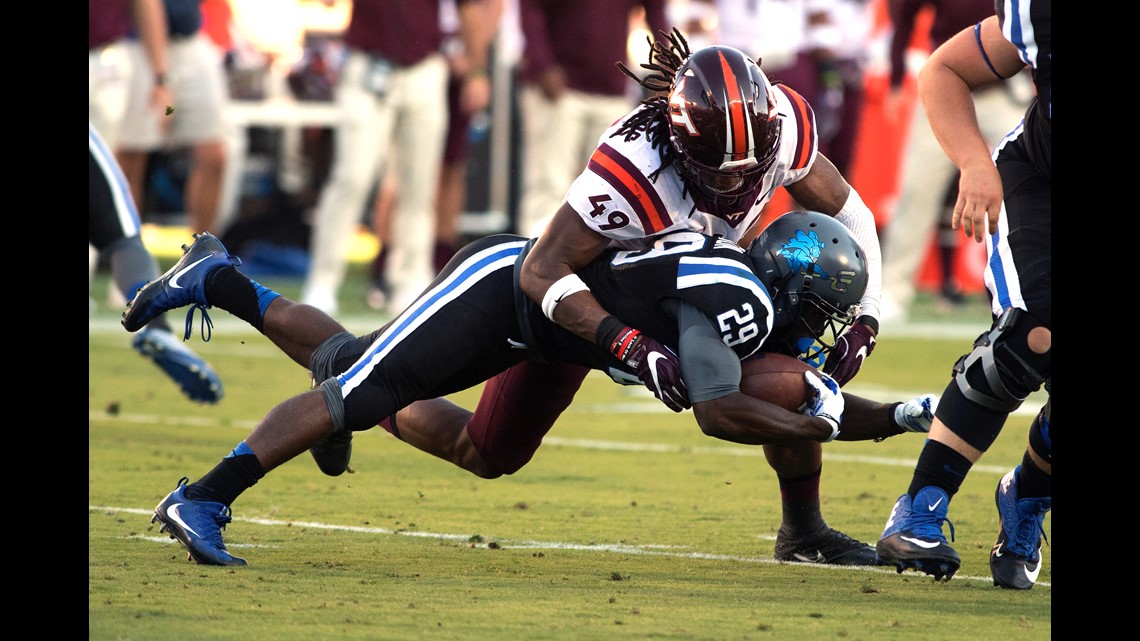 The Bills have traded up once again, sending the 22nd pick and a third round pick to Baltimore to take Edwards. Just 19 years old, Edmunds burst onto the scene the past two seasons with 30.5 tackles for loss and 10 sacks.
17. Los Angeles Chargers - Derwin James, S, Florida State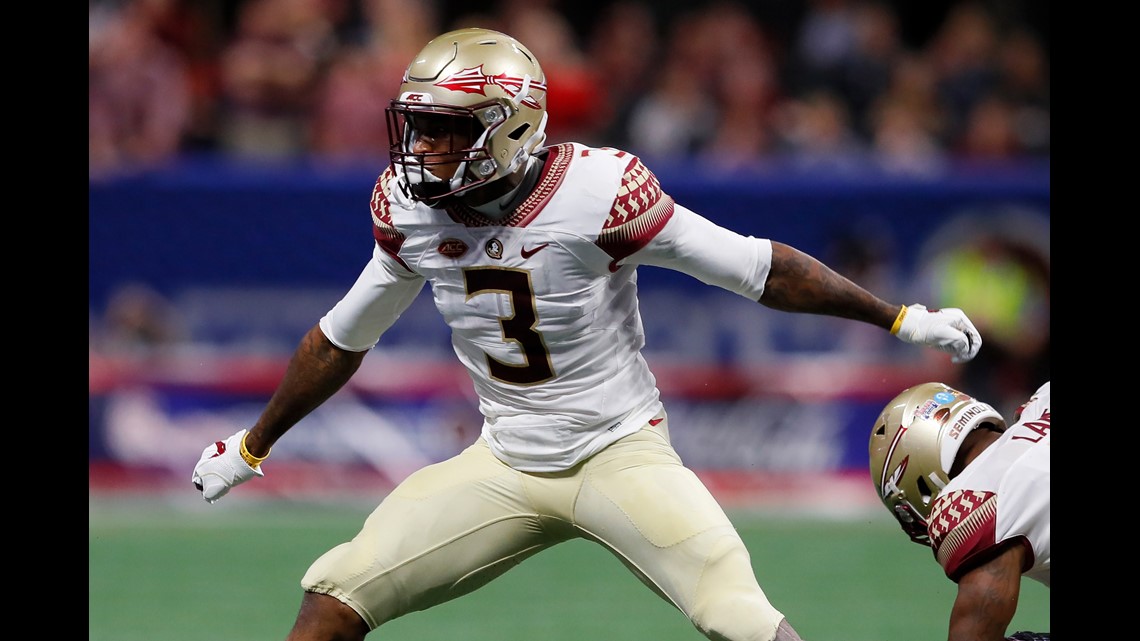 While this is considered a relatively thin safety class, both such players who went in the first round are very highly touted. An All-American in 2017, the versatile James made 84 total tackles, picked off two passes, and even had a sack.
18. Green Bay Packers (from Seattle Seahawks) - Jaire Alexander, CB, Louisville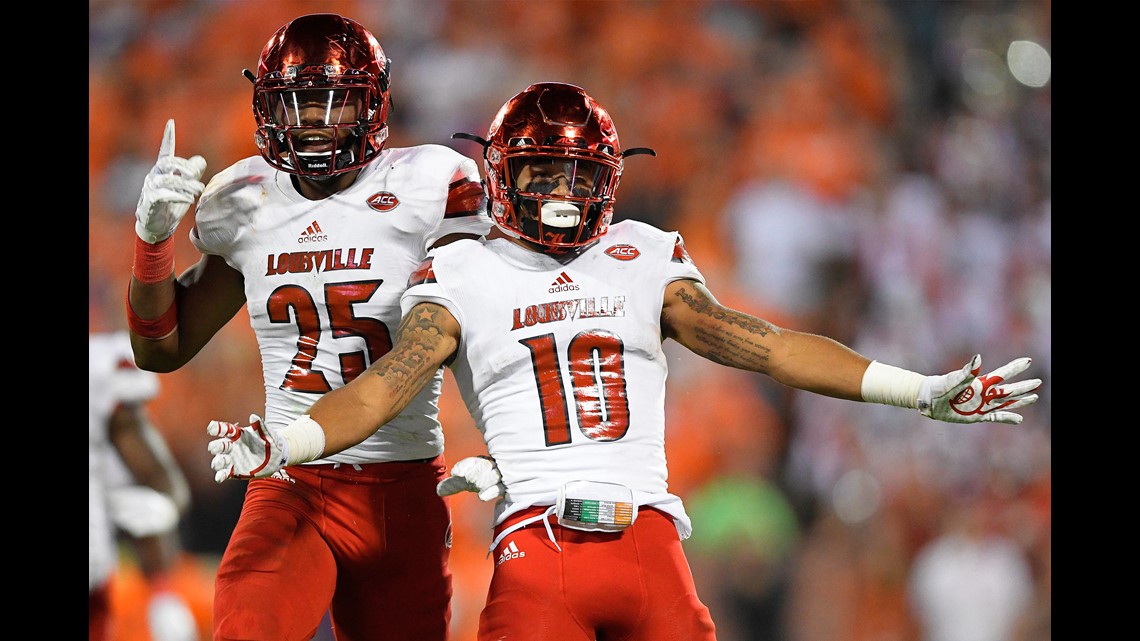 After trading down from 14, the Packers have traded back up from 27 to beef up their secondary. Alexander struggled with injuries in 2017, but did pick off five passes as a sophomore to earn second-team All-ACC honors.
19. Dallas Cowboys - Leighton Vander Esch, LB, Boise State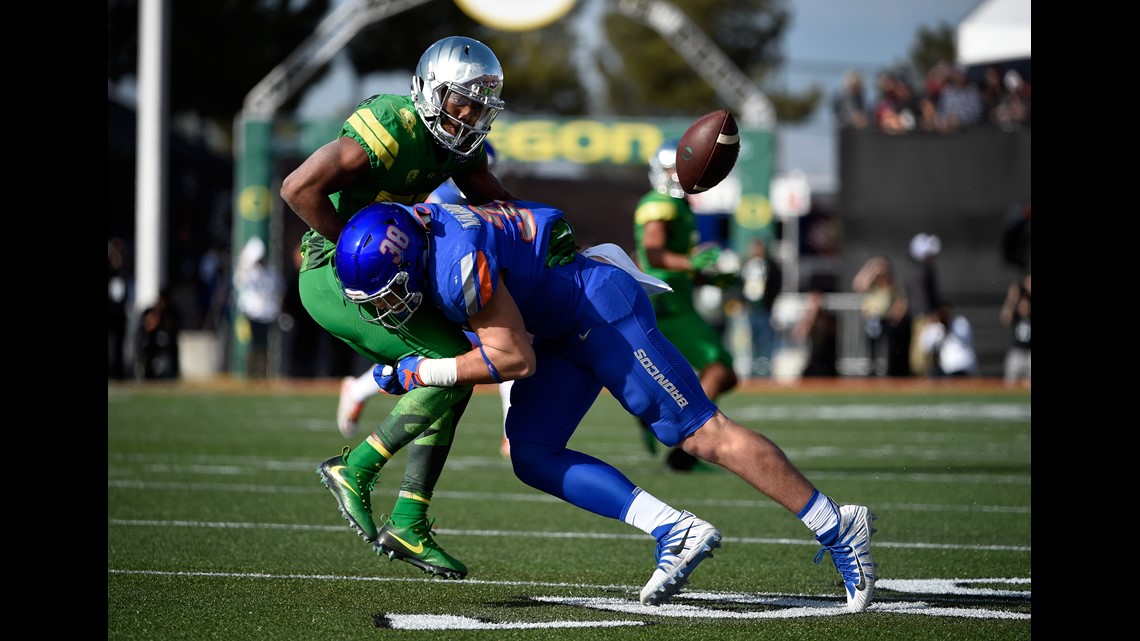 The hometown crowd went wild as the Cowboys made their selection. Vander Esch wasn't much of a factor his first two seasons in Boise, but as a junior had 141 tackles, four sacks, and two interceptions.
20. Detroit Lions - Frank Ragnow, C, Arkansas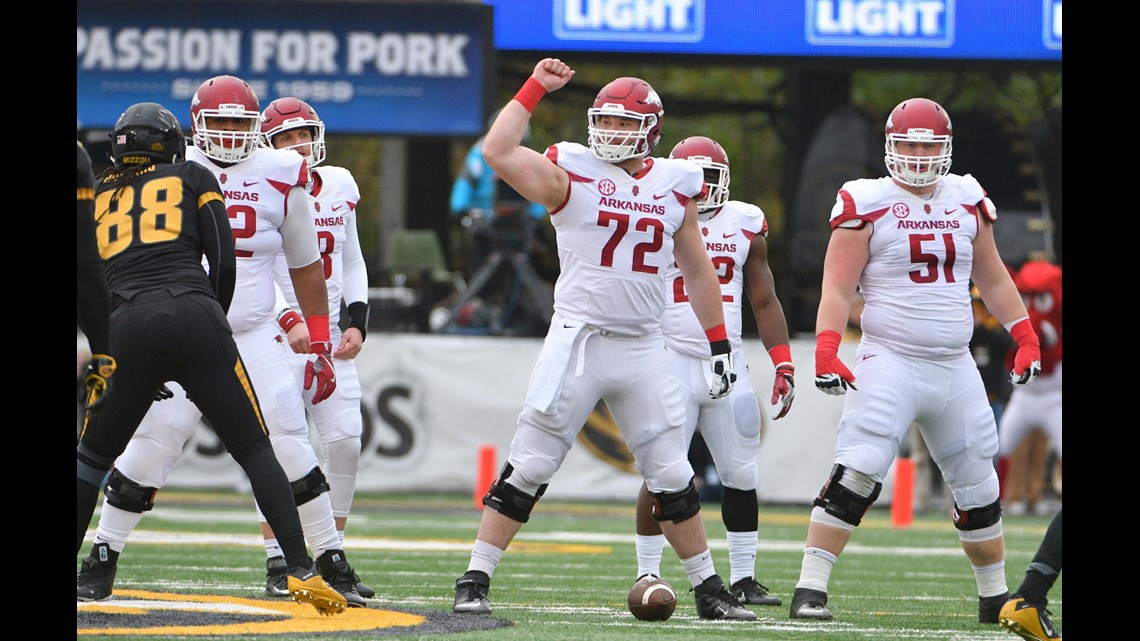 Matthew Stafford will have a new man snapping him the ball this year. Ragnor moved over from right guard this past season, and was considered the best center in ths draft.
21. Cincinnati Bengals (from Buffalo Bills) - Billy Price, C, Ohio State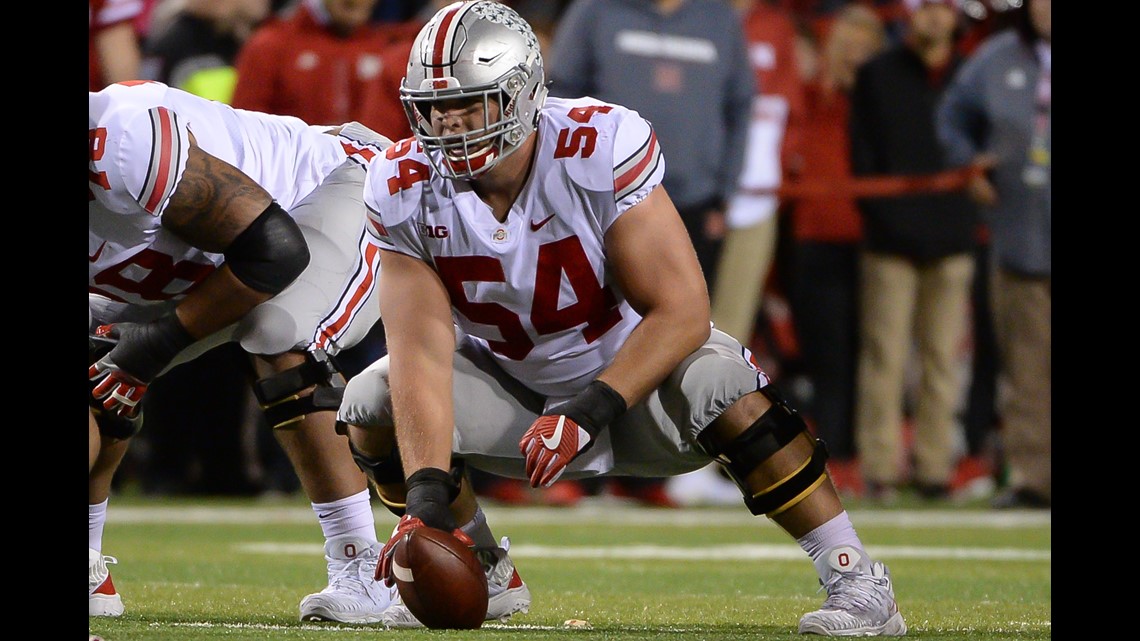 The second straight center to come off the board, Price's draft stock fell a bit following an injury in workouts. However, he still maintained his first round status on the heels of his 2017 Rimington Award.
22. Tennessee Titans (from Baltimore Ravens via Buffalo and Kansas City) - Rashaan Evans, LB, Alabama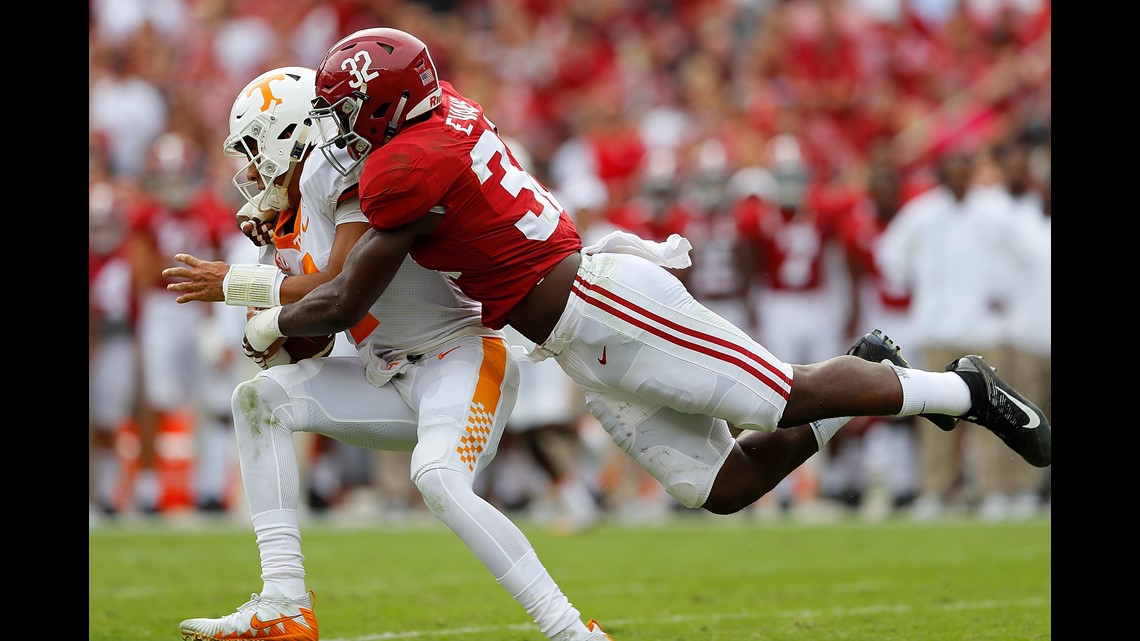 The third Bama player taken in the first round, Evans was a dominant force in 2017, tallying 13 tackles for loss and six sacks and earning first-team All-America honors.
23. New England Patriots (from Los Angeles Rams) - Isaiah Wynn, OT, Georgia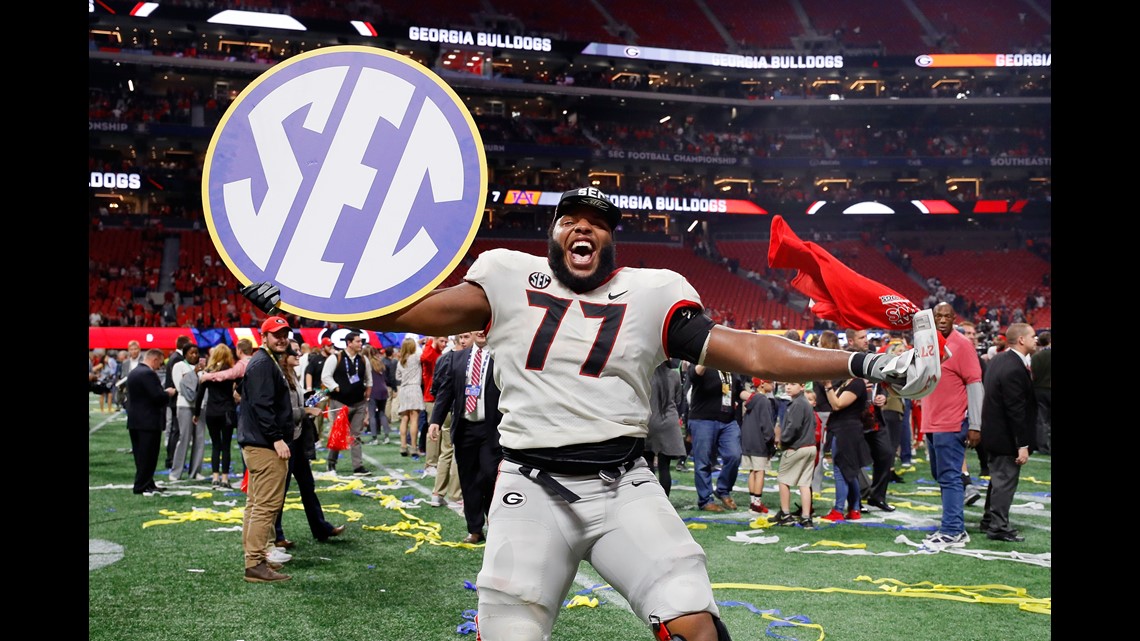 Bill Belichick just beefed up his offensive line by selecting the three-year starter out of Georgia, who was a second-team All-American in 2017. Many believe he will move over to tackle in the pros.
24. Carolina Panthers - D.J. Moore, WR, Maryland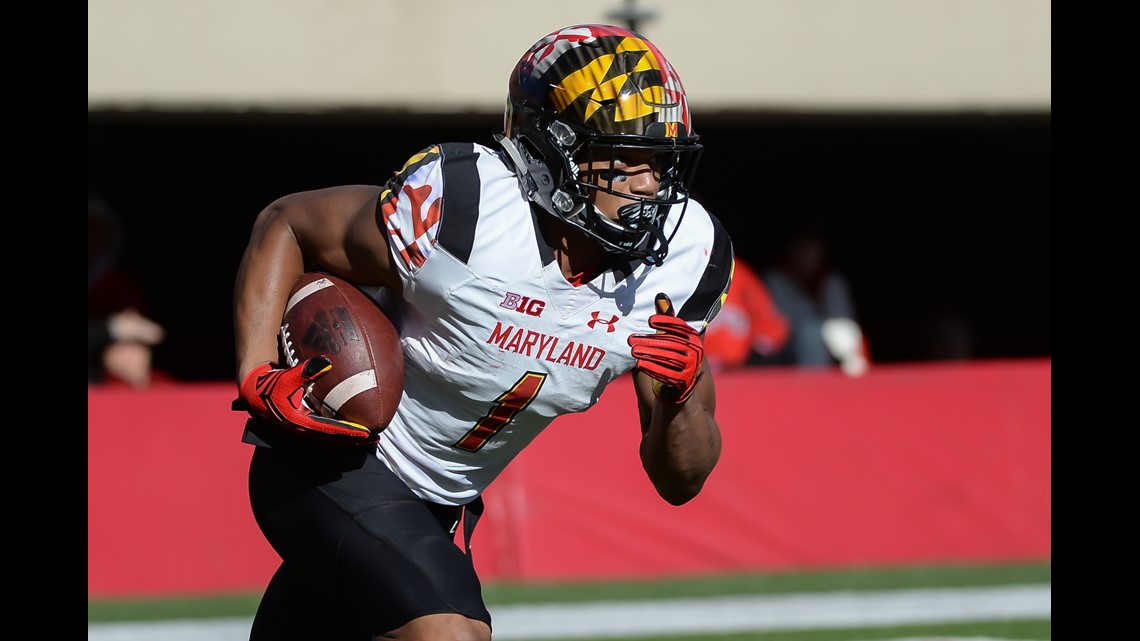 The Panthers decided to get Cam Newton some help by taking the first receiver in the draft. Earning first-team All-Big Ten in 2017, Moore caught 80 passes for 1,033 yards and eight touchdowns.
25. Baltimore Ravens (from Tennessee Titans) - Hayden Hurst, TE, South Carolina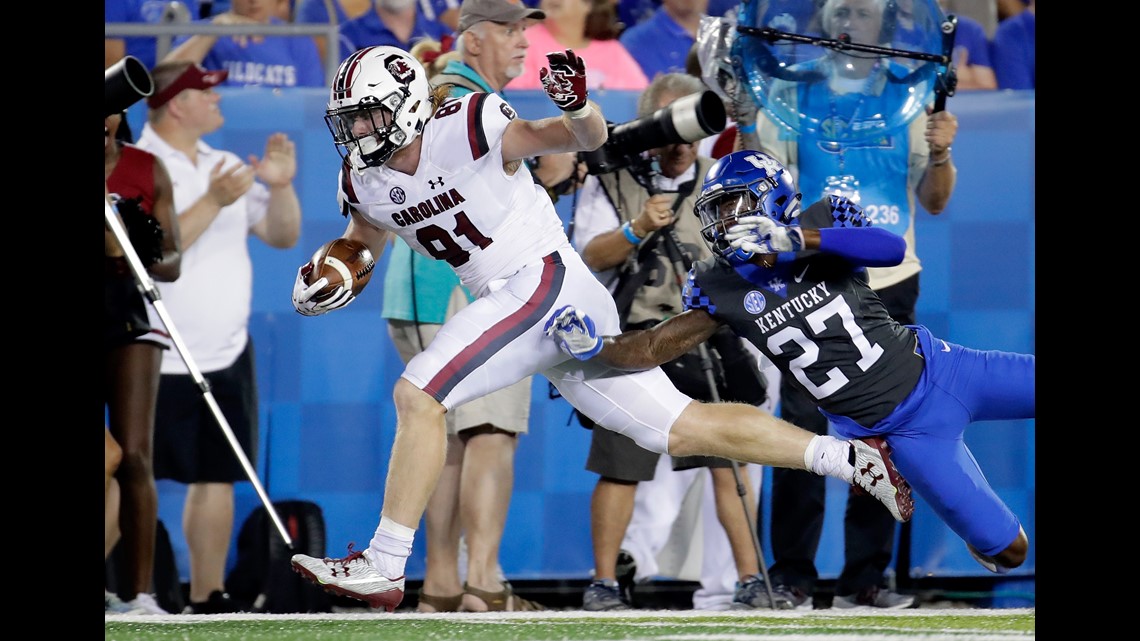 Following the first receiver, Hayden Hurst became the first tight end off the board. One of the older players in the draft at 24 (and a former star pitching prospect), Hurst never missed a game for the Gamecocks and averaged 12.8 yards per catch for his three-year career.
26. Atlanta Falcons - Calvin Ridley, WR, Alabama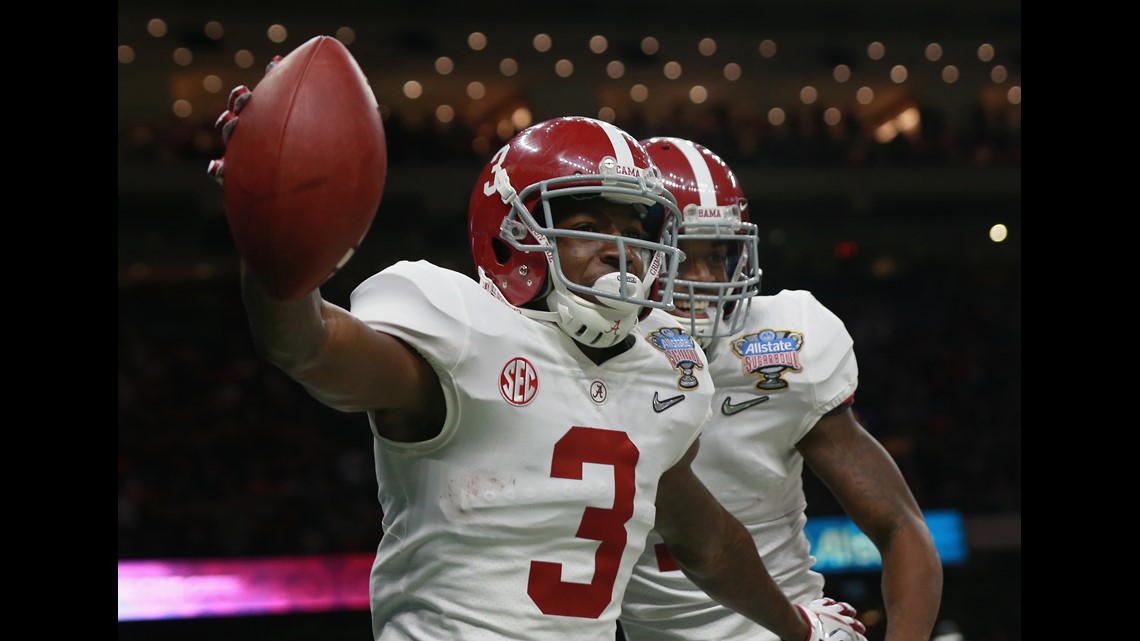 Just two years removed from a trip to the Super Bowl, the Falcons added to their high-powered offense with the selection of the play-making Ridley. The 23-year-old finished his three-year college career with 224 catches for 2,781 yards and 19 touchdowns, and is the fourth Bama player taken in this draft.
27. Seattle Seahawks (from Green Bay Packers via New Orleans Saints) - Rashaad Penny, RB, San Diego State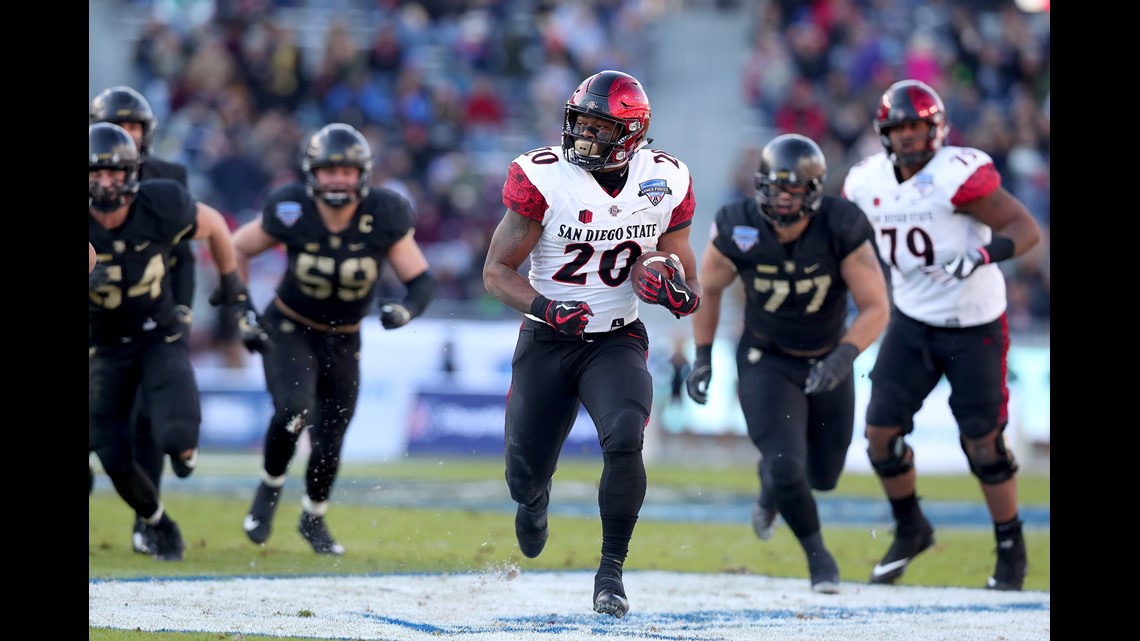 The Seahawks surprised most viewers by taking Penny, who most had pegged as a second or third round selection. Seattle will hope the 22-year-old repeats what he did for the Aztecs in 2017: 2,248 yards, 7.8 yards per carry, and 23 touchdowns.
28. Pittsburgh Steelers - Terrell Edmunds, S, Virginia Tech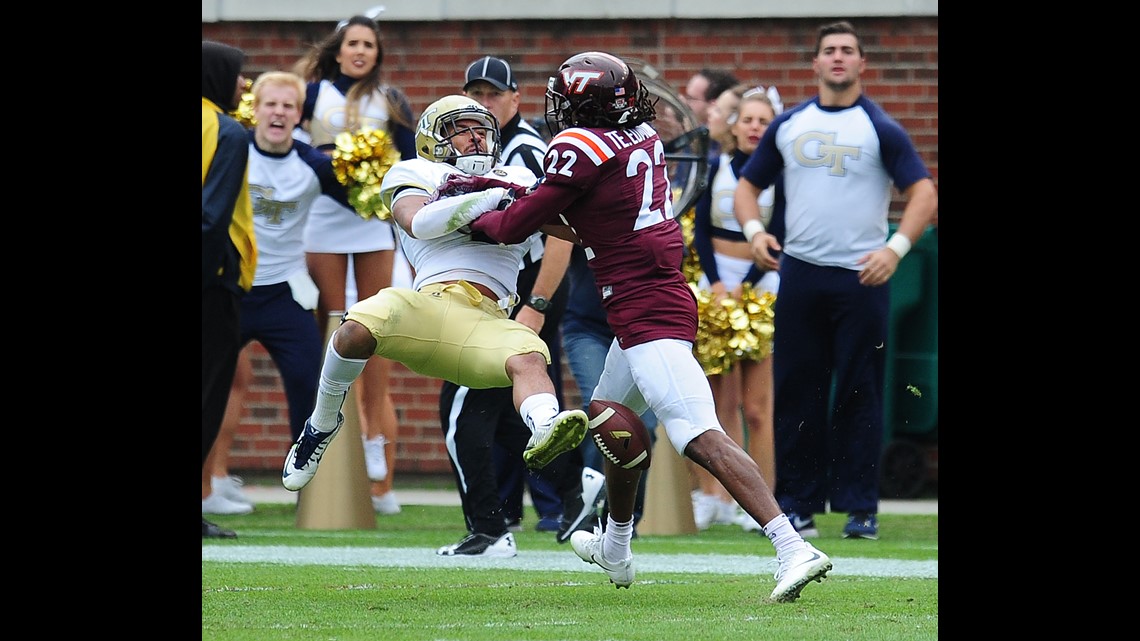 In a wonderful moment, Terrell Edmunds saw himself drafted in the same round as his brother and teammate, Tremaine. Terrell had 196 tackles and six interceptions in three years with the Hokies.
Adding to the emotions, Steelers linebacker Ryan Shazier, who is still recovering following a nasty hit last December, walked out to the podium to announce the pick.
29. Jacksonville Jaguars - Taven Bryan, DT, Florida

Taven Bryan will be staying in Florida to begin his pro career. He broke out in 2017, tallying six tackles for loss and four sacks.
30. Minnesota Vikings - Mike Hughes, CB, UCF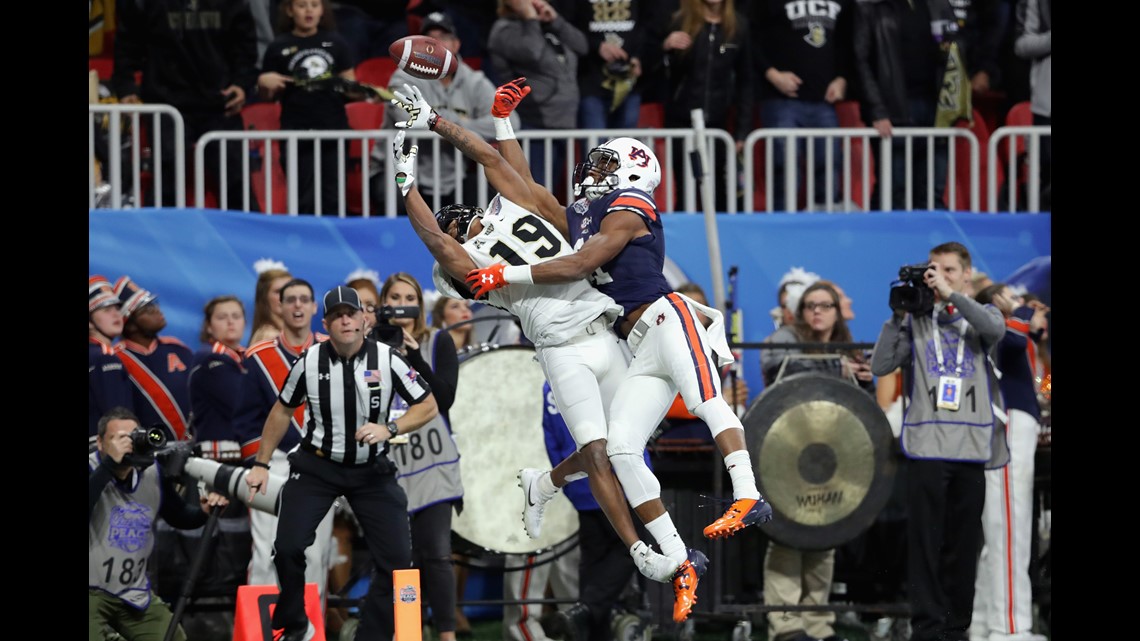 Hughes was a force to be reckoned with on UCF's unbeaten "national championship" season by picking off four passes, returning one for a touchdown.
31. New England Patriots - Sony Michel, RB, Georgia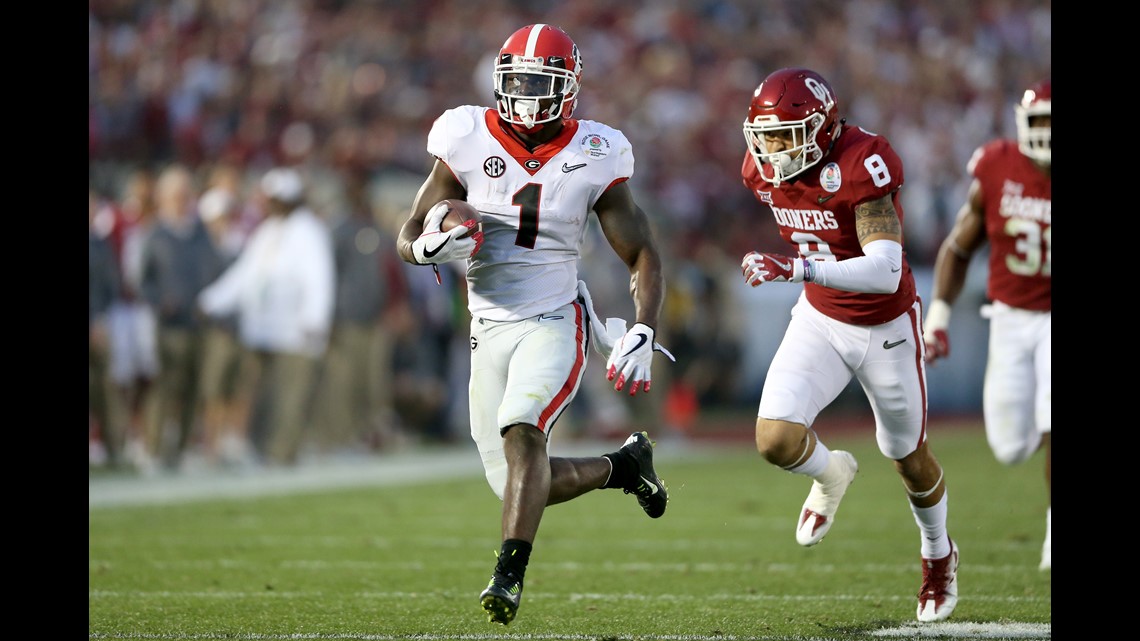 With his second selection of this first round, Bill Belichick added to his already deep stable of running backs. Michel was part of a dynamic duo with Nick Chubb last season, rushing for 1,227 yards and 16 touchdowns.
32. Baltimore Ravens (from Philadelphia Eagles) - Lamar Jackson, QB, Louisville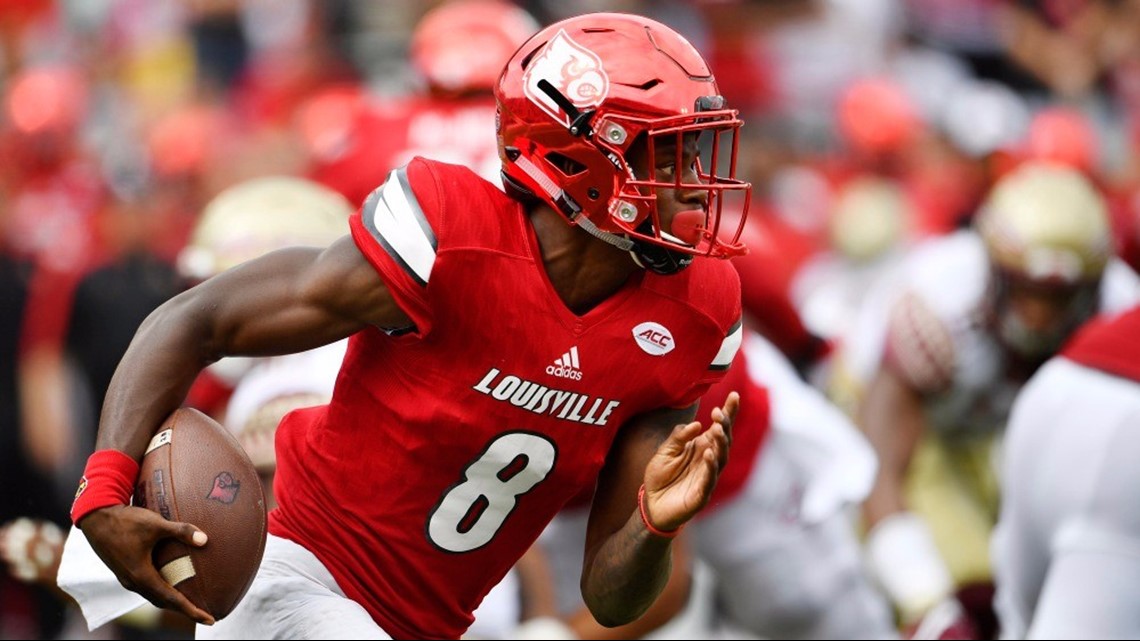 The Ravens traded back up into the first round to select the 2016 Heisman Trophy winner, who will now be seen as the heir apparent to Joe Flacco. While some question Jackson's ability to translate his game to the pros, his talent is unquestioned: He finished his college career with over 13,000 total yards and 119 total touchdowns.
This is the first draft in which five quarterbacks were taken in the first round since 1999.