BALTIMORE — Bob Baffert's National Treasure won the Preakness Stakes on Saturday, ending Mage's Triple Crown bid in the trainer's return from a suspension — and just hours after another of his 3-year-old horses was euthanized on the track.
Baffert headed to the winner's circle on the same day that his colt Havnameltdown went down with a fatal left leg injury in an undercard race. Baffert said he and his team were in shock.
"This business is twists and turns, the ups and downs," Baffert said, choking back tears. "And then, to win, this — losing that horse today really hurt. ... It's been a very emotional day.
The fatality was another dark moment for a sport already reeling from the deaths of seven horses at Churchill Downs in a 10-day span leading up to the Kentucky Derby.
Derby winner Mage finished third in the Preakness after going off as the 7-5 favorite. His defeat means there will not be a Triple Crown winner for a fifth consecutive year.
National Treasure, the 5-2 second choice, held off hard-charging Blazing Sevens down the stretch to win the 1 3/16-mile, $1.65 million race by a head.
Jockey John Velazquez won the Preakness for the first time in his 12th try.
"It's been a while," Velazquez said. "The success that I had in other races, not having won this one — it was definitely missing, so special to have it."
Baffert had a rollercoaster day in his return to Pimlico Race Course from a suspension that kept him from entering a horse in the Preakness last year. The thrill of victories by National Treasure in the Preakness and Arabian Lion in an earlier stakes race contrasted with the agony of Havnameltdown's death.
Jockey Luis Saez was conscious and transported to a local hospital for treatment. A team of veterinarians determined Havnameltdown's left front leg injury to be inoperable.
Black barriers were propped up on the dirt track while the horse was put down. All the while, 2Pac's "California Love" blared from the infield speakers at what is intended as an annual daylong celebration of thoroughbred racing.
By evening, Baffert was celebrated for winning the Preakness for a record eighth time, breaking a tie with 19th-century trainer R. Wyndham Walden. In 2018, Baffert matched Walden with seven wins at the Baltimore race with Justify, who went on to become the sport's 13th Triple Crown winner — and Baffert's second, after American Pharoah ended a lengthy drought for the sport in 2015.
This was Baffert's first Preakness in two years because of a ban stemming from 2021 Kentucky Derby winner Medina Spirit's failed drug test that led to a disqualification in that race. Medina Spirit was Baffert's most recent Preakness horse, finishing third.
Baffert didn't arrive in Baltimore until Thursday this week, seeking to keep a lower profile than usual given the questions that have dogged him and clouded his reputation. A Hall of Famer and a longtime face of horse racing, Baffert sought to move past his suspension when asked Friday.
"We just keep on moving forward," he said. "We have other horses to worry about. A lot of it is noise, so you keep the noise out and continue working."
While horse racing deaths in the U.S. are at their lowest level since they began being tracked in 2009, adding another at the track hosting a Triple Crown race will only intensify the internal and external scrutiny of the industry. Those inside it have said they accept the realities of on-track deaths of horses while also acknowledging more work needs to be done to prevent as many as possible.
In that vein, new national medication and doping rules are set to go into effect on Monday. The federally mandated Horseracing Integrity and Safety Authority, which already regulated racetrack safety and other measures, will oversee drug testing requirements for horses that should standardize the sport nationwide for the first time.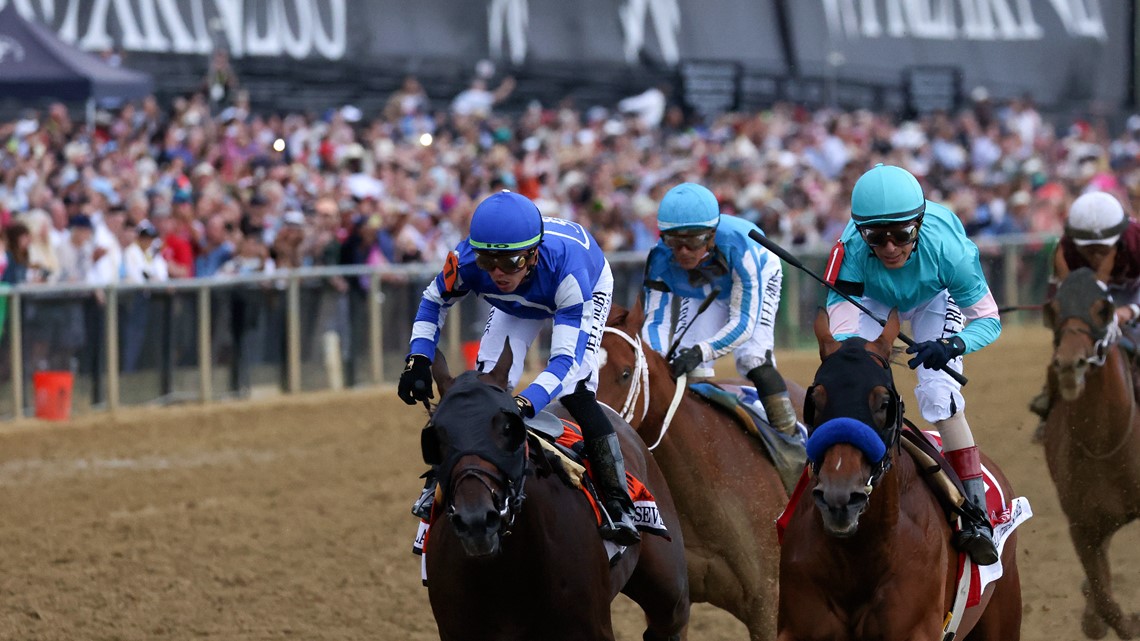 ►Make it easy to keep up-to-date with more stories like this. Download the WHAS11 News app now. For Apple or Android users.