PROSPECT, Ky. — A 100-car caravan left Waterfront Park Wednesday and took River Road into Prospect, a part of town that hasn't seen many protests over the last several weeks.
A social media post written by LMPD Major Micah Scheu described looting, damage and assaults, but Prospect Police Chief Jeff Sherrard said it was "blown completely out of proportion." Sherrard said the caravan did pass through the area at around 11:45 p.m., but said they were only in the city for between 15-20 minutes and did not cause much trouble.
Now, LMPD said they have initiated an investigation into Scheu's post.
The post says after the group "looted and cleared out the Chevron at River Road and Zorn they headed north, destroying yards and damaging vehicles they trapped." Louisville Metro Police said they received reports of theft at a gas station and protesters "driving through yards, redirecting traffic and intimidating people trying to travel in their path." Sherrard said they received no reports of vandalism or damage of any kind, and WHAS11 could not find any damage at the intersection Thursday morning.
In a statement released Thursday evening, an LMPD spokesperson said the department did receive reports of a theft from the gas station, but there was no indication of looting. The department has not provided an incident report for that theft.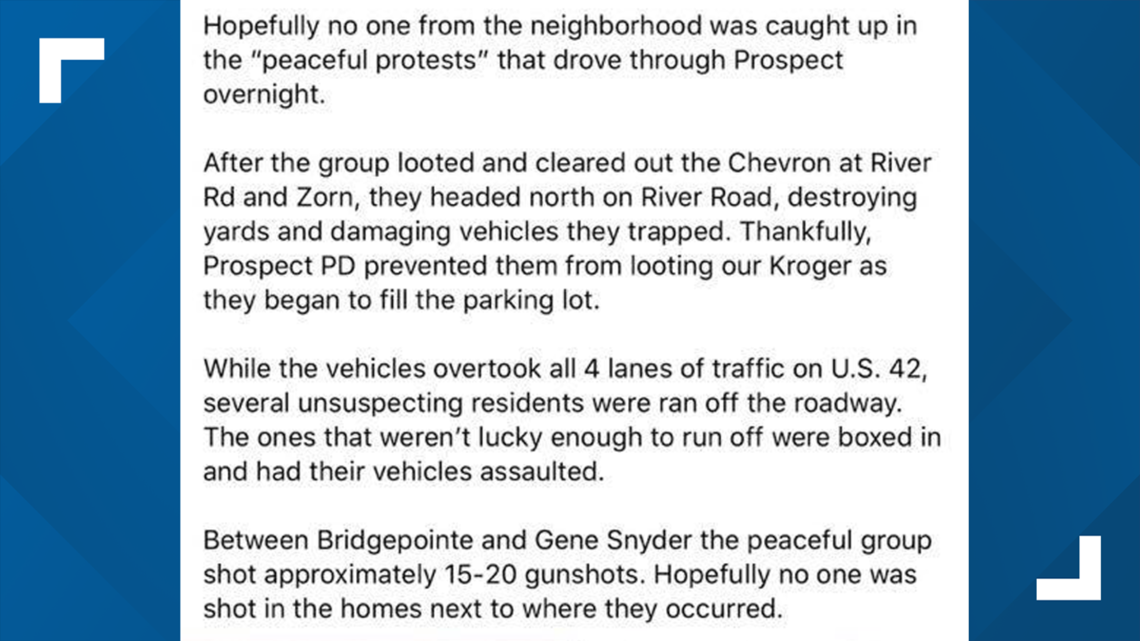 While the post said "police stopped the group from looting Kroger," Sherrard said there was definitely no damage, break-in or attempt to break into Kroger. The chief he did not think the caravan went into the parking lot.
Sherrard did say vehicles took over all four lanes of traffic on U.S. 42 at one point as they went back towards the city, and said police were monitoring everything.
Finally, Scheu's post said the group fired "approximately 15 to 20 gunshots" near homes in the area. Sherrard said they did not find casings, but determined some shots were fired into the air during the procession. No one was hurt and the chief said there were no reports of anyone shot.
The chief emphasized that no damage has been reported from the caravan, calling it more of an inconvenience than anything else.
LMPD, though, called Wednesday night's caravan "dangerous and reckless behavior," saying they could not tolerate behavior that puts people at risk.
"Due to last night's dangerous behavior, we are prepared to take steps once again to more closely monitor and take action when needed to keep everyone safe," LMPD said in a statement.
►Make it easy to keep up-to-date with more stories like this. Download the WHAS11 News app now. For Apple or Android users.