LOUISVILLE, Ky. (WHAS11) — Jeffery Butterworth was the perfect candidate for the first pediatric robotic surgery at Norton Leatherman Spine. First, of course, because of his diagnosis of scoliosis; but also, and perhaps especially, because of his dream career.
"I want to be some sort of engineer," the 13-year-old said. "Like aerospace, or something like that."
Norton Leatherman Spine has been employing its "Mazor X" robotic surgical system since the summer of 2017. At first, it was only used in adult surgeries (which is a standard course for new frontiers in medicine). As adult patients began raving about the decreased pain and shorter recovery times following robotic surgery, the hospital gave the green light to begin its use in pediatric surgeries in June of 2018—just as Butterworth was going through his final consultations.
" [The doctor] had said that in the time frame that we would be doing the surgery, they would be testing robots, and [asked] if I wanted to try it," Butterworth recalled. "I said, 'yeah!'"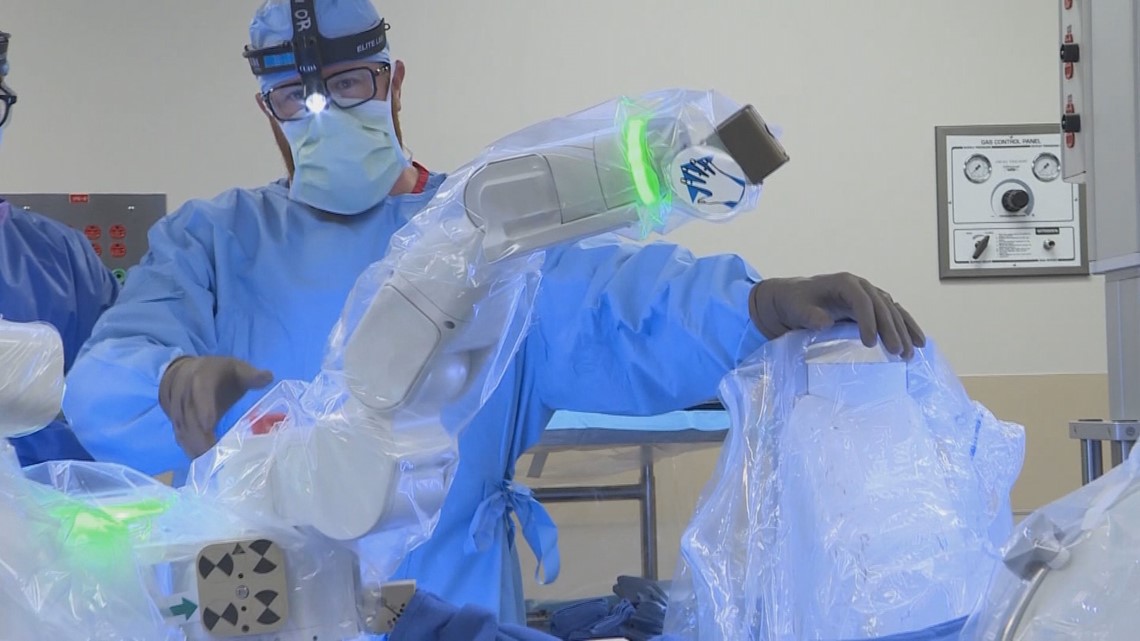 The Mazor X looks, essentially, like a giant robotic arm. It guides the doctors' drills so they can quickly and precisely insert screws into the spine. This precision means that incisions can be smaller, and surgeries take less time overall. For patients, this means far less pain and time spent in recovery. It also means doctors have to prescribe them far fewer pain medications, which means robots could be a key in solving the opioid addiction epidemic.
"When we're putting 15, 20, 30 screws in, the robot helps it be more efficient," said Dr. Jeffrey Gum, a surgeon at Norton Leatherman Spine. "We're able to put the screws in a little quicker, … and the robot helps us get the screws in those difficult places.
"When we're doing these scoliosis surgeries, we're able to get them up the same day, if not the next morning at the latest. They don't get blood transfusions and so they get going quicker, they get out of the hospital quicker and they recover faster."
Butterworth became a walking example of the benefits of robotic surgery, literally. When he was able to climb a full flight of stairs just two days after his surgery, doctors released him to go home and finish recovering there.
"I would say within two weeks of coming home from the hospital, you would have never known anything was done to him," said Stacie Butterworth, Jeffery's mother. "The recovery has been phenomenal."