FRANKFORT, Ky. — Kentucky House Republicans unveiled their proposed legislative map for the House of Representatives Thursday.
Every 10 years states are required by the U.S. Constitution to redraw their Congressional and legislative maps. The process is commonly referred to as redistricting.
The proposed map consolidates four incumbents' districts, two Republican and two Democratic.
"As we know... there's been dramatic population shifts in Kentucky and because of those population shifts, this plan did have districts that had to be combined," House Speaker David Osborne, R-Prospect, said.
One area the GOP proposed shaking up is Jefferson County.
While House Minority Floor Leader Joni Jenkins, a Democrat from Shively, isn't concerned her party will lose seats, there is a chance her party will lose experienced legislators.
That's because two sets of Democratic House incumbents from Louisville would be placed in the same district if this plan holds. Reps. Lisa Willner and McKenzie Cantrell would be put into one district and so would Reps. Mary Lou Marzian and Josie Raymond.
"We certainly would like our experienced legislators who are of those 14 now to come back because they have experience in representing their communities, but regardless of how you draw the maps, you're going to have about 14 Democrats in Louisville," Jenkins said.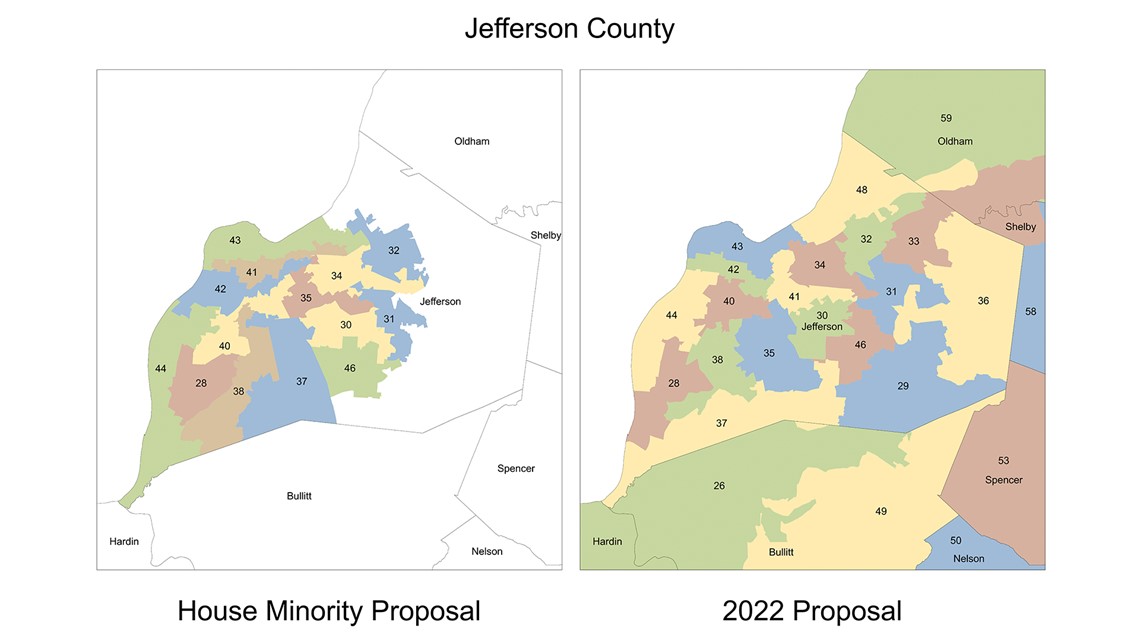 The GOP proposal also includes four majority-minority districts, where the majority of the constituents being represented would be minorities. Two of the four majority-minority districts would be new, including Jenkins' district in Shively.
Thursday, Jenkins was asked if she has thoughts about whether or not a minority candidate should represent that district. She said she does have an opinion on that, but didn't elaborate. She also said she hasn't decided if she will or will not run again if the change does take place.
Osborne said there wasn't much rationale behind why the House GOP created the new majority-minority districts.
"It was merely a matter of trying to draw a map as compact and as concise as possible and preserving communities keeping neighborhoods together," Osborne said. "But also, we had to consider the requirements, the Voting Rights Act, and that as well. When you do those things, it just by nature happened."
Democrats said they have concerns about a particularly Lexington district - House District 77.
"We are concerned that there may be a dilution of minority influence in the 77th," Jenkins said.
Osborne said this process taught him that drawing new maps isn't easy, and said his caucus spent months on the map.
"Before you draw any complete conclusions about any particular district or any particular area, draw the map first, and draw it in context of the entire state," Osborne said. "That's where it gets really difficult."
Osborne said he anticipates the final map won't change much, if at all, but House Democrats are hoping that's not the case.
"We'll see what we end up with," Jenkins said. "As we have seen in other redistricting times, sometimes the first map doesn't make it all the way through."
Jenkins said her caucus plans on drawing their own map, but since Republicans have a super-majority, it likely won't be considered. Osborne said he intends to have the bill for the proposed House map to the governor's desk by Jan. 8.
The Kentucky Senate is drawing their chamber's new map and the commonwealth's new Congressional maps. Those proposals are expected to be released Tuesday.
Images of the proposed House maps are listed below:
Current House district map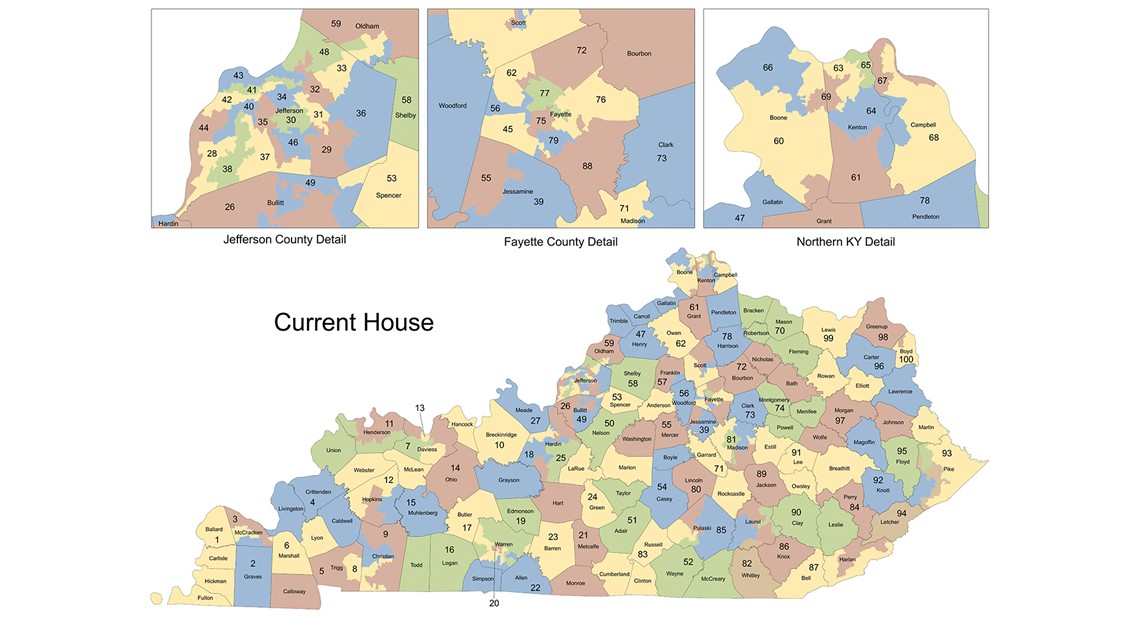 Proposed Hosue district map for 2022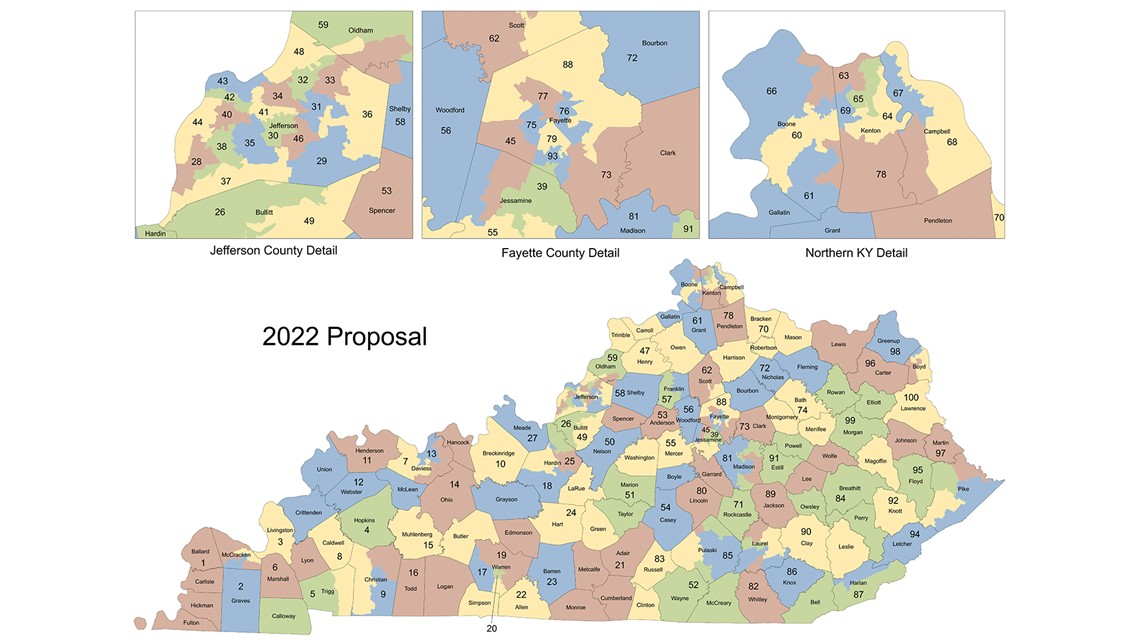 Jefferson County map (current and 2022 proposal)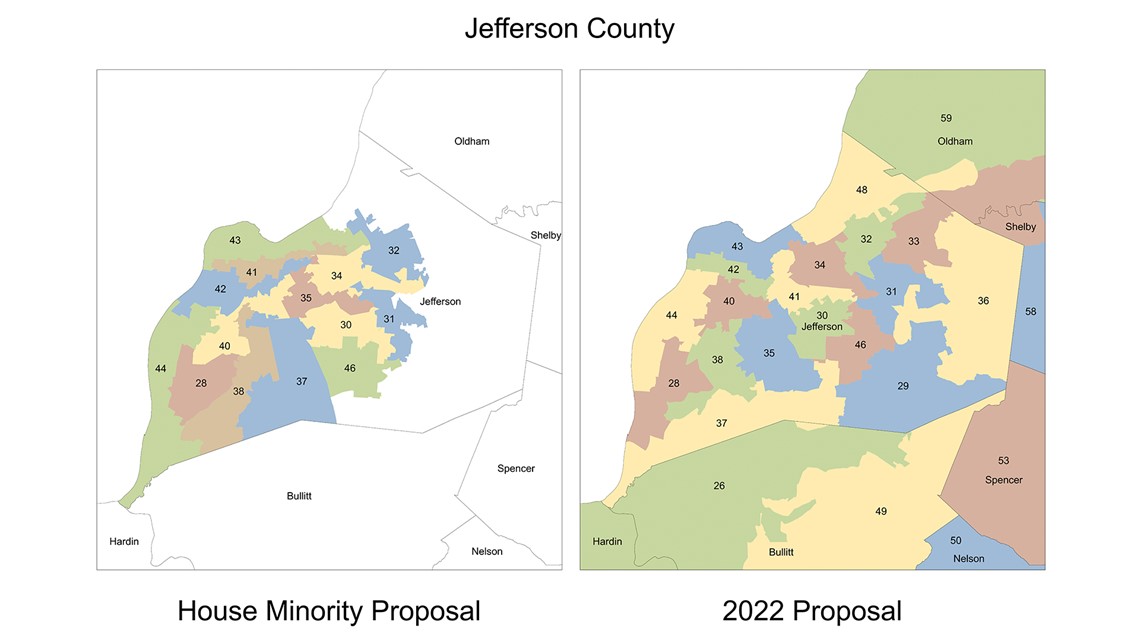 Make it easy to keep up-to-date with more stories like this. Download the WHAS11 News app now. For Apple or Android users.