According to Jefferson County Clerk Bobbie Holsclaw, four locations will be open for early voting and a total of 20 locations will be available for Jefferson County voters on Election Day, Nov. 3.
Unlike previous years, a voter's district does not determine where they vote for the General Election. Voters can cast their ballots at any open location.
Drop-off boxes for absentee ballots will be available at early voting locations as well as the Jefferson County Election Center.
Where can I vote in Jefferson County?
Early Voting and Election Day
All early voting locations will be open Monday-Saturday from 8:30 a.m. to 4:30 p.m. from Oct. 13 through Nov. 2. On Nov. 3, locations will be open from 6 a.m. to 6 p.m. Free parking is available at these locations.
Kentucky Exposition Center: 937 Phillips Lane, Fairgrounds North Wing
KFC Yum! Center: Main & 2nd Streets, Foyer
Kentucky Center for African American Heritage: 1701 West Muhammad Ali Blvd.
Louisville Marriott East: 1903 Embassy Square Blvd., Commonwealth Ballroom
The following locations will be open on Nov. 3 from 6 a.m. to 6 p.m.
Ballard High School: 6000 Brownsboro Road
Carter Duvalle Elementary School: 3600 Bohne Avenue
Crosby Middle School: 303 Gatehouse Lane
Fairdale High School: 1001 Fairdale Road
Fern Creek HighSchool: 9115 Fern Creek Road
Iroquois High School: 4615 Taylor Boulevard
Jeffersontown High School: 9600 Old Six Mile Lane
Meyzeek Middle School: 828 S. Jackson Street
Seneca High School: 3510 Goldsmith Lane
Shawnee High School: 4001 Herman Street
Southern High School: 8620 Preston Highway
St. Matthews Community Center: 310 Ten Pin Lane
Thomas Jefferson Middle School: 1501 Rangeland Road
Valley High School: 10200 Dixie Highway
Waggener High School: 330 S. Hubbards Lane
Western High School: 2501 Rockford Lane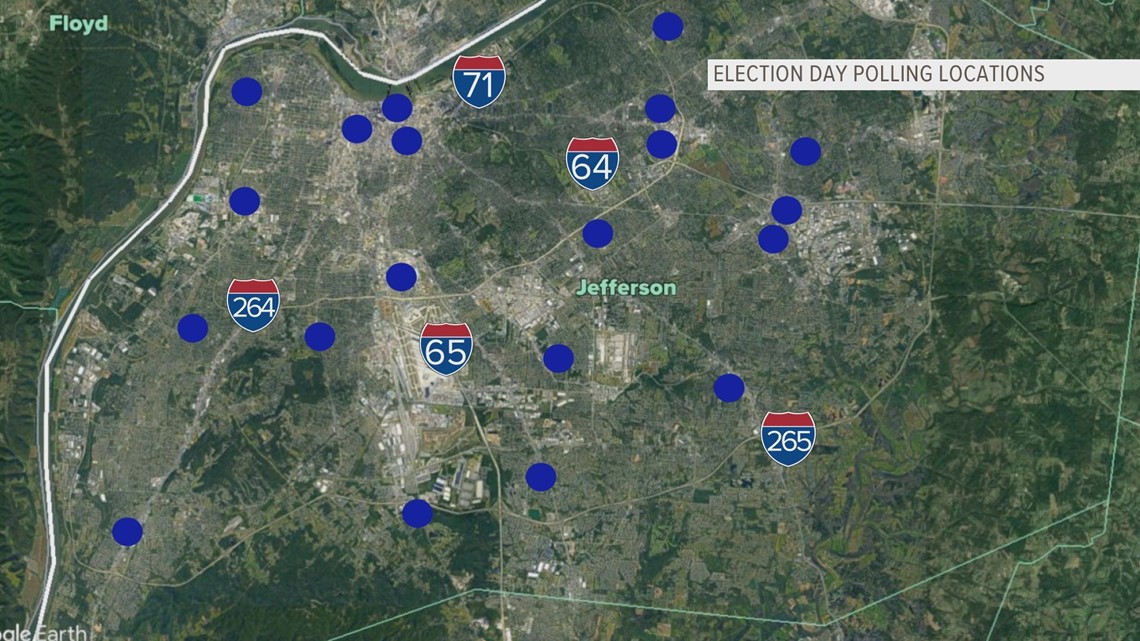 Make it easy to keep up-to-date with more stories like this. Download the WHAS11 News app now. For Apple or Android users.