Louisville mayoral candidates release public safety plans
Each candidate has a different idea of how to reduce crime in Louisville.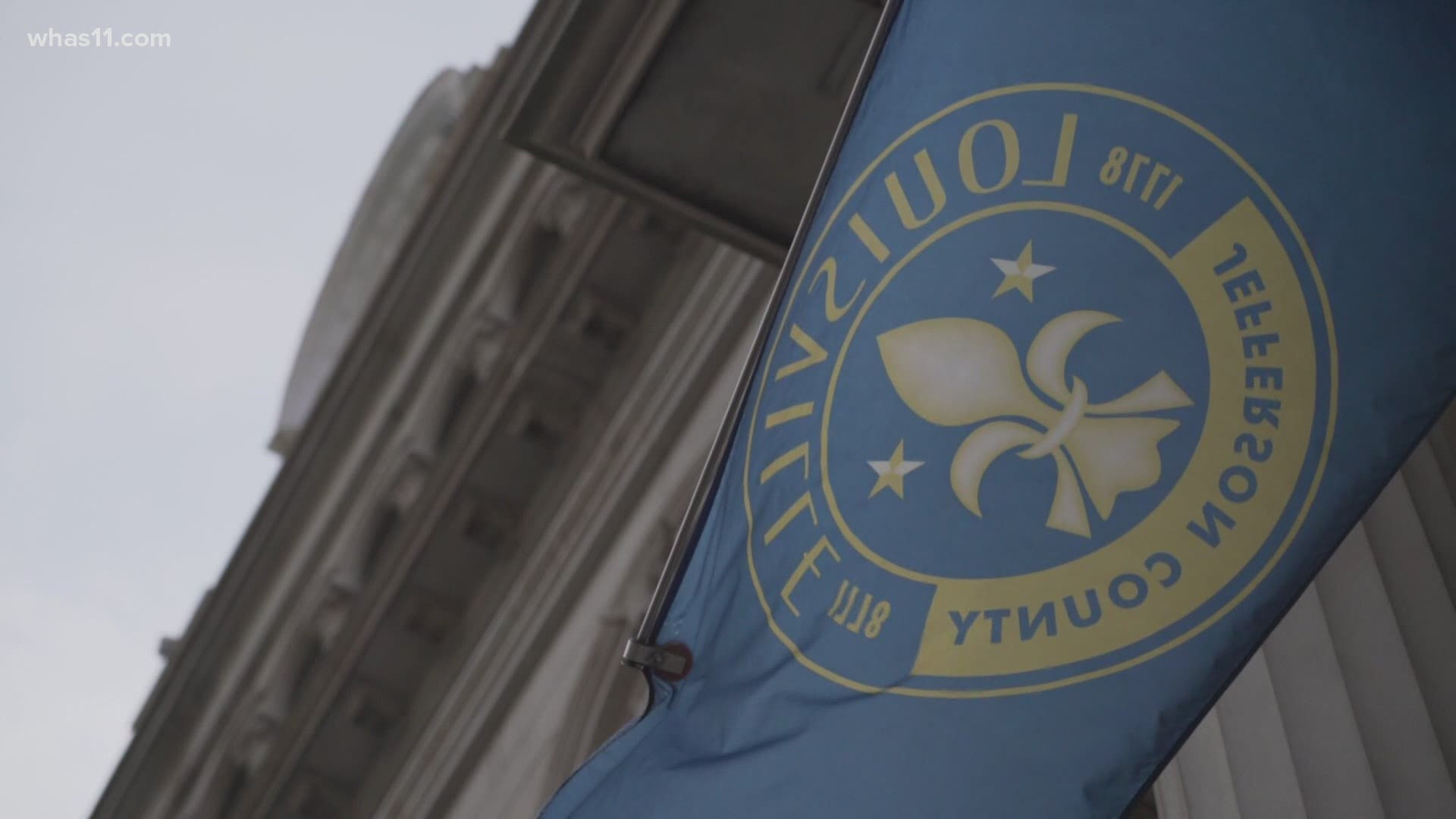 Data from the FBI shows from 2011 to 2020 there's been a 40% increase in the number of violent crime incidents reported to the Louisville Metro Police Department (LMPD).
So how do the candidates running in the primary election plan to get that number moving in the opposite direction?
Here's a look at the candidates running in the primary election.
Editor's Note: This article was originally published in Oct. 2021 and has been updated as candidates have joined the race and released updated plans. Candidates are listed in alphabetical order by last name.
Bill Dieruf
:
Republican
Jeffersontown Mayor Bill Dieruf, a Republican, said he already has the tools he needs to improve the Louisville Metro Police Department (LMPD) from day one because of his current position.
If elected as Louisville's mayor, Dieruf said he plans to expand community policing efforts.
"This is where the community and the police officers get to know each other," Dieruf said. "Police officers get out and walk the community, get to know both the businesses and the homeowner, so when a situation happens they work together to solve the crime."
Dieruf also said he wants to see more of a focus on something he called 'soft policing'.
Dieruf would like to create a victims advocate program, where crime victims can get help from the police.
He also wants to bring the Angel Program downtown.
The program, which started seven years ago, allows anyone entering the Jeffersontown Police Department to be placed in a local treatment facility if they want help for opioid addiction.
"You could come into my police department and we had over 300 locations to get you healed," Dieruf said.
Dieruf also said he intends to bring along Jeffersontown Police Chief Rick Sanders, a former Jefferson County Police Officer and Kentucky State Police Commissioner.
"The person that I have that is my chief right now will be moving downtown in some capacity because his experience far exceeds anybody in the state or a lot across the nation to move the city forward," Dieruf said. "He understands what it's going to take to make this city safe, and together, we can bring the city back to where it needs to be."
Timothy Findley Jr.
:
Democrat
"We've got to stop putting band-aids on broken bones," Findley said. "We've got to stop talking about fully funding a particular department, and never really dealing with the fact that we've underfunded and defunded neighborhoods, parks and young people."
Findley said his administration would look at all issues, including public safety, through an equitable lens.
Findley said his crime prevention plan focuses on providing more resources to low-income communities.
"It's time for us to invest in people, invest in neighborhoods, not talk so much about police and talk more about the quality of life of people," Findley said.
He wants to expand access to substance abuse and workforce development programs.
"Those two services that have been increasingly inaccessible even as demand for them has grown," Findley said.
He also wants to work to solve Louisville's affordable housing crisis by going after absentee and out-of-state landlords that are neglecting properties.
"We are going to find you until you address these properties," Findley said. "Fix it up or go bankrupt."
During a press conference unveiling his plan, Findley did not mention the Louisville Metro Police Department (LMPD) or any police reforms.
"When we talk about public safety, I think that is where everyone's attention goes to," Findley said. "As a matter of fact, I think every other candidate will lead with that particular issue. The way my team and I, the way we're thinking, is that if we can help people if we can improve the lives of people, even the deficit we see in the police officers, we may not need as many police officers if we help the people."
While he didn't speak about it at the Feb. 1 press conference, police reform is included in Findley's full public safety plan published on his campaign website.
Findley would like to remove several protections guaranteed to officers in their union contracts to ensure transparency.
Part of what he's looking to do includes removing paid-leave requirements for officers who are being investigated after an officer-involved shooting or deadly use of force.
He also wants to make changes so officers' disciplinary histories are accessible to other police departments and the public.
Findley said those changes, and the other police-related reforms he's proposing, could only happen if the right leadership was in office.
They would require changes to union contracts and state law.
Findley said he would take time to foster good working relationships with legislators in Frankfort and the police union leaders so he could make these changes.
Click here to read Findley's full public safety plan.
Skylar Graudick
:
Democrat
Skylar Graudick released his public safety plan in February 2022. Graudick describes himself as a "moderate Democrat" and said the lack of prioritizing and fully funding social services is the true reason there is so much unserved need in the community.
As part of his safety plan, Graudick said he wants to prioritize funding for the programs that have proven successful like The Living Room, which provided a place to stay for people struggling with substance abuse until it was defunded by Metro Council.
As a former Louisville Metro Police officer, he said the current administration has not been supportive of officers and stressed the importance of proactive policing in order to reduce crime.
"I am the only candidate in this field that has actual recent real-world experience being a police officer in this city," he said.
Graudick said the police force is only one part of the solution; he said, if elected, he would ensure that the judicial system has the resources it needs to give out "proper consequences" to people accused of criminal behavior.
He added that he was in support of House Bill 313, which makes bail organizations illegal in Kentucky, as well as a proposal to allow violent criminals to be held without bail.
To address youth violence, Graudick said he would ensure that all schools provide programming before and after school, as well as during the summer, to "replace negative experiences with positive ones."
In his plan announcement, he said he also supports the legalization of recreational marijuana for the use of improving mental health and would help implement a pilot program to create housing for children without homes.
"Poverty and inequality are the foundation of many societal ills and crime issues," he said. "Our city needs a living wage, and to provide insurance, retirement, and benefits packages that will allow our community members to thrive professionally, live comfortably, and provide for their families."
Craig Greenberg
:
Democrat
Greenberg's plan included initiatives to stop violent crime, fully staff and fund LMPD, invest in community programs, and build safer communities.
"This is a comprehensive plan," Greenberg said. "We cannot simply police our way to safety. We need to focus on all aspects of investments in our communities, investments in neighborhoods, as well as working with law enforcement."
"We need to drastically increase our investment in after-school and summer programs for youth and young adults so they have more enrichment opportunities, opportunities to complete schooling and opportunities to succeed that lead them into productive and great lives," Greenberg said.
Greenberg said he'd also like to see better training for police, including training on de-escalation tactics and learning the latest techniques in community policing.
"I'm going to have very high standards for everything our city is focused on. And that starts with our police force, and they'll have my support," he said.
Greenberg said he intends to launch an Abandoned Vehicle Response Team if elected, which would tow abandoned and wrecked vehicles within 48 hours. He said he doesn't think the city needs to purchase a new tow lot. He wants to implement a plan where a car-owner would have a certain amount of time to pick up their car, and if they don't get it within that time frame, the city will sell the car.
"It's inexcusable to have these dangerous eyesores of abandoned cars on our highways, on our streets and in our neighborhoods," Greenberg said.
Greenberg said he doesn't think funding his plan will be an issue.
Greenberg said he'd use federal pandemic relief money and grant programs and added reducing crime across the city will save money overall.
Philip Molestina
:
Republican
He said a city's safety is a "key factor" in bringing in new residents and businesses.
"I refuse to see our city be characterized as an 'unsafe' city," he said.
Molestina said he supports increasing funding to local police, including expanding police training. He also said he would work to rebuild the trust between the Louisville community and police.
"Our youth and young adults in particular have suffered greatly the effects of violent crime these past years," he said. "Together, I am confident that tide can be reversed that will allow Louisville to be a safe city for all."
David Nicholson
:
Democrat
If elected, he'd create an Office of Victim Services.
"This Office of Victim Services would be there for trauma," Nicholson said. "Be it assistance in the burial expenses, understanding temporary housing — any aspect that a victim of a violent crime would encounter."
"That is that micro of community policing that works very strongly with, what I'll call, neighborhood action teams," Nicholson said. "Neighborhood action teams would work with the local ministers, the Metro Council representative, business leaders, citizens that are engaged in their neighborhoods. It is looking today at our top 10 neighborhoods that may be at risk."
He also said he would create a Violent Crime Fatality Review Committee to investigate why deaths happen and hopefully prevent more from happening in similar manners in the future.
Nicholson said he'd fund his plan by reallocating existing monies.
"It's a reallocation of some of the reforms that are currently underway and some of the new offices that have been put in place," Nicholson said. "It is priority and realignment of how those offices will better support and address the public service needs of this community."
If elected, Nicholson said he will continue listening and learning from the community on how to best move the city forward.
"I have proven that new ideas and innovations are part of my constitution," Nicholson said. "That is part of what I do. I've listened, I've learned and then I've implemented and led."
Shameka Parrish-Wright
:
Democrat
"I have experienced gun violence, assault — all the things that a lot of candidates say they will work on or they're going to build, I've already been a part of developing and making sure that they get what they need," Parrish-Wright said during a January interview on public safety. "I feel like I'm best positioned to address these issues."
Parrish-Wright said Louisville needs to reimagine what policing looks like.
"That means that all these programs that do work well need adequate funding to make sure that they have enough of the resources they need to continue to be a success," Parrish-Wright said.
She also would like to get more lights and cameras in alleyways.
"I've noticed that most crime happens in dark alleyways, so light them up with solar-powered lights," Parrish-Wright said. "The communities get to say if they want them or not, but making sure those alleys are clean. People do not want to do their crime under light and under cameras."
As she did in October, Parrish-Wright said there's a big need to invest more in community programs.
"We didn't meet people where they were, we didn't have activities and things that regularly come into those communities," Parrish-Wright said.
Parrish-Wright said to start tackling crime, she thinks it's important to bring young people to the table to help make decisions.
"The youth are not deciding what programs work for them or not," Parrish-Wright said. "Their input isn't taken to the higher level."
Parrish-Wright also wants to see a change in leadership at LMPD.
"There were better selections to me that started out as beat cops that went up through the system that would have had the respect of all the officers to make the real changes," Parrish-Wright said.
Parrish-Wright said she also feels LMPD needs to change its hiring practices, especially after many people who she feels would make great officers were disqualified from serving for taking part in the Justice Square demonstrations after Breonna Taylor was killed.
"Those are people who will be great as cadets, but when they get these trumped-up charges, they don't qualify to become police officers," Parrish-Wright said. "We need to start looking at our hiring practices; encouraging more young people to do this. I believe we will still have more young people that want to become officers if we offer them incentives to live in the communities that they serve, so they understand the languages and the stuff that is happening in those communities. I think that we have more people who will take that job and do what's right by it, but they have to be supported."
Rob Stark Reishman Jr.
:
Republican
Rob Stark Reishman Jr., a Republican, said that Louisville is in crisis and that every resident deserves to feel and be safe in their home and throughout the city.
Reishman Jr. said he wants to transform LMPD by being a hands-on Mayor who provides funding to aggressively recruit new officers who are invested in the community and holds the chief of police accountable.
"In order to hire and retain the best talent," he said. "I will provide compensation levels that are competitive nationally and regionally."
He said that LMPD also needs new technology to help police evolve in the same ways society has. Reishman Jr. said that he would give officers the latest technology to help do their jobs including robotic camera, unmanned aircraft systems, GPS vehicle pursuit darts, thermal imaging devices and smart belts.
Reishman Jr. said he would also improve police facilities and training, improve mental health and wellness for officers, bolster LMPD's Homicide Unit and create a Gang Intelligence Unit.
"If elected mayor I will focus on safeguarding our communities by preventing unwarranted arrests, and ensuring we are rehabilitating people," he said.
Reishman Jr. said that he plans to reopen and rethink the Juvenile Detention Center and expand and invest in the Community Safety Partnership Program.
"Public Safety / Community Safety isn't just about crime, it's about helping people in desperate circumstances," he said. "When someone is experiencing a mental or behavioral health crisis, police officers aren't always the right people to address the issue."
Democratic candidate Carla Dearing, who was mentioned in an earlier version of this article, dropped out of the mayoral race in 2021.
Make it easy to keep up-to-date with more stories like this. Download the WHAS11 News app now. For Apple or Android users.