LOUISVILLE, Ky. — State Rep. Charles Booker has conceded in the Democratic Senate primary against challenger Amy McGrath.
The freshman Kentucky state representative released a statement hours after McGrath was declared the winner.
"As a poor black kid growing up in the West End of Louisville, I spent a lot of my life feeling alone and invisible. I don't feel alone anymore. Our movement, with faith much larger than a mustard seed, went up against $40 million and the entire Washington establishment, and I think it's safe to say we shocked the world. From the hood to the holler, we stood our ground, and went toe to toe against the big donors, pundits, and DC politicians saying it wasn't possible to run the kind of campaign I've always believed Kentucky deserves."
Booker's campaign had plenty of momentum heading into the June 23 primary including him being down in the polls and just falling short of a tie. He won big out of Jefferson County but overall, McGrath defeated him by more than 15,000 votes.
Booker also addressed problems voters had during the pandemic primary saying many Kentuckians had troubles making their voices heard and their votes count.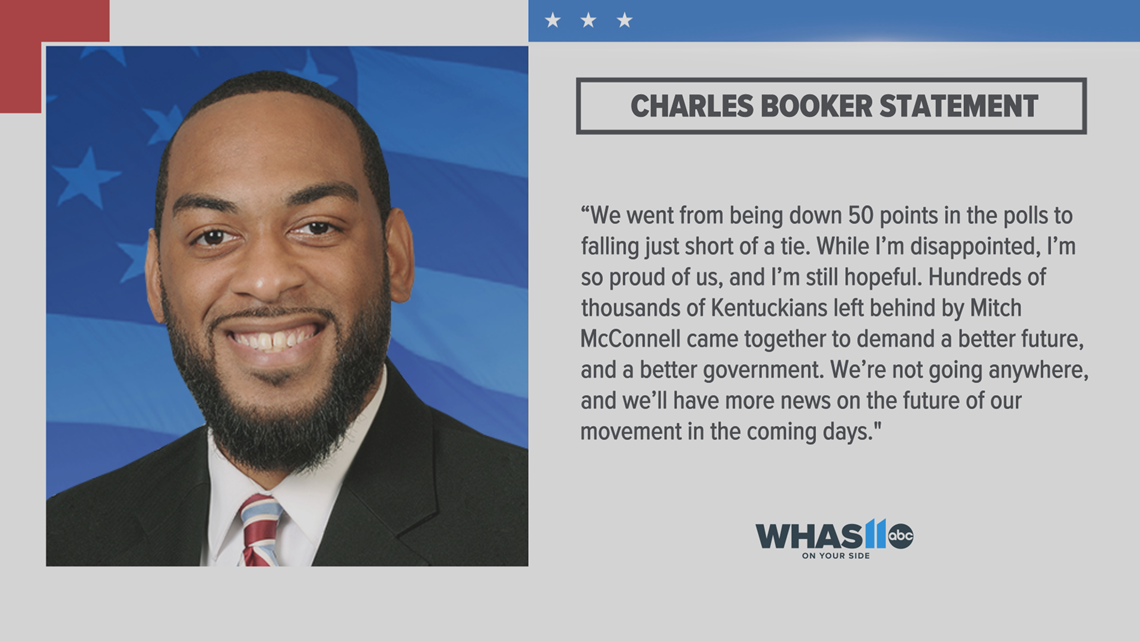 He thanked Governor Andy Beshear and Secretary of State Michael Adams for putting together a voting system "that protects public health and ballot access amidst unprecedented circumstances."
The state representative said in the coming days there would be a push for accountability in Kentucky's electoral system because it's essential that every Kentuckian has faith in our democracy as it moves forward.
Booker closed out his statement with hope for those who feel like they don't matter.

"Lastly, let me say this: don't ever let someone tell you what's impossible. Don't ever give up on your dreams for a brighter future. No matter where you are from, what color your skin is, how much money you have, who you love, what pronoun you use, whether you walk or use a wheelchair, or what you believe—you matter. You deserve a government that accounts for your humanity. From this moment on, let's take the frustration we feel and commit to fighting for change like never before. Let's dedicate to the work of beating Mitch, so that we can get him out of the way. Yes, I would love to be your nominee, but know I'm still by your side. Thank you for giving me this opportunity. Kentucky, I love you. From the hood to the holler."
Amy McGrath will battle longtime Senator and Majority Leader Mitch McConnell in November.
►Make it easy to keep up-to-date with more stories like this. Download the WHAS11 News app now. For Apple or Android users.