President Donald Trump sat together with former presidents Barack Obama, Bill Clinton and Jimmy Carter at the state funeral for George H.W. Bush on Wednesday. It was the first time the president and former presidents were seen together since Trump's inauguration in 2016.
The president and former presidents were seated in a front-row pew in the Washington National Cathedral and were joined by their wives and first ladies, Melania Trump, Michelle Obama, Hillary Clinton and Rosalynn Carter.
In video shared from the inside of the cathedral before Trump's arrival, the former presidents and first ladies were seen talking together. When Trump arrived, he shook hands with the Obamas, who greeted him by saying, "Good morning." He did not appear to speak with anyone else in the pew and did not shake hands with Bill and Hillary Clinton, who looked straight ahead.
Melania Trump was seen shaking hands with the Obamas and Bill Clinton, and she waved in the direction of Hillary Clinton and the Carters.
Former President George W. Bush, mourning his father's passing, was seated with members of his family. He usually is seated besides Michelle Obama, who has called him her "forever seat mate" because they always sit together at official functions according to protocol. Bush was scheduled to deliver a eulogy for his father during the service.
Trump and the former presidents were not scheduled to speak.
PHOTOS: Who attended George H.W. Bush's state funeral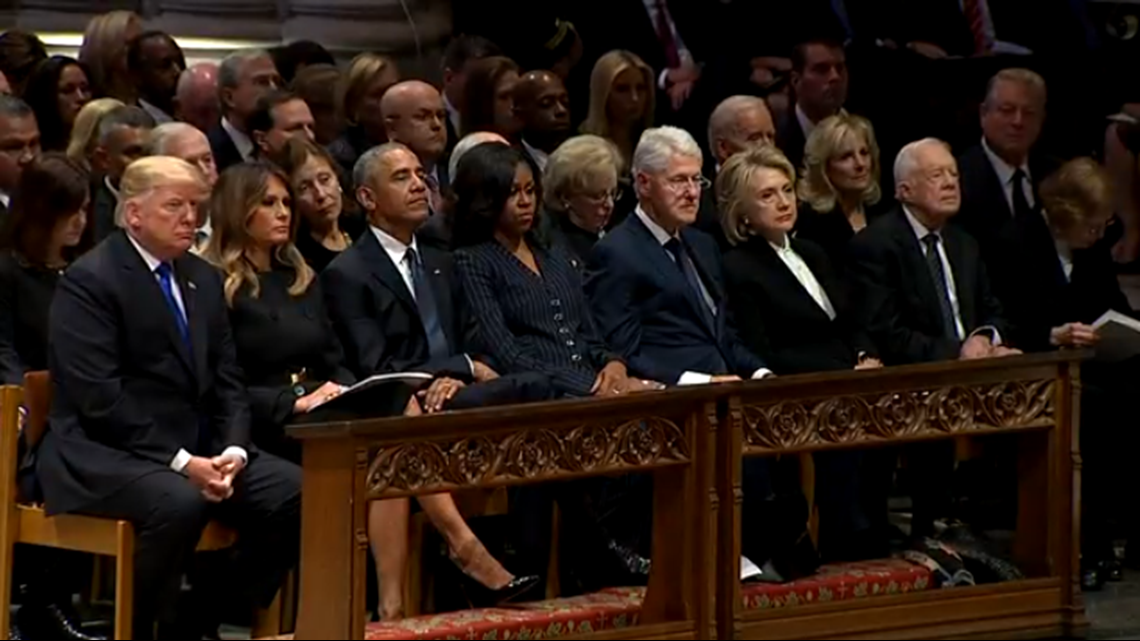 Contributing: Associated Press