LOUISVILLE, Ky. (WHAS11) — Louisville may be known for basketball, but in terms of high school sports, most college recruits are swimmers. In fact, 20 of the state's top 50 swimming recruits this year are from Louisville.
For a city producing D1, even Olympic swimmers, our community is said to be "pool poor". A study to look into getting a new aquatics center for Louisville is underway. Two public meetings are happening this month on the 11th and 15th for comment.
There have been discussions of getting this study for more than a year now. The $25,000 study is focusing on four types of users: recreation groups, competition, instructional, and wellness/therapy groups.
From 5:30 in the morning to 9 p.m., the water at the Mary T. Meagher Aquatic center is moving. Lakeside swimmer Caroline Mercer is one of about 600 people who use this pool daily.
"Even though it's really hard, I get a lot out of it, and it will help me out a lot in life. It helps me work hard for something I want but not just for myself but for my team," Mercer said.
Some of the groups include triathlon groups, Bellarmine University, the Marine Corp., LMPD's dive team, in addition to the general public. During swim meets there can be as many as 1,000 people at the aquatic center.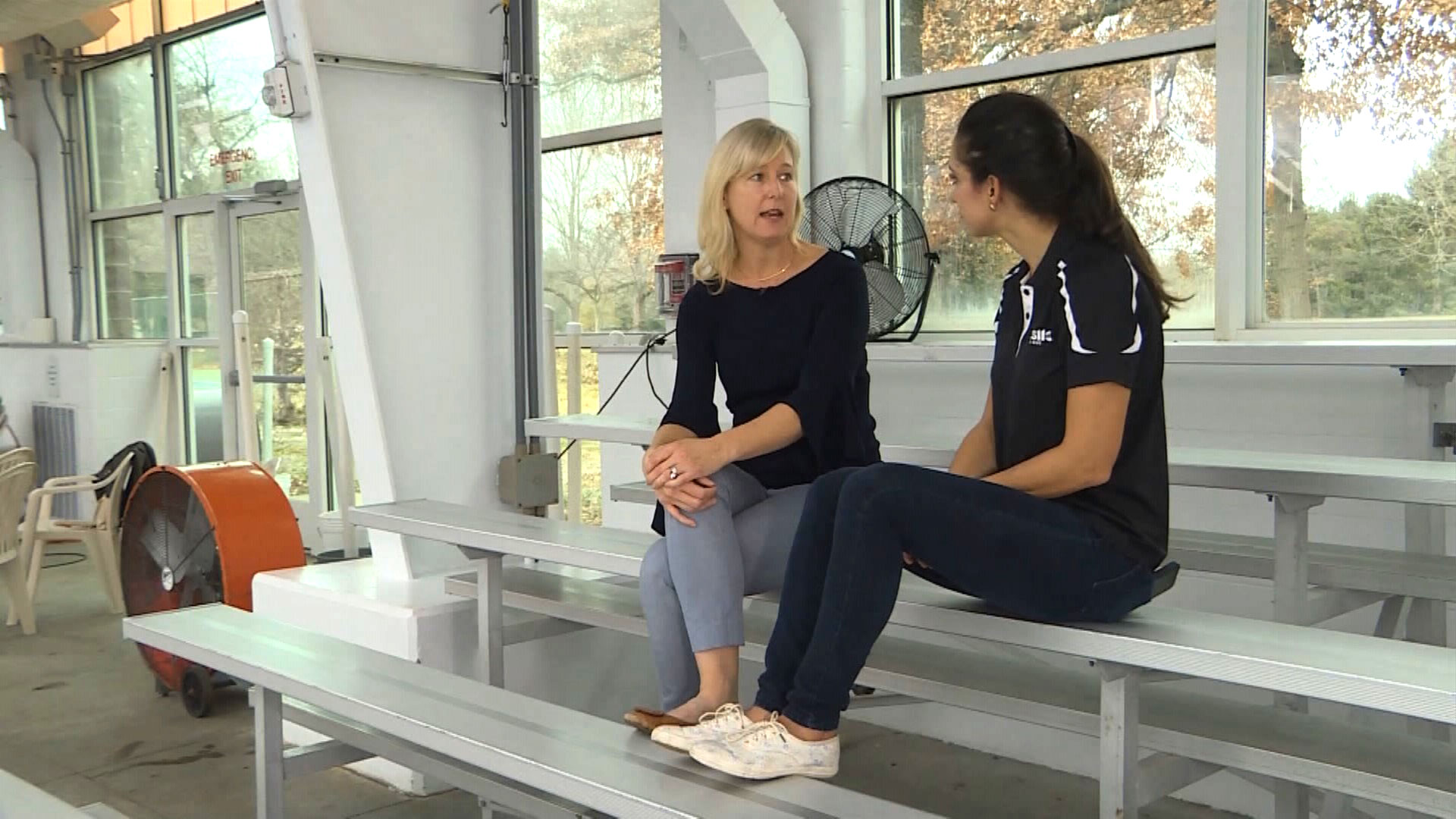 Caroline's mom, Mary Lois Mercer, says building a new facility is necessary.
"At meets, there's nowhere to sit for the swimmers. There's nowhere for the parents to sit and they are unable to see their swimmers at a meet here," Lois Mercer said.
She says the crowds can also make air quality an issue.
"Every indoor facility has an issue, and struggles with air quality on a daily basis," Lois Mercer.
The "pool smell" that makes it difficult for swimmers to breathe is the effect of chloramines, which is a problem for most indoor facilities. According to the American Chemistry Council, chloramines are the result of chlorine disinfectants mixing with sweat, oils, and urine that enter pools on the bodies of swimmers. By showering before entering the pool, swimmers can help minimize pool smell, which leads to coughing and irritated eyes. The more swimmers there are, the worse it can get. That's why more swimmers often complain about air quality during meets.
Louisville Parks and Recreation invested $2.2 million dollars into a new HVAC and light system in 2015. Interim Louisville Parks and Recreation Director Dana Kasler says other filtration systems have been put in through 2017 as well. He says while a new aquatic center could improve air quality, the issue of chloramines developing is still there.
Kasler says what's unique about this study is that seven different groups are helping fund it. The city of Louisville, the University of Louisville, Jefferson County Public Schools, and Bellarmine University each contributed $5,000. Kasler says the owner of Norton Healthcare is giving $2,500, Myrtha Pools is providing $2,000 and Swimville USA is paying $500.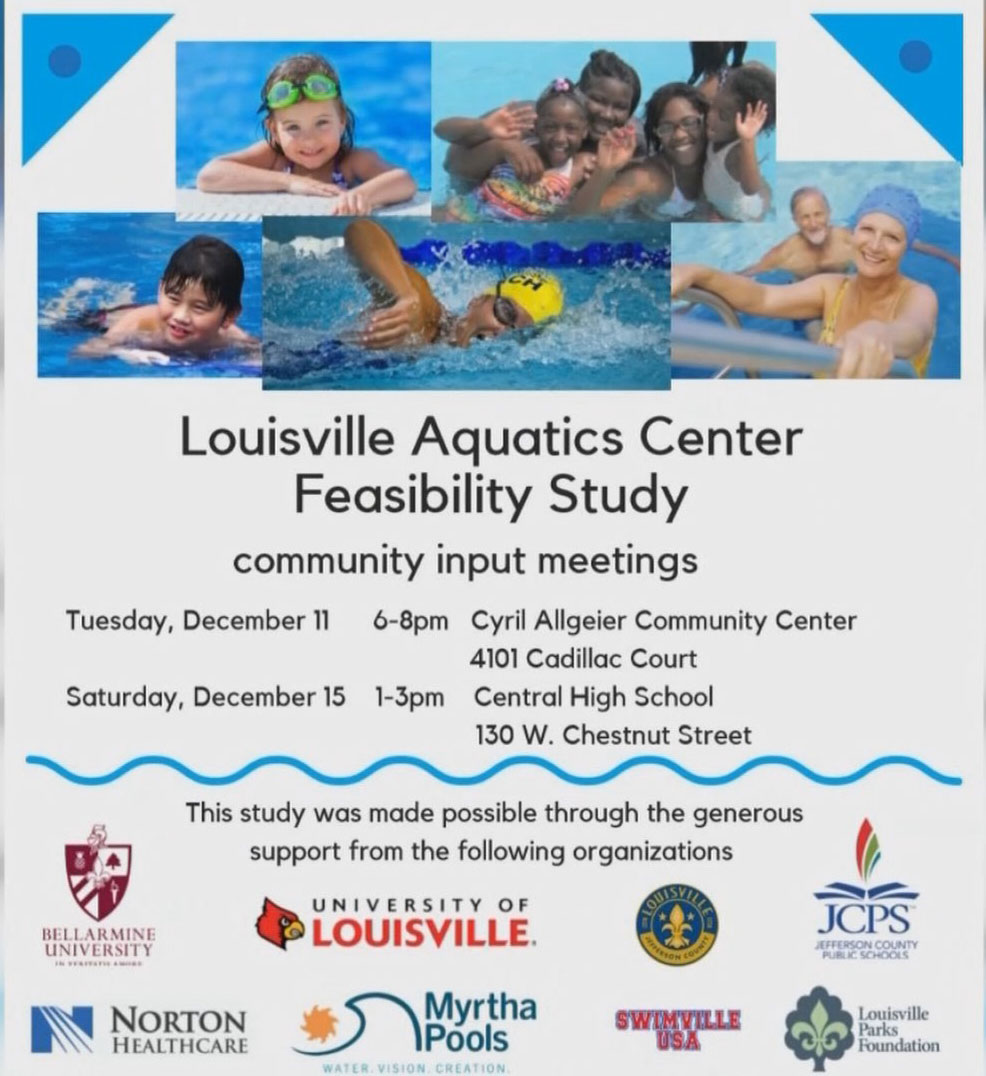 Lakeside Swim team Head Coach Mike DeBoor says the economic benefit for the city could be huge.
"The hotel rooms, the restaurants, the impact of visitors coming to the city," DeBoor said.
The University of Louisville has a nicer newer aquatic center, but space is still an issue. Their pool also doesn't meet some of the standards required for certain swim meets.
"The space is drastically needed and to be done well. I think of UofL with the ACC championship issues. It's a great facility but it's limited to what you can do," DeBoor said.
A national's meet could bring in 3,000 people, and Louisville has a lot to offer in terms of competition.
"The University of Louisville has done an outstanding job. They've been huge on the international level as we have on the Lakeside level with an Olympian in '04, '08, and '12. I don't think any sport can match that. As far as Division 1 athletes, I think we have over 45 D1 athletes training right now," DeBoor said.
The Lakeside Swim team has produced 10 U.S. Olympians over the years like siblings Clark and Caroline Burckle. Even the aquatic center is named after a 3-time Louisville Olympian - Mary T. Meagher.
"Even though we don't have the best facility we are still one of the top teams so think where we could be if we had everything other teams have," Mercer said.
In November, pool consultant Counsilman-Hunsaker started creating the needs assessment. The public meetings are on 11th at Cyril Allgeier Community Center from 6 to 8pm, and December 15th at Central High School from 1 to 3 p.m.
"The Yum! Center is the standard in basketball arenas. If we go somewhere else, we don't think it's as nice. You need to open those doors up and be willing to bring those things in the community," DeBoor said.
Kasler hopes that by the end of January the feasibility study on the aquatics center will be finished. Once the feasibility study is done, they will need to acquire funding, establish a design team, and then start the design process. After that, would be the bidding for constructions. Kasler says it will be about a two-year process once funding is acquired.
►Contact reporter Juliana Valencia at jvalencia@WHAS11.com. Follow her on Twitter (@NewsJValencia) and Facebook.