The Battle After the Blaze: An invisible threat turning deadly for firefighters
Firefighters are facing alarming cancer rates linked to the job, years after the fires have burned out.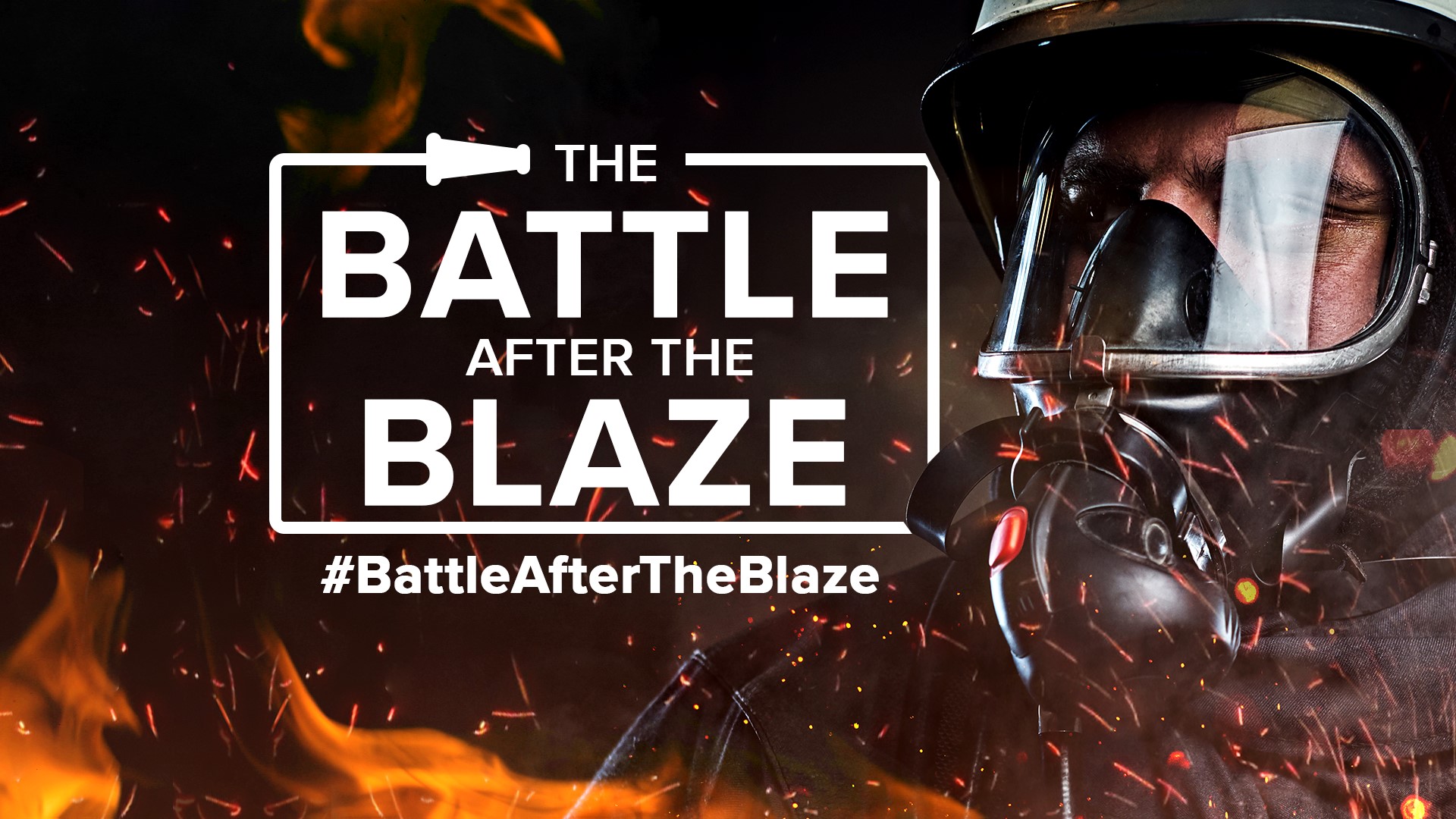 LOUISVILLE (WHAS11) -- Firefighters across Kentuckiana are facing a health threat that surfaces years after fighting fires and saving lives, the battle after the blaze.
Cancer is the leading cause of death in firefighters across the country, above heart attacks and other fire-related deaths. It has hit Jefferson County hard, even in the last few years.
Recent studies have found our country's bravest are 9 percent more likely to get cancer compared to the general population and 14 percent more likely to die from it. But why? The cancers that firefighters are facing show up years later following exposure to carcinogens. The types of burning materials firefighters face 50 years ago were more natural, like wood or cotton. Today, the materials that firefighters are dealing with are synthetic and have toxins, like a hazmat situation.
The Jefferson County Fire Service said Captain Rick Gossman's death in August is the latest firefighter who has fallen to cancer. His death is the 8th involving cancer within the past three years and the 6th Jefferson County firefighter whose cancer death is believed to be job-related. His death is expected to be ruled a line of duty death under the Kentucky Presumptive Firefighter Cancer Legislation. His situation is not the reality for all Kentuckiana firefighters as not all cancers are recognized as fire-related.
Jefferson County Firefighter Cancer Deaths
2018 - Captain Richard "Rick" Gossman, 51, McMahan
Line of Duty Cancer Deaths Deaths
2017 – Captain Charlie Riggle, 52, Buechel (Colon)
2017 - Sgt. Tim Groft, 37, Louisville (Esophageal)
2016 - Chief Joseph L. Johnson, 53, McMahan (Soft Tissue, Brain)
2016 – FF Matt Logsdon, 42, Lexington, formerly a McMahan Firefighter (Liver, lungs, spine and skull)
(Non Line of Duty) Cancer Deaths of Jefferson County Firefighters
2017 – Chief Walter Lage, 62, Anchorage
Some cancers are not recognized as fire-related in the state of Kentucky.
The following are cancers that the state of Kentucky recognizes as fire-related deaths:
Bladder cancer
Brain cancer
Colon cancer
Non-Hodgkin's lymphoma
Kidney cancer
Liver cancer
Lymphatic or haematopoietic cancer
Prostate cancer
Testicular cancer
Skin cancer
Cervical cancer
Breast cancer
WHAS11's Brooke Hasch and Rob Harris are taking a closer look at this issue, the ways firefighters protect themselves, how families are impacted, the strength of the laws meant to help these heroes, and what you can do to help.
Leading cause of death for firefighters is cancer
:
It's a threat to firefighters spreading like wildfire, a battle many are fighting years after the job ends.
Cancer is the leading cause of death in firefighters across the country, above heart attacks and other fire-related deaths. It's hit Jefferson County especially hard in the last few years.
Current firefighters grapple with the 'age of cancer'
:
For firefighters, the line of duty dangers doesn't end when the flames are out.
"It's an unfortunate risk of our jobs, just as the black lung is an unfortunate risk of being a coal miner. You know, this is ours," Sgt. Joshua Johnson with the Jeffersontown Fire Department said.
Cancer is the number one killer of firefighters, current first responders must deal with the loss of their brothers and sisters and, grapple with the threat they also face.
Changing the way we fight fires
:
Research shows firefighters across the country are dying of cancer at an alarming rate. Many of their deaths are linked to the job. In fact, cancer is the leading cause of firefighter deaths, but only now are fire departments, large and small, beginning to take action.
Okolona's Jordan Yuodis joined the department ten years ago. He's seen the changes firsthand.
"If you were dirty, if your gear was dirty, it was a sign of seniority. People looked up to you if your helmet was charred black," Yuodis said.
Firefighters wore the same gear all day long, whether there was one fire or three. That's no longer the case.
Families fight for line of duty death benefits
:


With huge flames and collapsing buildings, the dangers of firefighting are most visual on scene. But it's the battle after the blaze that is the deadliest -- carcinogens hidden in the flames are leading to epidemic cancer rates.
Yet even when these brave men and women lose their cancer fight, the battle lives on as family members struggle to get line of duty death protections and benefits.
When officers or first responders die in the line of duty, their families are eligible for about $360,000 from the federal government. However, cancer is not recognized as a "line of duty" death for firefighters at the federal level.
How you can help
:
A Jeffersonville firefighter is opening up about his recent cancer diagnosis, hoping to reach firefighters across Kentuckiana before they're faced with the same battle.
This week, we've talked about the jaw-dropping numbers of firefighters who've fallen to cancer - a risk many weren't aware was related to the job. This is the fifth story in our series, The Battle After the Blaze, though the conversation is only just beginning.
"I was one of those younger guys who thought I was invincible. Nothing's ever going to happen to me," Jeffersonville Fire's Deputy Chief Bruce DeArk said.