LOUISVILLE (WHAS11) – The Ohio River Bridges Project is now complete and tolling is now underway on some of Kentuckiana's bridges.
RiverLink is an electronic tolling system that involves no toll booths, coins, lines or stopping when you cross the East End, Abraham Lincoln, or John F. Kennedy bridges.
So as tolling becomes an everyday process here are some things you need to know or weigh before opening a RiverLink tolling account.
Local transponder vs. regional transponder
The first decision you have to make when opening a tolling account is if you are going with a local or regional transponder. The local transponder is a sticker that will be placed on your windshield, by the rearview mirror, and will only work on tolled bridges in Kentuckiana. If you choose this option your first sticker is free and if you ever needed another sticker RiverLink will charge you. This transponder does not move from one vehicle to another. If you try to remove it from the windshield it will be destroyed. You can link more than one vehicle, up to four vehicles, to one account but each vehicle will have to have a sticker that is linked to the one account. In this instance, again, your first local transponder is free per vehicle.
The regional transponder is for those motorists who do a lot of traveling on tolled roads. This type of transponder will work in the 16-state E-ZPass system. Those states include: Maine, New Hampshire, Massachusetts, Rhode Island, New York, Pennsylvania, New Jersey, Deleware, Maryland, Virginia, West Virginia, North Carolina, Ohio, Kentucky, Indiana and Illinois. This transponder will cost drivers $15. It is also transferable from one vehicle to the next. It will also stick to your windshield like the regional transponder.
The cost of crossing tolled bridges
No matter what vehicle you drive you need a transponder to get the cheapest toll. A passenger vehicle, which is any 2-axled motor vehicle that is no taller than 7 1/2 feet and has a transponder, will take $2 to cross the tolled bridges.
If you cross the tolled bridges without a transponder but your license plate is registered with RiverLink it will cost a driver $3 to cross.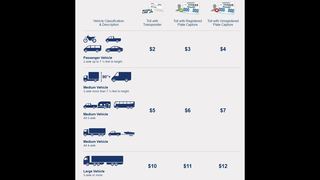 If you don't have a transponder and your plate is not registered with RiverLink it will cost a driver $4.
Again the above rates are just for passenger vehicles. If the vehicle a motorist is driving has more than 2-axles, it will cost more than $2, $3 or $4 to cross the tolled bridges. To see the breakdown of tolls for other vehicles click here.
For drivers with a transponder and an account there is a discount on the table. You will get 50 percent off of the tolls if you cross a tolled bridge 40 times a month (or 20 round trips). With the discount, to cross a tolled bridge the cost will be $1 for your first 40 crossings and any additional crossings within the same month.
Replenishing your RiverLink transponder account
A pre-paid RiverLink account has to have a minimum balance of $20. To replenish your account with money for the tolls you can create an automatic charge to a credit card, debit card or checking account. Doing so will ensure your account always stays in good standing.
If you do not set up a way to replenish your account when it gets low, RiverLink will send you a reminder--by text, email, or traditional mail--when the balance falls below $10.
How to place you transponder
You've picked what transponder you will be using to cross the tolled bridges and you just received it from RiverLink, now you need to place it in your vehicle.
Along with the transponder you receive in the mail, you will also receive information on how to place it on your vehicle's windshield.
The say the best spot to apply the transponder is at least 4 inches from the top of your windshield but near the mounting of your rearview mirror.
Make sure it is not near any metal or window tint. RiverLink says tinting and metal can interfere with the transponder being read correctly and therefore the wrong toll could be charged to your account.