LOUISVILLE, Ky. — Around a hundred people marched down the streets of Jeffersontown Sunday afternoon. Many held signs and chanted, calling for justice and change.
"Today's march was about unity, but also unity in all spaces," Leo Braddock, one of the protest organizers, said. "We belong in this space."
"Injustice is injustice, and if any of us are experiencing injustice, there's no justice for anyone," Hakeem Mohammed, one of the protestors, said.
The protest began and ended at the AMC Stony Brook 20 movie theater on Hurstbourne Parkway. Many marchers carried bags and crates of bottled water for their fellow protesters and Jeffersontown Police officers blocked off parts of the street to allow them to walk away from traffic.
"We wanted to bring this, the protest, to the front porch so to speak," Braddock said. "It's easy to go downtown, to the West End, where a lot of people know. We wanted to come to J-Town a little bit deeper and say we belong in these spaces too."
"It's exposing people so they can actually see like, 'Wow, this is something serious. This is something that I need to give myself to. Justice needs to happen,'" Mohammed said.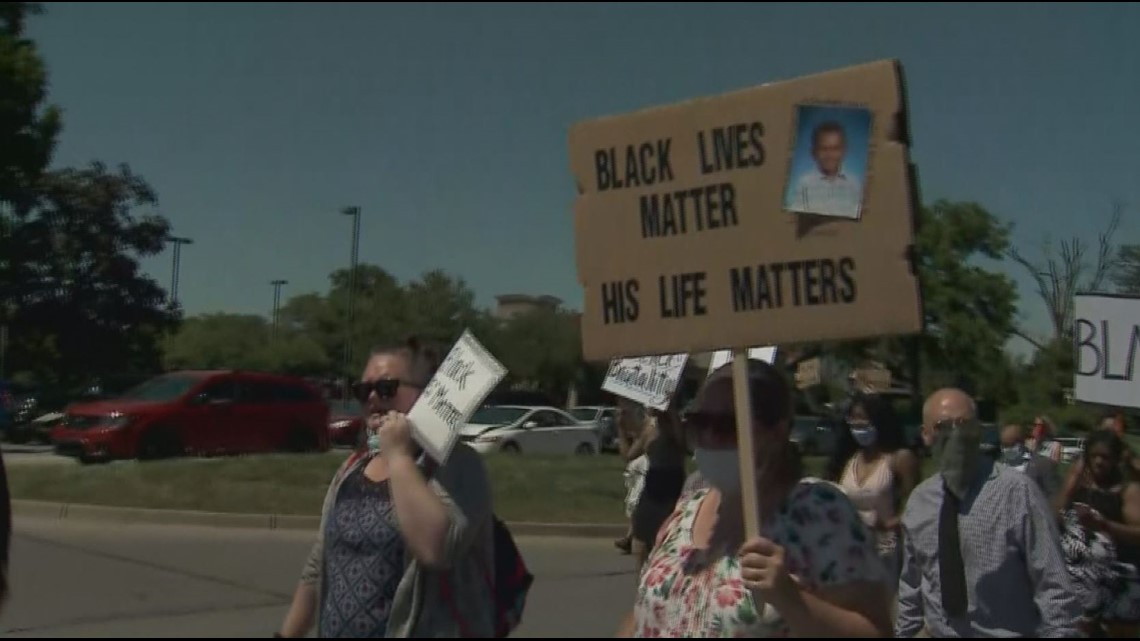 The march has been just one of many that have been held in the Louisville area in the last week and a half protesting the death of Breonna Taylor, who was shot and killed by police who were executing a no-knock warrant at her home. These protests have also been happening around the world following international outrage about the deaths of Taylor and George Floyd in Minneapolis.
"This is about real foundational, sustainable change to a systemic system that has oppressed too many for too long," Braddock said.
Many of the marchers wore suits and ties, which was intentionally meant to mirror the marches led by Dr. Martin Luther King Jr. and other civil rights leaders in the 1960s. They said they hope their marches in 2020 will have an even greater impact in not only raising awareness about racial injustices but also creating systemic change.
"We wanted to be able to show we stand in solidarity in that capacity, that we can also walk professionally, dress professionally and that we're people," Mohammed said.
"We've got to get things and foundations in place to ensure we're not marching 60 years from now like our parents and grandparents did 60 years ago," Braddock said.
Mohammed said he knows the change he and the many other protestors are seeking will not happen overnight but this is just the beginning.
"We don't know if it's going to change today but we are saying we're going to march until it does and we won't give up," he said.
►Make it easy to keep up-to-date with more stories like this. Download the WHAS11 News app now. For Apple or Android users.
MORE ON WHAS11.COM