FRANKFORT, Ky. — Kentuckians were given more details Wednesday on when the state will start to reopen. Governor Beshear revealed the dates and which businesses will be allowed to open with mandated restrictions.
The face mask guideline also starts on May 11. Businesses have been told they can refuse your service if you don't have on a mask.
"We were able to come to an agreement yesterday with Churchill Downs. They will start accepting horses and people on the backside of the track May 11," said Gov. Beshear.
He said that for May 20, houses of worship would be allowed in-person services at a reduced capacity and that everything is contingent on being able to do social distancing, cleaning, sanitation and other accommodations.
"A crowd is still going to be a dangerous thing until we are further along in defeating this virus," Gov. Beshear said. "It's something we need to continue to avoid."
Here's the timeline from Governor Beshear:
May 11
Horse Racing (No fans allowed)
Manufacturing
Construction
Dog Grooming/Boarding
Vehicle or Vessel Dealerships
Professional Services (50%)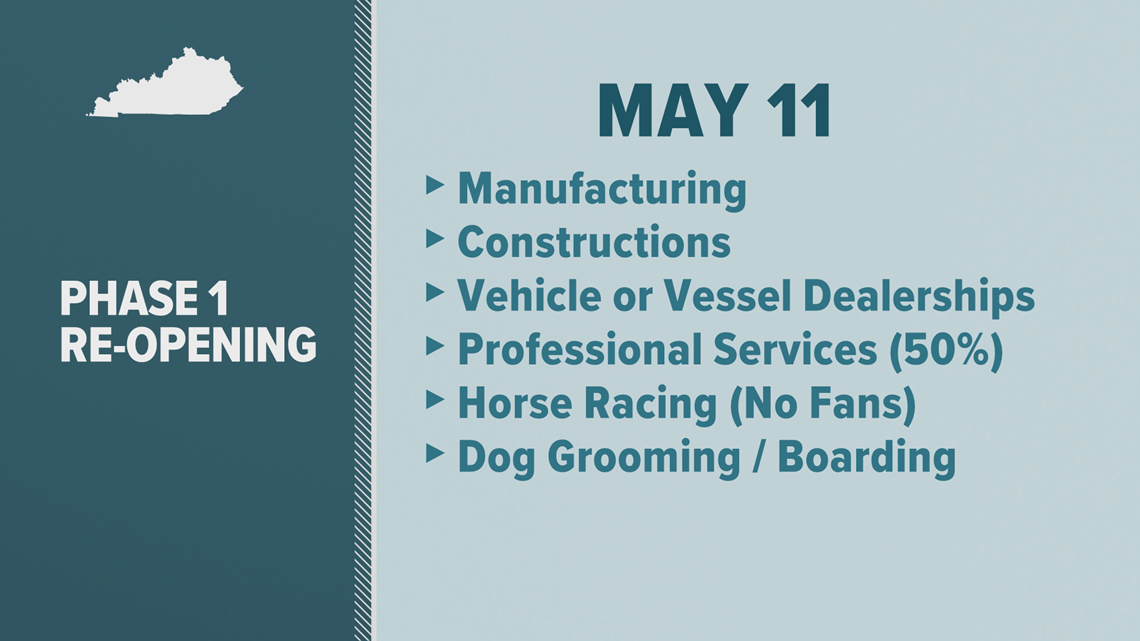 May 20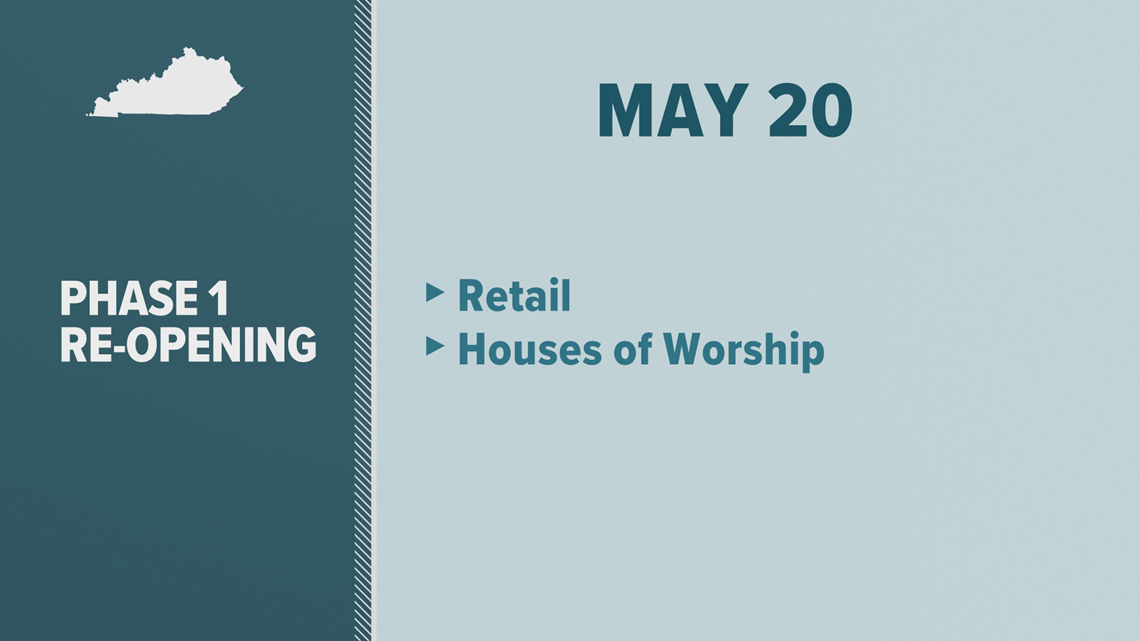 May 25
10 person limit for social gatherings
Salons, barbers, cosmetology businesses and similar services can reopen.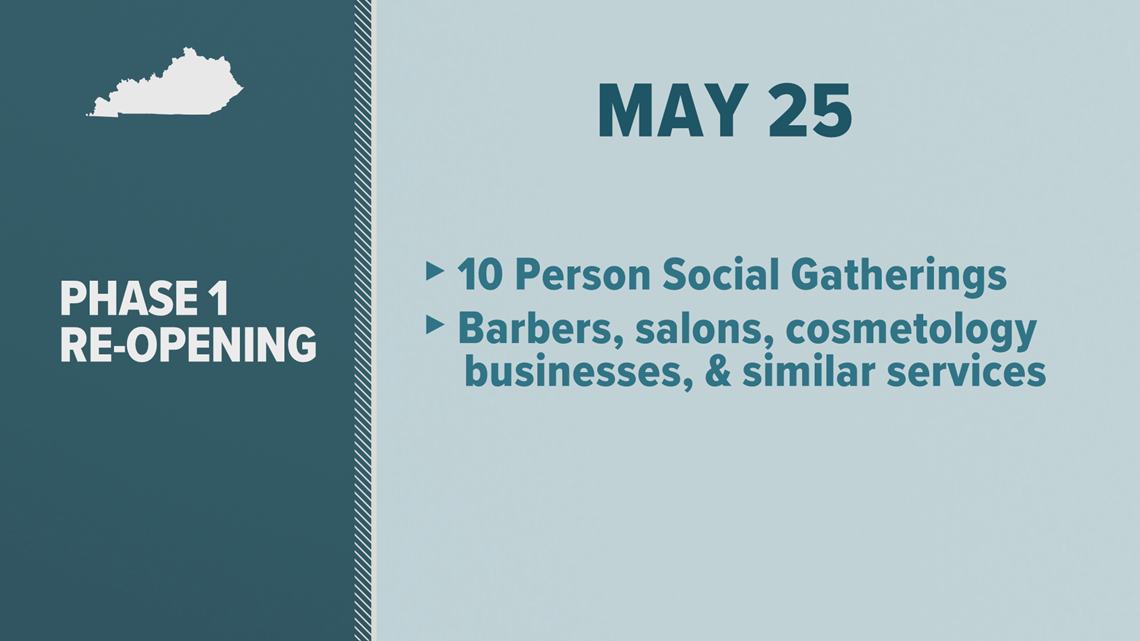 Not reopening yet
The Governor said that some industries and businesses are not quite ready to open. Those include:
Restaurants
Gyms
Movie theaters
Campgrounds
Youth sports
Summer camps
Daycares (except for essential health care workers)
Public pools
These businesses may be allowed to open during Phase 2, according to Beshear, but a definitive timeline hasn't been established.
"We hope in this summer, and we don't know if it will be in June or perhaps early July, we hope that we will be able to do some youth sports," he said.
Healthy at Work reopening process
During the Healthy at Work phases, the Department for Public Health will evaluate individual businesses' ability to safely reopen. Industry groups and trade associations are encouraged to communicate with and gather input from their membership to develop and submit reopen proposals on behalf of their members.
Individual businesses may submit via the online reopen form. All proposals will be evaluated according to White House guidelines and other public health criteria. This step will ensure that Kentucky businesses are able to comply with public health protocols and CDC guidelines.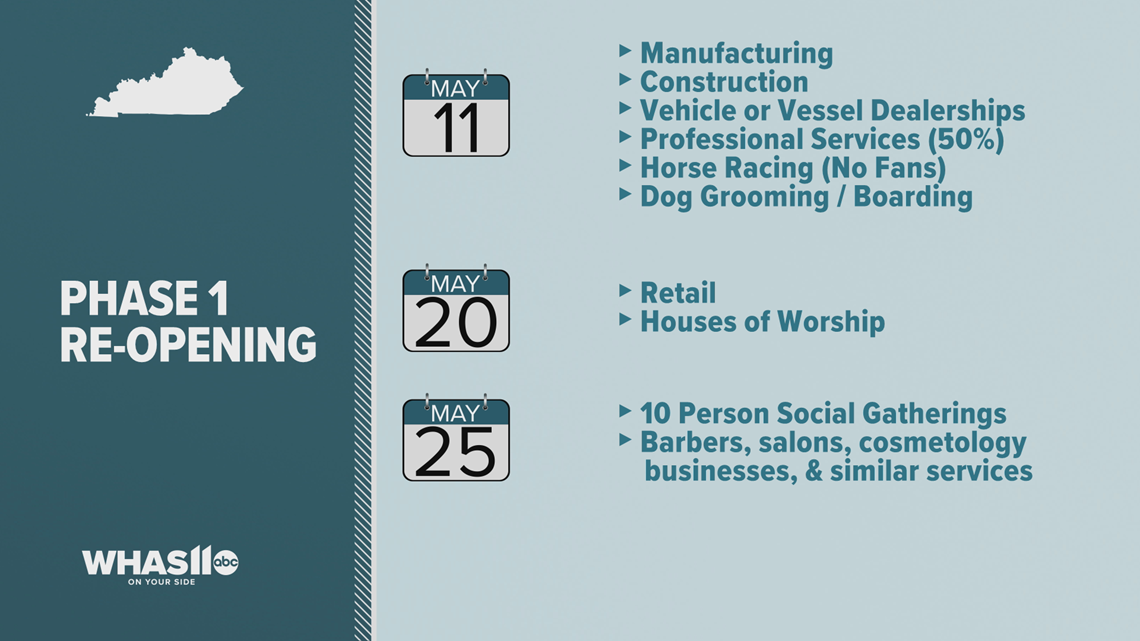 Other stories on WHAS11 News