LOUISVILLE, Ky. — An archaeological dig on Louisville's oldest working farm is uncovering a piece of Kentucky's past you won't find in the history books.
Nestled 8 miles outside of downtown is Oxmoor Farm. It was home to five generations of the Bullitt Family, dating back to the Revolutionary War.
A Virginian named Alexander Bullitt purchased the land in 1787 and built what became the family's home until 2005. Today, the Bullitt Homestead Preservation is a trust overseen by Stock Yards Bank, preserving 235 years of history.
"It all comes back to life for you when you step on the property," Shirley Harmon, Oxmoor Farm's curator, said. "This house, it's like walking through three centuries of American history. The Colonial period, to the Antebellum years and then, into the 20th century and it's all under one roof."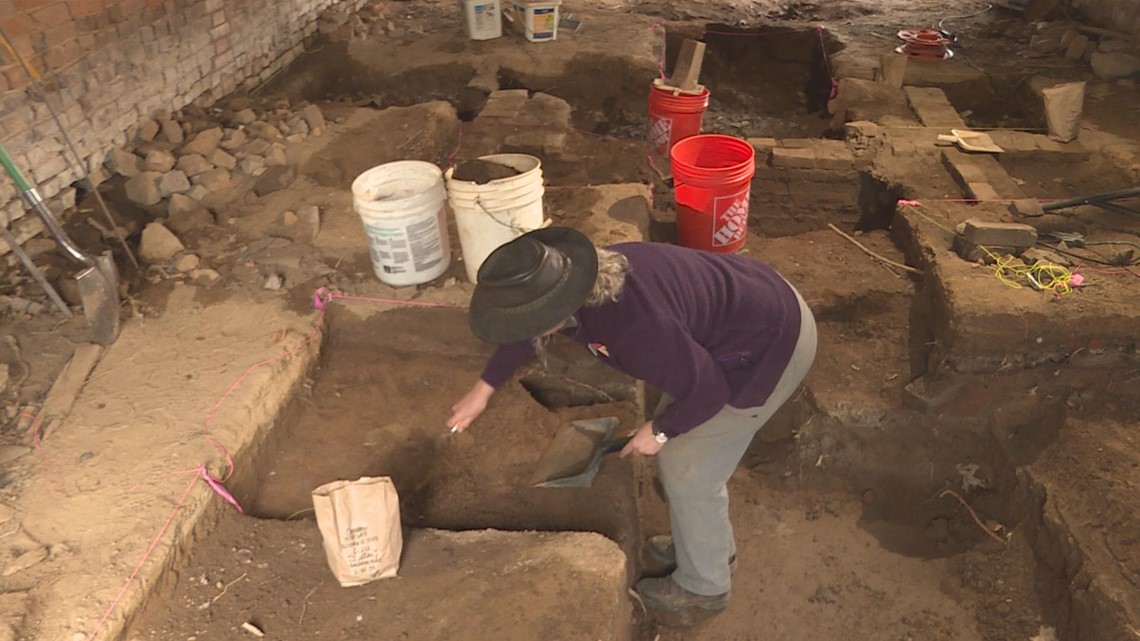 Today, guests can tour the property and the many outbuildings that predate the Civil War -- from a spring house to an ice house, a hemp barn, two outdoor kitchens and a smokehouse.
Just to the left of the long drive leading up to the home are four former slave dwellings. It's something many locals never knew existed here.
At one point, in 1815, more than 100 slaves worked and lived on this farm. Harmon said these slave dwellings typically didn't survive past 1865, but these four did because they remained in use for more than a century later.
"We still farm about 260 acres so it's the oldest continually working farm in Jefferson County. It's mainly corn, wheat and soybeans these days. Back in the 1800s, it was hemp," Harmon said.
The one-room slave cabins, first built of wood and then brick and stone, hold the remaining pieces of a past buried more than a foot beneath the surface.
"Earth builds up over time and that layer got buried, but we found it," Lori Stahlgren, the project archaeologist with Kentucky Archaeological Survey said.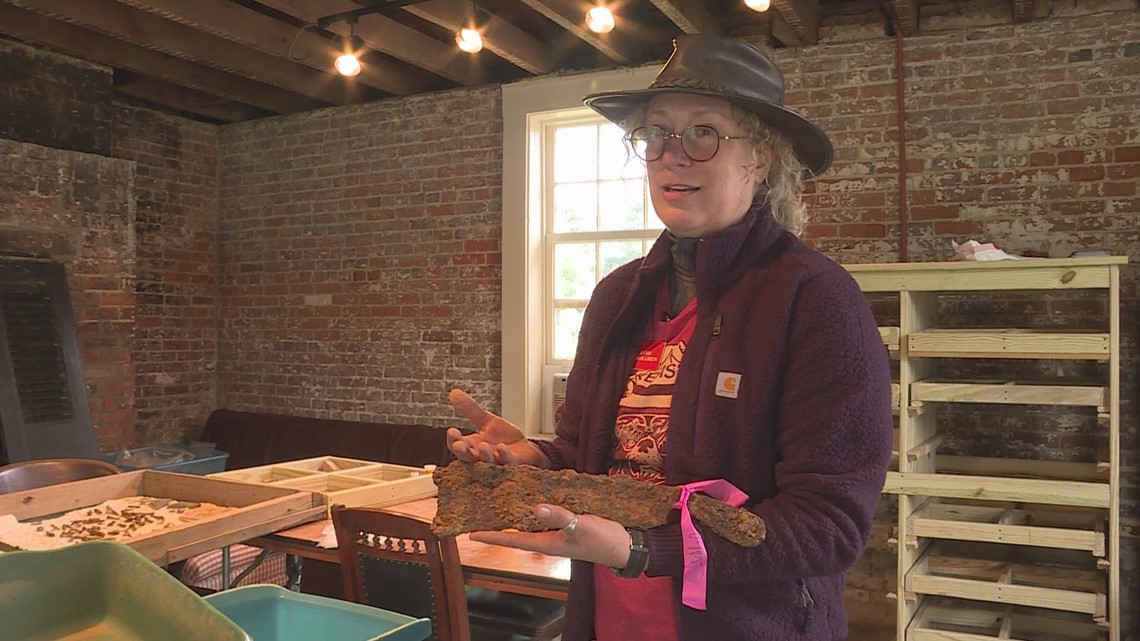 Stahlgren's spent the last year and a half digging inside the buildings at Oxmoor Farm uncovering a better picture of what life was like for the enslaved.
"When you find certain things, you really touch the past," she said. "It allows you to have empathy and gives you a space to think about how the past influences today."
Her team got involved when Oxmoor Farm decided to convert these slave dwellings into a museum space. They had no clue what they'd find.
"We kind of hit the jackpot," Stahlgren said.
In the center of one dwelling is a pit cellar, the 1800s version of a mini fridge.
"You would've stored root vegetables, eggs, and butter, squash, all kinds of food. You would've stored it to use on a daily basis," Stahlgren said.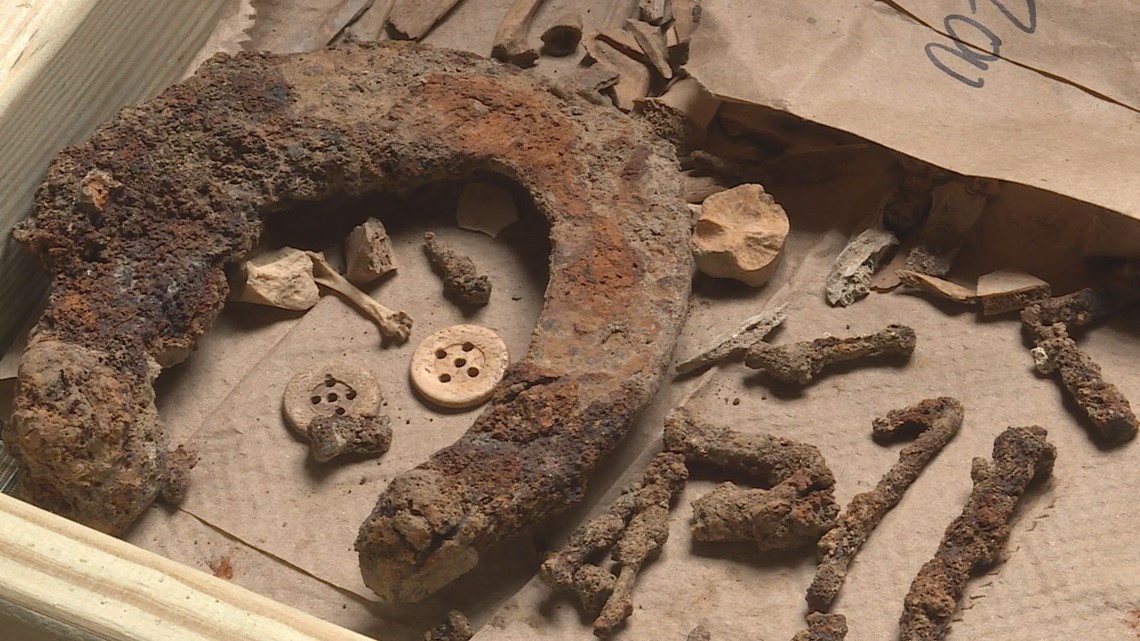 Today, she's helped uncover a unique collection of artifacts including nails, bones from food remains, and coins.
"We don't usually find very many intact pieces, because this is the stuff that didn't matter to people because they left it behind," Stahlgren said. "We find garbage. You would not believe how much your garbage can tell about you."
The corset hooks, straight pins and embroidery scissors tell the story of the women on this land.
"Why they had all these coins, who they sewed for, what they were eating. Just their day-to-day life, which we have no record of," she said. "We have found descendants of enslaved people who used to live here before the Civil War. They've come out and helped with the excavation and been really touched and excited. These are things their people may have touched. It gives them a sense of ownership."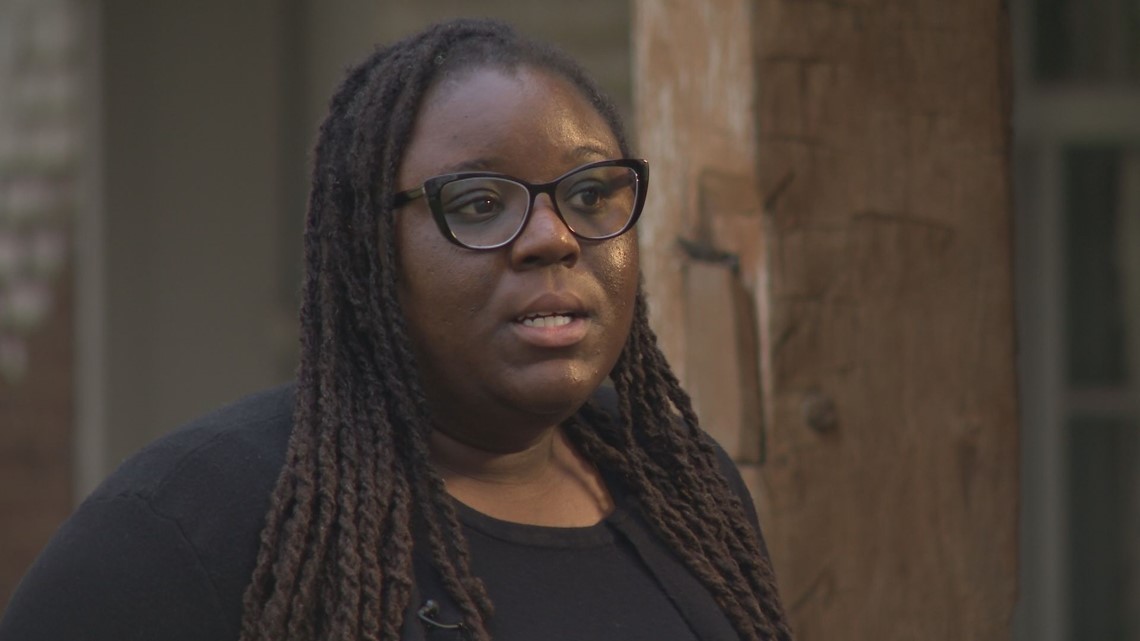 Felicia Jamison is used to digging in the archives -- not the dirt.
"When you walk over to the former slave dwellings, it's a humbling experience," Jamison said.
She's turned this project into a history lesson for her comparative humanities class at the University of Louisville, giving students a hands-on experience.
"My favorite thing was part of a pot. When I found it, I didn't know what I was doing. I called Lori over and said, I found a thing, I think. And she took over," Hayley Salo, a UofL second-year Ph.D. student said.
Stahlgren says one of the most interesting pieces discovered inside a slave cabin was a machete, found laying against a wall.
"They may have used it to chop vegetables. But they also may have used it to feel safe. And maybe they would have never used that because the potential repercussions would have been horrible. But just having it may have been empowering. Reclaiming some of the humanity that enslavement stole," Stahlgren said.
The digging continues at Oxmoor Farm, but this Wednesday, UofL students are giving a presentation to the community about their findings. It's from 4:30-6 p.m. inside the home's library and is free to attend. Guests will need to register online at oxmoorfarm.org. The property is not open to the public on a regular basis just yet.
Make it easy to keep up-to-date with more stories like this. Download the WHAS11 News app now. For Apple or Android users.