LOUISVILLE, Ky. — City officials are looking to destroy a building in downtown Louisville after a massive fire ravaged the building last week.
The 5-story building, located in the 400 block of West Market Street, is mostly vacant. "Osaka," a popular sushi restaurant, operates on the first floor and suffered extensive damage in the blaze.
Now Metro Codes and Regulations says the building is in "imminent danger of failure or collapse."
Inspectors have posted a notice on the front door of Osaka saying the building could be demolished as early as Tuesday, Sept. 19. However, the restaurant's owners are fighting back against the emergency demolition order.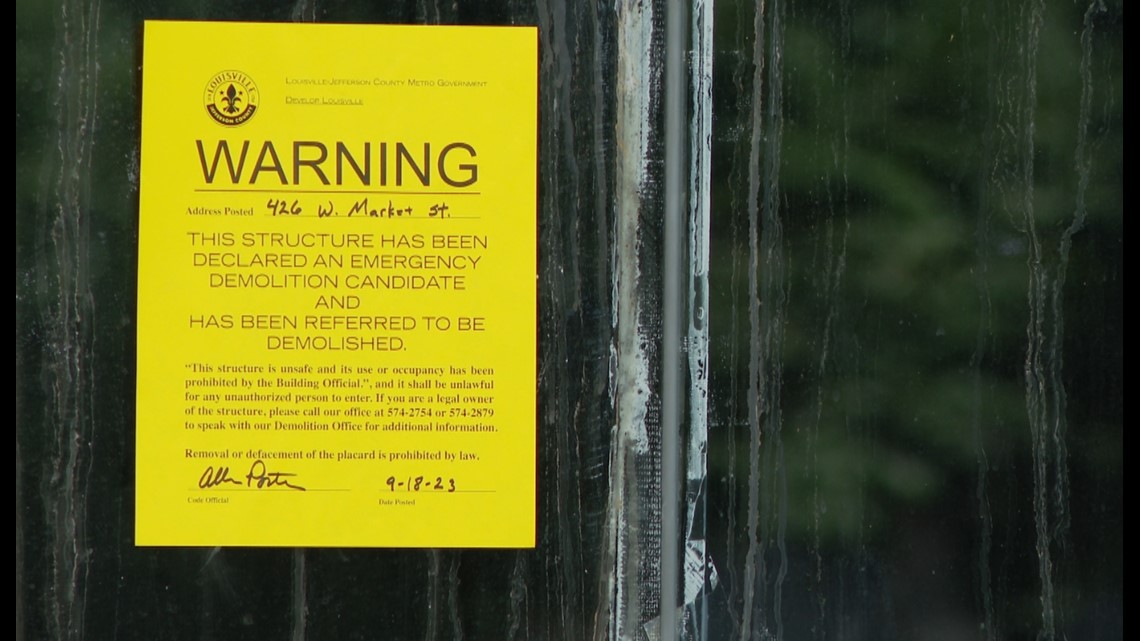 According to court documents, the restaurant hired an engineering firm to inspect the building. The firm reported the fire's damage is limited to "only 20% of the total floor area."
"In our opinion, the damage is sufficiently limited to allow for repair and replacement measures to allow the structure to continue its usable life," the Louisville firm said in its report.
The owners are now asking Judge Julie Kaelin for an emergency restraining order saying they chose the downtown location in December of 2020 due to its unique location and exterior.
"In the 15 years since Osaka opened its doors, it has been a destination for tourists, local business leaders and business employees and has garnered the good will of the surrounding community," the document says. "Osaka provides an ethnic lunch and dinner destination seven days a week in an area that does not offer much in the way of full-service dining establishments."
Robert Kirchdorfer, director of the department of codes and regulations, sent a statement to WHAS11 News saying:
"Public safety is paramount. Our inspectors are actively monitoring the site to protect against additional collapse and ensure the safety of passersby and neighboring buildings. The city is in active conversations with the owner and their engineer KPFF to develop a plan for the future of the site, and we are hopeful that portions of the structure can be preserved."
Make it easy to keep up-to-date with more stories like this. Download the WHAS11 News app now. For Apple or Android users.