LOUISVILLE, Ky. — It's been exactly one month since the deadly mass shooting at Old National Bank in downtown Louisville.
The individuals killed in the shooting were Joshua Barrick, Deana Eckert, Tommy Elliott, Juliana Farmer, and Jim Tutt Jr.
The bank now shows no more flowers, no more crosses, no more notes or signs of a memorial. The only sign of what happened is the gold and blue heart painted on the plywood used to patch up the shattered glass door.
In the days after the shooting, the Louisville community heard pleas from families, friends, and strangers begging lawmakers to take action. It's the initial response community members have become accustomed to after a tragedy hits.
Local and state Democratic lawmakers say they are still hoping and pushing for reform to prevent another tragedy like this one. Work is already in motion with Senator Gerald Neal (D-Louisville) saying there have been some discussions with Republican lawmakers, but he expects robust conversations in the future.
"We must communicate effectively. We must be very intentional and relentless about this, I think, as policymakers we fail. I mean, the largest responsibility we have is the protection of our citizens," Neal said.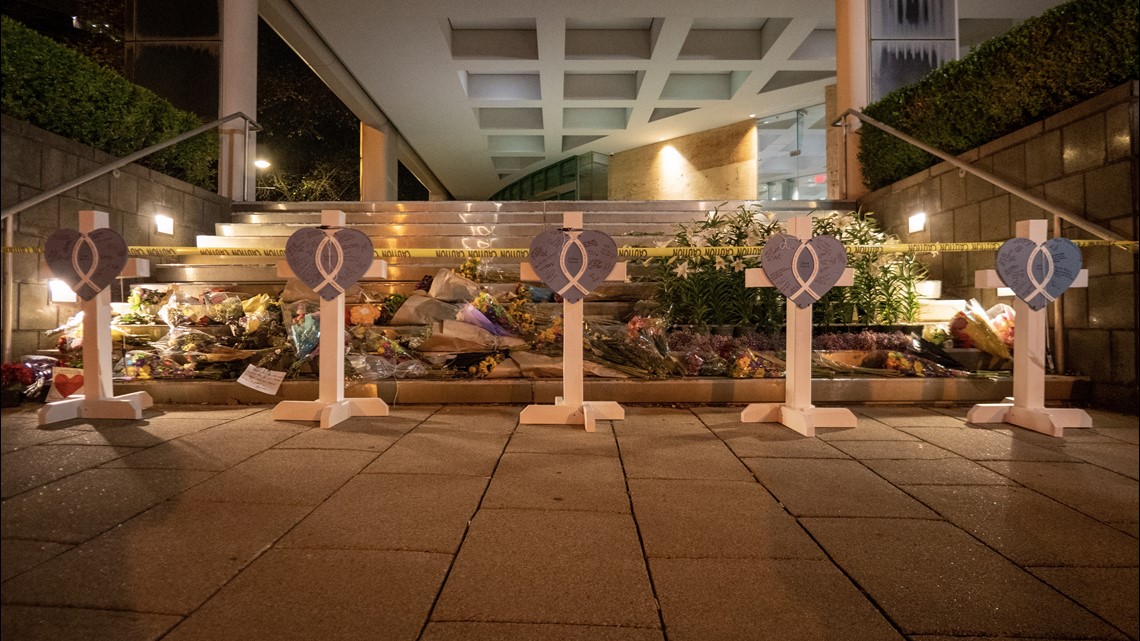 "We don't have large capacity magazine bans. We don't have concealed carry permit requirements. We don't even have open carry regulations. I could go on and on," Neal said.
Mayor Craig Greenberg said he and his administration are going to Frankfort this week to lay out his plan to reduce gun violence.
"I am cautiously optimistic that we're making progress. Everyone across the state wants to make Louisville a safer city, wants to do everything they can to reduce the amount of gun violence," Greenberg said. "Now we need to talk about the details about how we make that happen, and we've already identified some areas that we are working on where there is common agreement."
Since the mass shooting, Democrats and Republican lawmaker Jason Nemes have publicly mentioned a potential red flag law.
With Texas and Tennessee, both Republican-led states, having recently made moves toward gun reform, Greenberg and Neal say it's possible.
"All things are possible when you direct your attention to them," Neal said.
"Everyone, regardless of political party, wants to do more to reduce the amount of preventable gun violence in our society," Greenberg said.
Greenberg added that the details of his plan will be made public in the near future.
Make it easy to keep up-to-date with more stories like this. Download the WHAS11 News app now. For Apple or Android users.