Everything that led to Louisville's Breonna Taylor protests
Breonna Taylor was killed while police executed a no-knock search warrant at her apartment in March.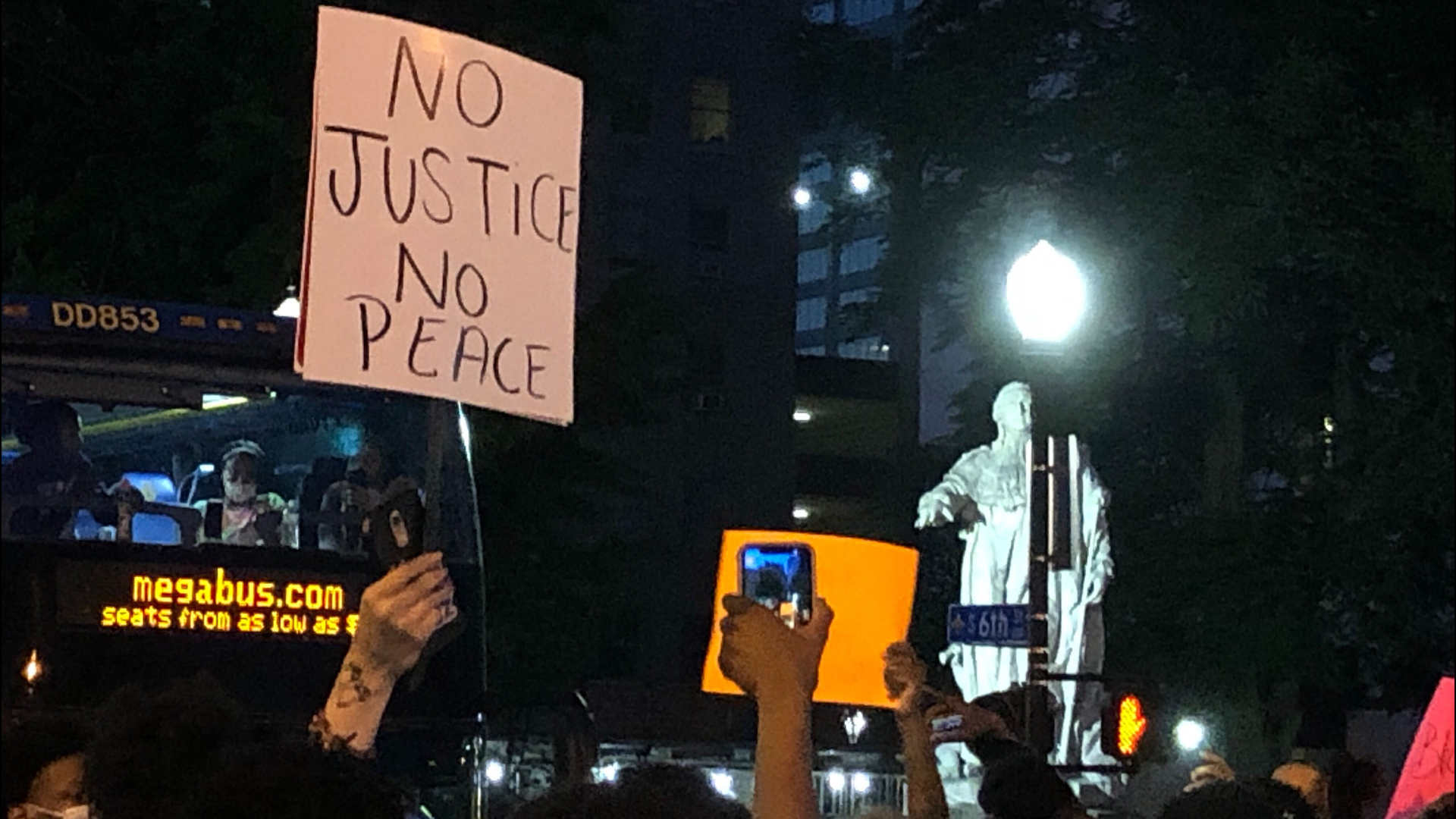 As protests continue in Louisville, and around the country, we go through everything in the Breonna Taylor case that led to these moments. Taylor would have been 27 on June 5.
March 13 - Taylor's death
:
Police said they were met with gunshots when they entered the home. They returned fire, killing Taylor.
Taylor's boyfriend, Kenneth Walker, was charged with attempted murder after he shot Sgt. Jonathan Mattingly during the event. Walker gave a statement saying he shot from inside the apartment.
LMPD said they were investigating the shooting.
March 16 - Family speaks out
:
Taylor's family spoke out after the death, saying officers were looking for someone who did not live at her home.
"This is not a woman who would sacrifice her life and her family morals and values to sell drugs on the street," Bonica Austin, Taylor's aunt, said.
They said Walker only shot at officers in self-defense, not knowing who was there, and said he was a registered gun owner.
March 26 - Walker released
:
Kenneth Walker was released from jail and placed on home incarceration following his arrest in the officer-involving shooting.
May 11 - Case gains national attention
:
"I could hear Kenny screaming and crying and I could hear all of this noise. I'm like, 'what's going on Kenny?' He said, 'I think Breonna is — somebody was trying to break in here and I think they shot Breonna,'" she said.
High-profile Civil Rights Attorney Benjamin Crump, who has represented the families of Trayvon Martin and Ahmaud Arbery, took on Taylor's case. Crump said no one from LMPD has been held accountable.
"Despite the tragic circumstances surrounding her death, the Department has not provided any answers regarding the facts and circumstances of how this tragedy occurred, nor have they taken responsibility for her senseless killing," Crump said in a statement.
Mayor Greg Fischer said he had spoken with Chief Steve Conrad.
May 13 - No-knock search warrant, affidavits released
:
The no-knock search warrant and affidavits in connection to Taylor's death were released. The warrant revealed Taylor was not the main subject of the warrant.
According to the warrant, 30-year-old Jamarcus Glover and 27-year-old Adrian Walker were listed as main suspects. Taylor was listed on the warrant, as was her address.
An affidavit by Detective Joshua C. Jaynes says Glover was using Taylor's address as his own since Feb. 20. Jaynes stated he had observed Glover and Walker since early January running a "trap house" at 2424 Elliott Ave. Records show Taylor's white 2016 Chevy Impala was spotted at the house occasionally.
Glover and Walker would make frequent trips to Taylor's apartment in a red 2017 Dodge Charger from the house on Elliott Ave, according to the warrant. Jaynes verified through a US Postal Inspector Glover had been receiving packages suspected of drugs to Taylor's apartment. He was charged the same morning Taylor was killed.
Kenneth Walker was not listed in any documents.
While LMPD said detectives knocked several times and announced their presence, Crump said they had witnesses that would prove police wrong.
Commonwealth's Attorney recuses himself from case
Louisville Mayor Greg Fischer revealed Commonwealth's Attorney Tom Wine would recuse himself in Taylor's case because he was prosecuting Kenneth Walker.
LMPD confirmed the three detectives involved have remained on administrative reassignment since the shooting, and Conrad said the investigation was almost completel
Photos of aftermath released
Attorneys representing Taylor and Walker released images of the bullet holes in Taylor's living room, kitchen area and bathroom.
On May 16, they said LMPD gave false information regarding the case. Crump said Louisville postal inspector Tony Gooden did not confirm that Glover was delivering packages to Taylor's address.
May 19 - Policy changes after Taylor's death
:
Fischer and leaders of the faith community announced new public safety steps in the wake of the shooting.
In order to provide an "additional level of scrutiny," no-knock warrants will now require sign-off from the chief of police or his designee prior to going to a judge for approval.
Community leaders have advocated for completely eliminated no-knock search warrants, but Fraternal Order of the Police President Ryan Nichols said they would find issues with a ban on no-knock warrants entirely.
LMPD is also updating its body camera policy to require that all sworn officers, including Narcotics officers, have body cameras available for serving warrants and other situations when they will be identifying themselves as police officers.
May 21 - FBI opens investigation
:
That same day, LMPD Chief Steve Conrad announces his retirement at the end of June. Col. Robert Schroeder will serve as Interim Chief of LMPD upon Conrad's departure while a search for a permanent chief gets underway.
Attorney Ben Crump who represents Taylor's family responded to Conrad's resignation in a statement, along with co-counsels Sam Aguiar and Lonita Baker.
"The resignation, today, of Louisville Metro Police Department Chief of Police Steve Conrad was a significant step forward in getting justice for Breonna Taylor, her family, and the city of Louisville," they said. "But this is just the beginning of that journey."
May 22 - Charges dismissed against Kenneth Walker
:
Commonwealth's Attorney Tom Wine asked for the judge to dismiss Walker's case, saying more investigation was needed.
"I believe that additional investigation is necessary," Wine said. "I believe the independent investigation...must be completed before we go forward with any prosecution of Kenneth Walker."
If Wine's office believes there is sufficient evidence after further investigation, Wine said they will bring it to the judge. Wine also said that Walker will be given the opportunity to testify if he wants.
May 26 - Protesters demand firing of officers
:
Faith leaders, community members and activists came out to show their support from as far as New York.
"We actually have a one-way ticket and we are going to continue to watch this case," co-founder of Until Freedom in New York City, Linda Sarsour said. "We want to make clear this is not a partisan case, we have democrats here in office that require the same accountability as republicans across the country that also need to engage in accountability and do their job."
May 28 - 911 calls released
:
Fischer said he released all MetroSafe calls, including those from neighbors, from the March 13 incident after hearing from the community and Metro Council members.
Kenneth Walker can be heard saying, "I don't know what's happening—somebody kicked in the door and shot my girlfriend" while on the phone with an operator that night.
Operator: "How old is your girlfriend?"
Walker: "She's… she's 26."
Walker's voice starts to quiver as he calls to his girlfriend.
Operator: "Where is she shot at?"
Walker: "I don't know. She is on the ground right now. I don't know."
Almost two minutes into the call, Walker hangs up. When the dispatcher tries to call back, he does not answer.
May 28 - Protests begin
:
Protests began at around 7 p.m. May 28 in downtown Louisville, with people chanting, "No justice, no peace. Prosecute the police."
Seven people were shot during the demonstration, two requiring surgery. No one was killed.
Taylor's sister released a statement asking for people to go home after hours of protests, saying she did not want people to get hurt.
"Please go home, be safe, and be ready to keep fighting," she said on Facebook. "We appreciate it more than you know."
Protests continued with larger crowds through the weekend. Mayor Greg Fischer issued a city-wide curfew, which has since ended, saying it was necessary after a small group of people attempted to use the protests to damage or steal property.
The National Guard and Kentucky State Police were also brought into Louisville. Officers used pepper balls and tear gas to disperse crowds they said were unruly or dangerous.
June 1 - David McAtee dies
:
A West Louisville business owner was killed early Monday, June 1, in a shooting that involved LMPD and the National Guard.
Police said McAtee fired a gun as officers used pepper balls to disperse a crowd while approaching his business. The crowd was not a protest. The officers were either not wearing or did not turn on body cameras, a violation of LMPD policy.
"They took a good person and they took him from me," his mother Odessa Riley said.
June 3 - Breonna's Law passes committee
:
Breonna's Law says no-knock warrants may only be obtained in cases involving imminent threat of harm or death to officers or civilians.
It also limits the offense these warrants can be used for: murder, hostage taking, kidnapping, terrorism, human trafficking and sexual trafficking. The warrant for the raid that Taylor died in was obtained for drug charges.
LMPD officers would also be required to have body cameras turned on five minutes prior to the execution through five minutes after it has been served. The footage will be on record for five years.
Metro Council will vote to approve the ordinance June 11.
►Make it easy to keep up-to-date with more stories like this. Download the WHAS11 News app now. For Apple or Android users.