LOUISVILLE, Ky. — If you don't have a library card, you'll want one, after taking a walk through the new Northeast Regional Library in Louisville. The state of the art facility opens Monday at 10 a.m. with a grand opening celebration, at 15 Bellevoir Circle.
"This building has been the work of years and years of planning and design," MK Eagle, the library programs supervisor said. "Initially, when we broke ground, you saw trees everywhere. You couldn't really imagine a space like this and now we have a library with over 120,000 items in it, most of them brand new."
The view alone will stop you in your tracks, as you walk in the glassed-in building.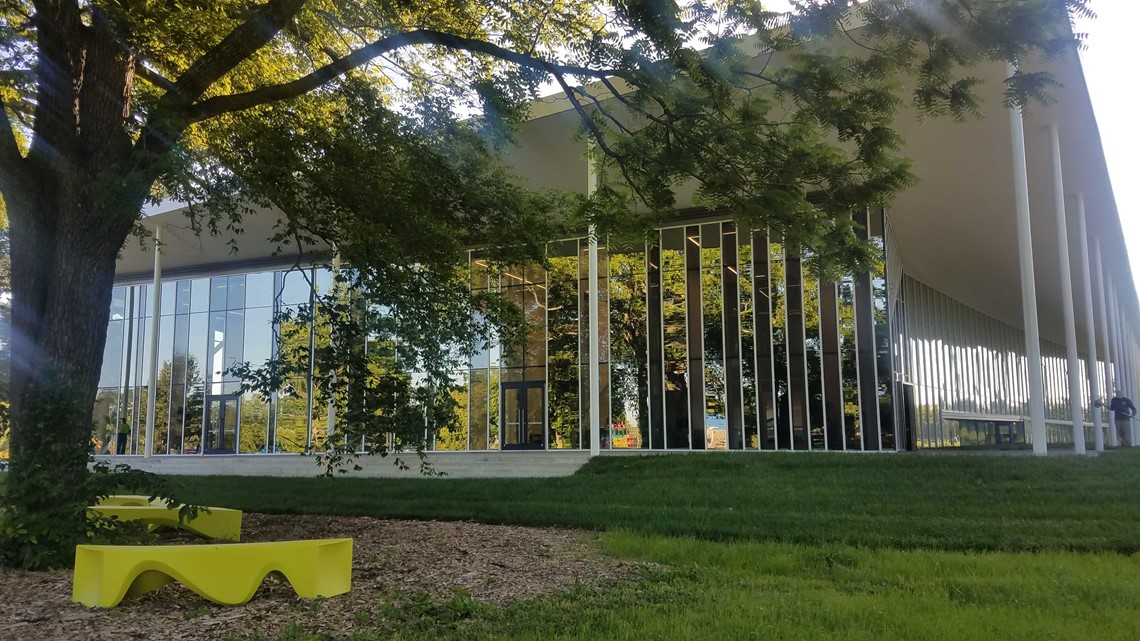 "You see all the trees, you see all the nature. As you walk in, too, it looks like a two-level building, because you're looking above our adult collection down below us," Eagle said.
The Northeast Regional Library sits just off Ormsby Station near the Northeast YMCA. Nearly 18 million dollars went into this space over the last two years, with so many books, they don't all fit on the shelves.
The library includes nooks to sit in while reading a book and a slide leading you right into the kid's section.
"We also wanted it to be fun and playful, so it's a new way for kids to get immediately into a space that's theirs and of course we had to build a ramp because once you go down a slide you want to go right back up it again," Eagle said.
Northeast Regional Library opens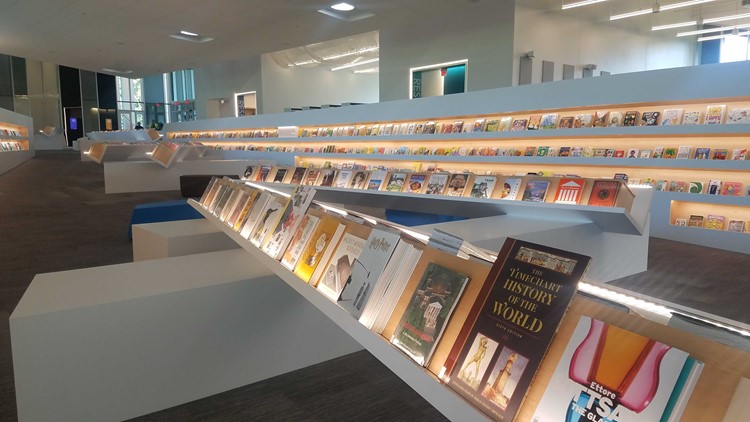 If books aren't your thing, you can hit up the coffee shop or venture into the Maker's Space, which includes a 3D printer, a laser cutter and engraver, sewing machines, power tools, arts and crafts, and a Potter's Wheel.
Next door, there's a recording studio with a green screen and audio booth, neighbored by a kitchen, used for both cooking demonstrations, classes, and hands-on activities.
The best part - it's all free. The library also has several meeting rooms, an auditorium and a screened in porch.
"You'll just keep walking around the space and seeing something new everywhere you go," Eagle said.
When breaking down the costs of the Northeast Regional Library, the city and state paid $14 million of the $17.8 million grand total. Another $3.8 million was funded by private donors. Paul Burns, with LFPL, says the money was already in place before the construction began, long before the city of Louisville revealed issues with the city budget. Currently, the Middletown and Fern Creek branches are at risk for shutting down, as the city works to find $25 million in cuts this year.
You can find the branch closest to you on the Louisville Free Public Library's website.
►Make it easy to keep up-to-date with more stories like this. Download the WHAS11 News app now. For Apple or Android users.