LOUISVILLE, Ky. (WHAS11) – After three years of construction and $763 million later, the new Lewis and Clark Bridge opened to a caravan of 500 vehicles Sunday.
"I've been waiting for this day for so long, ever since I was 20, maybe even 12," John Detherage who drove in the caravan said.
"I've been out here many days when it's been hot, cold, and now here we are," Brian Shaw who worked on the project said. "I've seen this from the beginning when it was just open field and when they started construction, there were days we couldn't even go out here because there wasn't access. The roads weren't there and now here we are."
Indiana Governor-elect Eric Holcomb and other officials were on hand for the bridge dedication.
Governor Mike Pence said the chosen name "Lewis and Clark" was an ode to Indiana and Kentucky's shared historical prominence in the expeditions of Meriwether Lewis and William Clark.
"Naming this bridge the Lewis and Clark Bridge speaks to the shared prosperity between Indiana and Kentucky, just as Lewis and Clark together charted a course that would put the United States of America on a path to greatness," Governor Mike Pence said in a statement. "As the Crossroads of America and the Bluegrass State continue to play a shared role in our national economy as models of industry and commerce, the Lewis and Clark Bridge will allow for us to grow, build, create and move products together and power our economies for years to come."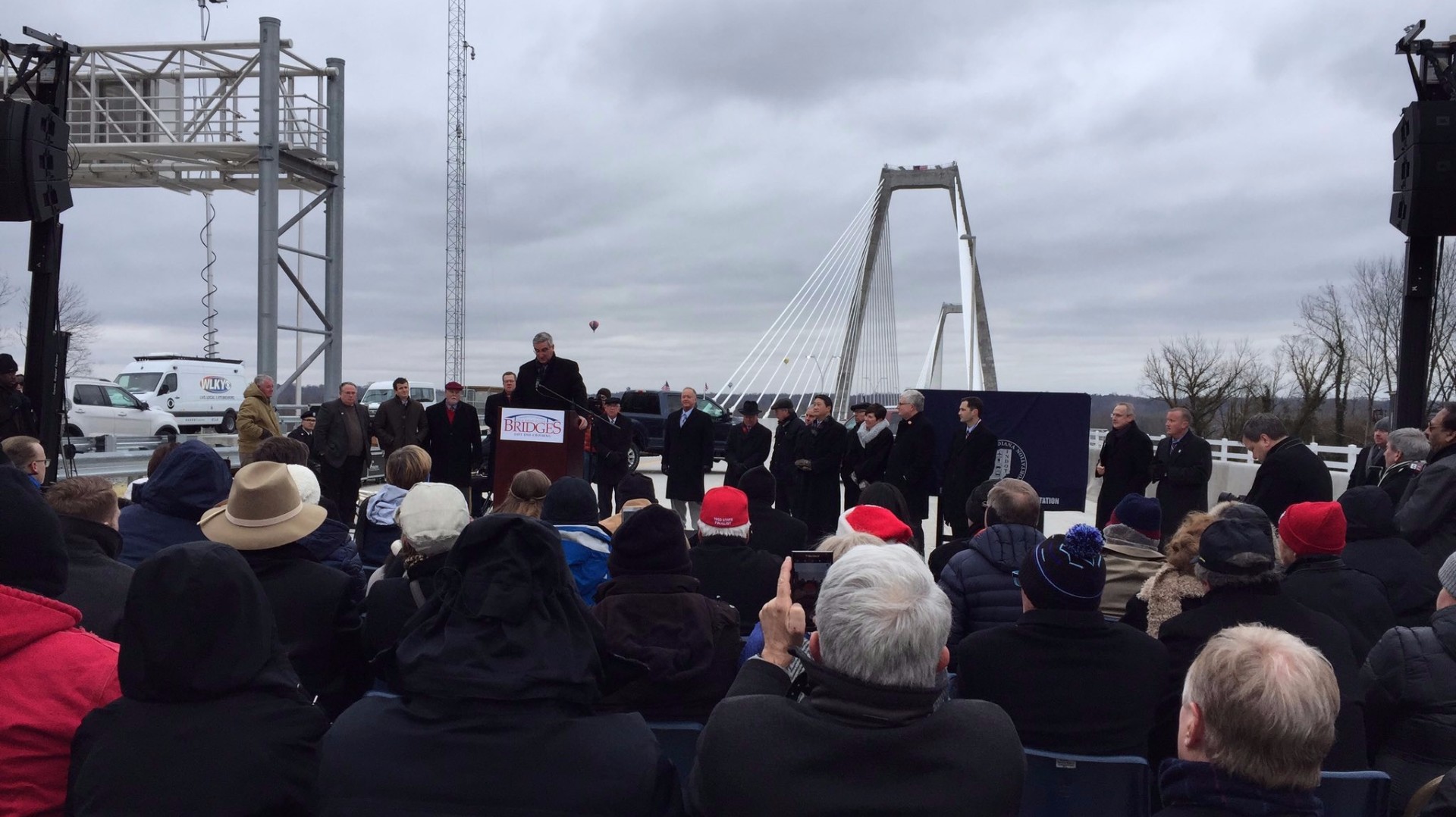 The Lewis and Clark Bridge will connect Louisville near Prospect to southern Indiana near Utica. Officials say their goal is to ease traffic congestion and to make driving easier for motorists.
"This is truly a milestone in the history of American infrastructure, and it's also a turning point and the start of a new era for Jeffersonville, Louisville, and the entire Kentuckiana corridor," Deputy Administrator for the Federal Highway Administration David Kim said.
"This Ohio River Bridges Project is the ultimate testament to the power of partnership of working together with a shared vision," Holcomb said. "It connects people. It connects people to jobs and people to economic opportunity and a better quality of life. It literally is connecting the present with our future."
The bridge opened fully to motorists Sunday just before 5:00 p.m.
Tolls for all bridges are expected to begin on Dec. 30.