LOUISVILLE, Ky. — Calls for improved safety measures at Kentucky schools are resurfacing once again, to prepare for an instance where a major threat could present itself.
Several students met with Kentucky Department of Education Commissioner Jason Glass in Frankfort, recommending multiple changes to school districts across the state -- including more realistic active shooter drills and increased mental health support.
"[This is] present in the minds of students from across the Commonwealth," one student said.
In a presentation to Glass, his Student Advisory Council -- made up of high schoolers across the state -- said significant action is needed.
"Having someone who does have a firearm or does pose such a big threat, it's huge. It could affect so many students," duPont Manual High School student Spandana Pavuluri said after the meeting.
The conversation comes as Jefferson County Public Schools (JCPS), the state's largest public school district, continues to wrestle with instances where guns are found inside students' backpacks -- most recently at Eastern High School on Jan. 23.
School Board member Sarah McIntosh posted on Twitter, saying the school district "absolutely needs metal detectors and additional security measures."
We took that proposition to Glass, asking if this renewed argument holds weight in a time when gun violence grows more and more prevalent.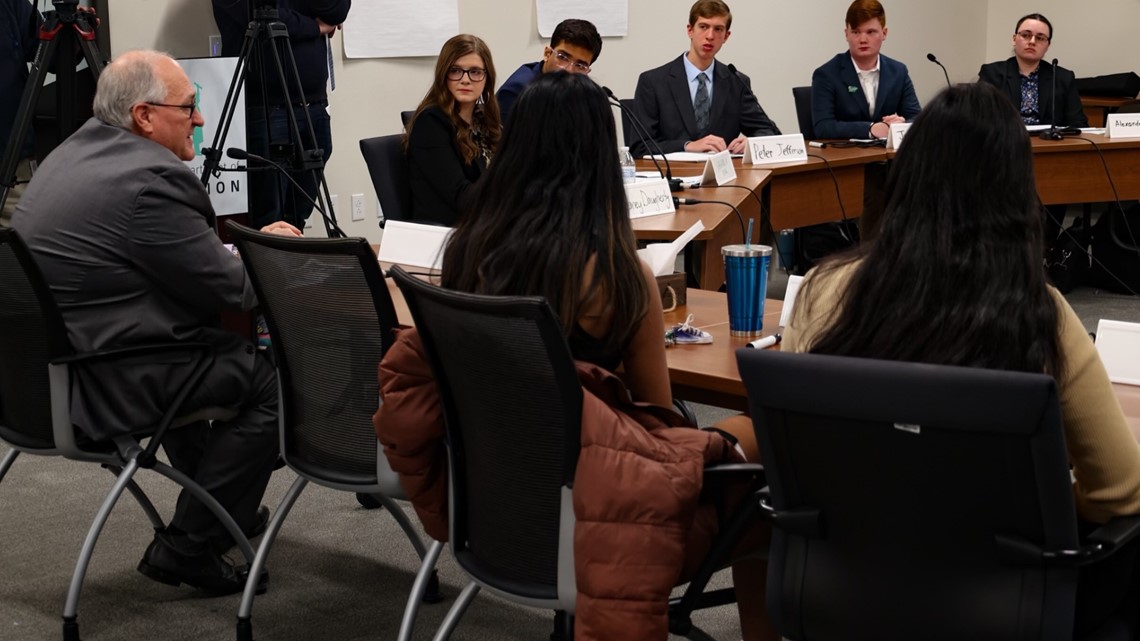 Glass told WHAS11 the jury is still out on whether metal detectors are the right route for JCPS.
"I think the question around metal detectors is a complex one," Glass said. "In some ways, it does create greater safety inside the building because you can vet and evaluate what's being carried in. On the other hand, it's argued that it creates a chokepoint where you have a bunch of people that you know are gathered outside a secure area, so there are pros and cons to that decision."
Pavuluri says the number of guns found inside JCPS students' backpacks in recent years is too high to ignore. While she says root causes need to be addressed, she admits security measures like metal detectors need to at least be in the conversation.
"Now, as I feel like mass shootings have just continued to become more prevalent, it's something that I couldn't even see being considered that crazy," she said.
Lawmakers like Kentucky Representative James Tipton (R) were also in attendance to hear the students' presentation. Regarding metal detectors, he tells WHAS 11 it's certainly an option for the General Assembly to look into, but says it'll likely have to wait until they talk budget in 2024's legislative session.

During a meeting in December 2022, JCPS Superintendent Dr. Marty Pollio said the school district is looking into metal detectors, but said it will take more staffing to make them a reality.
The Student Advisory Council released a full set of recommendations for Kentucky schools to consider.
Before an incident, they encourage three things:
1. Promote the 'stop' tip-line, a way for students to anonymously report concerning behavior. The council says most students show warning signs before attacks, but they're often not reported.
2. Improve intervention rates. The U.S. Secret Service reports 71 percent of attackers were disciplined at one point before the incident, but only 23 percent were ever referred to counseling or mental health evaluations.
3. The council is also supporting gun control, saying mental health evaluations are necessary when buying fire arms.
►Make it easy to keep up-to-date with more stories like this. Download the WHAS11 News app now. For Apple or Android users.